C:\Documents and Settings\Robert\My Documents\The Darlaston Web Pages\FamilyTrees.

(Additions made 25th January 2009)

<![if !vml]>

<![endif]><![if !mso]> <![endif]><![if !mso & !vml]> <![endif]><![if !vml]>

<![endif]><![if !vml]>

<![endif]><![if !mso]> <![endif]><![if !mso & !vml]> <![endif]><![if !vml]>

<![endif]>FAMILY  TREES  of  the  DARLASTONS

<![if !vml]> <![endif]>

1:  Robert Darlaston and his ancestors:

In the seventeenth and eighteenth centuries the Darlaston family lived at Elford, a Staffordshire village having a population at the end of the 19th century of 363, situated on the banks of the River Tame, between Tamworth and Lichfield.   Some of the family members were described in contemporary documents as "Yeomen", that is to say men who owned and cultivated a small landed estate and who were qualified to vote and to serve on juries.   Further members of the family lived just over a mile away in Harlaston which had a population of 229.   Family tradition has it that the family name was originally spelt d'Arlaston and this is borne out by a Quitclaim Deed in the Elford Hall estate, dated 11th June 1373, which refers to John and Joceus de Harlaston, a name which may eventually have elided into the present form.   There is no formal evidence to establish a definite family line back to 1373, but there is a strong likelihood that there is some connection with the de Harlastons living six centuries ago.   Robert's Great-great-grandfather, Samuel, who was born in 1766, was the first to leave Elford, seeking his fortune in Birmingham, then rapidly growing as the Industrial Revolution gathered pace.

<![if !vml]>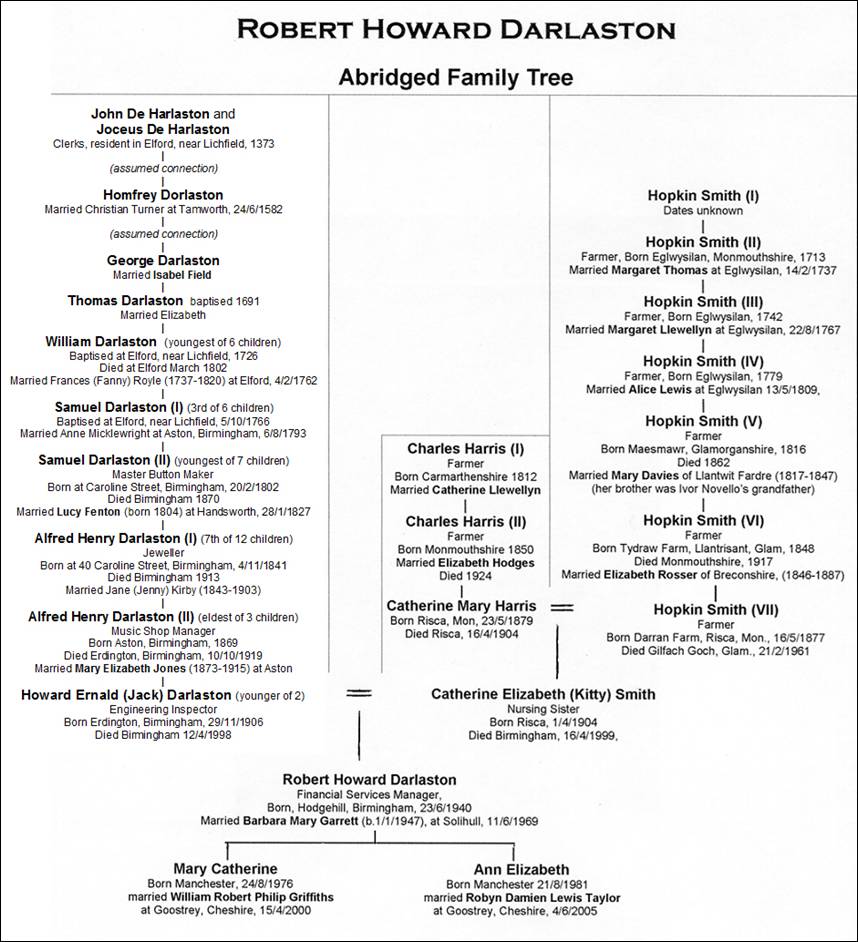 <![endif]>

with thanks to David Yates for help in tracing lost ancestors.

<![if !vml]>

<![endif]><![if !mso]> <![endif]><![if !mso & !vml]> <![endif]><![if !vml]>

<![endif]>  

2:    Everyone looks for a family link to someone famous:  here is our connection to Ivor Novello who was at the height of his fame as composer and matinee idol from about 1930 until his premature death in 1951.   Robert's grandfather and Ivor were second cousins.   A family tree showing the relationship appears below.  

<![if !vml]>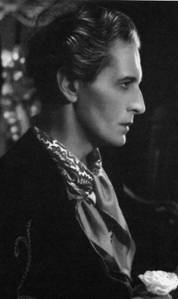 <![endif]>  Ivor Novello photographed by Angus McBean
N.B.   A fine recording of "We'll Gather Lilacs in the Spring again", sung by Yvonne Kenny, can be found on "You Tube" (but some of the other versions posted there are dreadful!).
<![if !vml]>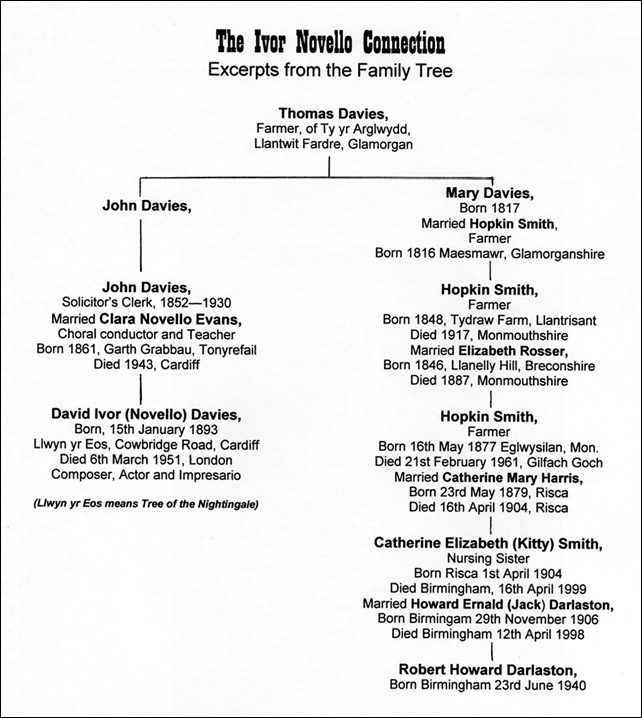 <![endif]>
*   *   *   *   *   *   *   *   *   *   *   *   *   *   *
The Darlaston Family Background
Paternal Ancestors
            My father, Howard Ernald Darlaston, known from childhood as Jack, was born in Birmingham on 29th November 1906.   His early years were sadly beset by several family problems.   An older brother, Gerald, developed meningitis at eighteen years of age.   He survived, but lost all memory.   He remained with the family for many years, but eventually was placed in a home, dying in the 1980s.   Gerald's illness was a blow from which his mother did not recover, and she died soon afterwards, in 1915, aged 42, when my father was only eight.   Consequently, he was sent away to boarding school at Hanley Castle in Worcestershire, but his father was also to die only four years later, aged 50.   My father was thus effectively orphaned at 12 years of age, after which he was looked after by a maiden aunt, Aunt Kate, a sister of his mother.  She had also lived with his parents at 18 Broadfields Road, Erdington.   She kept my father at Hanley Castle School until he was 15, but he was then sent to work for a solicitor in Erdington, the first of a number of office jobs.   Subsequently, he worked for the Midland Red 'bus company, Halfords, Harrison and Sheldon shopfitters, and finally, from about 1934, Accles and Pollock in Oldbury, (later part of Tube Investments), where he dealt with specifications of high-quality tubes for the aircraft and nuclear power industries until he retired in 1968.
            My father's paternal ancestors were long established at Elford, near Lichfield.   Towards the end of the 18th century my great-great-grandfather moved to live in a Georgian house in Caroline Street, Birmingham, establishing a small button factory there, in what is now called the Jewellery Quarter.   My father's father was, at the time of his death, Manager of Riley's music shop in Colmore Row, where his duties were largely concerned with pianos.   My father's Uncle Ernald was Manager of Dale, Forty's music shop in New Street, but his responsibilities were concentrated largely on early gramophones.   Their respective roles ensured that they had ready access to concerts at the Town Hall (although such events were relatively infrequent prior to the First World War).   They met some of the leading artists of the day, including those attending the Birmingham Triennial Festivals, which attracted visits by composers including Mendelssohn, Dvorak, Elgar and Sibelius.   My father's parents met through their work, as she was his secretary.  
<![if !vml]>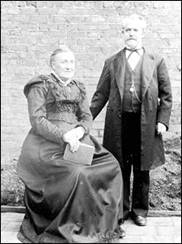 <![endif]>     <![if !vml]>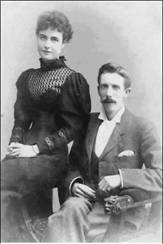 <![endif]>     <![if !vml]>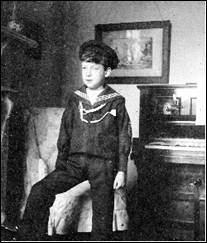 <![endif]>
L-r:  Alfred Henry (I) and Jenny Darlaston about 1890;  Mary Elizabeth and Alfred Henry (II) about the time of their marriage, 1893;
My father, aged about 9, in the drawing room at Broadfields Road during the first world war;
<![if !vml]>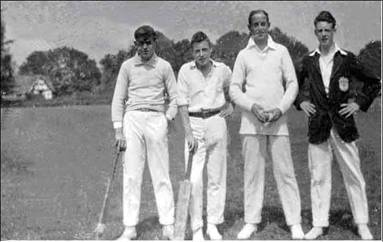 <![endif]>     <![if !vml]>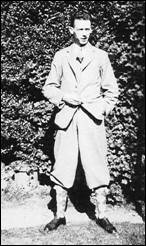 <![endif]>
L-r:  Dad (right) with cricketing friends at Hanley Castle Grammar School about 1922;  Dad about 1930.
My father had a number of cousins on his mother's side.   Marjorie (Marge, who died suddenly in her 60s in 1967) and Cyril (who died in the 1980s) were brother and sister.   They had also been orphaned and were brought up by Aunt Kate.   (Marge married Syd Stevenson who died suddenly in 1968, and Cyril was married to Phyl who died in the late 1980s).   Marge and Syd lived in Oakwood Road, Boldmere, but Cyril and Phyl lived in Bangor, where he was a salesman for Dunlop.   Marge had taught shorthand and typing; Syd had been a master builder, but was running a social club when he died.   Neither couple had any children.   A further cousin was Phyl (Eden) who lived in New Church Road, Wylde Green.   She died about 1990 and had three children, Pat (Williams), now in Llanelli, Vivienne (known as Vicky, married and living in Taunton), and Robert now living in Cornwall.   On his father's side, my father also had a number of cousins.   The only one he remained in touch with was Ciceley who had married Julian Shelley, a violinist.   Her father had been a stone mason in Rhyl and Ciceley taught music there until shortly before her death in 1995.   Their son Stuart was a violinist with the Liverpool Philharmonic Orchestra where he used his father's name.
Maternal Ancestors
            My mother, Catherine Elizabeth (known as Kitty), was born on 1st April 1904 in Tydu Lane (later Station Road), Risca, Monmouthshire.   Sadly her mother (Catherine Mary, nee Harris) died from septicaemia when she was only two weeks old.   Her father, Hopkin Smith, was a farmer and unable to care for my mother full time and so she was passed round her mother's sisters and her father's sister Maud.   Her father remarried when my mother was five years old and shortly afterwards took Penrhys Farm, high on the mountainside between the Rhondda Fawr and Rhondda Fach valleys.   (The area was built over in the 1960s).   In the early 1920s they moved to Rhiw Farm, Tonyrefail, Glamorganshire.   My grandfather finally moved to a smaller farm at nearby Gilfach Goch in 1941, dying there twenty years later aged 83.   My mother left home at 18, becoming a nurse at Newport hospital.   After qualifying, she wished to study midwifery and had the choice of doing so in Bristol or Birmingham.   She chose the latter, living in a nurses' hostel in Stafford Street opposite Harrison and Sheldon's offices where my father worked, resulting in their meeting.   Some of my mother's experiences in district midwifery have close parallels with incidents in the novels of Francis Brett Young who had himself had a medical career in Birmingham.   My mother moved on for a short spell at Birmingham Children's Hospital, before taking a position as Ward Sister at St Chad's Hospital in Edgbaston.   She retired from there on her marriage on 24th October 1931, as married women were not then allowed in such positions.   That was not, however, the end of her nursing career, as she worked at children's Welfare Clinics from 1954 until her final retirement about 1978 (when she was 74, such was her enjoyment of the work!).  
<![if !vml]>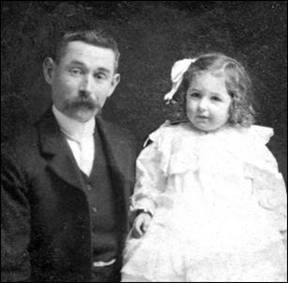 <![endif]>      <![if !vml]>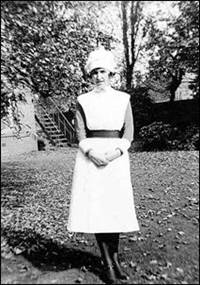 <![endif]>     
L-r:  Hopkin Smith and Kitty, 1906;     Nursing at Birmingham Children's Hospital, 1928;    .
<![if !vml]>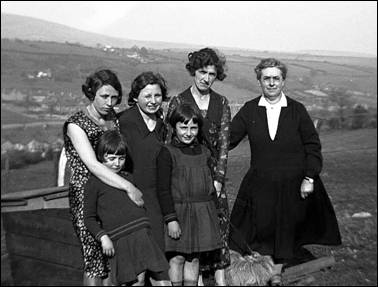 <![endif]>
Rhiw Farm, 1932 – Ida, Maud, Kitty, Gt Aunt Maud, with Tegwen and Dilys in front
            My parents' wedding was very quiet.   The ceremony took place at a church, now demolished, near St Chad's Hospital and was attended only by a few friends.   They moved into a flat in Kingscote Road, Harborne, until 165 Stechford Road was ready for occupation early in the following year.   My father's Aunt Kate, with whom he lived at 18 Broadfields Road, Erdington, could be a formidable woman and she did not approve of his friendship with a girl from Wales, so he did not tell her that they were marrying until after the event!   Eventually, she accepted my mother as one of the family and was always quite nice to me on our twice-weekly visits for tea.   She died in February 1952, shortly after her 84th birthday.   My father sold his motorbike to raise funds to buy my mother her engagement ring, but it was not long before he bought a car.   He had no driving lessons, and had returned home to find it had been delivered and left in the drive, whereupon he had to find out for himself how it worked!
            My mother had four half-sisters.   They were Ida (who married Fred Allen, a miner, and lived in Tonyrefail until her death in 1998), Lucretia Maud, always known by her second name, (who married Len Howells, a farmer, and lived at Cymmer in the Afan Valley until her death in May 2000), Dilys (who married Allan Raines and lived at Church Village, Pontypridd and who died in 2001) and Tegwen (who married Charles Portlock, who was in the furniture trade:  they moved a great deal, living successively in Tonyrefail, Bridgend, Heol-y-Cyw, Maesteg, Harwarden and Warminster, where she died in 2010).   Their mother was Lucretia Ann, nee Jones, a tiny industrious lady whose family came from a very rural part of east Monmouthshire where they maintained reservoirs and water-works for Newport Corporation.   Although she was my step-grandmother she was never regarded as other than a full relative.  She was always busily involved in the domestic arrangements supporting my grandfather, and after his death lived with Aunty Ida, dying in 1977 on her 89th birthday.   Apart from Aunty Ida, all my mother's sisters became nurses, living away from home for the years of the war and immediately afterwards.   Ida had three sons;  John (who died in infancy), David and Lyn.   Maud's children were Eiryl and Richard.   Dilys had four children:  Anthony, Susan (who died in infancy), Cathryn and Lesley.   Tegwen had no children.   Of the grandchildren, Richard alone continues the family tradition of farming, as in turn do his sons.
<![if !vml]>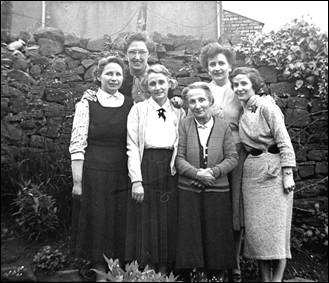 <![endif]>   <![if !vml]>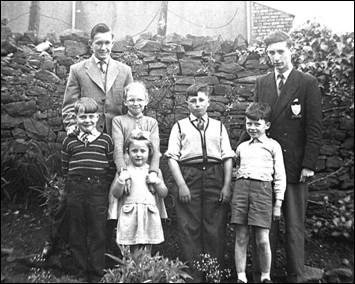 <![endif]>
             Maud, Kitty, Ida, their mother, Dilys, Tegwen;          The cousins:  Anthony, David, Eiryl with Cathryn, Lyn,Richard, Robert
Taken at Gilfach Goch, 1958
            My mother's father was the seventh generation (and last in the direct line) to have the name Hopkin Smith.   All were farmers, mostly in the area of Eglwysilan on the Glamorganshire/Monmouthshire border, where they can be traced back to the late seventeenth century.   My grandfather had an unlucky childhood, as his mother had died when he was ten years of age.   His stepmother was far from kind to him, requiring him to eat with the farm labourers.   He proposed emigrating to Canada, but was dissuaded by his sister Maud.   He did, however, leave home to live with his cousin Tom Morris.   Sheep were to be my grandfather's lifelong interest and he remained active in farming circles until the last days before his death.   He never had a holiday, although in 1950 he spent three nights with my parents in Birmingham in order to visit the Bath and West Agricultural Show, held that year at Castle Bromwich.   He was passionately devoted to his family, but did not attend the weddings of any of his daughters.   He was a second cousin to Ivor Novello, the composer, and also distantly related to Chris Chataway, the athlete and one-time Conservative M.P.
<![if !vml]>
<![endif]> 
 Hopkin and Lucretia Smith in their garden at Gilfach Goch, 1960
<![if !vml]>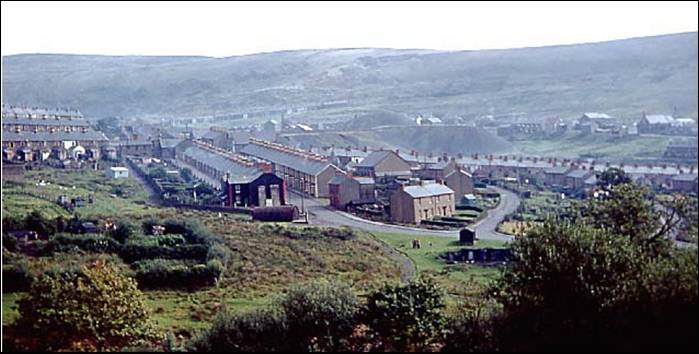 <![endif]>
View over Gilfach Goch, 1960
Hopkin Smith and his friend Dic Hughes are talking on the grass just right of centre
            My mother remained in touch with several of her own mother's family, the Harrises, throughout her life.   It was, however, a vast family as her mother had been one of ten children.   Several other members of the family had been equally prolific, and one had the feeling that most people in Risca were in some way related.   A few more had moved away – one cousin, Rene Duffield, becoming the village shopkeeper and postmistress at Broadwell, near Southam in Warwickshire:  she occasionally let us have scarce foodstuffs during and just after the war.   Both in looks and temperament, my mother showed her Harris origins.
            After their marriage, my parents both had generally happy and uneventful lives.   The upheavals of the Second World War to some extent passed them by as they were never separated like so many of their contemporaries.   Their main pleasure was derived from their family.   They only had a small circle of friends and apart from two trips to the Norwegian Fjords they never travelled abroad.   They lived comfortably in the same house for over 63 years, moving together at Christmas 1995 into a residential home for their last sad few years, my father dying aged 91 on 12th April 1998 and my mother aged 95 on 16th April 1999, the anniversary of her own mother's death in 1904.
<![if !vml]>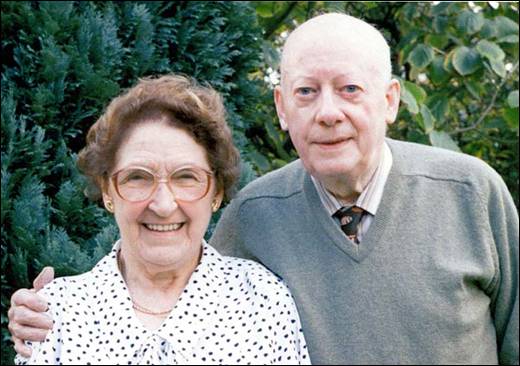 <![endif]>  2
 Kitty and Jack in their garden, 1983;     
<![if !vml]>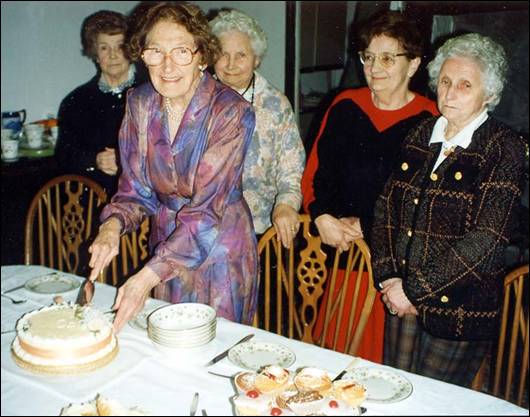 <![endif]>
 The last gathering of the five Smith sisters on Kitty's 90th birthday, Good Friday, 1st April 1994,
with (l-r) Tegwen, Kitty, Maud, Dilys, Ida, at Gelli Farm
If other pages are not listed to the left, the Home Page can be accessed here:  www.robertdarlaston.co.uk