This page is Welsh Highland and Llangollen:  updated 1st April 2012.
All photos © Robert and Barbara Darlaston
Please allow time for photographs to download
Page contents:
The Welsh Highland Railway.
Llangollen Steam Gala, April 2009.
Welshpool & Llanfair Railway, August 2009 and June 1956.
The Welsh Highland Railway:
<![if !vml]>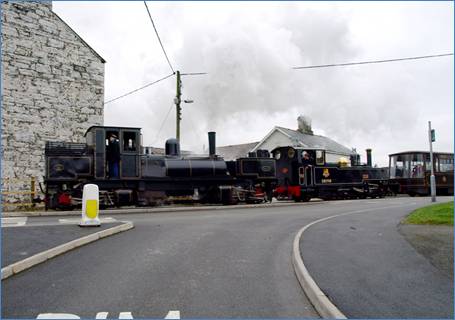 <![endif]>
HISTORICAL NOTE:  The Welsh Highland Railway had its origins in the 1870s with a plan to build a network of lines in Caernarfonshire, but initially only the line from Dinas (on the LNWR south of Caernarfon) to Rhyd Ddu (on the southern slopes of Snowdon) and a branch to Bryngwyn quarries were built, being competed in 1881.   The Company hoped to emulate the commercial success of the Ffestiniog Railway, but without the Ffestiniog's heavy slate traffic the new lines were doomed to failure, despite grandiose plans for electrification and extensions to Betws-y-Coed and Porthmadog.   Train services were all suspended in 1916, but after the First World War extension plans were revived and the government and local authorities contributed to the cost of constructing the new line to link through Beddgelert to Porthmadog, the completed railway opening in 1923.
But the line was long and trains were slow.  There was, moreover, no new rolling stock and trains comprised elderly carriages with wooden seats and no heating.   The opening coincided with the development of motor transport including 'bus services which were quicker and cheaper than the train - and offered upholstered seats!   The extended line was a commercial failure and closed in September 1936, after a mere thirteen years.   The railway was dismantled in 1941.
But the line had offered a wonderfully scenic ride and railway enthusiasts commenced efforts in 1961 to have the railway reopened.   These eventually bore fruit when funds for reconstruction were made available by, inter alia, the Millennium Commission and Welsh Government, on the basis that the line would attract tourists to North Wales and would enable them to reach parts of Snowdonia including Beddgelert without using their cars.   The first section, over the course of the closed LNWR line from Caernarfon was opened in 1997.   Waunfawr was reached in 2000, Rhyd Ddu in 2003 and Beddgelert and Aberglaslyn in 2009.   The final section into Porthmadog reopened in 2010.
The extended line certainly offers a glorious ride.   But the trains are still infrequent and slow, so whether they succeed in the aim of persuading people to leave their cars behind and travel by rail is perhaps open to question.   From Caernarfon to Beddgelert is 14 miles by road but over 20 by rail:  the journey takes half an hour by car, but one hour forty minutes by rail.   In particular, the section from Rhyd Ddu to Beddgelert is only 3˝ miles by road, taking eight minutes, but over twice as far by rail with steep gradients and a succession of sharp reverse curves:  scenically delightful, but operationally a nightmare, requiring a journey time of half an hour.      But, as the following photographs show, provided one has the time to spare, the train offers a magnificent ride, well worth doing for the sake of the marvellous scenery!
The following photographs, taken at various times and seasons of the year, portray a journey from Porthmadog to Caernarfon
<![if !vml]>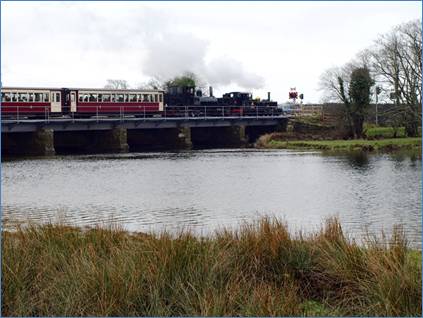 <![endif]>
Beyer-Garratt No. 143 waits at Porthmadog Harbour before taking its train to Caernarfon, March 2012
<![if !vml]>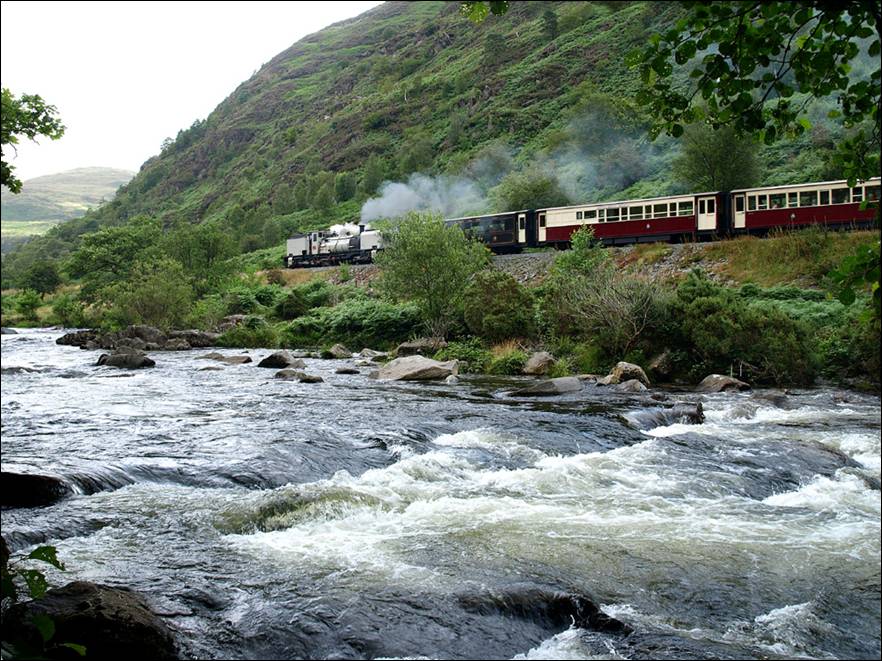 <![endif]>  <![if !vml]>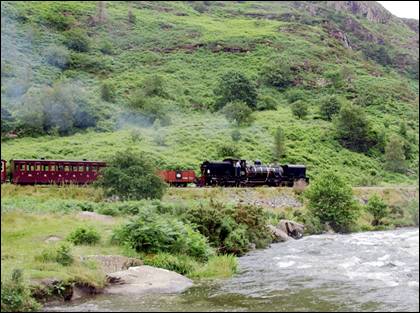 <![endif]>
Inside Pullman Car Bodysgallen                                                     Setting off across Britannia Bridge, Porthmadog
<![if !vml]>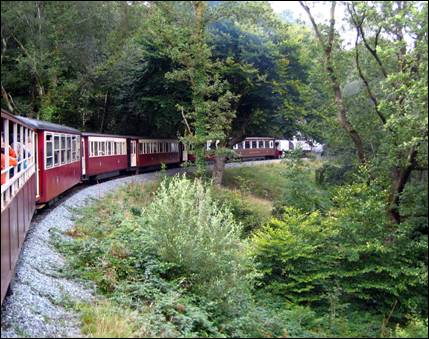 <![endif]>  <![if !vml]>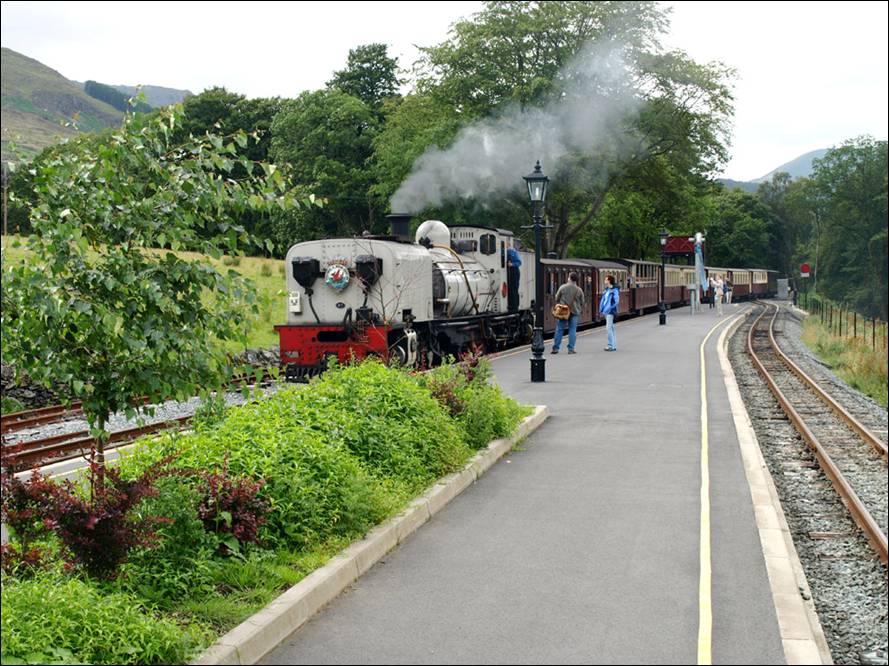 <![endif]>
Threading the streets of Porthmadog, and crossing the River Glaslyn at Pont Croesor (February 2011)
<![if !vml]>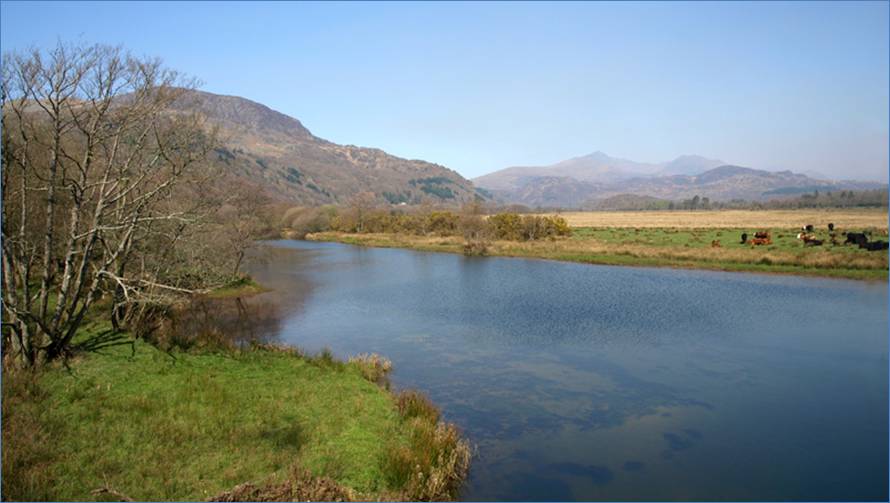 <![endif]>
View from the train about to cross the River Glaslyn at Pont Croesor, with Snowdon in the distance (March 2012)
<![if !vml]>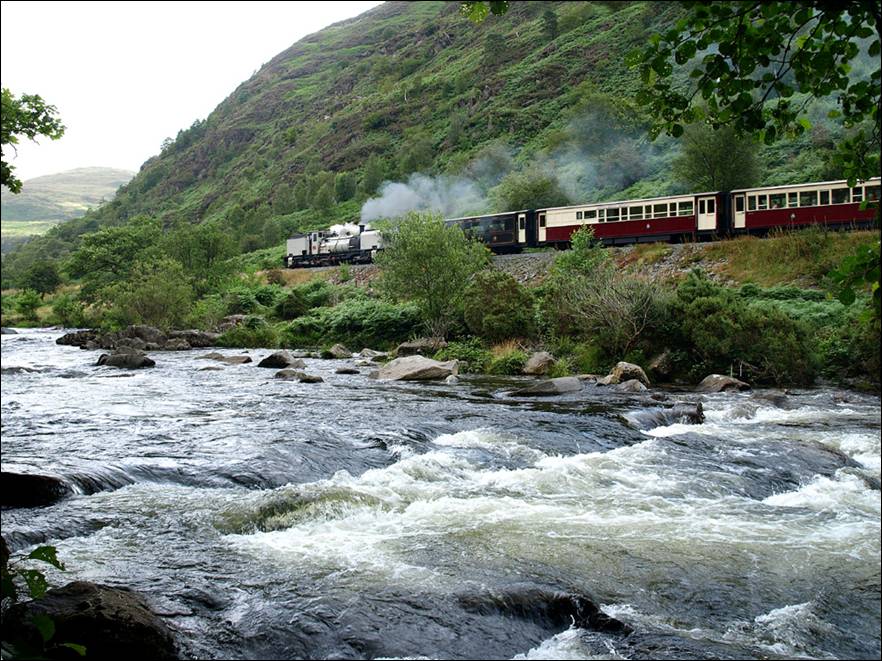 <![endif]>
Beyer-Garratt no. 87 heads through the Aberglaslyn Pass towards Beddgelert and Caernarfon in July 2009
<![if !vml]>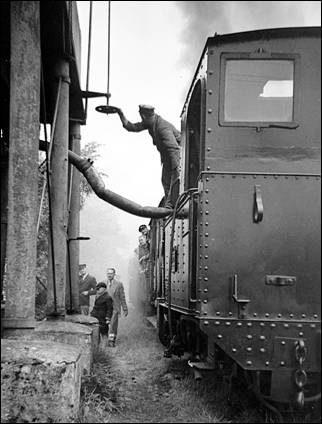 <![endif]>
A close up of no. 143, built in Manchester in 1958 for South African Railways and one of the last batch of steam locomotives built by Beyer Peacock.
Coupled next to 143 is the Pullman Observation Car which gives fine views of the line, especially when at the rear of the train.  The railway employs two further Beyer-Garratt locomotives, 87 and 138, also re-patriated from South Africa and retaining their SAR numbers.   They are the most powerful 2' gauge locomotives in the world, weighing 62 tons and capable of hauling 12 carriages up the four miles of 1 in 40 gradient out of Beddgelert.
<![if !vml]>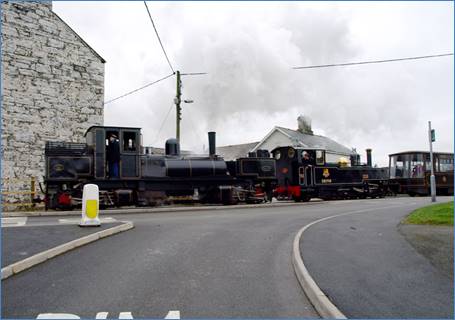 <![endif]>  <![if !vml]>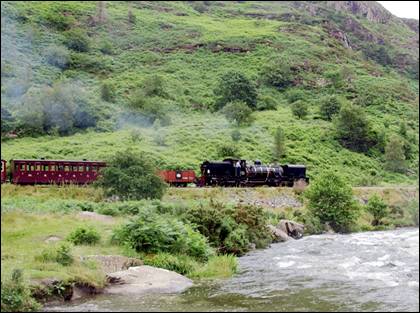 <![endif]>
No. 143 heads south from Beddgelert towards Aberglaslyn
<![if !vml]>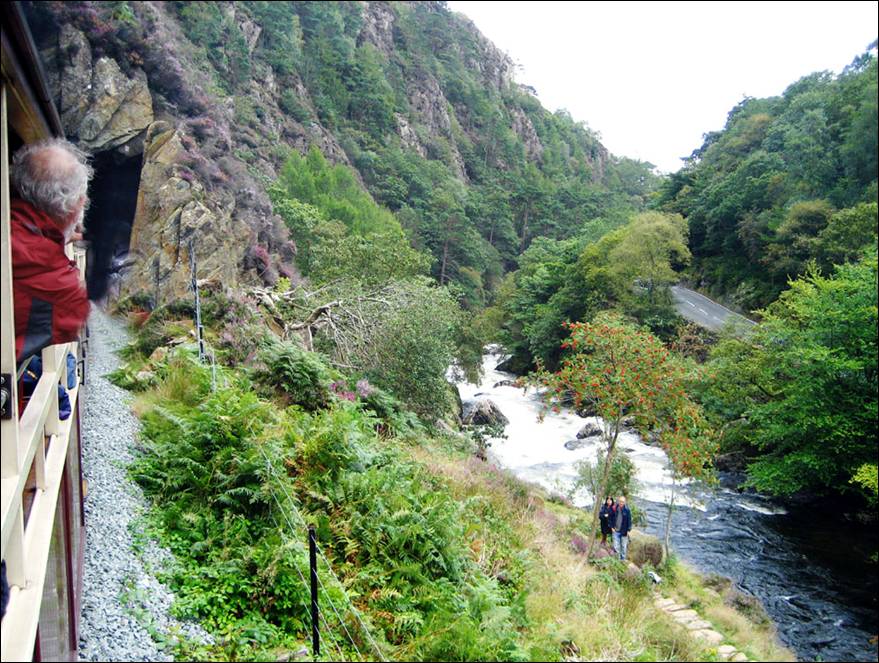 <![endif]>
The view from a train heading south into one of the tunnels in the Aberglaslyn Pass
<![if !vml]>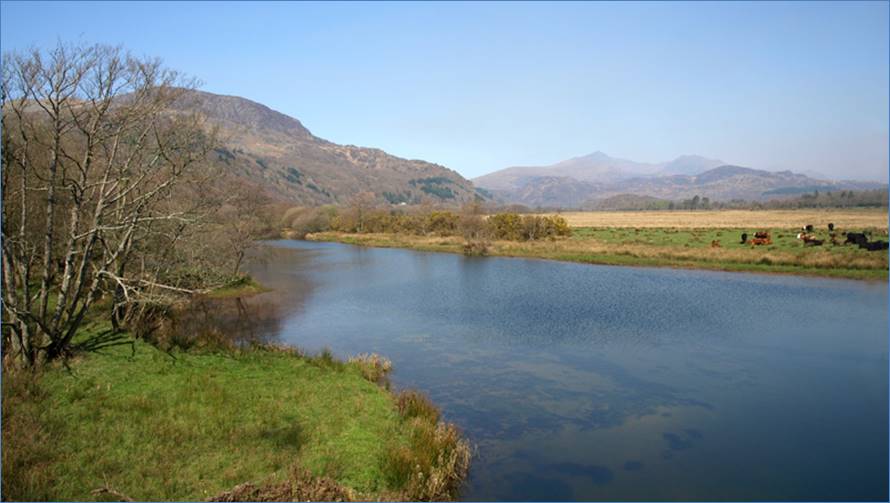 <![endif]> <![if !vml]>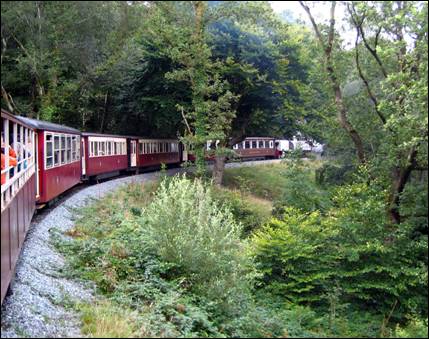 <![endif]>
The view from a Caernarfon-bound train in the Aberglaslyn Pass and in the woods near Beddgelert
<![if !vml]>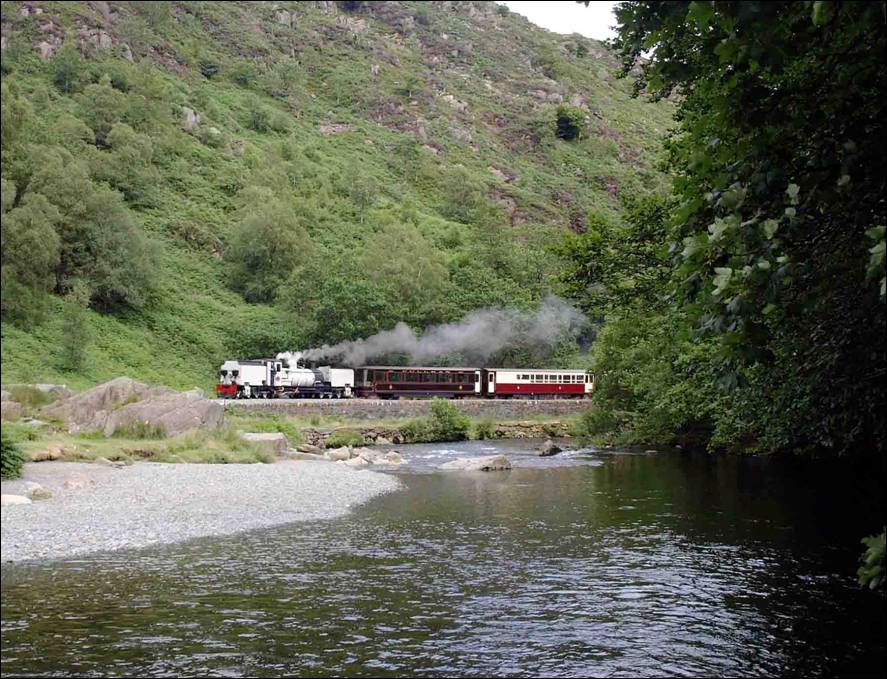 <![endif]>
No. 87 alongside the River Glaslyn with a train for Caernarfon
<![if !vml]>
<![endif]>
No 87 approaches the bridge over the River Glaslyn, a few moments after the previous photograph was taken.   Snowdon is visible in the distance.
<![if !vml]>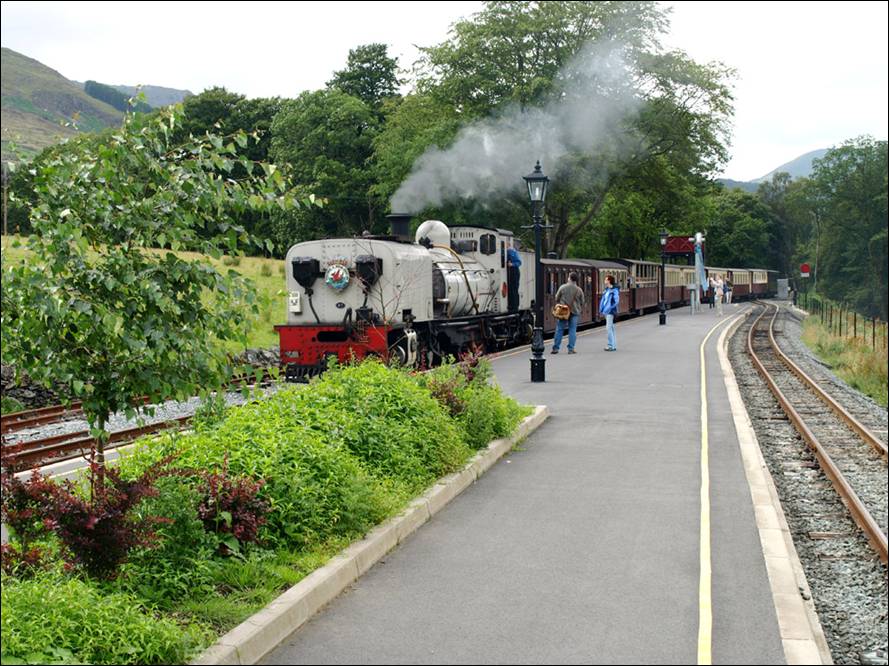 <![endif]>
No 87 enters Beddgelert station with a train from Caernarfon.
The first carriage is a replica of those which operated on the line from the 1890s until closure in 1936.   The second vehicle is a modern Ffestiniog Railway carriage and the rest were specially built for the re-opening of the Welsh Highland line.
<![if !vml]>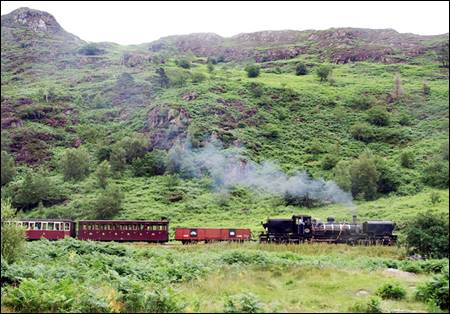 <![endif]>
No 87 climbs away from Beddgelert with a train for Caernarfon.   The train is on the first of the reverse curves and is actually pointing away from Caernarfon!   Moel Hebog (2566') looms above the train.
<![if !vml]>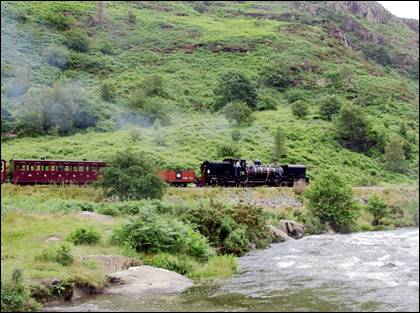 <![endif]>
In Beddgelert forest (March 2012)
<![if !vml]>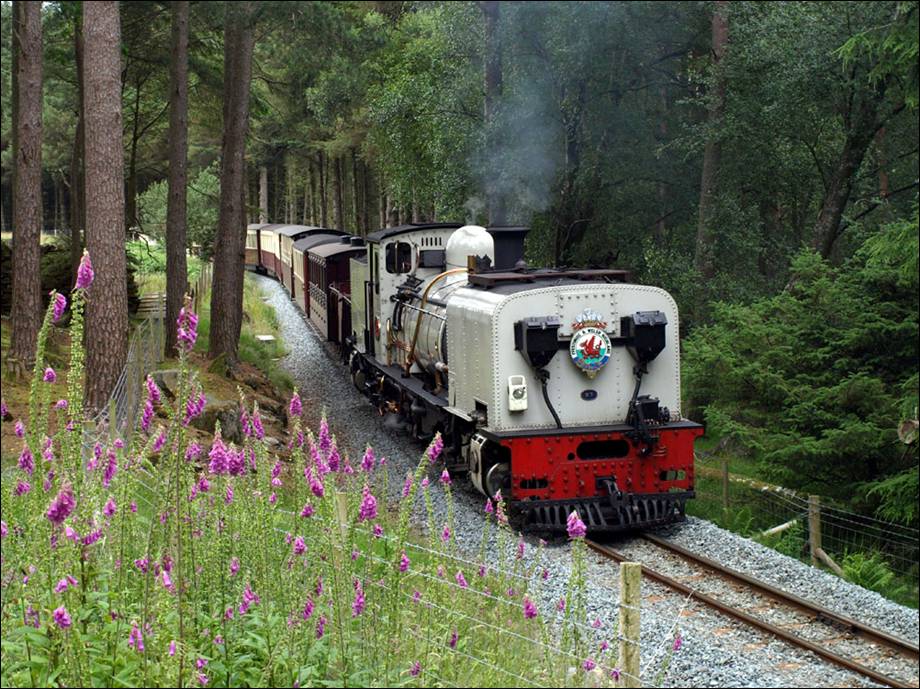 <![endif]>
87 with a train from Caernarfon enters the reverse curves as it approaches Beddgelert (July 2009)
<![if !vml]>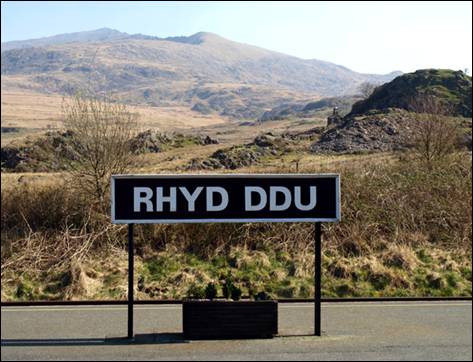 <![endif]> <![if !vml]>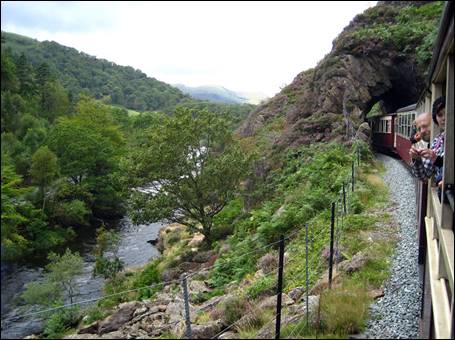 <![endif]>
Left:  Snowdon, seen from the platform at Rhyd Ddu
Right:  A view down the line from the crossing, showing the observation car at the rear of the train.   Moel Hebog is in the background.
<![if !vml]>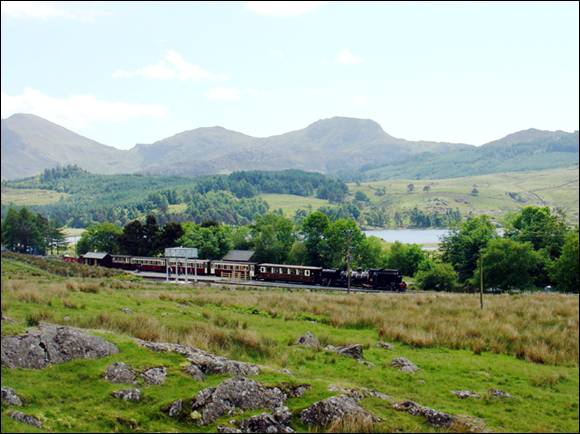 <![endif]> <![if !vml]>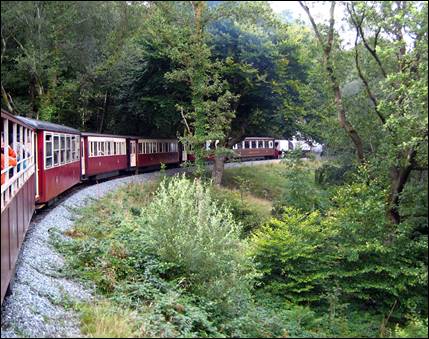 <![endif]>
Left:  A couple of years earlier, in 2007, when Rhyd Ddu was the terminus:   143 waits with its train for Caernarfon.
Right:  The same train near Salem
<![if !vml]>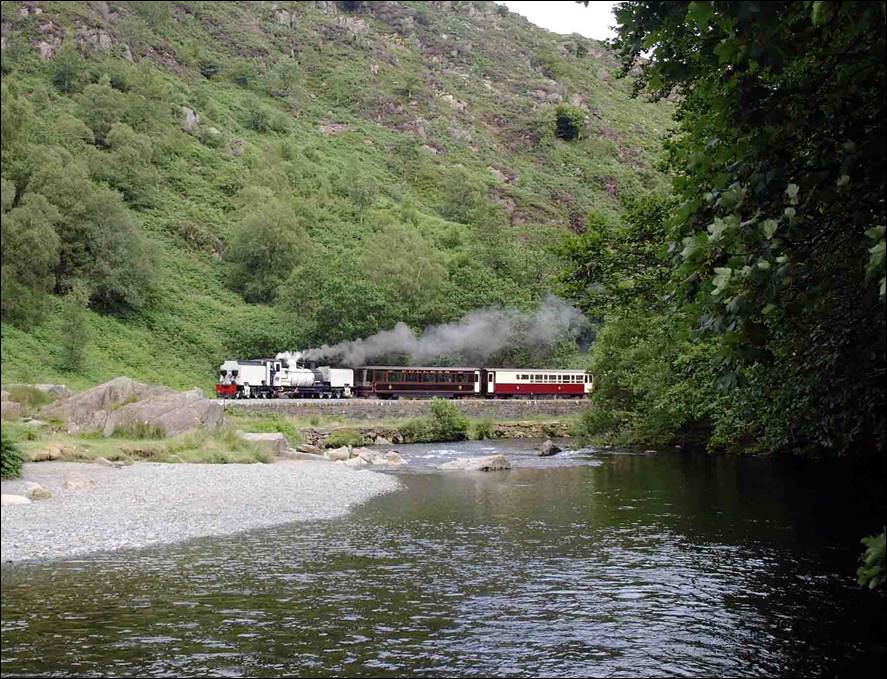 <![endif]>
143 leaves Rhyd Ddu with a train for Caernarfon.   Mynydd Mawr is in the background.
<![if !vml]>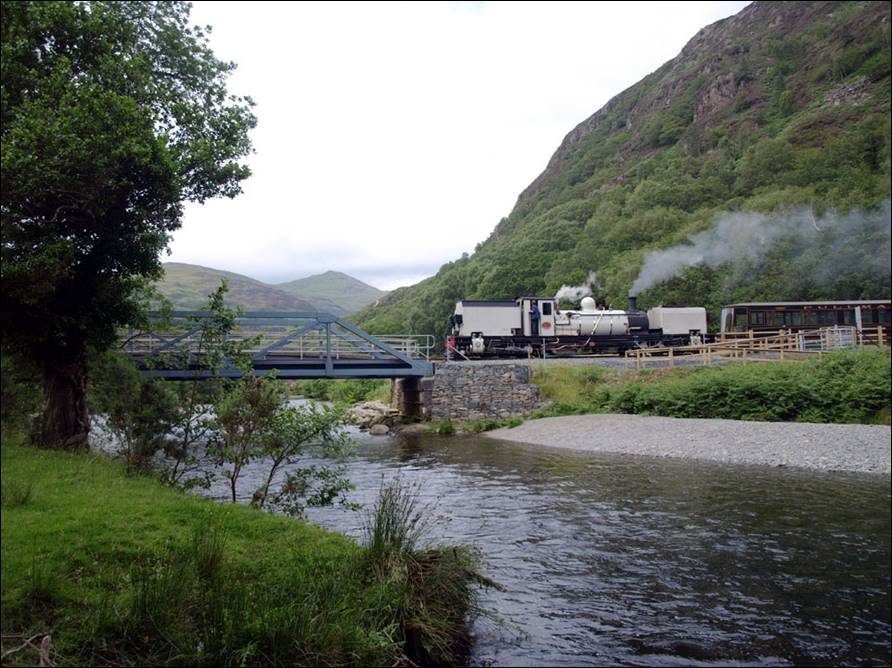 <![endif]>
The same train from the same view point, a few moments later, looking down the valley towards Caernarfon.
<![if !vml]>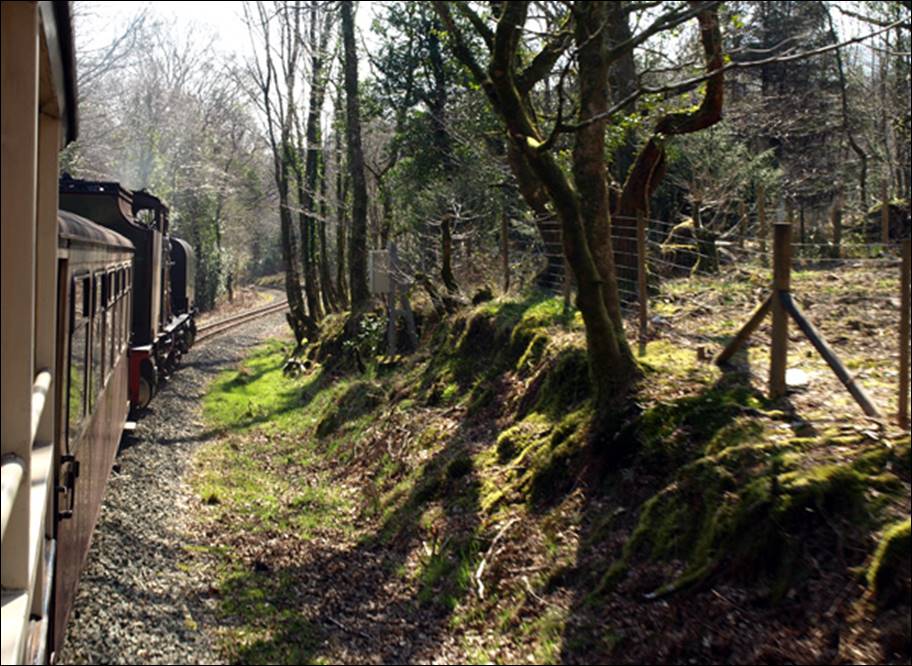 <![endif]> <![if !vml]>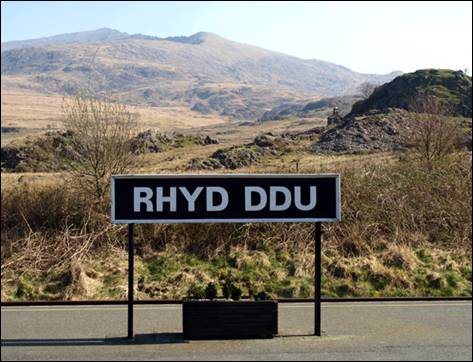 <![endif]>
Left:  143 sets off from Rhyd Ddu, bound for Caernarfon in March 2012.
Right:  A train bound for Caernarfon in a wintry landscape near Rhyd Ddu in February 2011.
<![if !vml]>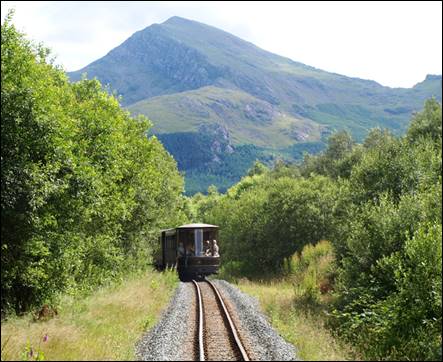 <![endif]>  <![if !vml]>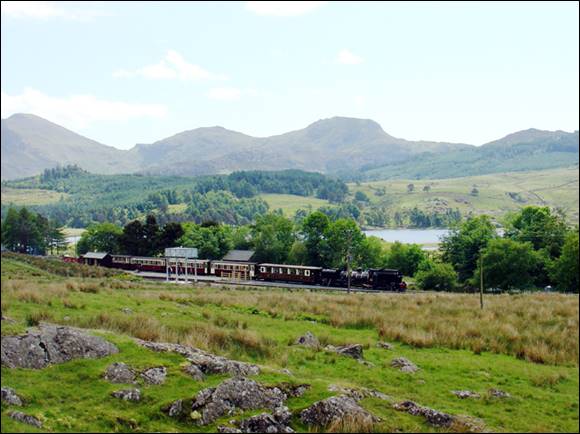 <![endif]>
Left:  Llyn Cwellyn, seen from a train bound for Caernarfon
Right:  A train for Caernarfon, about to cross the Gwyrfai River near Plas-y-Nant
<![if !vml]>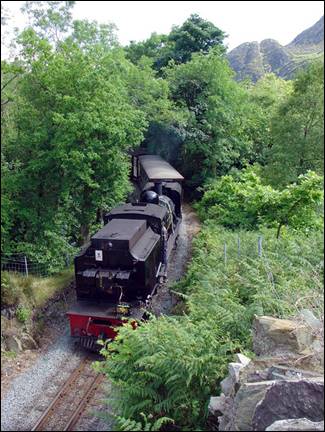 <![endif]>
With Snowdon sulking in the clouds, a Welsh Highland train heads for Caernarfon behind No. 138 in 2005
<![if !vml]>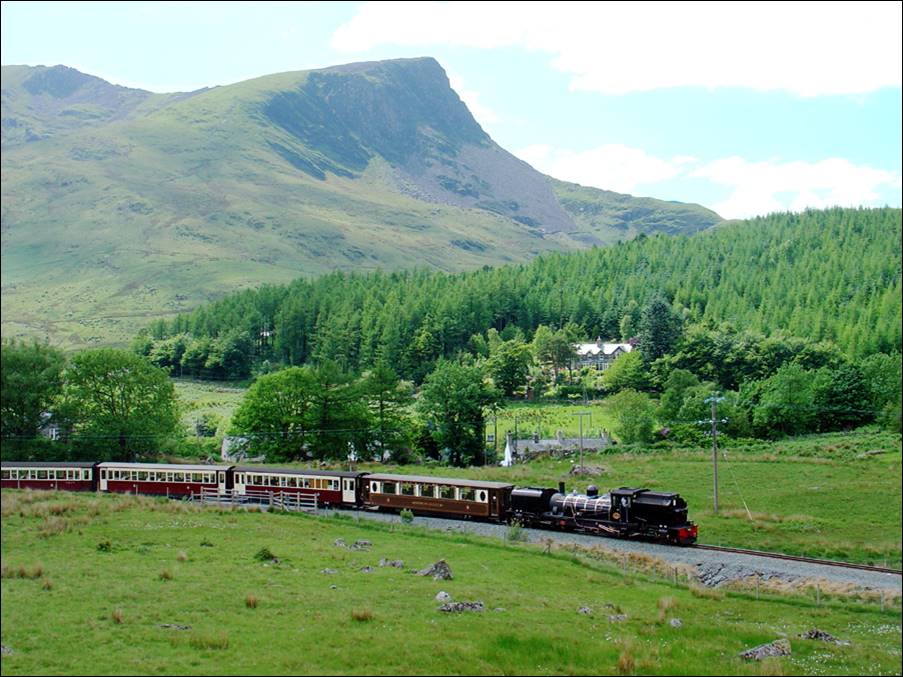 <![endif]>
Back at Caernarfon, 143 takes water before setting off with a train for Beddgelert and Aberglaslyn.
Caernarfon Castle can be seen in the background.  (August 2009)
<![if !vml]>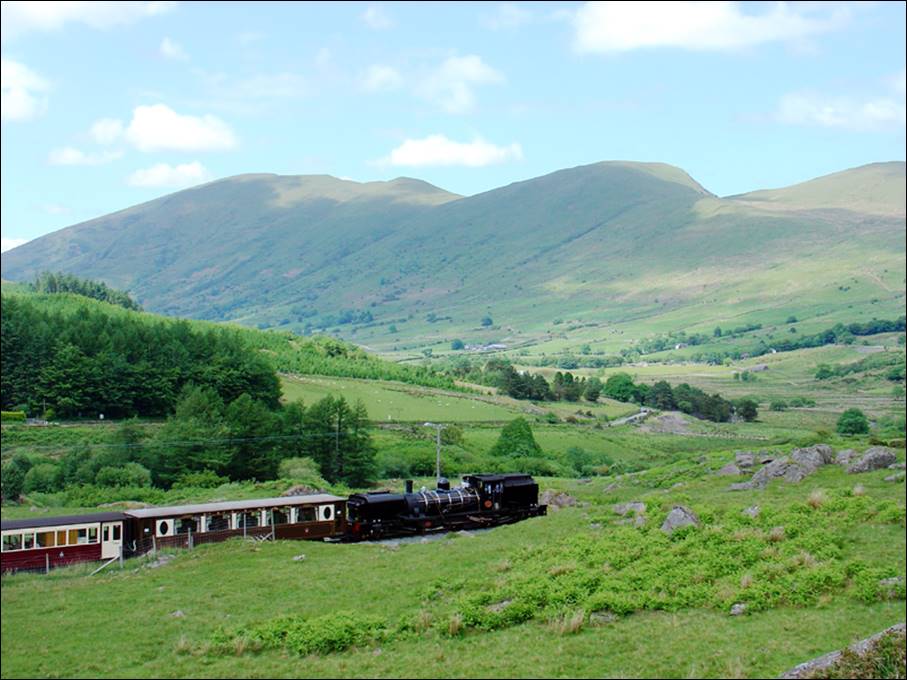 <![endif]>
The driver opens 143's cylinder drain cocks as the loco starts its train out of Caernarfon.
                        While in North Wales we called in at Tanybwlch station to see the trains of the Festiniog Railway Company:
<![if !vml]>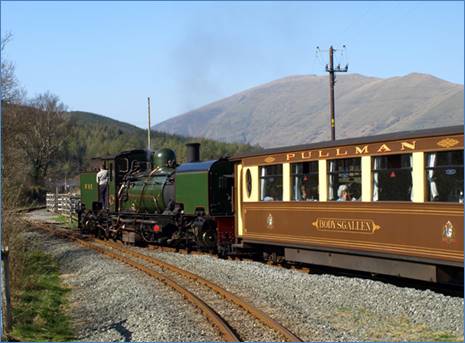 <![endif]>
David Lloyd George arrives at Tanybwlch with a train from Porthmadog to Blaenau Ffestiniog
<![if !vml]>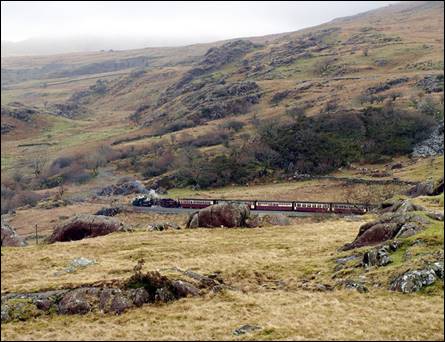 <![endif]> <![if !vml]>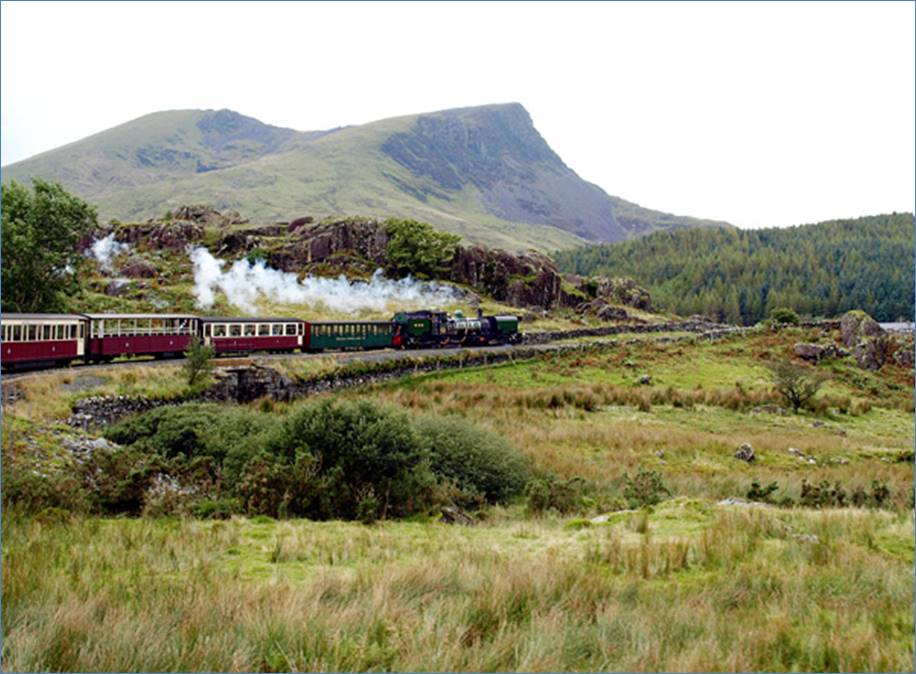 <![endif]>
Left: Former quarry shunting locomotive Britomart (named after a character in Spenser's Faery Queen) waits in a siding at Tanybwlch
Right:  Merddin Emrys starts out of Tanybwlch with a train for Porthmadog
Llangollen Steam Gala, 23rd April 2009
A selection of photographs taken at Carrog station.
<![if !vml]>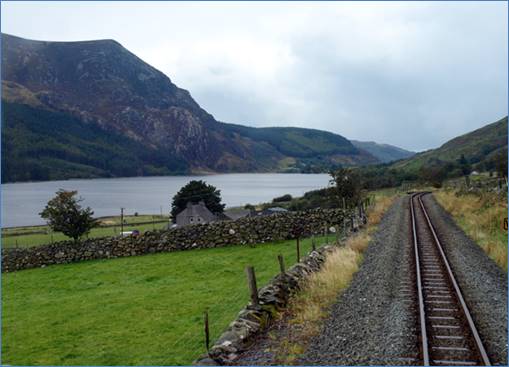 <![endif]>
Re-creating a scene from the 1950s:
4-4-0 no. 9017 on a down local train
 <![if !vml]>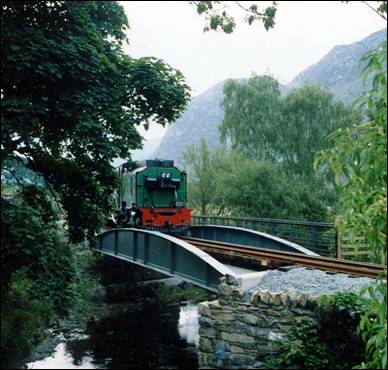 <![endif]>
On Thursday, 23rd April three 4-4-0 locomotives were in use at the Llangollen Steam Gala.   Here GWR 3440 City of Truro runs round its train at Carrog.
3440 was built in 1903 and is credited with the first recorded 100 mph, achieved with an up Mail train on 9th May 1904 while descending Wellington Bank between Exeter and Taunton.   On withdrawal in 1931, 3440 was preserved in the LNER's railway museum at York.   It was returned to service by B.R.'s Western Region in 1957, working special excursions and also regular services between Didcot and Southampton.   After about five years it was returned to static preservation at Swindon, but has since re-emerged for periods of use on preserved railways and, occasionally, the main lines of Network Rail.
<![if !vml]>
<![endif]>
City of Truro ready to depart from Carrog with an afternoon train to Llangollen
<![if !vml]>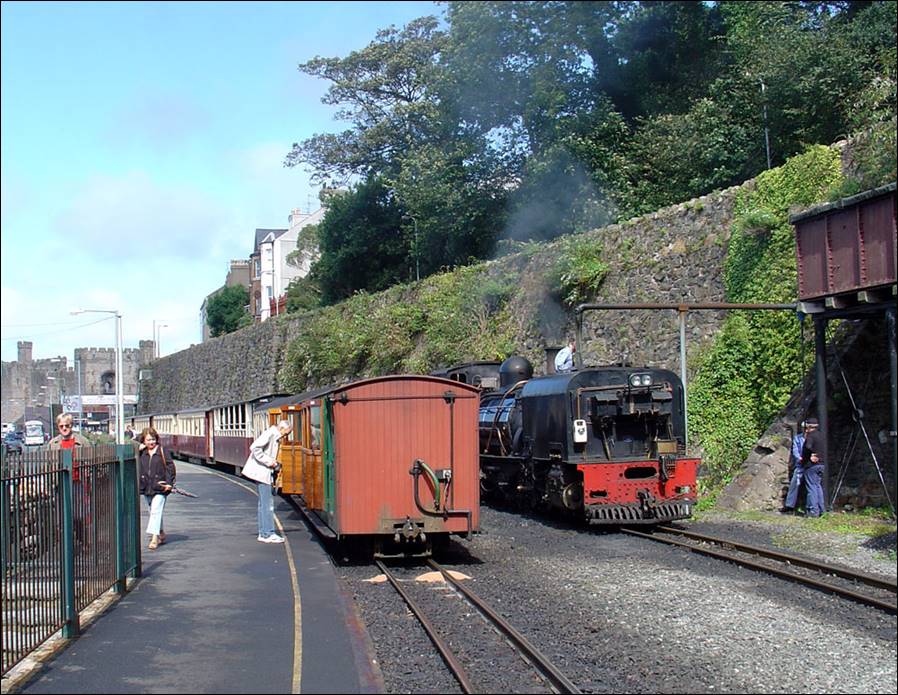 <![endif]> 
A close-up of 3440's nameplate and builder's plate.
<![if !vml]>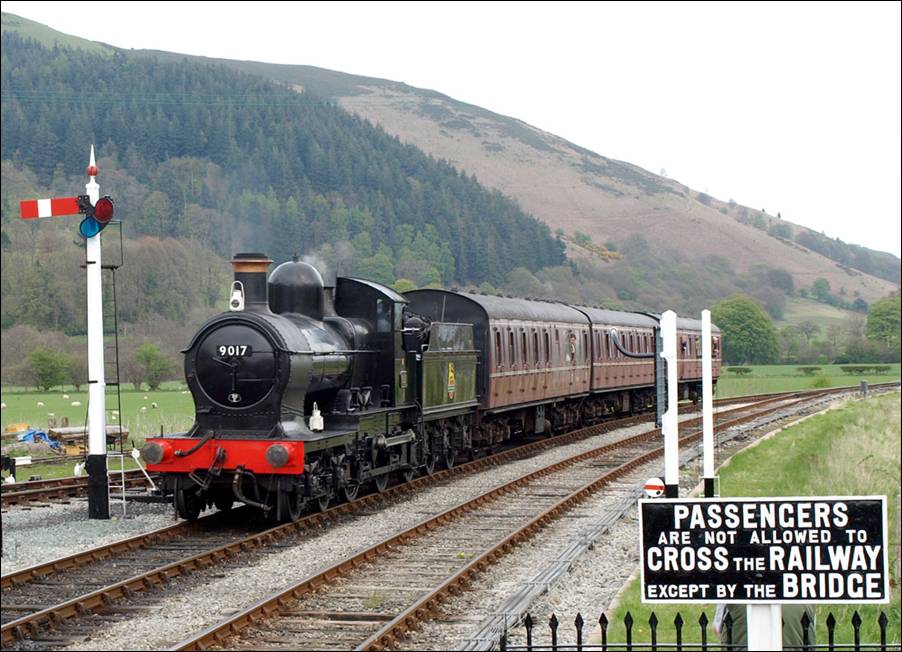 <![endif]>
GWR 4-4-0 no. 9017 entering Carrog with its train of maroon B.R. non-corridor carriages.
9017 was nominally built new in 1938 (at which time it was numbered 3217), but it was in fact a rebuild using the frames of "Bulldog" class 3425 (built in 1906) with the boiler of "Duke" class 3258 The Lizard (built in 1895).   The class of locomotives became especially associated with the Cambrian Railways lines from Whitchurch to Aberystwyth and from Machynlleth to Pwllheli.   9017 was the last survivor of its class, being withdrawn in 1960 when it was privately purchased for preservation.   It is normally kept on the Bluebell Railway in Sussex, but has occasionally emerged from exile to revisit its old haunts on the former Great Western Railway.
<![if !vml]>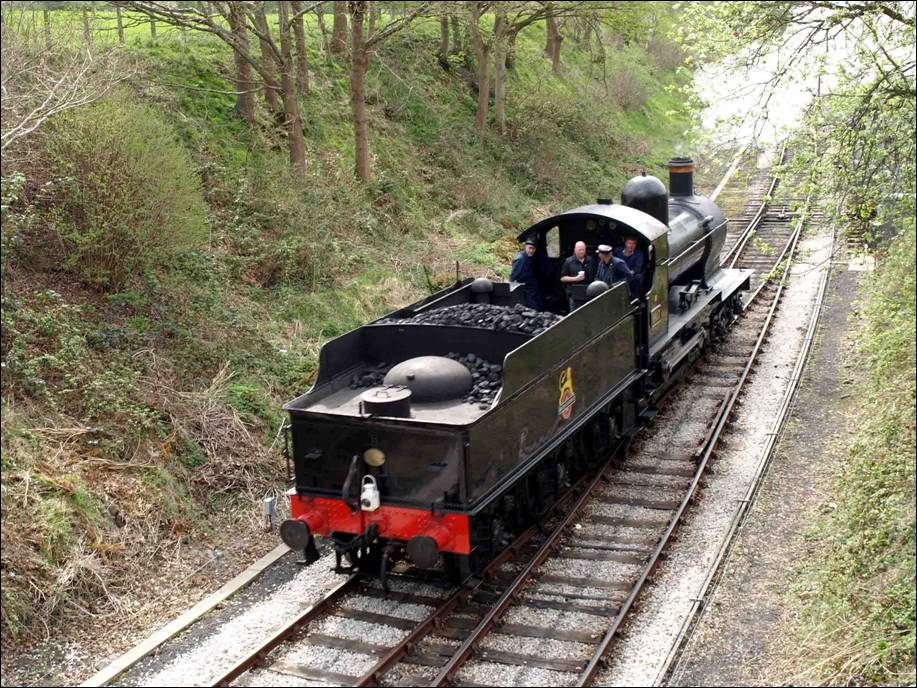 <![endif]> 
An idyllic scene as 9017 runs round its train at Carrog.
<![if !vml]>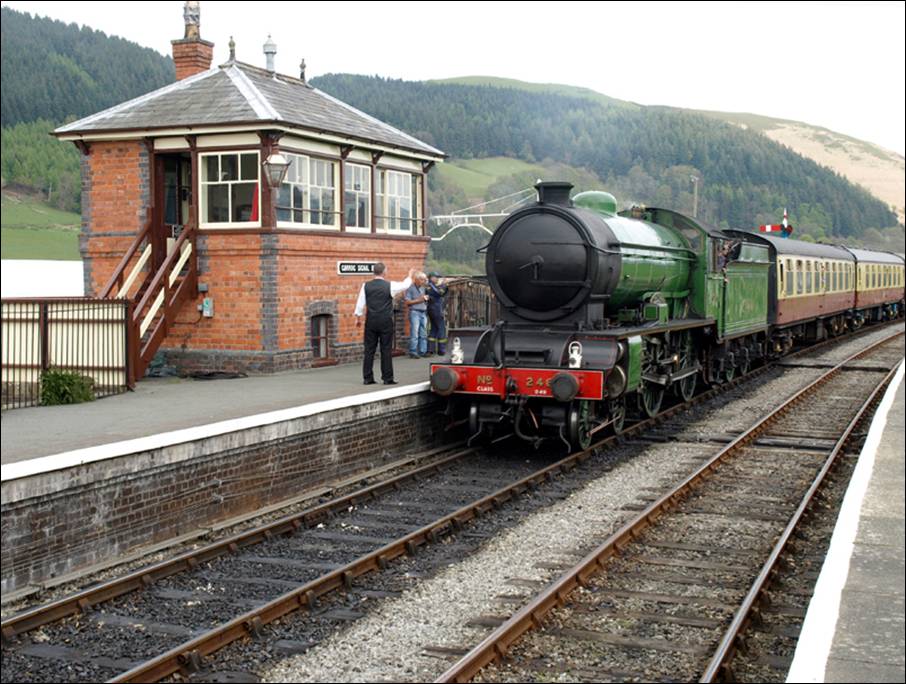 <![endif]>
The next arrival at Carrog was hauled by LNER D49 class 4-4-0 no. 246 Morayshire.
This locomotive was built at Darlington in 1928 and spent most of its working life based variously at Perth, Dundee and Edinburgh, before withdrawal from service in 1961.
Scenes on the Welshpool & Llanfair Railway
Photographs from August 2009 with a glance back to the line in June 1956, over fifty years previously
<![if !vml]>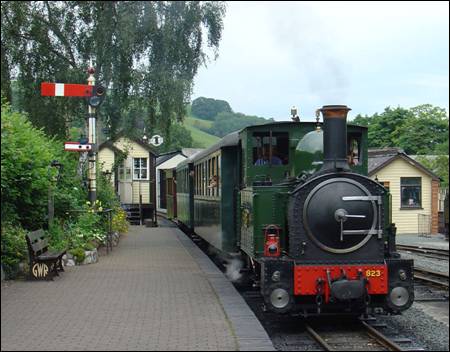 <![endif]>  <![if !vml]>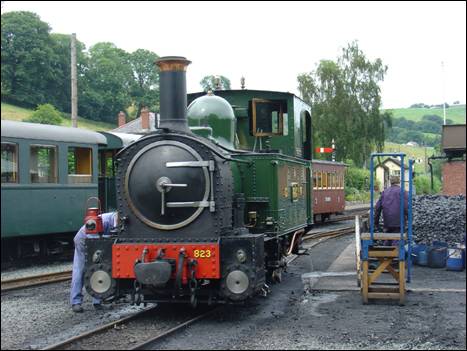 <![endif]>
Llanfair Caereinion: 
GWR 823 "Countess", built for the opening of the line in 1903, arrives with a train from Welshpool and is then seen receiving attention in the station yard.
<![if !vml]>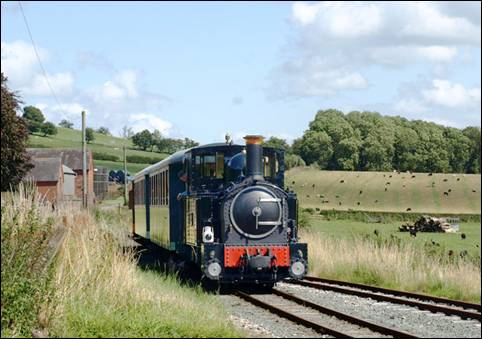 <![endif]>  <![if !vml]>
<![endif]>
No 822 "The Earl", the other original locomotive, seen with a train for Llanfair, in typical local countryside, and at Welshpool after taking water.
Back in June 1956 ….
The Welshpool & Llanfair line was then still part of British Railways' Western Region.   Passenger services had been withdrawn in 1931, but freight was to continue until November 1956, despite the inconvenience and cost of transhipping goods from standard gauge wagons to the narrow gauge at Welshpool.    It was clear that such an arrangement was unlikely to continue indefinitely, and during the 1950s special trains were occasionally run for railway enthusiasts wishing to travel over the line while they could.   As there were no longer any passenger vehicles on the line, British Railways kindly cleaned out coal wagons for use on such occasions.   Passengers hoped for a dry day!   I was lucky to be able to join one such excursion just five months before the line closed.   This necessitated a formal request at school for permission to leave shortly before lunch on Saturday.   Looking back, I am amazed I had the nerve to ask for permission, but it was granted, enabling me to have a particularly memorable afternoon travelling on the W&L.
On purely economic grounds, the line might well have been closed several years earlier but survived a little longer largely because it had a special place in the affections of the local B.R. management.   This was fortunate, as by 1956 there was a trend to railway preservation for which funds would not have been available in earlier years.   After closure, the locomotives were carefully stored in Oswestry works by B.R. until the line was re-opened by preservationists in 1963.
<![if !vml]>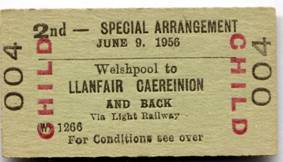 <![endif]>
<![if !vml]>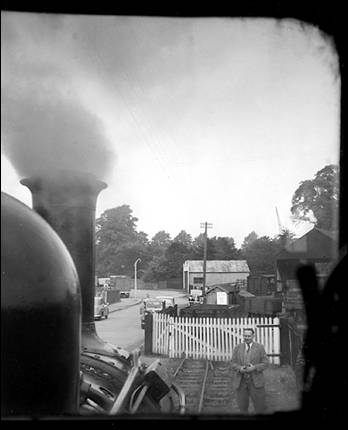 <![endif]>  <![if !vml]>
<![endif]>
Left:  The view from the cab of 822 at Welshpool.   Beyond the gate are the exchange sidings where coal is being transferred from standard-gauge wagons to those of the W&L line, ready for the nine-mile journey to Llanfair Caereinion.
Right:  The first mile of the line ran through the streets and alleys of Welshpool:  here is a view from the train near Seven Stars.   This section did not re-open after preservation of the rest of the line.
<![if !vml]>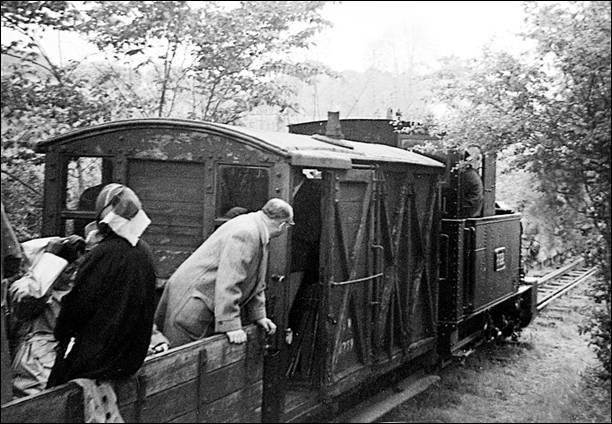 <![endif]> <![if !vml]>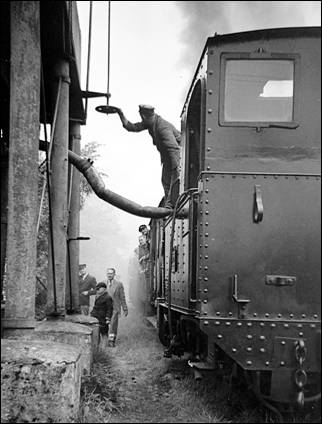 <![endif]>
Left:  A pause near the viaduct over the River Banwy, showing passengers perched in the open wagons.
Right:  Taking water near Llanfair on the return journey
<![if !vml]>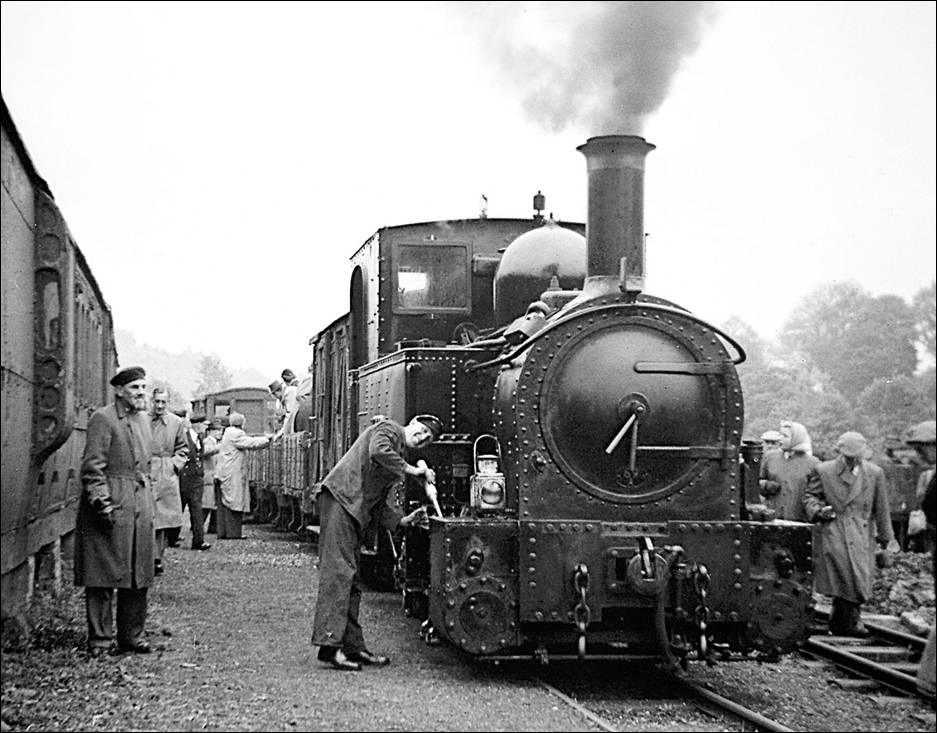 <![endif]>
Passengers alight from the train at Llanfair Caereinion on 9th June 1956, while the driver oils the motion of 822.
Note that B.R. have duly fitted an 89A (Oswestry) shedplate to 822's smoke-box door.   The carriage body at the left is not from a W&L vehicle, but is a former standard-gauge carriage, brought to Llanfair by the G.W.R. for use as a store.
For details of our other web pages, including many railway photographs from the 1950s and early 1960s, please go to the Home Page using the list at the left:  (if the list is not displayed, click here:  index.htm)