The Darlaston Family Web Pages
This is Railways4.  Last updated 16th March 2008.
N.B.  Photographs may take some time to download
All photographs © Robert Darlaston
<![if !vml]>

<![endif]>
Welcome to my Railway Pages
Page 4:  England and North Wales:  1961-1963
CONTENTS:
Birmingham New Street, Boston, Leicester Belgrave Road, Lincoln, Peterborough North;  Crewe, Shrewsbury, Wrexham, Ellesmere, Llanfyllin, Oswestry, Ruabon, Morfa Mawddach, Blaenau Ffestiniog;  London Waterloo, Nanstallon, Holsworthy, Halesowen, Swindon Works, Stechford, Stratford-upon-Avon, Middleton-in-Teesdale.
My other railway pages can be accessed by clicking on the links below:
Railways.htm    (Photographs taken in 1957 (Fifty years ago!), train spotting at Birmingham Snow Hill in 1953, and scenes in the West Midlands and South Wales 1953 – 1962)
Railways50yr.htm  (A selection of photos from the 1950s:  West Midlands, Wales, and a few Southern scenes;  the last Slip Coach)
Railways2.htm  (Brecon and -Mid-Wales;  the Somerset & Dorset line,  GWR and LSWR lines in Somerset, Devon and Cornwall:  all 1957-1962)
Railways3.htm  (the Scottish Highlands, 1959 and 1961)
Railways5.htm  (the decline of steam, including the Southampton line, Birmingham GW, North Wales, Stroud Valley and Manchester Victoria:  1964 -1968)
England and North Wales:  1961-1963
As we moved into the 1960s the railway scene began to change significantly.  The replacement of steam power by diesel was the most obvious development, but other aspects of the railway system, once commonplace, steadily began to vanish:  semaphore signals and local signal boxes, wayside stations with staff who carefully tended the station garden;  not to mention all those bits of Victorian paraphernalia from gas lamps and fire buckets to porters' barrows and water columns.   Here then is a selection of scenes showing the railway much as our parents and grandparents knew it and as we remember it from childhood.
We begin at Birmingham New Street, a gloomy, dreary station badly damaged in the war and overdue for rebuilding – but not deserving the squalid replacement inflicted on the city in the late 1960s.
<![if !vml]>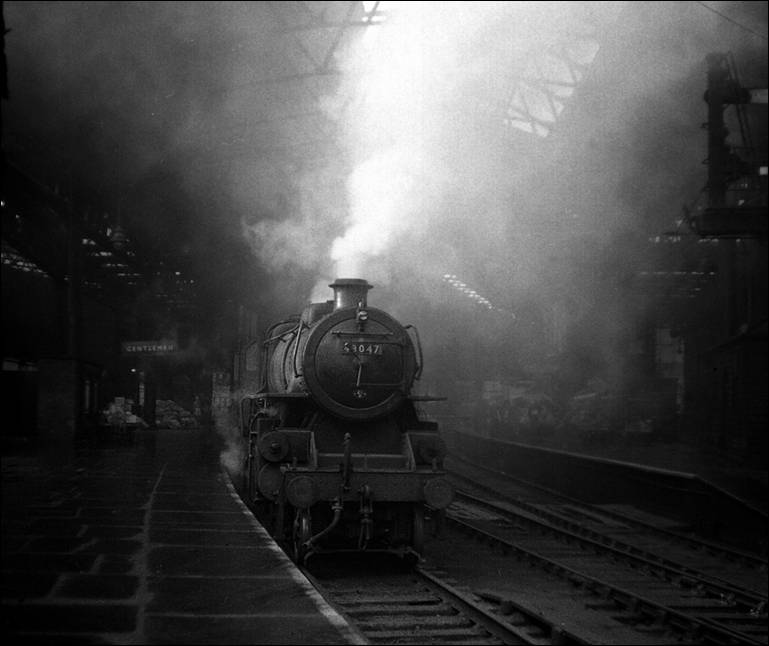 <![endif]>
43047 waits at platform 8 on the Midland side with the 11.15 to Leicester on 16th December 1961
<![if !vml]>
<![endif]>   <![if !vml]>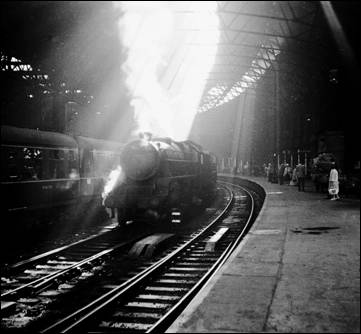 <![endif]>
Another view of 43047 on 16th December 1961 (is that a Christmas tree, neatly wrapped, on the porter's barrow?) and a scene from platform 10 on a sunnier day showing 44818 awaiting its next turn of duty.
<![if !vml]>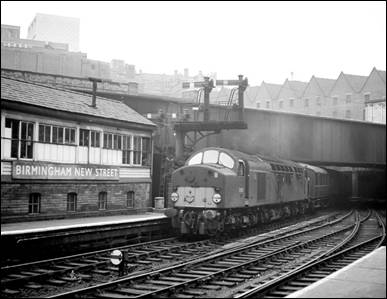 <![endif]>  <![if !vml]>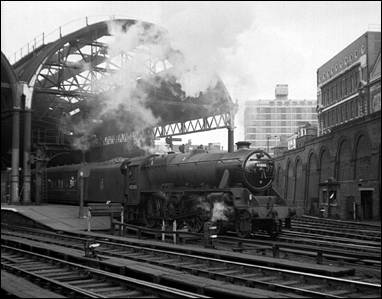 <![endif]>
One of the last workings of the Pines Express (Manchester to Bournemouth via Birmingham, Bath and the Somerset & Dorset line) enters New Street's platform 9 in September 1962.   Unfortunately steam had already given way to diesel power and no one had bothered to affix the traditional Pines Express headboard.    45088 leaves platform 9 on the Midland side of New Street with the 5.47 pm to Worcester Shrub Hill on 25th August 1962.
<![if !vml]>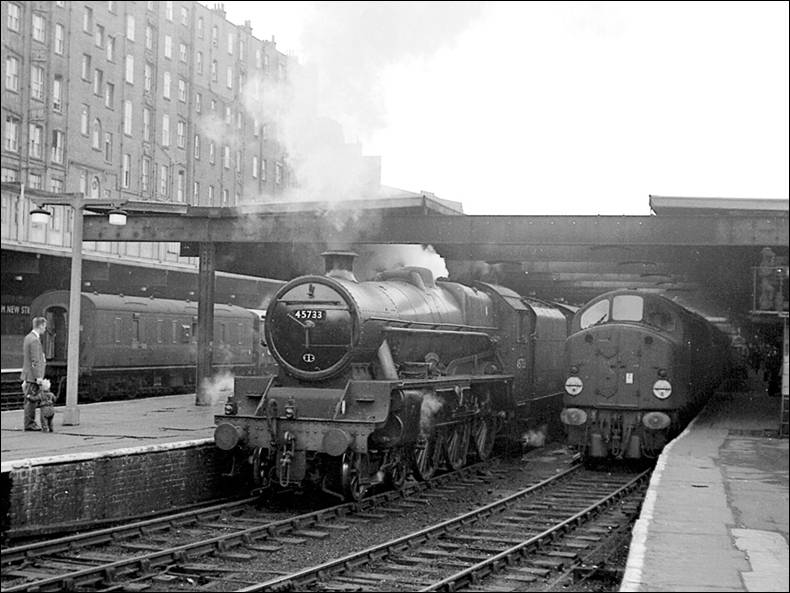 <![endif]>
Over to the London & North Western side of the station to see 45733 Novelty with empty stock at platform 5.   A new English Electric diesel locomotive waits at platform 6 with a train to Manchester London Road on 19th August 1961.
<![if !vml]>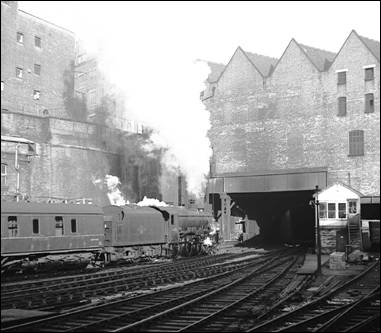 <![endif]>   <![if !vml]>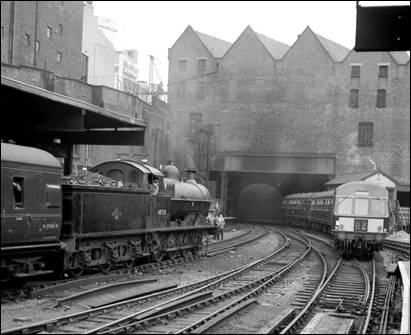 <![endif]>
Two views at the up end of the LNW station:  44771 leaves platform 3 with the 3.58 pm to Norwich via Rugby and Peterborough on 28th October 1961;  and ex LNWR 0-8-0 48930 waits with the Centenary Special to Sutton Coldfield on 2nd June 1962 (while a local from that line arrives at platform 4).
<![if !vml]>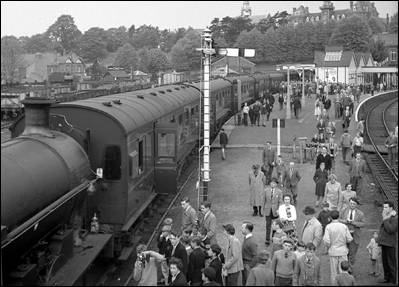 <![endif]>  <![if !vml]>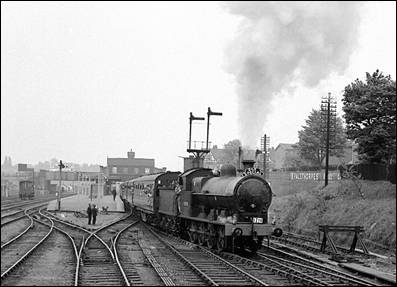 <![endif]>
The Centenary special is seen at Sutton Coldfield and leaving Stechford for New Street after traversing the little-used line from Aston.
From our home in Birmingham we seldom ventured east and rail services were certainly not calculated to encourage trips in that direction.   But in most years I managed one pilgrimage to the east.   That in 1962 was perhaps the most interesting.   I caught the summer Saturday Birmingham New Street – Skegness holiday train as far as Boston.   The train travelled via Derby Friargate and Nottingham Victoria, stations now long-since closed, and reached Boston in time to allow me to climb Boston 'Stump'.   My return journey was on another holiday train, taking trippers home from Skegness to Leicester Belgrave Road via Melton Mowbray and the curiously named station of John O'Gaunt, using a line then open to passenger trains on only a handful of days each summer.
<![if !vml]>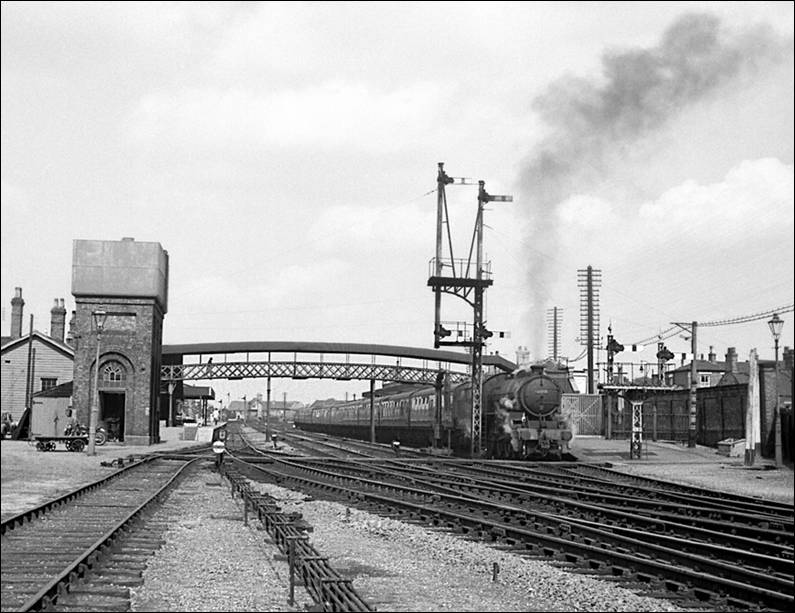 <![endif]> 
An LNER B1 class loco starts a train for Nottingham Victoria out of Boston on 18th August 1962.
 <![if !vml]>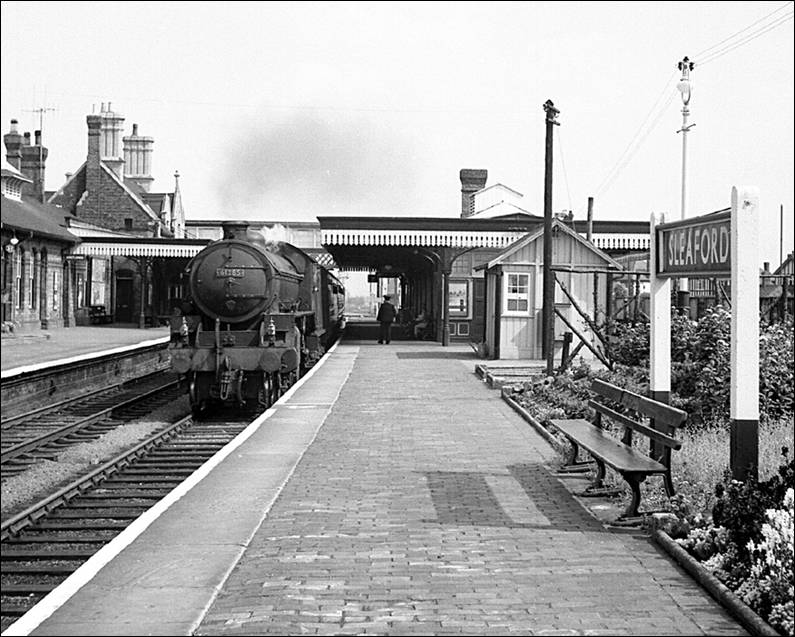 <![endif]>
B1 no 61285 arrives at Sleaford with a Skegness – Leicester Belgrave Road train.
Sleaford station still presents much the same attractive appearance in 2007.
<![if !vml]>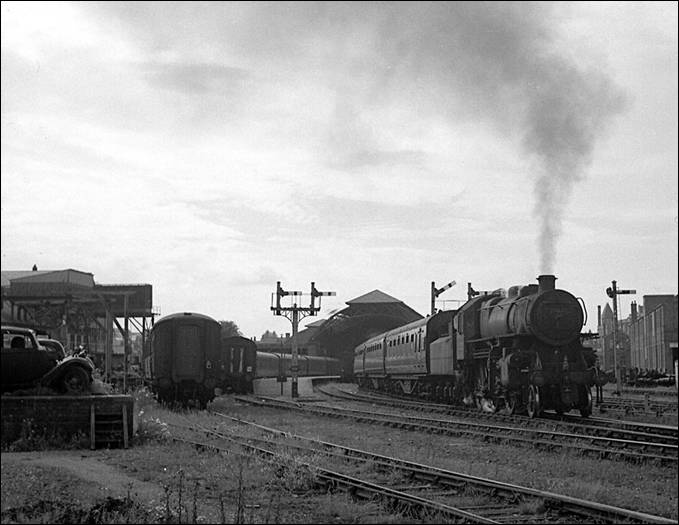 <![endif]>
Leicester Belgrave Road station with the empty stock of a train from Skegness being taken away.
At the left, someone's pre-war pride and joy has reached the end of the road at a car breaker's yard.
<![if !vml]>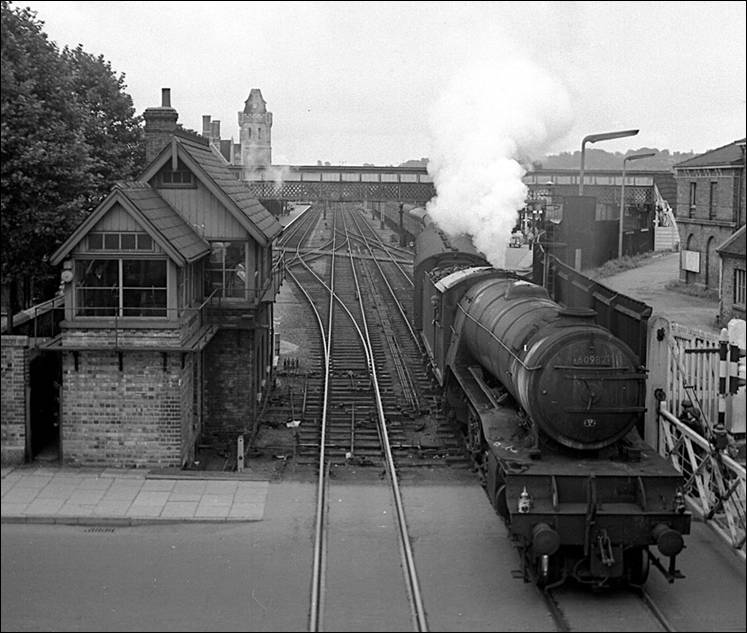 <![endif]>
On another occasion, 60982 leaves Lincoln Central with the 7.50 Colchester – Newcastle train
<![if !vml]>
<![endif]>
A memory of a previous trip eastwards:  immaculate A3 60111 Enterprise arrives at Peterborough North
with the 7.53 Sunderland – King's Cross train on 11th March 1961.
Retracing our steps from Peterborough to the Midlands:
<![if !vml]>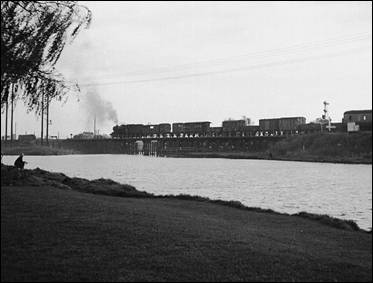 <![endif]>  <![if !vml]>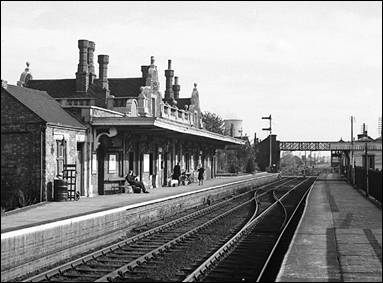 <![endif]>
An LMS 2-8-0 takes a freight over the River Nene near Peterborough.
The delightful station of Northampton Bridge Street on the Northampton – Peterborough line.
The stations on this line were all built in the 1840s to particularly attractive designs by John Livock.
Sadly the line closed in 1964 and the stations were demolished.
Next, we move north-west from Birmingham to Crewe and then to former Great Western lines in North Wales:
<![if !vml]>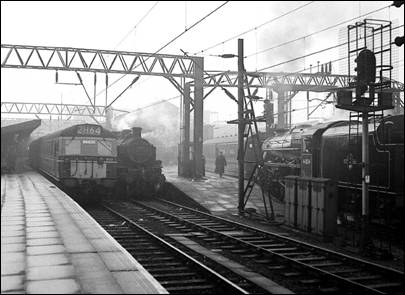 <![endif]>  <![if !vml]>
<![endif]>
Steam and electric at Crewe on 8th November 1962:
Electric multiple unit 032 with the 11.3 stopping train to Manchester Piccadilly, Ivatt 2-6-2T 41324 alongside, and Class '5' 44834 shunting Royal Mail stock.
The 9.5 Liverpool Lime Street to Kingswear and Plymouth North Road (via Hereford and the Severn Tunnel) arriving at Crewe behind new blue electric locomotive E3005, eclipsing Jubilee 45595 Southern Rhodesia on an up parcels train.
<![if !vml]>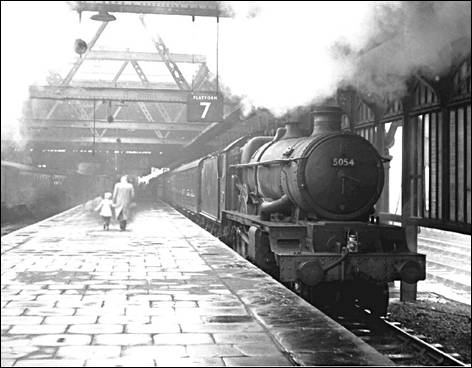 <![endif]>  <![if !vml]>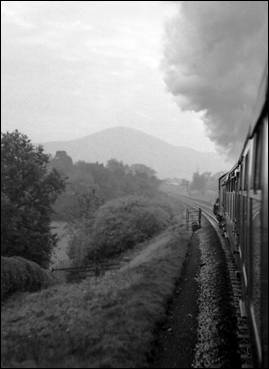 <![endif]>
At Crewe I joined the Liverpool – Plymouth train shown above, travelling to Hereford.   The electric loco was replaced by a Black 5 from Crewe to Shrewsbury where it was replaced in turn by GWR "Castle" class 5054 Earl of Ducie.   The first picture shows 5054 at Shrewsbury, where a father and child walk away after admiring the locomotive.   In the second picture Caer Caradoc dominates the skyline as Earl of Ducie climbs towards Church Stretton.   The engine accomplished the 51 mile run from Shrewsbury to Hereford non-stop in exactly one hour.   Today, diesel trains take 51 minutes, inclusive of a stop at Ludlow.   5054's final moment of glory came on 9th May 1964 when it ran the 117 miles from Bristol to London in 95 minutes maintaining a top sped of 94 mph.   5054 was built in 1936 and withdrawn from service in October 1964.
Next:  a day out on Saturday, 1st September 1962 from Birmingham to the Wrexham area.   Here is the itinerary:
                                       arrive          depart
Birmingham Snow Hill                               8.32  (Hall class loco)
Shrewsbury                         9.48           10.52  (County class loco)
Wrexham General              11.50
Wrexham Central                                  1.30  (1400 class loco)
Ellesmere                            2.05           2.35  (4300 class loco)
Oswestry                            2.54           3.45  (Ivatt Class '2' loco)
Llanfyllin                             4.24           4.30  (        -  do  -       )
Oswestry                            5.11           5.15  (1400 class loco)
Gobowen                            5.23           6.00  (Hall to Shrewsbury, then a Castle to Wolverhampton and a King thereafter))
Birmingham Snow Hill            7.51
<![if !vml]>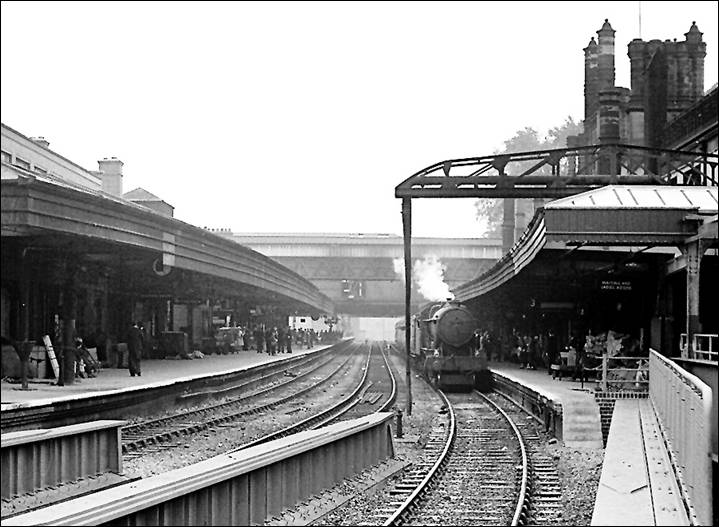 <![endif]>
Shrewsbury station on 1st September 1962, showing County 4-6-0 1025 County of Radnor arriving with the 10.25 Wellington to Chester General train.
<![if !vml]>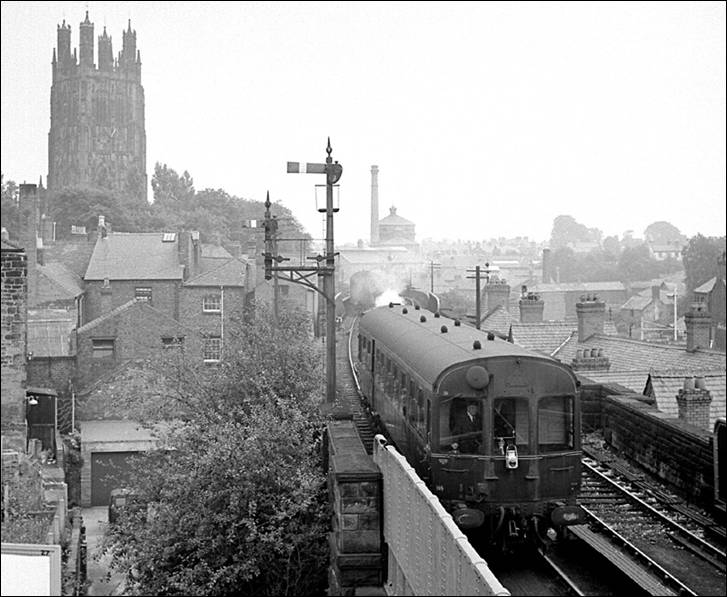 <![endif]>
An auto train from Ellesmere, propelled by 1432, arrives at Wrexham Central on 1st September 1962.
Note the warning bell above the windows.
<![if !vml]>
<![endif]> <![if !vml]>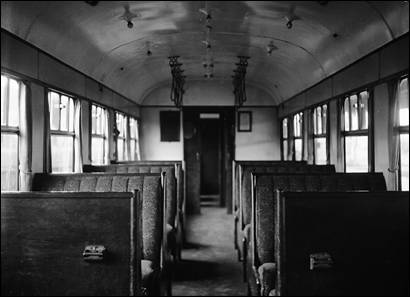 <![endif]>
Passengers alight from the train after arrival back at Ellesmere at 2.05pm
The interior of a G.W.R. auto-trailer:  that on the Ellesmere service was packed to capacity!
<![if !vml]>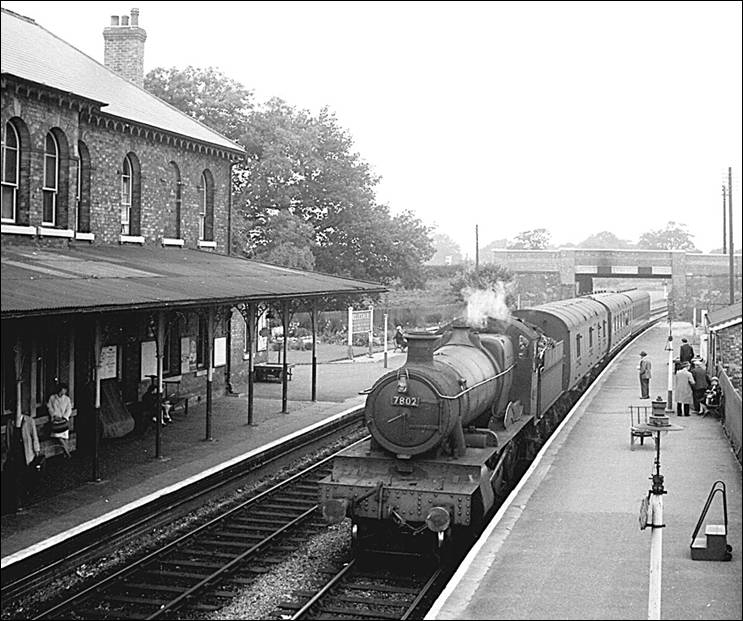 <![endif]>
7802 Bradley Manor arrives at Ellesmere with an Oswestry – Whitchurch local train on the same day.
Note the mobile steps at the right to help passengers to alight at the rather low platforms.
<![if !vml]>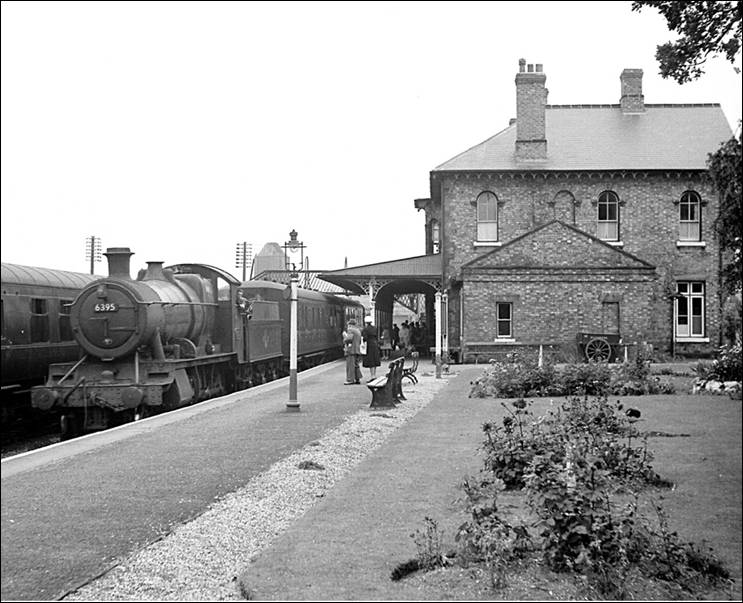 <![endif]>
2-6-0 6395 arrives at Ellesmere with the 1.40 pm Whitchurch to Welshpool stopping train.
The attractive station gardens show that staff had generous time available between trains.
The handcart against the wall is not a garden ornament, but was in daily use for delivering parcels.
<![if !vml]>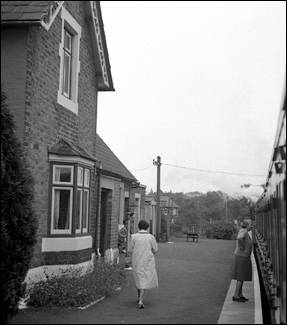 <![endif]> <![if !vml]>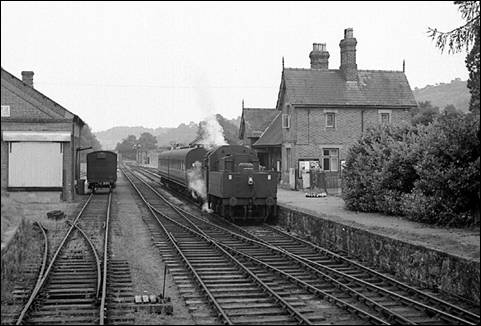 <![endif]>
Domestic scenes while the Llanfyllin branch train pauses at Llansantfraidd station (since converted to a restaurant).
Ivatt 2-6-0 46509 at Llanfyllin terminus with the 3.45 train from Oswestry.
<![if !vml]>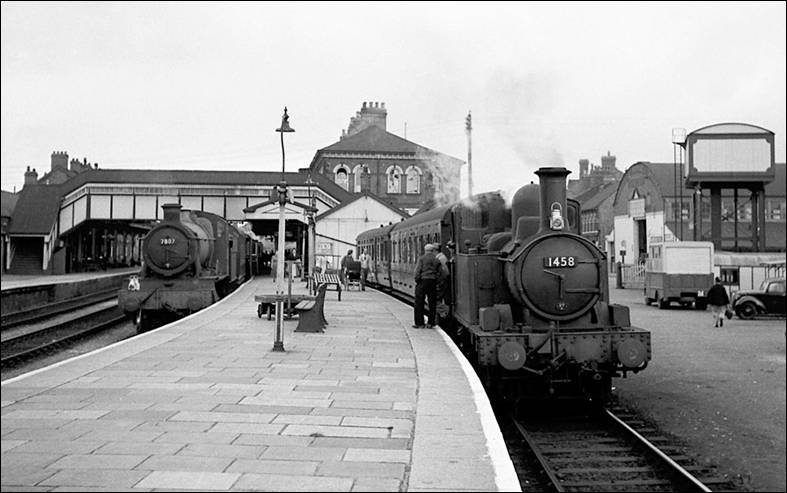 <![endif]>
Oswestry station:  7807 Compton Manor has arrived with a train from Aberystwyth and 1458 waits with the connection for Gobowen.
<![if !vml]>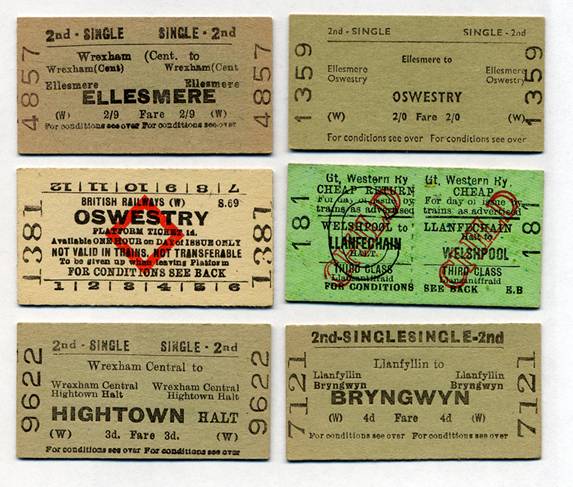 <![endif]>
Souvenirs of a day's travels
A journey to Barmouth:
<![if !vml]>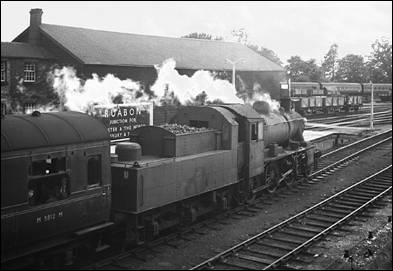 <![endif]>  <![if !vml]>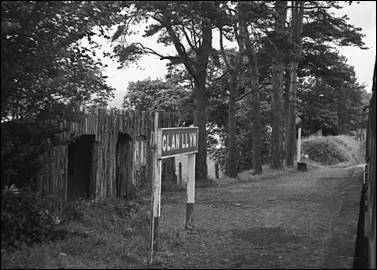 <![endif]>
An LMR 2-6-0 waits at Ruabon with a train for Llangollen on 24th August 1963.
The rural charm of Glan Llyn Halt (near Bala) seen from a passing train.
<![if !vml]>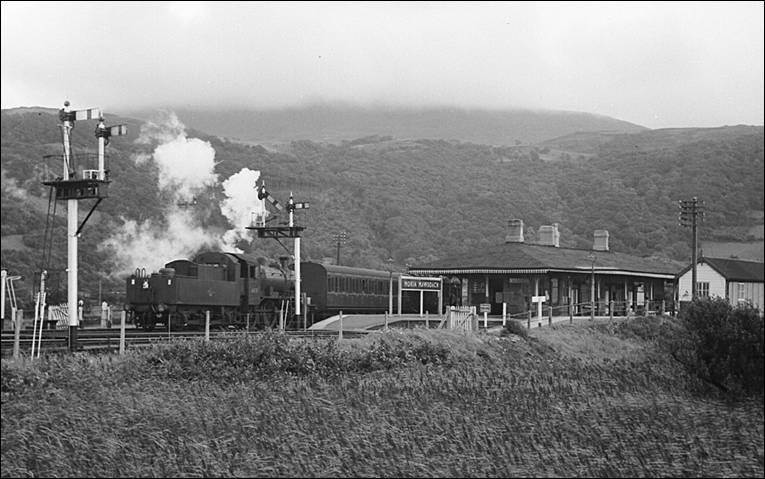 <![endif]>
Seen from a perch amongst the reeds of the Mawddach estuary,
46512 leaves Morfa Mawddach with a Dolgellau – Barmouth train on 24th August 1962.
<![if !vml]>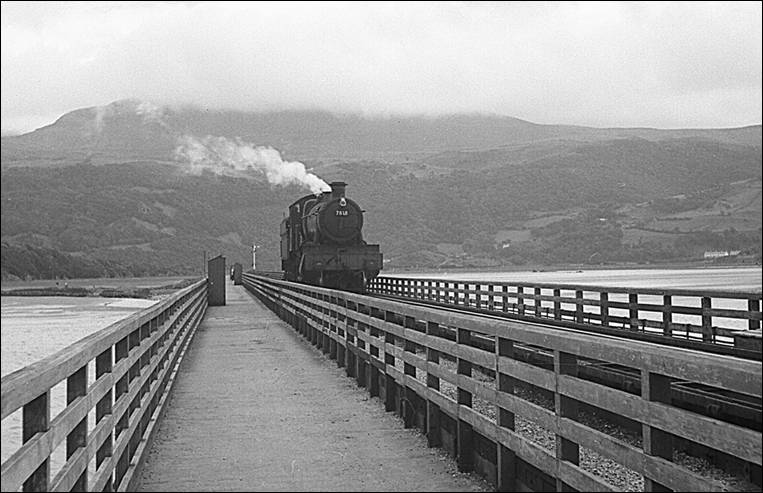 <![endif]>
7818 Granville Manor runs tender-first across Barmouth Viaduct, also on 24th August 1962. 
The engine was going to turn on the triangle at Morfa Mawddach, in order to face south, prior to returning
to Barmouth to work the 2.35 to Dovey Junction.   Meanwhile, Cader Idris hides in Welsh mist.
Farewell to the Bala and Blaenau Ffestiniog line:
<![if !vml]>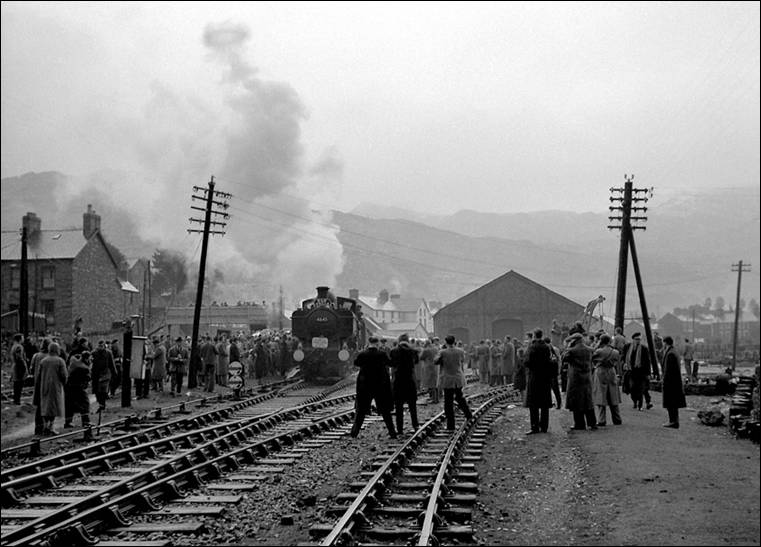 <![endif]>
Blaenau Ffestiniog on 22nd January 1961 with 4645 and 8761 on the last passenger train from Bala.
Narrow gauge tracks of the Ffestiniog Railway, then still in use for transport of slate from local quarries, are centre-right
and (almost obscured by people) also at the left.
<![if !vml]>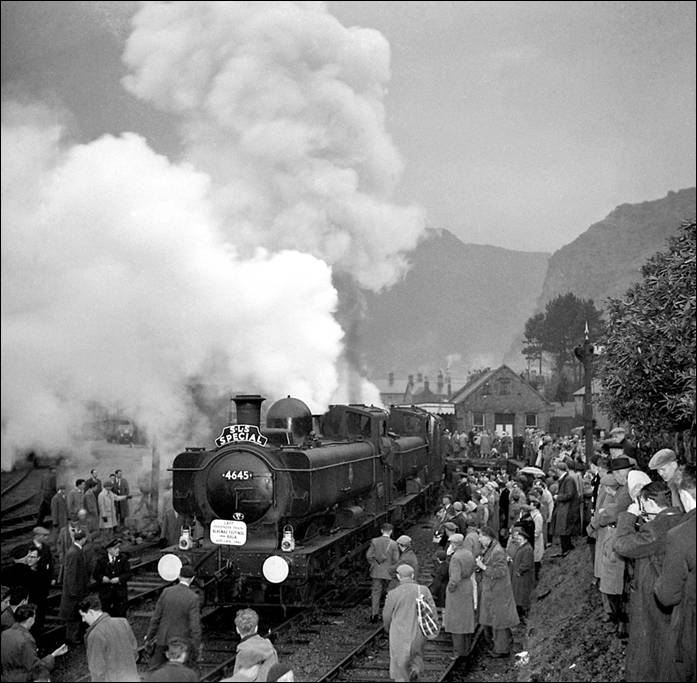 <![endif]>
4645 and 8761 get ready for the final return journey through the mountains to Bala and Ruabon.
                   Some glimpses of life on the former Southern Railway:
<![if !vml]>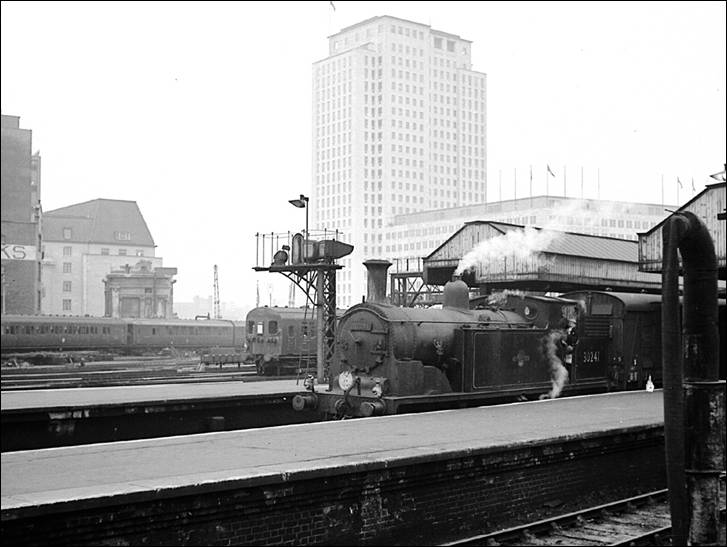 <![endif]>
LSWR 30241 shunting stock at Waterloo on 24th October 1962.
<![if !vml]>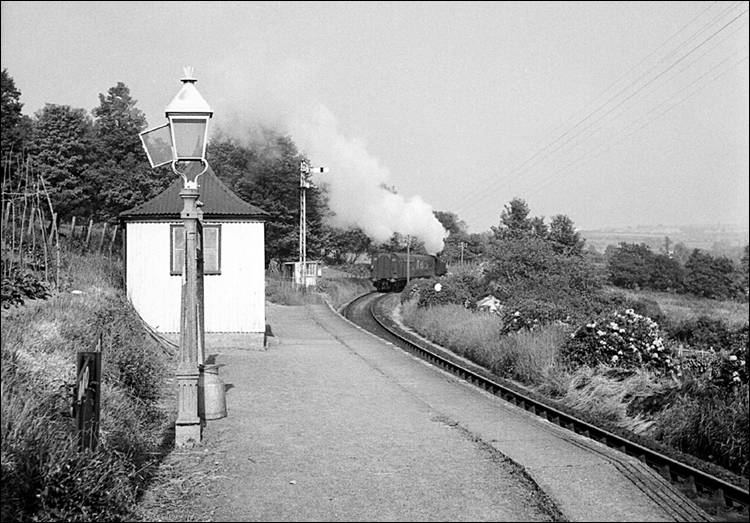 <![endif]> 
Deepest Cornwall:  a Padstow – Bodmin North train leaves Nanstallon Halt, a typical rural
stopping place with a corrugated iron 'pagoda' style hut provided by the GWR.
Rhododendrons bloom across the line from the platform
 <![if !vml]>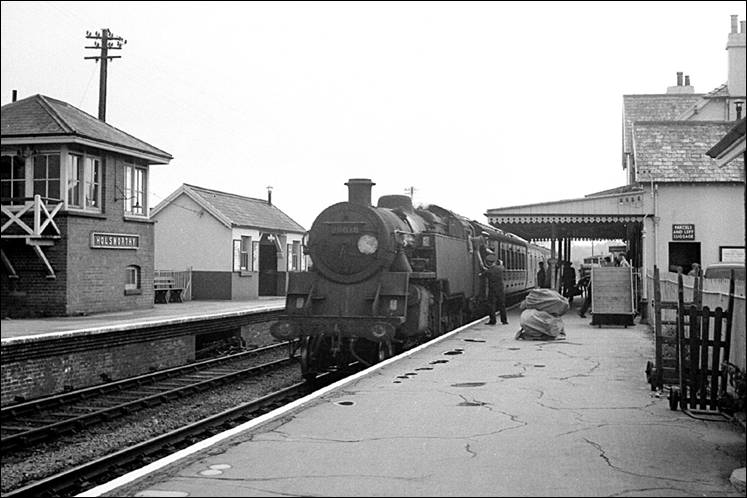 <![endif]>
Holsworth, Devon, with 80038 on a Bude – Okehampton train.   The driver and signalman exchange
single-line tokens and the mails await collection:  an every day scene in 1963.
Back in the Midlands, two views on the rural line from Longbridge to Halesowen taken on 2nd November 1963:
 <![if !vml]>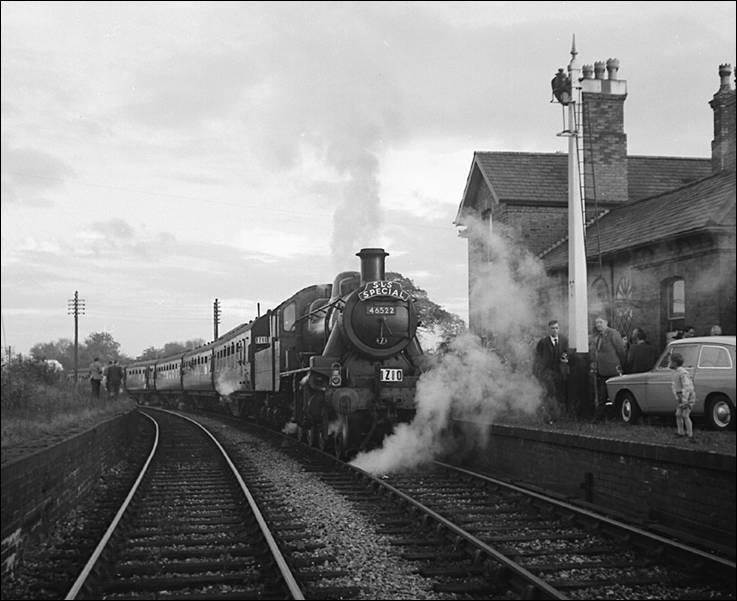 <![endif]> 
A Stephenson Locomotive Society special, hauled by 46522 calls at Rubery (closed to passengers in 1919).
Since closure, a signal has been plonked where passengers might have expected to wait and the signalman parks his smart Austin A40 on the platform.
I am, however, worried about the intentions of the small boy in front of the car!
 <![if !vml]>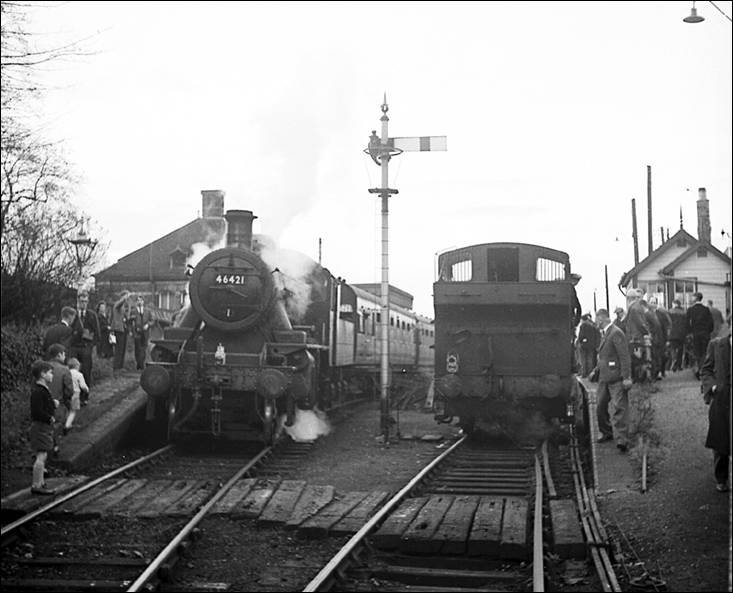 <![endif]>
At Halesowen, the train (hauled by 46522 and propelled by 46421) passes a GWR pannier tank.
1961 was one of  the final years when full overhauls were carried out on express steam passenger locomotives.  Here is a scene at Swindon Works on 10th September 1961:
<![if !vml]>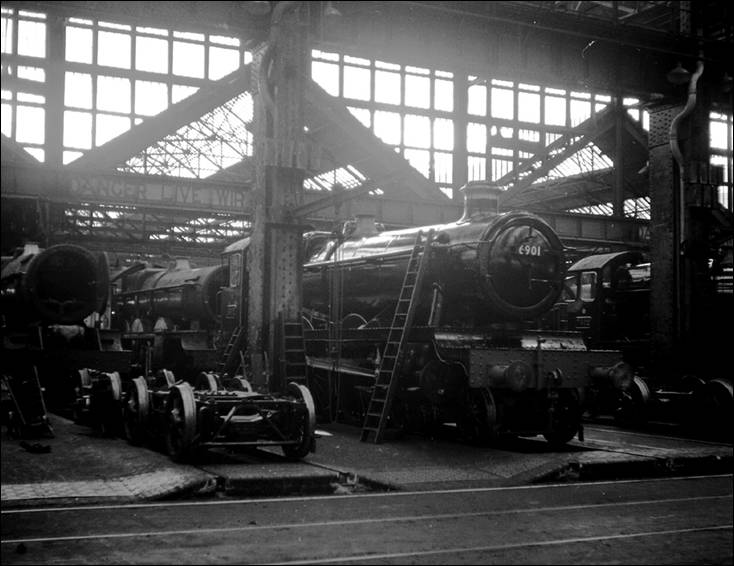 <![endif]>
6901 Arley Hall nears completion at the Swindon works where it was built in July 1940. 
At the right finishing touches are being put to 7802 Bradley Manor.  
Behind 6901 a Castle is receiving attention and at the left work is in progress on a King.
Within weeks, work on overhauling Kings and Castles would cease as they were replaced
by diesels.   Halls and Manors would continue to receive attention for about another year.
A harsh winter:  snow fell on Boxing Day 1962 and the temperature dropped below freezing.   Temperatures remained exceptionally low and the snow lay until early March 1963 causing severe problems everywhere, not least on the railways
<![if !vml]>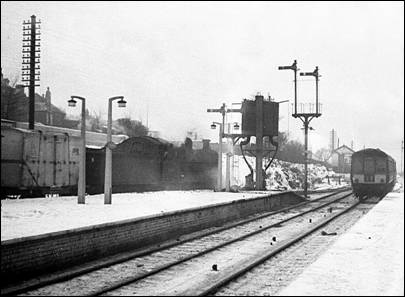 <![endif]>  <![if !vml]>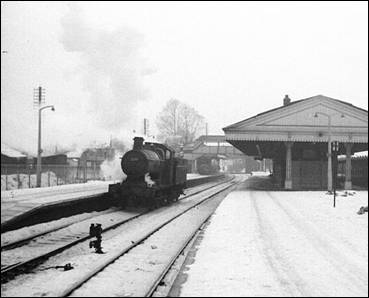 <![endif]>
At Stechford, a LNW 0-8-0 waits with a down freight as a local for Coventry approaches on 26th January 1963.
At Stratford-upon-Avon 2211 runs through prior to banking a freight train towards Birmingham.
The River Avon at Stratford was then completely frozen over and people walked on the ice in front of the Memorial Theatre.
The End of the Line
Finally, a scene which was once so commonplace:  the buffer stop at the terminus of a rural branch line in deepest England;  
the point beyond which trains cannot pass.  This is at Middleton-in-Teesdale, at the end of the branch line from Barnard Castle.  
Beyond lie the Pennines, wild and open country destined to be even further from railways.
Already, flowers grow amongst the sleepers:  soon it will be long grasses and saplings.
<![if !vml]>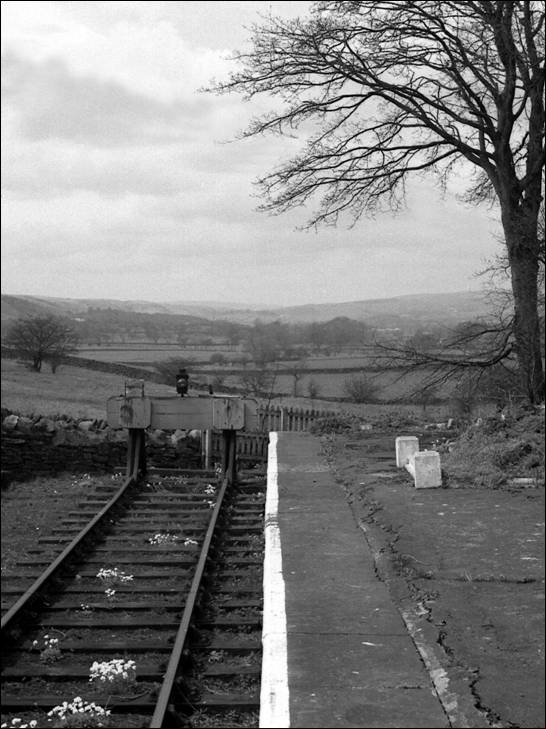 <![endif]>
10th December 2006.
My other railway pages can be accessed by clicking on the links below:
Railways.htm    (Photographs taken in 1957 (Fifty years ago!), train spotting at Birmingham Snow Hill in 1953, and scenes in the West Midlands and South Wales 1953 – 1962)
Railways2.htm  (Brecon and -Mid-Wales;  the Somerset & Dorset line,  GWR and LSWR lines in Somerset, Devon and Cornwall:  all 1957-1962)
Railways3.htm  (the Scottish Highlands, 1959 and 1961)
Railways5.htm  (the decline of steam, including the Southampton line, Birmingham GW, North Wales, Stroud Valley and Manchester Victoria:  1964 -1968)
If our Home Page is not listed to the left of this page, it may be accessed here:  www.robertdarlaston.co.uk