The Darlaston Family Web Pages
This is Railways5, last updated 13th July 2007.
N.B.  Photographs may take a while to download!
All photos © Robert Darlaston
<![if !vml]>

<![endif]>
Welcome to my Railway Pages
Page 5:  The Decline of Steam
Contents:
1 – Wanderings in 1964 – 1966:  (Steam at Waterloo and Bournemouth, in Scotland, at Birmingham Snow Hill, and in Cheshire).
2 – Colour photographs from 1964 – 1968  (Steam in the Stroud Valley, at Newport, Bristol Temple Meads, Birmingham Snow Hill, Southampton, Carlisle Kingmoor, and, finally,  Manchester Victoria).
My other railway pages can be accessed by clicking on the links below:
Railways.htm    (Photographs taken in the 1950s, train spotting at Birmingham Snow Hill in 1953, and scenes in the West Midlands and South Wales 1953 – 1962)
Railways50yr.htm  (A selection of photos from the 1950s:  West Midlands, Wales, and a few Southern scenes;  the last Slip Coach)
Railways2.htm  (Brecon and -Mid-Wales;  the Somerset & Dorset line,  GWR and LSWR lines in Somerset, Devon and Cornwall:  all 1957-1962)
Railways3.htm  (the Scottish Highlands, 1959 and 1961)
Railways4.htm  (Birmingham area LMR;  glimpses of Boston, Peterborough, and Lincoln;  GWR lines in North Wales;  a few shots on the Southern:  all 1961-1963)
Trams.htm           (the last days of Birmingham's narrow gauge tram system:  scenes on the Erdington and Short Heath routes in June 1953)
If our Home Page is not listed to the left of this page, it may be accessed here:  www.robertdarlaston.co.uk
The Decline of Steam:
1 – Wanderings in 1964 – 1968
Although there were still a fair number of steam locomotives in use in the mid-1960s and they were much sought after by many railway enthusiasts, they were mostly neglected and unloved.   For those who remembered freshly overhauled locomotives with their paint shining, running smartly between well-maintained stations, there was little delight in observing unkempt and neglected locomotives with their motion clanking painfully as they wheezed along.   Here and there were a few pockets where steam locomotives were kept in fair condition, but one by one, such areas were eliminated in the great surge of dieselisation.
Southern:  1964-5
Perhaps the most spectacular enclave of steam in its declining years was the Waterloo – Bournemouth line.   This remained steam operated until March 1967 and many locomotives remained in excellent condition to the end.
<![if !vml]>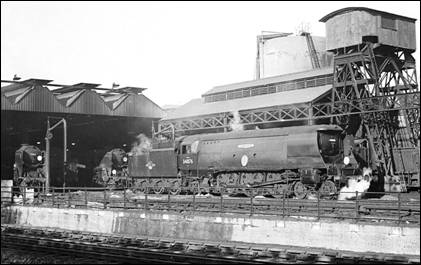 <![endif]>   <![if !vml]>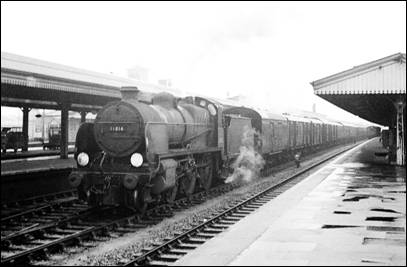 <![endif]>
The first photo shows Battle of Britain class loco 34076  41 Squadron  at Bournemouth shed, seen from Central station, on 8th November 1964.   The engine is in beautifully clean condition.  Two Merchant Navy class locos can be seen inside the shed.   The second photo shows 2-6-0 no. 31816 bringing a parcels train from the Southern Region onto the Western Region at Reading on 6th March 1965.
<![if !vml]>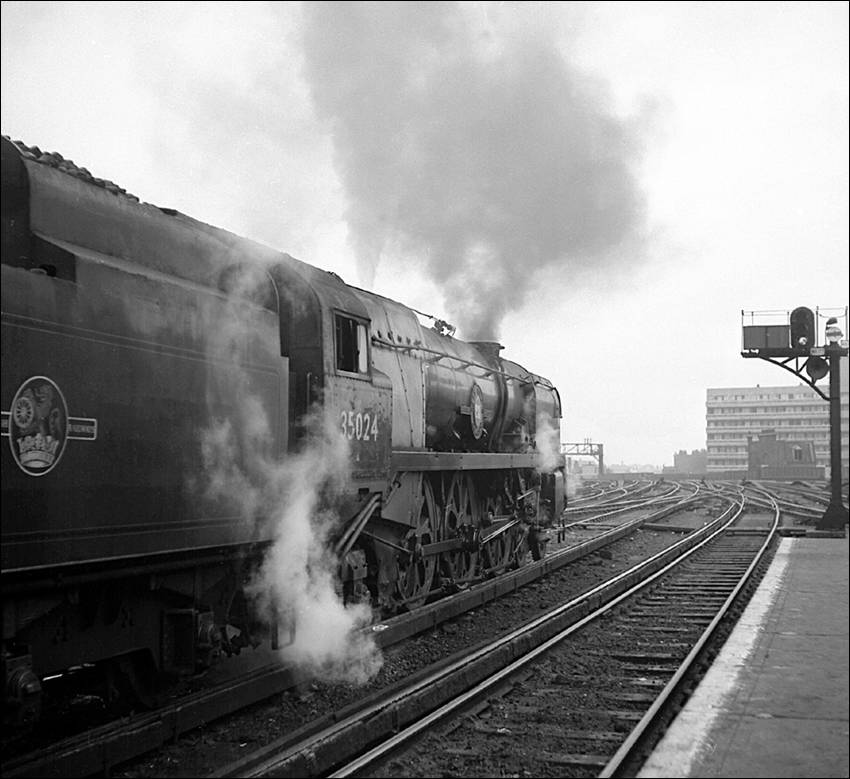 <![endif]>
Spotlessly clean Merchant Navy class 35024 East Asiatic Company at Waterloo with the down "Royal Wessex" to Weymouth
Scotland:  1963 – 65
My visits to Scotland were few in number and mainly to the Highlands from which steam was largely banished by 1962.  But I did find a few enclaves of steam in the course of my travels:
<![if !vml]>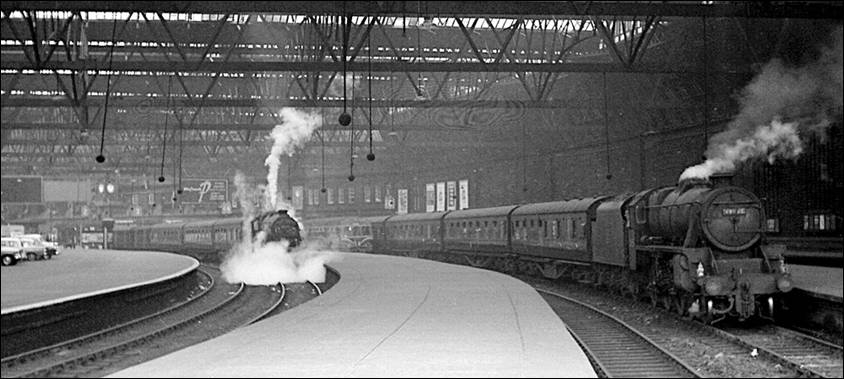 <![endif]>
A 1963 shot inside the impressive Princes Street station in Edinburgh, with two 'Black 5s' including 44952 (right) on a train to Stirling.
<![if !vml]>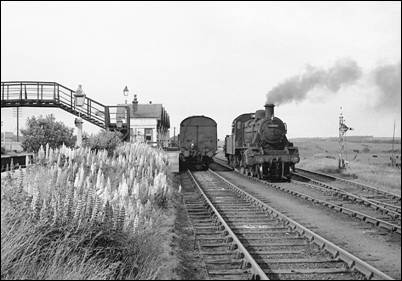 <![endif]>  <![if !vml]>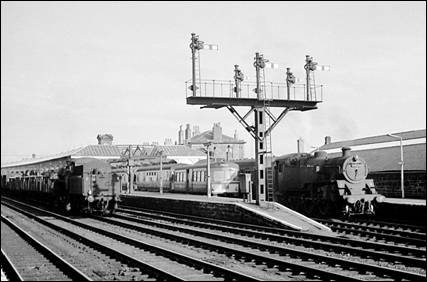 <![endif]>
Two isolated steam survivors:
Tillynaught station on16th June 1964 with 78045 running round the carriages of the Banff branch train.
Kilmarnock on 25th June 1965 with 80091 on a train to Ayr and a 76xxx loco passing through with a freight.
A four-wheel railbus can also be seen on a working from Ayr.
<![if !vml]>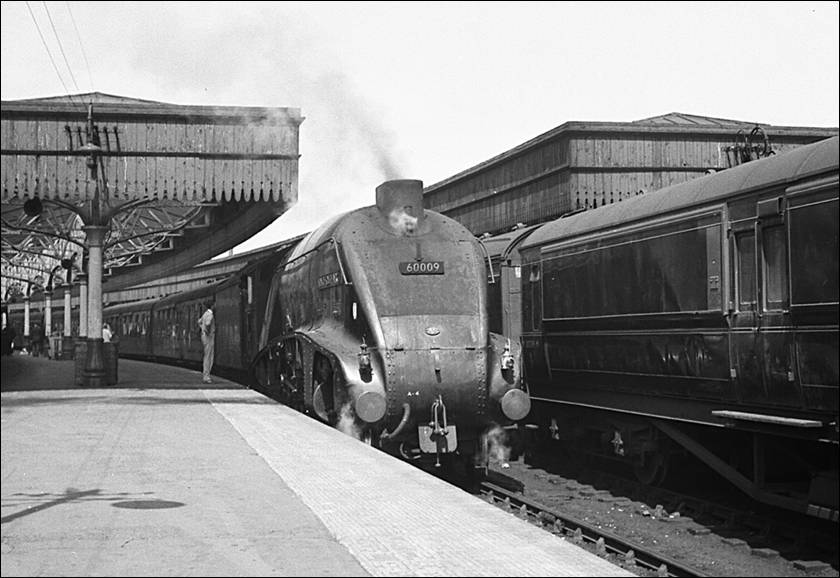 <![endif]>
It was a source of continuing regret that I never travelled behind an LNER A4 Pacific.   By 1965 their surviving workings were largely confined to expresses from Glasgow and Edinburgh to Aberdeen.   I felt sure that at last I would get a ride behind one in the course of a tour of Scotland in June.   But no!   My train from Edinburgh on 22nd June was hauled by a brand new diesel.   When I reached Aberdeen, there was the 13.30 train back to Glasgow waiting with 60009 Union of South Africa.   It was almost enough to make me abandon my planned journey on to Kyle of Lochalsh and Skye!   Note the mail coach to the right, with the post box for public use (1/2 d surcharge) visible in the panel just beyond the doors.    Later in the holiday a further trip on an Aberdeen express only produced a ubiquitous Class 5!
Birmingham Snow Hill 1964
Another enclave of steam until late 1964 was on the former Great Western lines in the Birmingham area.   Although the local services out of Snow Hill had mostly been operated by diesel multiple units since 1957, rush-hour extras remained in the hands of steam until September 1964.   Many trains were operated, not by the traditional suburban tank engines, but by former express locomotives which had found themselves displaced from other lines.   Here are a few examples photographed in the last few weeks that the services operated.
<![if !vml]>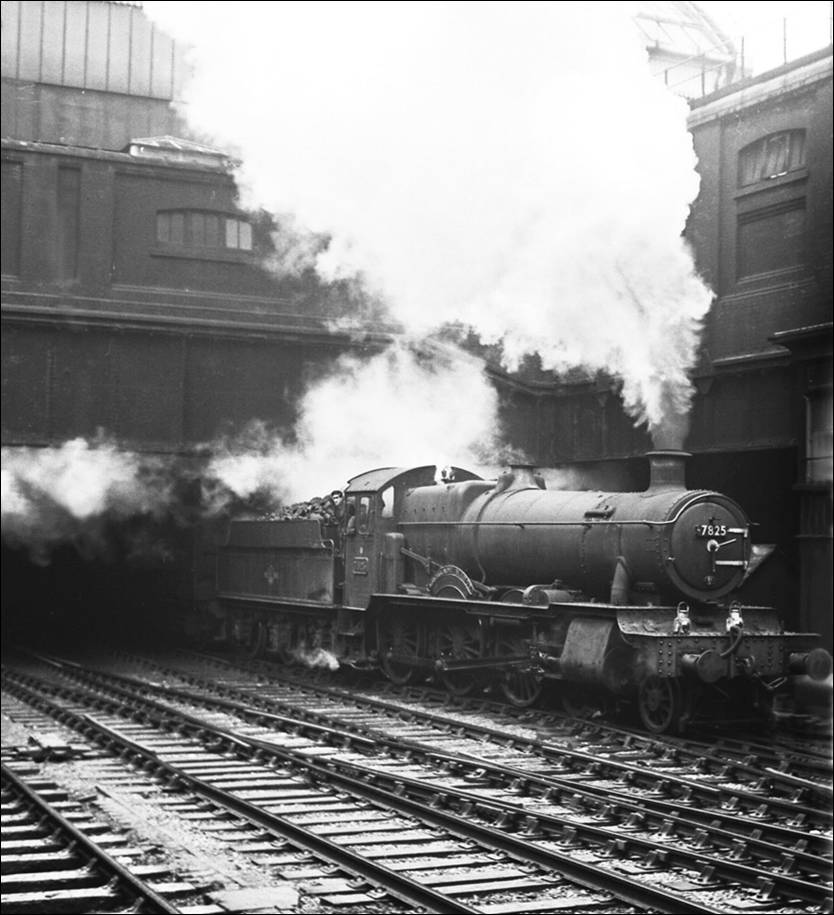 <![endif]>
7825 Lechlade Manor arrives at Snow Hill with carriages for a local train to Stourbridge Junction
<![if !vml]>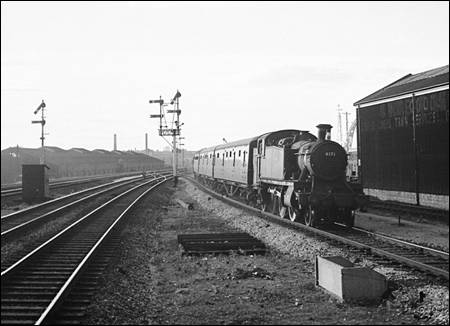 <![endif]>   <![if !vml]>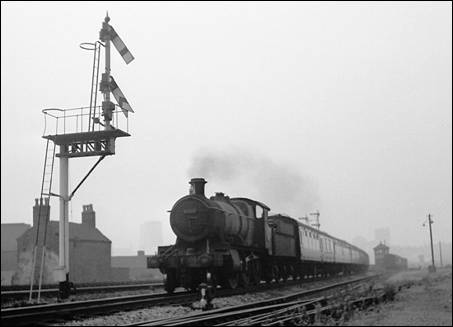 <![endif]>
4171 approaches Tyseley with the 6.5 Snow Hill – Leamington Spa.
6364 approaches Bordesley with the 5.38 Snow Hill – Lapworth.   This was a difficult train to work as it comprised ten coaches and called at most stations, requiring both power and acceleration.   Despite being 40 years old, 6364 was judged to be the most suitable choice for the job!
<![if !vml]>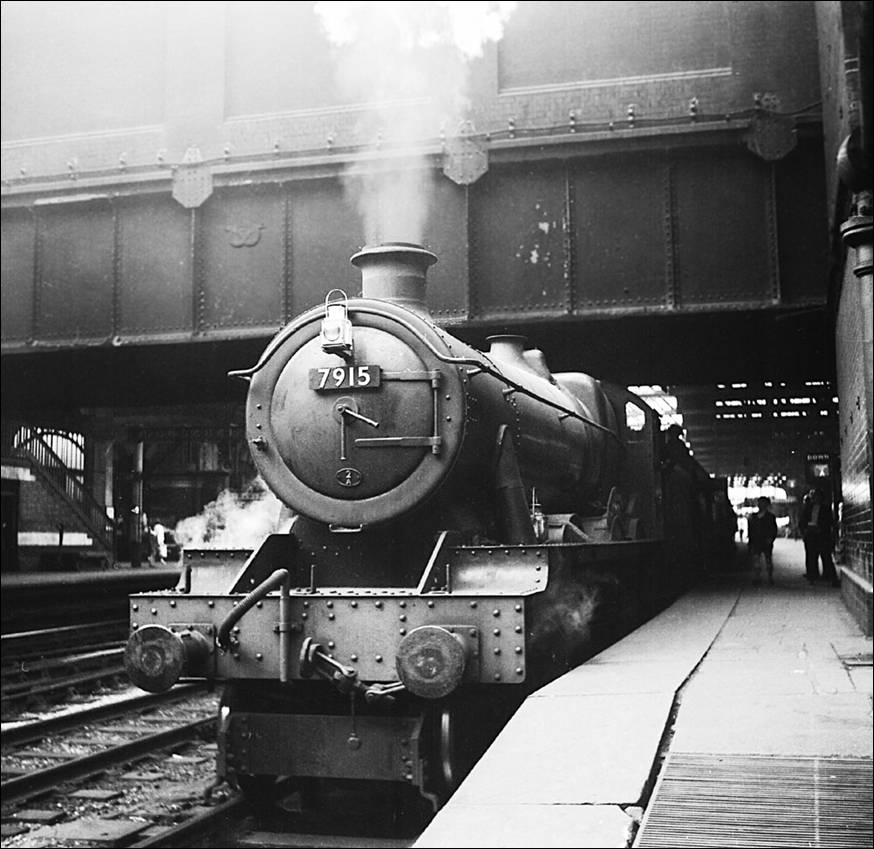 <![endif]>
7915 Mere Hall, built in 1950 and one of the last of 330 Halls, starts out of Snow Hill with the 5.28 to Knowle and Dorridge.
A few scenes from North Wales and Cheshire, 1964-66:
<![if !vml]>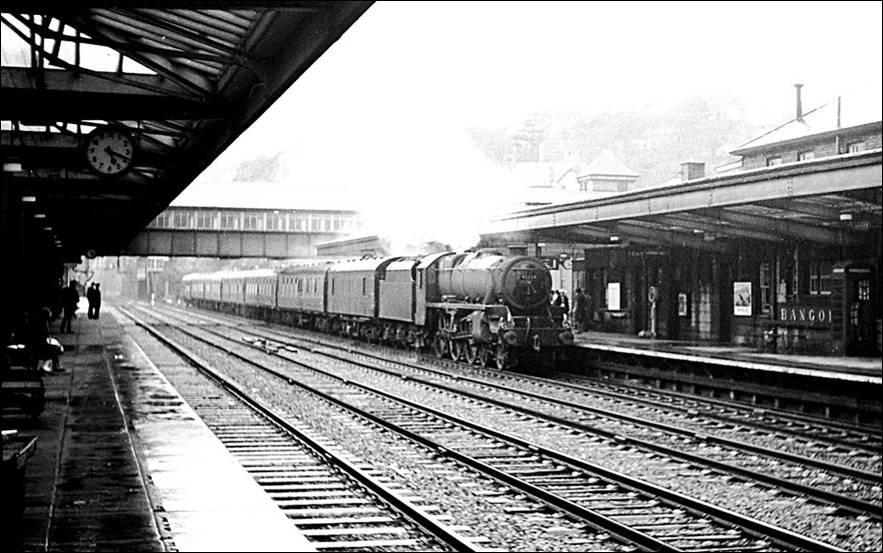 <![endif]>
45247 arrives at Bangor with an up stopping train on a day of drenching rain in October 1964.
<![if !vml]>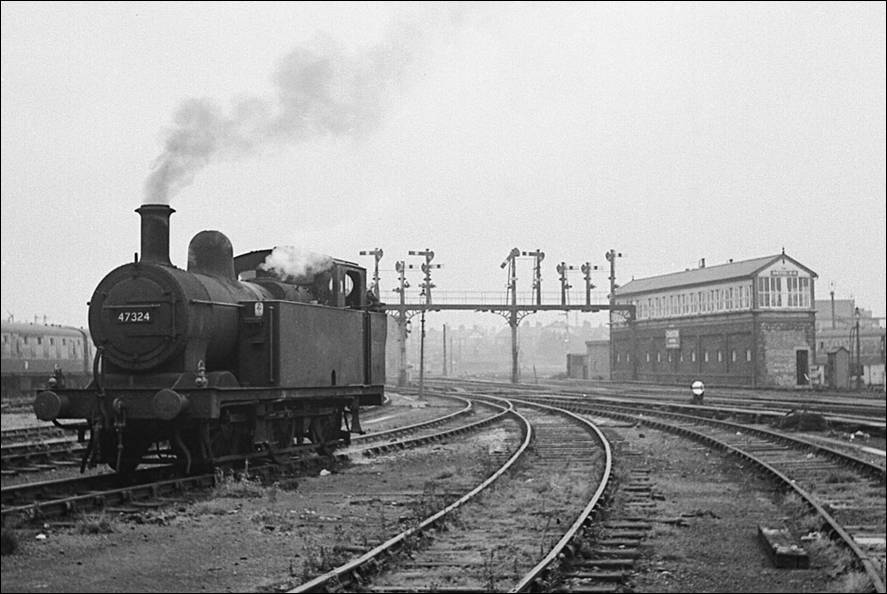 <![endif]>
47324 takes a break from shunting at Chester in October 1966.  
Note the old London & North Western Railway signal gantry and signalbox in the background.
<![if !vml]>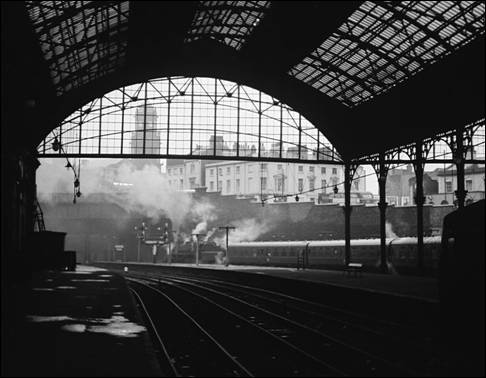 <![endif]>   <![if !vml]>
<![endif]>
Birkenhead Woodside in the rain on 15th October 1966.
A train for London Paddington via Chester, Shrewsbury and Birmingham Snow Hill departs behind a 76xxx 2-6-0 locomotive
The through service was withdrawn in March 1967 and the station was closed.
<![if !vml]>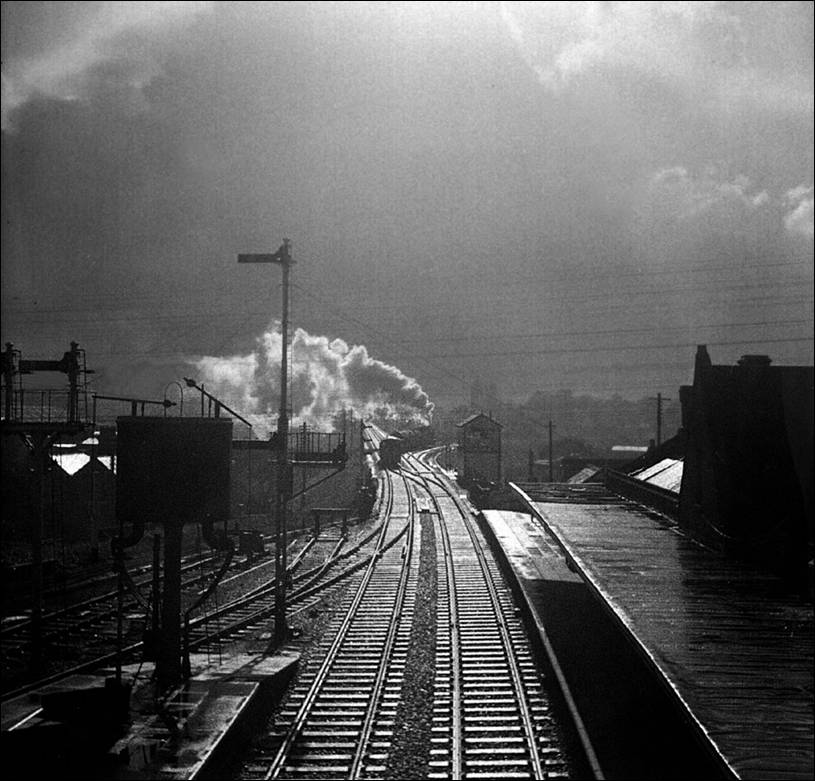 <![endif]>  
Looking south at Whitchurch, Shropshire, on the stormy afternoon of 23rd October 1964.
A freight train is setting off towards Oswestry, diverging onto the Cambrian line which was to close in January 1965.
Steam Age Relics:
As the steam locomotive vanished from the network much of the fascination of railways withered away.
But there were still some relics of the old days which were worth tracking down.   Many of these have since gone, having fallen prey to collectors, vandals and modernisation!
<![if !vml]>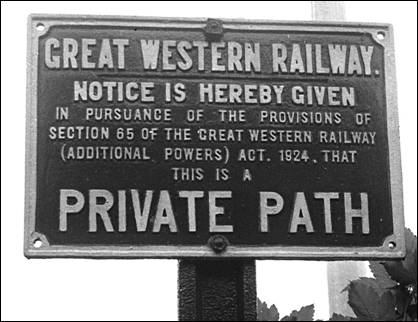 <![endif]>   <![if !vml]>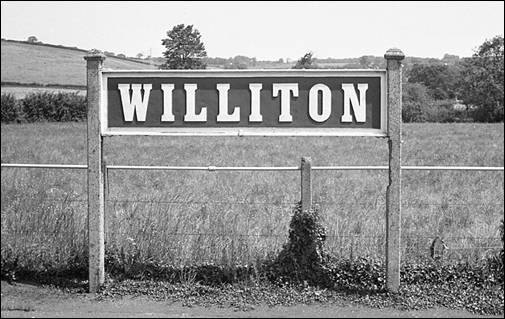 <![endif]>
A G.W.R. notice at Reading and a station nameboard in Somerset.   The latter was a rare survivor from the opening of the station in 1862.   There are believed to be three other nameboards of this type still extant in the West Country.   They have survived attempted replacement with early B.R. enamel signs, later B.R. "corporate identity" signs and by privatised rail company signs:  a tribute to those anonymous railway officials sent to measure up for replacements, but who recognised an attractive relic still doing its job after a century and a half.
<![if !vml]>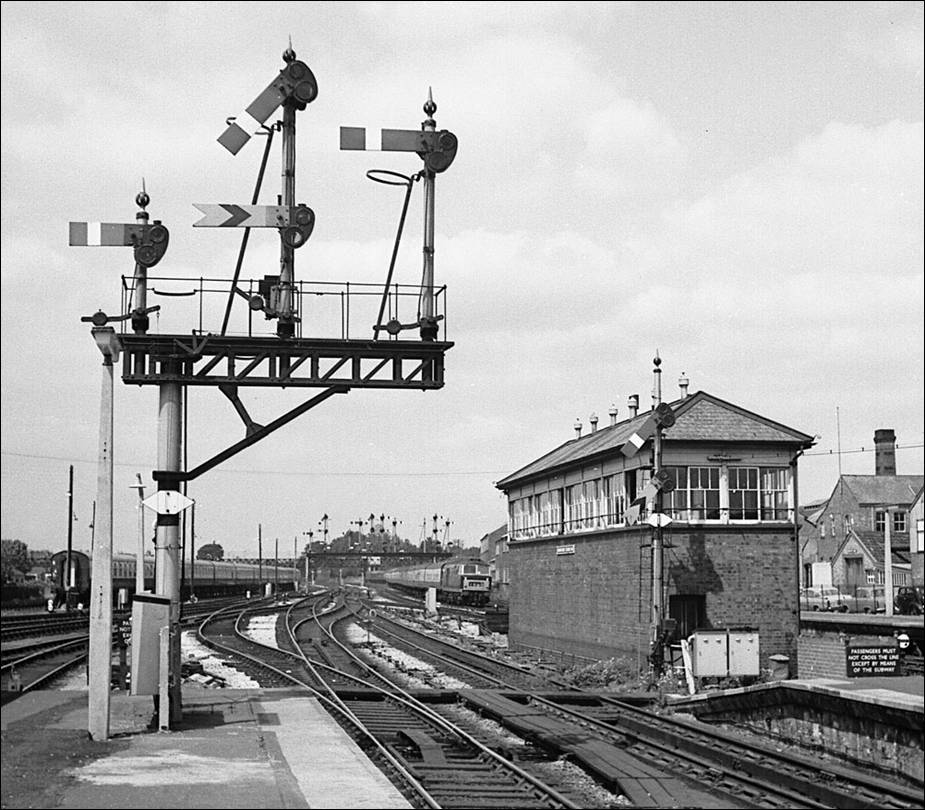 <![endif]>
A fine display of Great Western signals and a typical G.W.R. signalbox at Taunton, photographed in May 1967.
These have long since been replaced by colour light signals controlled from a remote control centre.
A diesel-hauled train from Minehead to Paddington is approaching with a 'Hymek' locomotive.
The Decline of Steam:
2 - A selection of colour photographs from 1964 - 1968
It is a source of regret that I took so few colour photographs, but in the 1950s colour films were expensive, slow and not always reliable.  A sunny day out of doors needed 1/60th @ f.5.6:  cloudy days verged on the impossible, so I have only a handful taken on borrowed cameras in the period up to 1963.   But in the last few years of steam I did take a handful of colour transparencies.  Quality is often poor and it has taken modern digital processes to render them worthy of view.  Here is a selection.
The last of Great Western steam:
<![if !vml]>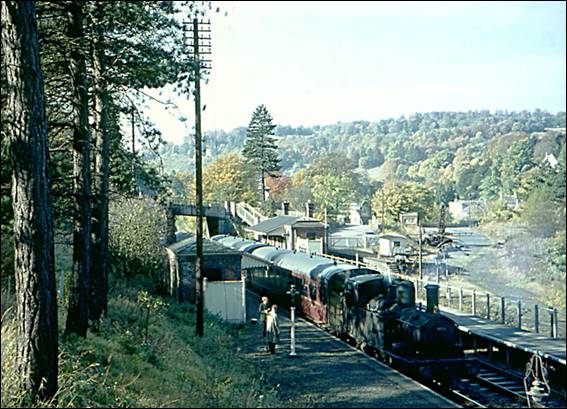 <![endif]> <![if !vml]>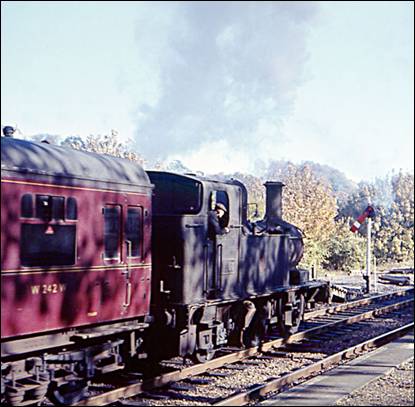 <![endif]>
<![if !vml]>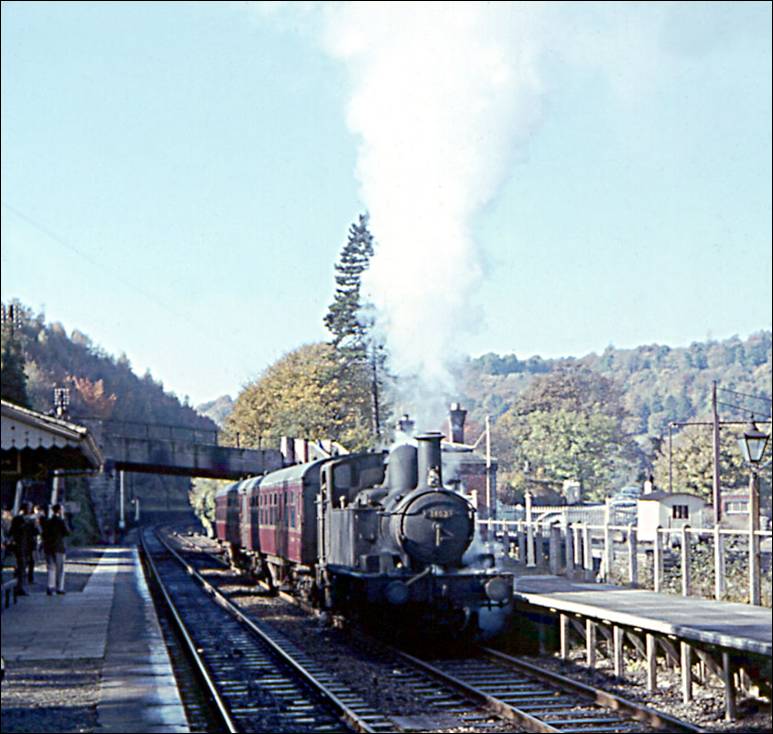 <![endif]>
One of the last strongholds of the G.W.R. push-and-pull auto-train was the Stroud Valley line from Gloucester to Chalford in the Cotswolds (near Laurie Lee's home).   Here number 1453 is seen taking the autumn sunshine at Chalford in October 1964.   These tiny engines, built in the 1930s, were very nippy with one or two carriages and would run along the mainline from Stonehouse to Gloucester at 65 mph or more.
<![if !vml]>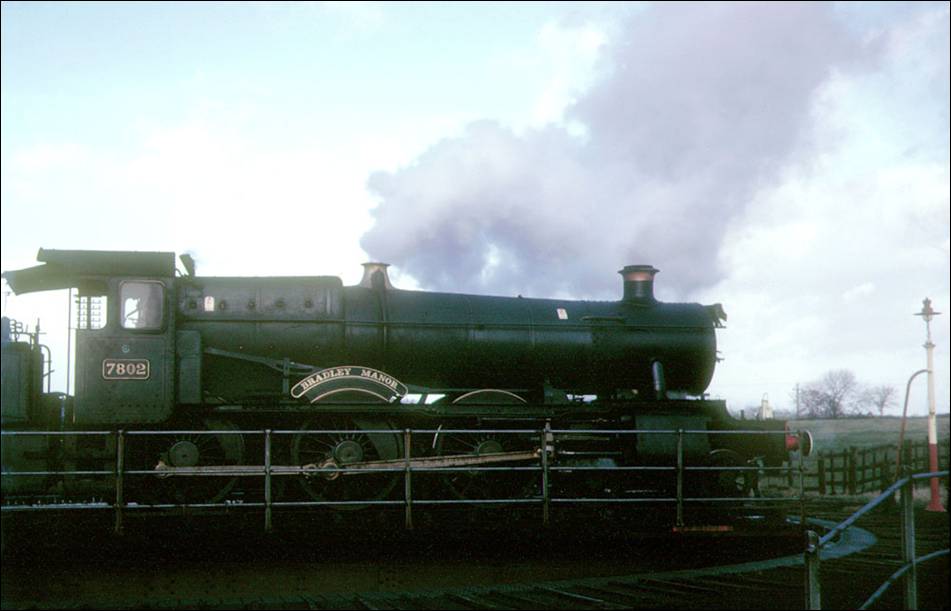 <![endif]>
In January 1965 the old Cambrian Railways line between Whitchurch, Oswestry and Welshpool was closed.
A ceremonial last train was run, hauled by GWR 7802 Bradley Manor, here seen being turned on the turntable at Whitchurch.
<![if !vml]>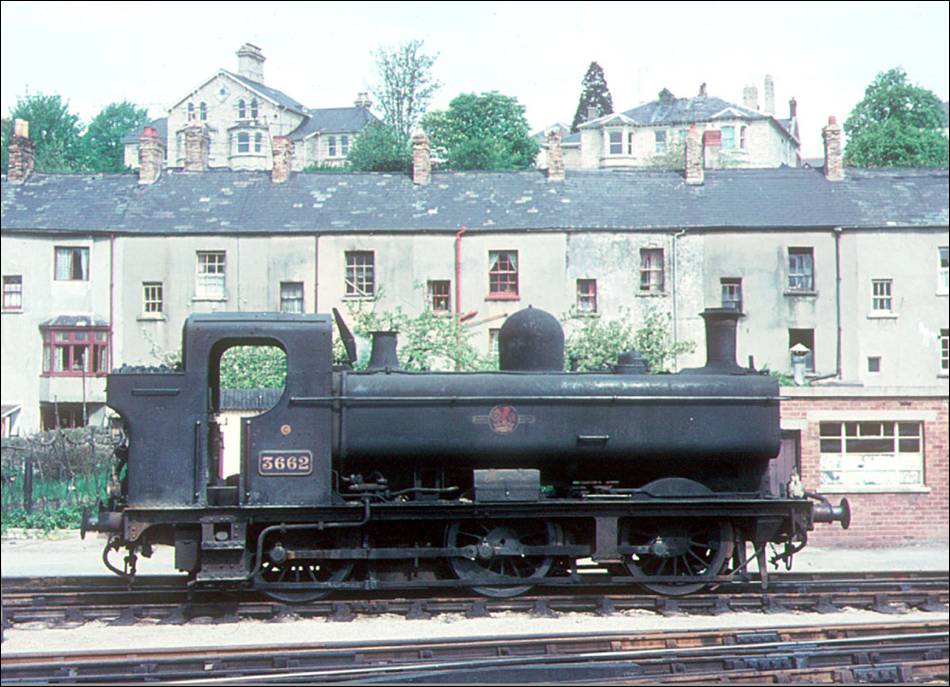 <![endif]>
The most numerous class of locomotive in Great Britain was the Great Western's 0-6-0 pannier tank, which were be found on local passenger trains and also shunting at locations from Dornoch in northern Scotland to Folkestone Harbour and, of course, Penzance.   Here is number 3662 in August 1965, in the last few weeks of its life, at Newport, Monmouthshire, in a break from shunting.
<![if !vml]>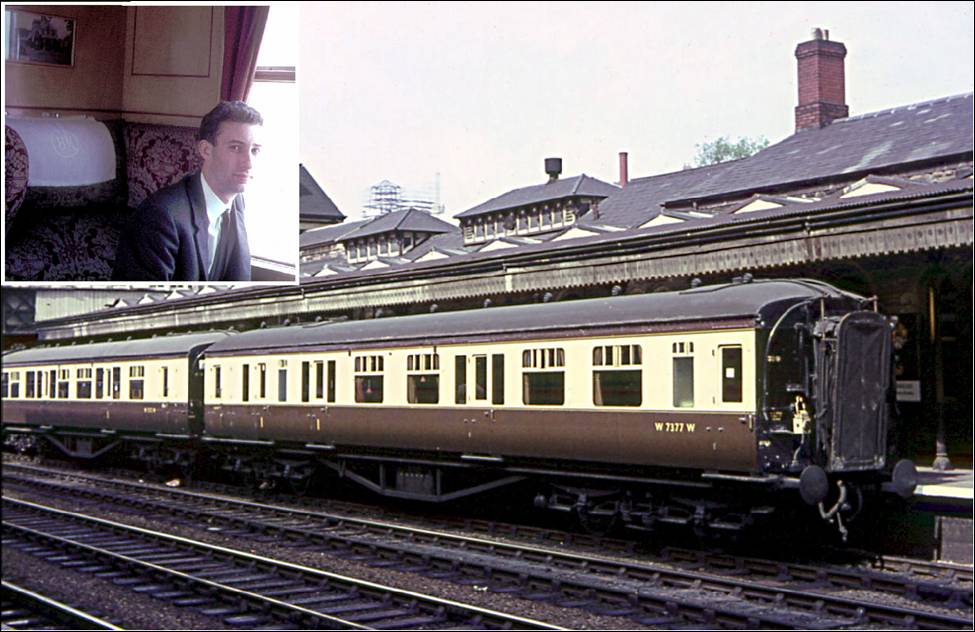 <![endif]>
While at Newport, I was surprised to see these two extremely smart GWR carriages on the rear of a train for Swansea.   It transpired that they had been retained on the Western Region's Royal train for use by equerries, ladies-in-waiting and other officials, but had been 'cascaded' to routine service for their last few years.   A few weeks later I encountered one on a train on which I travelled and inset is a photo of Darlaston sampling first class luxury (with appropriate ticket!) on upholstery previously graced by more aristocratic posteriors!
<![if !vml]>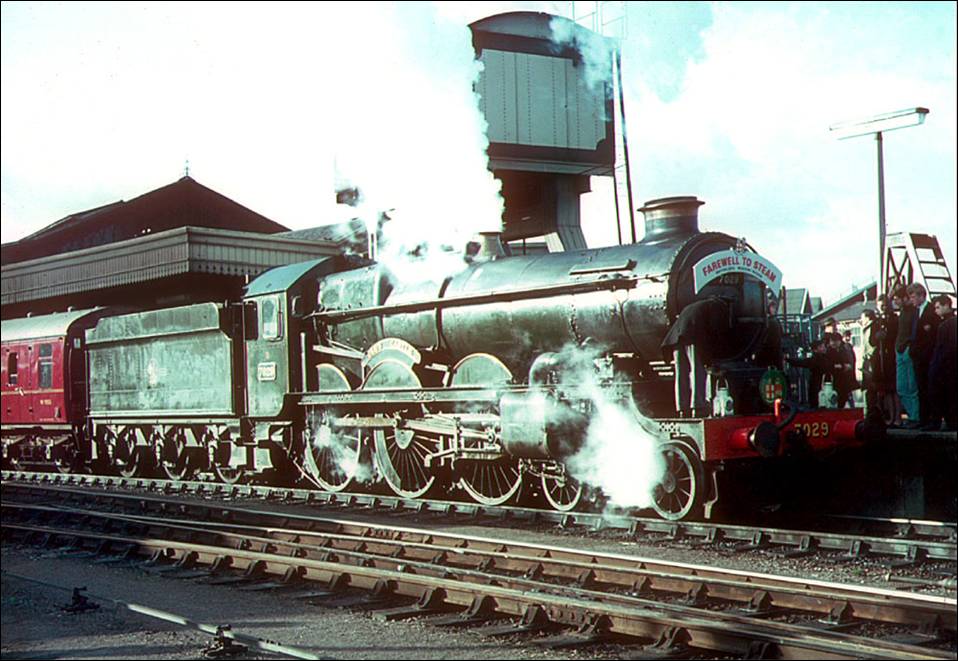 <![endif]>
British Railways' Western Region was anxious to be the first region to eliminate steam locomotives and ran its final steam working from London Paddington, with appropriate headboard, on 27th November 1965.   Here is the train about to return from Bristol behind 7029 Clun Castle, which had been built at Swindon in 1950 and was the last survivor of its once numerous class.    In 1959 it had been fitted with a double chimney to improve performance, with every prospect of many more years of main line service, but 1960s dogma decreed otherwise.   Clun Castle was, however, spared the breaker's yard and survives in preservation.
Snow Hill swan song:
Four pictures of life at Birmingham Snow Hill:
<![if !vml]>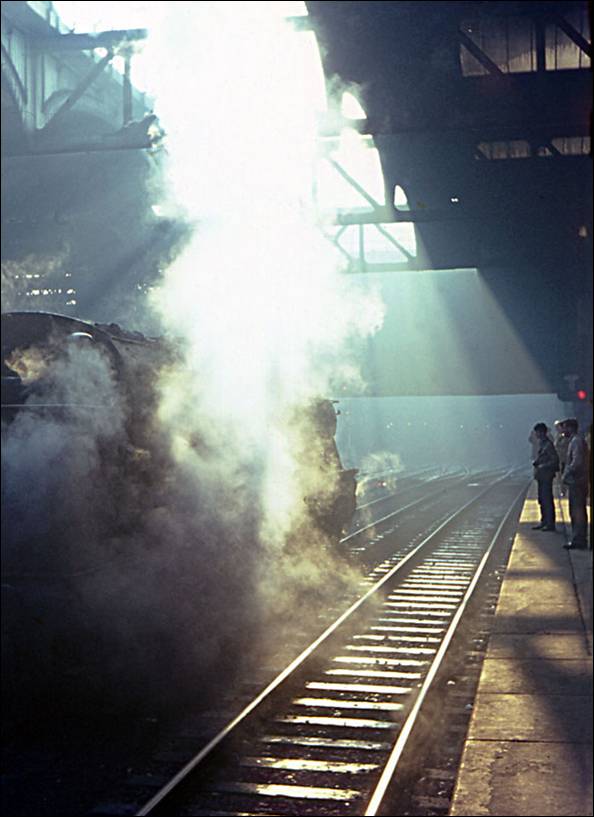 <![endif]>
1: Steam drifts up into a winter sun from a loco on the down through line
2 <![if !vml]>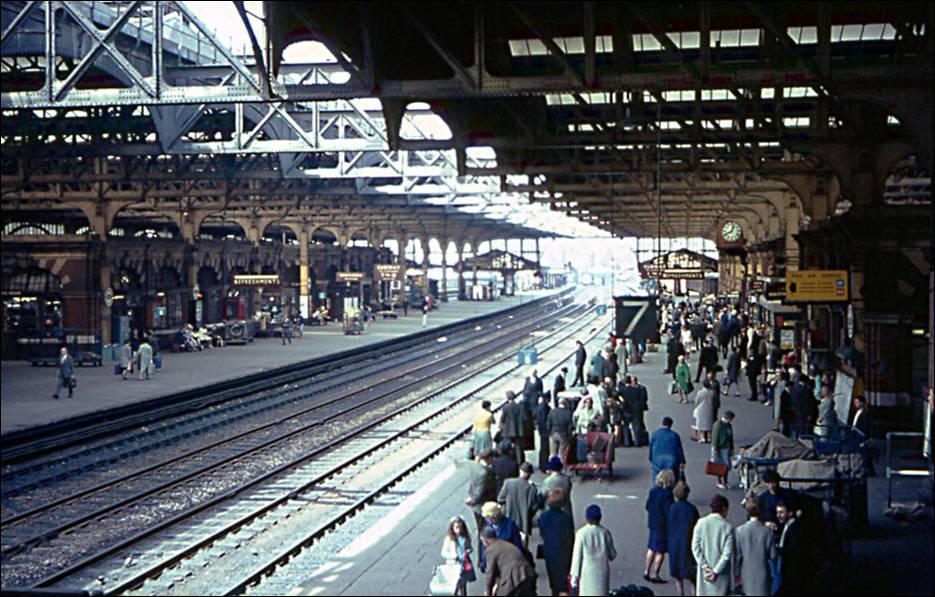 <![endif]>
2:  Snow Hill's two spacious principal platforms photographed on 4th March 1967:  number 5 is at the left, for arrivals from London and 7, from which all London trains departed, lies straight ahead.
3 <![if !vml]>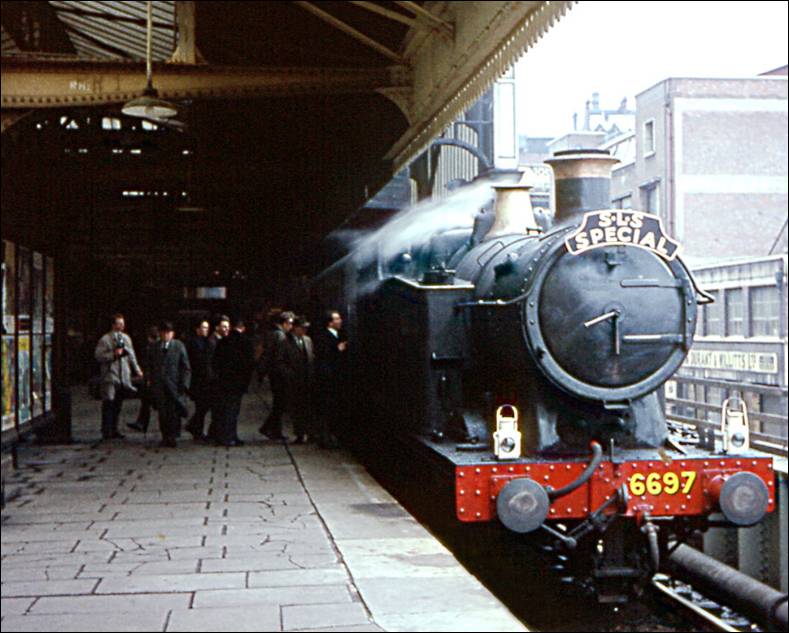 <![endif]>
3:  6697 stands at platform 1 with a Stephenson Locomotive Society special in March 1966.  A bitter wind whisks the steam away from the safety valves and hats are de rigeur for the enthusiast fraternity admiring 6697.
4 <![if !vml]>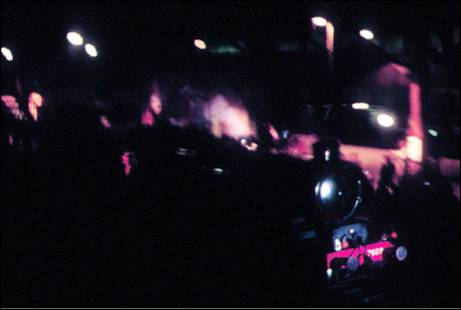 <![endif]>   5 <![if !vml]>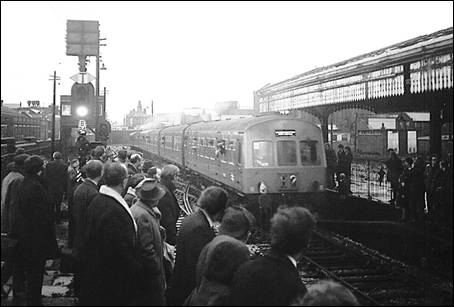 <![endif]>
4 and 5:  The closure of the old Snow Hill:
(4) A late evening scene with a Castle class loco on an up train at platform 7, an event which occurred many times each day for some forty years following the introduction of the Castles in 1923.   But this is not any departure:  it is 5th March 1967 and the last time a Castle, or any other locomotive, will leave platform 7, for this main line station is to close for good.   In a few more minutes Clun Castle would take its train away, the steam would disperse, the lights would be turned off and ahead would lie twenty years of decay, dereliction and, finally, demolition, although for just five years platforms 3 and 4 retained a vestigial local service to Rowley Regis and Wolverhampton, the remaining platforms being boarded off and left to decay.  
(5) The last public passenger train leaves Snow Hill platform 4 on 4th March 1972.   The 17.48 to Wolverhampton Low Level sets off into the dismal, drizzly dusk, leaving the station for the demolition men.    But plans were to change, and in 1987 a new Snow Hill opened, smaller and less impressive than its predecessor, but trains run once more from Snow Hill to London and it is even occasionally possible to see preserved Castle class steam locomotives there
More Southern steam:
The Waterloo – Bournemouth line was the last steam-operated Inter-city service from London, surviving until electric services took over in March 1967.   Until then the Southern Railway's Merchant Navy and West Country classes operated most services.   The Isle of Wight line from Ryde to Ventnor also remained steam operated into 1967, when the section from Shanklin to Ventnor was closed and the remainder electrified.
The first photo shows two trains leaving Basingstoke together:  one for Bournemouth and the other for Salisbury.   It was a damp day of mist and drizzle in early March 1965 and as the trains slipped and shuffled their way west the air was filled with steam and smoke.
The next picture shows 0-4-4T no 24 Calbourne at Ventnor on the Isle of Wight where stock of Victorian vintage remained in operation to the end.   Calbourne was preserved and still operates on a preserved section of the Isle of Wight Railway.
The third picture shows 35028 Clan Line at Southampton station in April 1965.   This locomotive has also been preserved in operational condition.
<![if !vml]>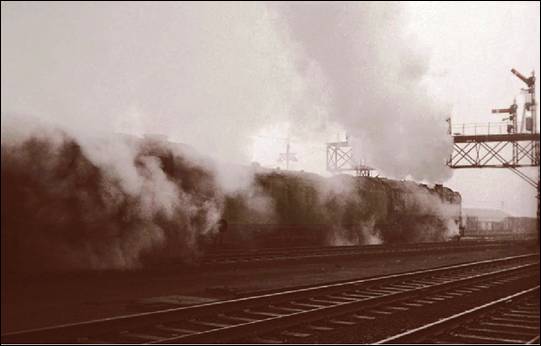 <![endif]>   <![if !vml]>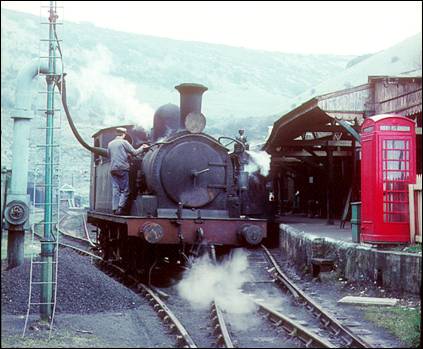 <![endif]>
<![if !vml]>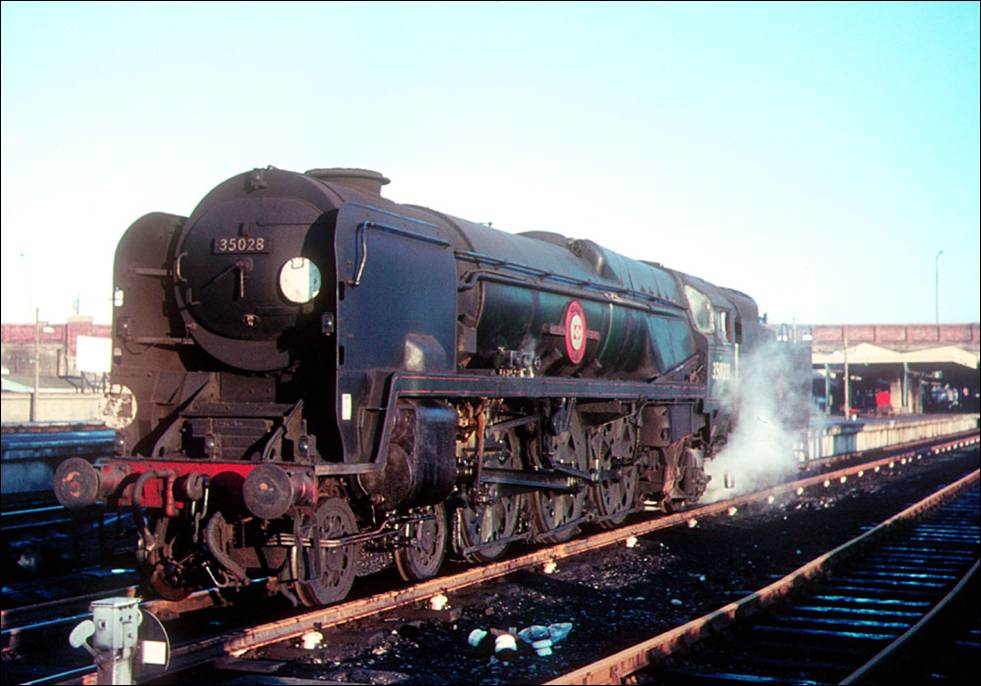 <![endif]>
Carlisle Kingmoor:
Two scenes at Carlisle Kingmoor loco shed in October 1966 showing 73100,44900, and 70034 Thomas Hardy and, below,  45593 Kolhapur.
The yellow stripe on the cab of 45593 shows that it was not to work beneath overhead electric wires.
<![if !vml]>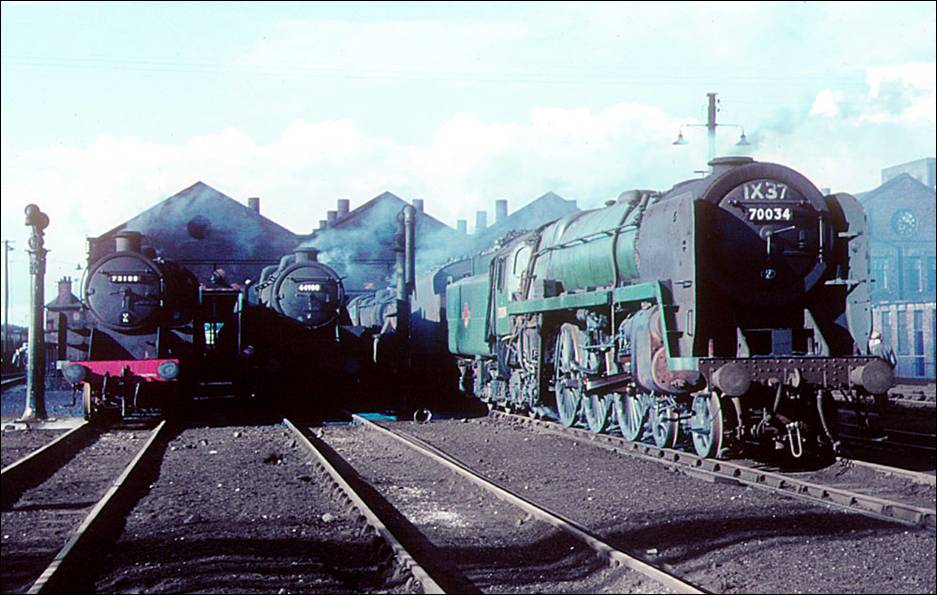 <![endif]>
<![if !vml]>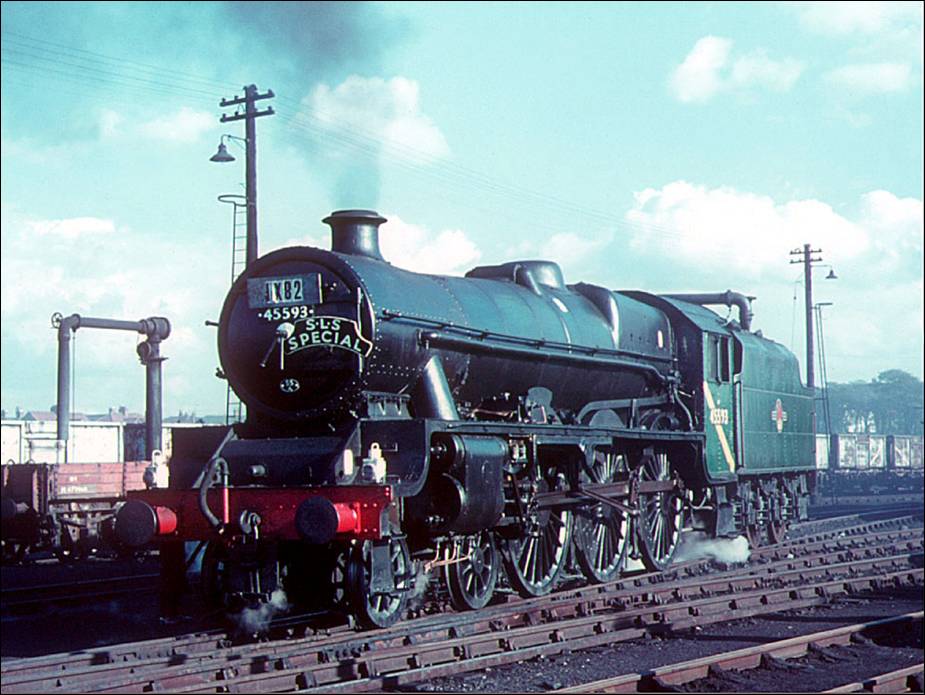 <![endif]>
Steam finale:  Manchester Victoria 4th August 1968
The last public steam trains ran on 4th August 1968 (there was to be just one more, the official finale, a week later).   Here are scenes at Manchester Victoria as some of the final workings were about to depart.   The locomotives shewn are ex-LMS 44984, 45017 and 48476, and the last B.R. standard 4-6-0, 73069, all of which were later broken up.
<![if !vml]>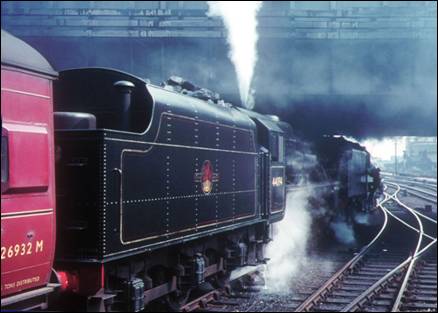 <![endif]>  <![if !vml]>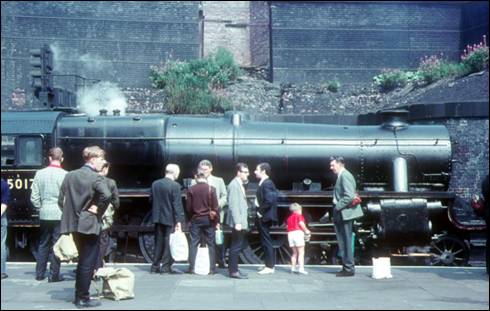 <![endif]>
<![if !vml]>
<![endif]>
<![if !vml]>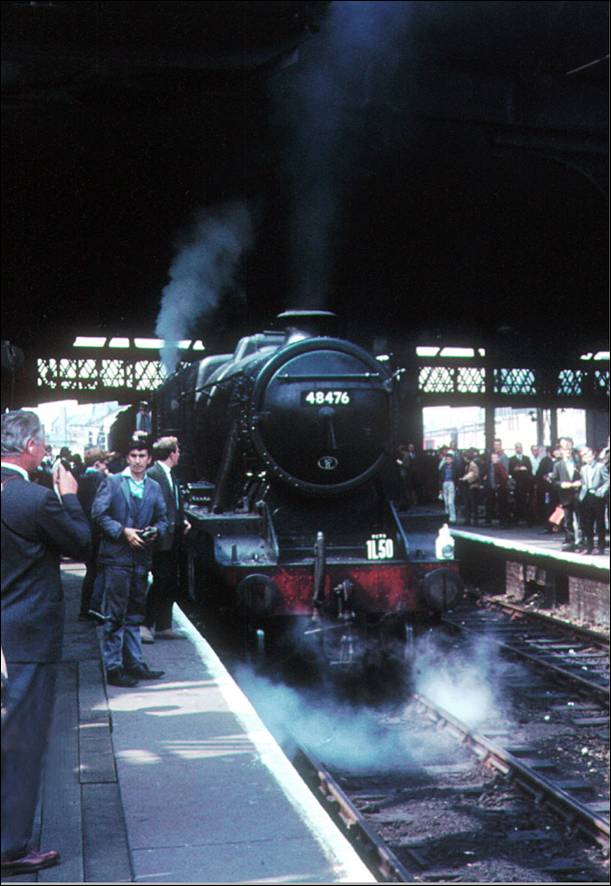 <![endif]>
The  End
My other railway pages can be accessed by clicking on the links below:
Railways.htm    (Photographs taken in 1957 (Fifty years ago!), train spotting at Birmingham Snow Hill in 1953, and scenes in the West Midlands and South Wales 1953 – 1962)
Railways2.htm  (Brecon and -Mid-Wales;  the Somerset & Dorset line,  GWR and LSWR lines in Somerset, Devon and Cornwall:  all 1957-1962)
Railways3.htm  (the Scottish Highlands, 1959 and 1961)
Railways4.htm  (Birmingham area LMR;  glimpses of Boston, Peterborough, and Lincoln;  GWR lines in North Wales;  a few shots on the Southern:  all 1961-1963)
Trams.htm         (the last days of Birmingham's narrow gauge tram system:  scenes  on the Erdington and Short Heath routes in June 1953)
Our family pages may be accessed via the table at the left, or if that is not displayed, by clicking here -> www.robertdarlaston.co.uk
My e-mail address is robertdarlaston@btopenworld[dot]com.  (Replace [dot] with conventional full stop.)