This page is Moor St and Tyseley:  updated 13th Dec 2010.
Press F11 to view the photographs full screen           Please allow a few seconds for the photos to download
My other railway pages can be accessed by clicking on the links below:
Railways.htm    (Photographs taken in the 1950s, train spotting at Birmingham Snow Hill in 1953, and scenes in the West Midlands and South Wales 1953 – 1962)
Railways50yr.htm  (A selection of photos from the 1950s:  West Midlands, Wales, and a few Southern scenes;  the last Slip Coach)
Railways2.htm  (Brecon and -Mid-Wales;  the Somerset & Dorset line,  GWR and LSWR lines in Somerset, Devon and Cornwall:  all 1957-1962)
Railways3.htm  (the Scottish Highlands, 1959 and 1961;  also the Isle of Man in 1965)
Railways4.htm  (Birmingham area LMR;  glimpses of Boston, Peterborough, and Lincoln;  GWR lines in North Wales;  a few shots on the Southern:  all 1961-1963)
Trams.htm           (the last days of Birmingham's narrow gauge tram system:  scenes on the Erdington and Short Heath routes in June 1953;  plus some historic postcards)
If our Home Page is not listed to the left of this page, it may be accessed here:  www.robertdarlaston.co.uk
MOOR STREET TO TYSELEY
1953 - 2010
MORE THAN HALF A CENTURY OF CHANGE:
PHOTOGRAPHS AND RECOLLECTIONS OF
BIRMINGHAM MOOR STREET STATION
AND OF
TYSELEY, 
THE GWR's BIRMINGHAM AREA LOCOMOTIVE DEPOT
ALL PHOTOGRAPHS ©ROBERT DARLASTON
(A few of the photographs below already appear on other pages of the web site, but are included here also for completeness)
<![if !vml]>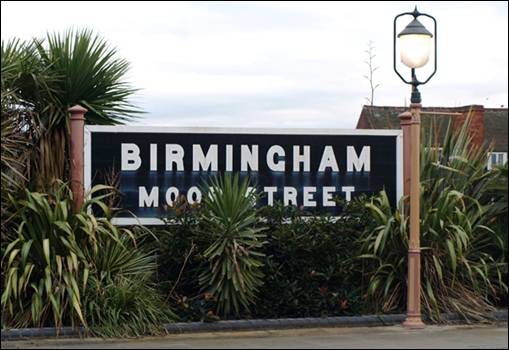 <![endif]>
                                                                   December 2010
In the late 1940s and early 1950s, when I first encountered Great Western's Birmingham Moor Street station, it was a quiet terminus handling a relatively small number of local trains, mainly to the North Warwickshire line to Henley-in-Arden and Stratford-upon-Avon.   The trains were all steam-hauled until diesel multiple units began to take over services in 1957.    By the mid-1960s, the station had fallen on hard times and, like nearby Snow Hill, would have succumbed to closure, had it proved possible to accommodate its limited local traffic at the rebuilt New Street station.   Later, in the 1980s, traffic began to expand once more.   Snow Hill station was reopened in 1987 and the opportunity taken to provide two new platforms at Moor Street on the Snow Hill lines.   This, however, resulted in closure of the old Moor Street terminus which was left at the mercy of the weather and vandals and became derelict.   But after a few years there was a change of heart and the old GWR terminus (first opened in 1909) was restored to its former glory, work being completed in December 2010.  
Here are some comparisons with photographs taken at similar locations from 1957 to 2010
<![if !vml]>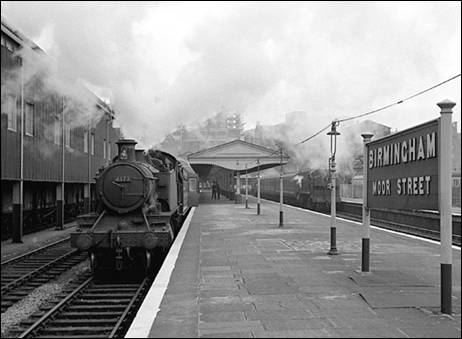 <![endif]> <![if !vml]>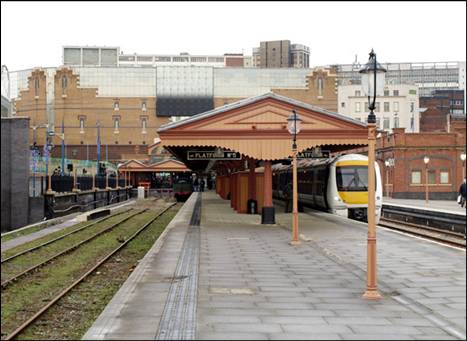 <![endif]>
Left:  Local trains to Henley-in-Arden and Leamington Spa in May 1957 with GWR 4173 and 4112: 
the goods depot is at the left.     Right:  a similar view today.
<![if !vml]>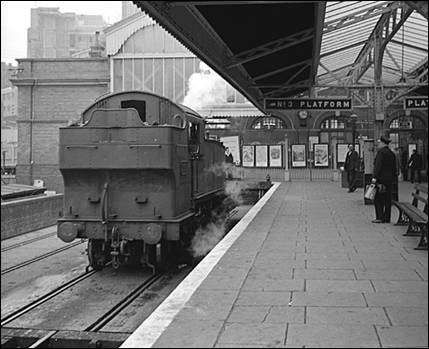 <![endif]> <![if !vml]>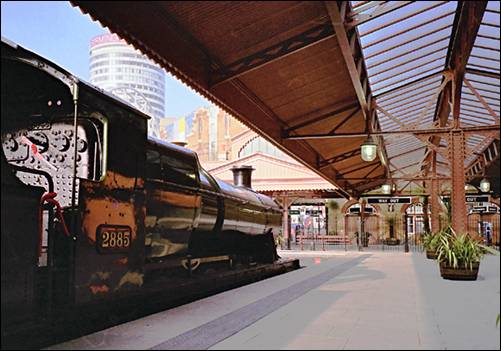 <![endif]>
3101 on the loco traverser at platform 4 in May 1957, and preserved 2885 at the same spot in 2003
The 1957 photos were taken on the way home from school to visit a friend in Hall Green
<![if !vml]>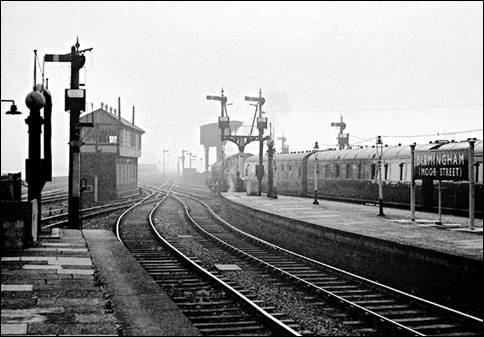 <![endif]> <![if !vml]>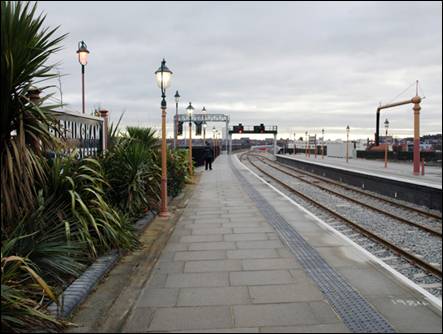 <![endif]>
A Grange waits at platform 3 with a summer Saturday train to Margate in 1961.   The restored platforms in 2010
<![if !vml]>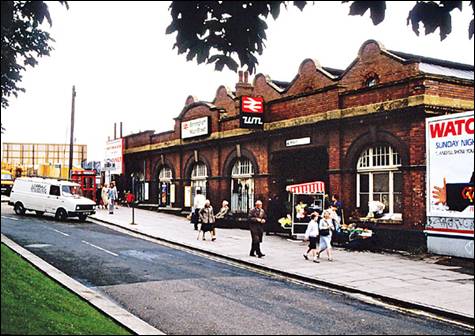 <![endif]> <![if !vml]>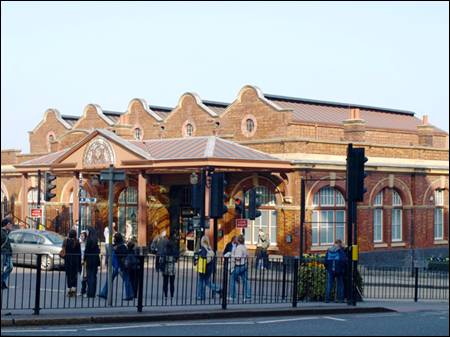 <![endif]>
The station frontage in 1987, shortly before closure, and with the restored building (with additional porch) in 2010.
The sylvan setting in 1987 is misleading:  the trees were planted on the slope up to the busy Inner Ring Road.  
To reach the station passengers had to negotiate subways under the road.
<![if !vml]>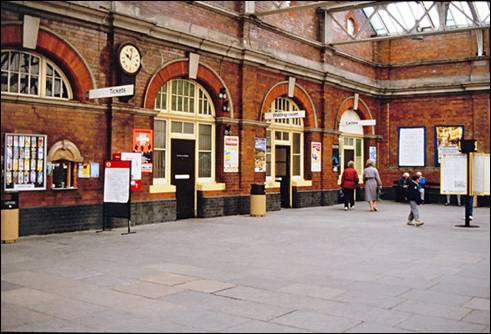 <![endif]> <![if !vml]>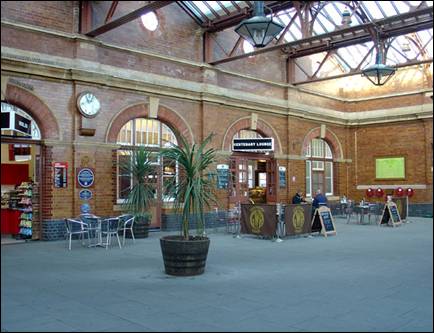 <![endif]>
The concourse in 1987 and in 2010.   The old booking office has become a shop and the former waiting room is now
the Centenary Lounge, serving refreshments.
<![if !vml]>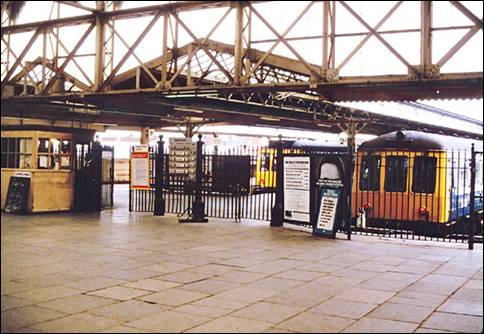 <![endif]> <![if !vml]>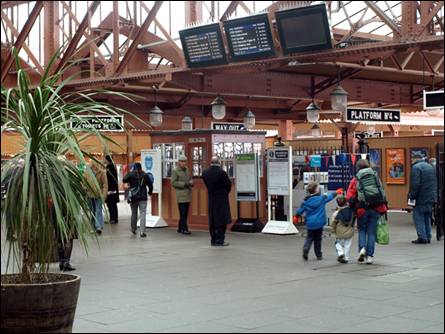 <![endif]>
The concourse looking towards the platforms in 1987 and 2010: 
the platforms are now hidden by timber screens, but the ticket collectors' hut, dating from 1909, is still visible!
<![if !vml]>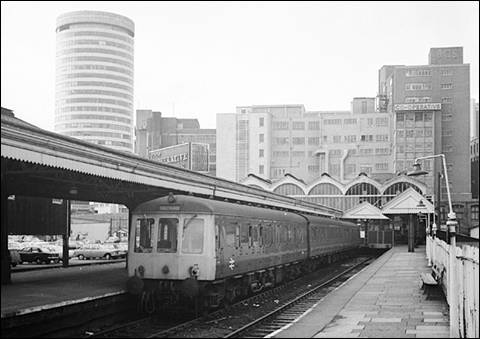 <![endif]> <![if !vml]>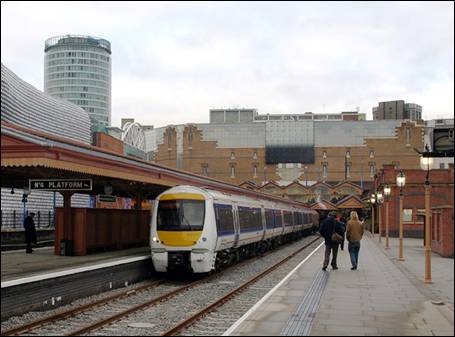 <![endif]>
A local for Henley-in-Arden waits in platform 2 in March 1972, and
a Chiltern Railways train waits at the same spot (now platform 4) in December 2010.
<![if !vml]>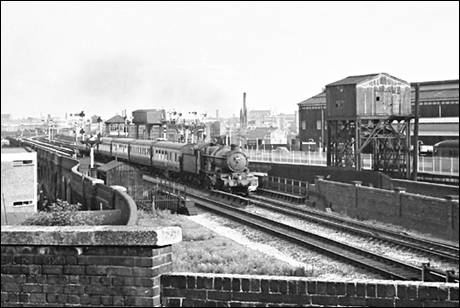 <![endif]> <![if !vml]>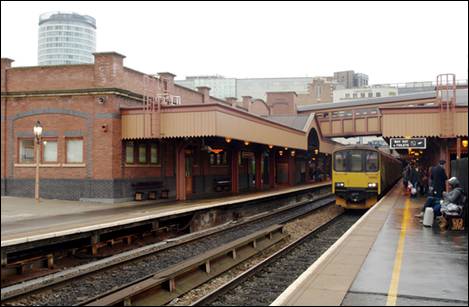 <![endif]>
Two photos of the Snow Hill lines at Moor Street:
Left:  a 1964 view looking south.   5091 Cleeve Abbey approaches Snow Hill tunnel with the empty stock for the 5.41 pm to
Stourbridge Junction.   Moor Street's terminal platforms can be seen at the right, beyond the wagon hoist.
The goods depot is in the background.
Right:  Looking north towards the tunnel in December 2010, with a Worcester – Dorridge train arriving.  
The platform buildings were erected in 2006 in Great Western style and colours.
<![if !vml]>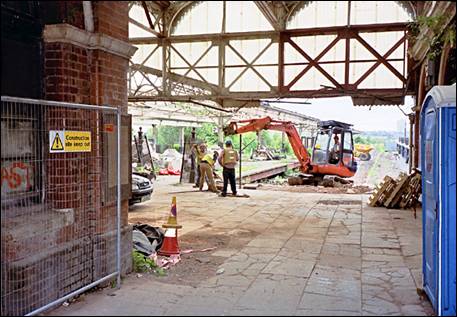 <![endif]> <![if !vml]>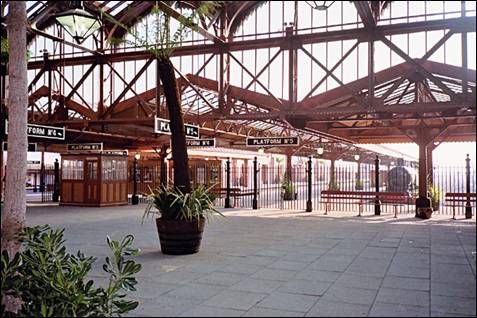 <![endif]>
Work starts on renovating the derelict station in 2002, and a similar view after completion of the first stage of work in 2003,
but before erection of the screens which now hide the platforms from the concourse.
More views from December 2010
<![if !vml]>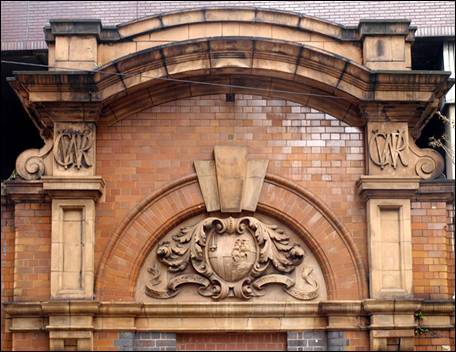 <![endif]> <![if !vml]>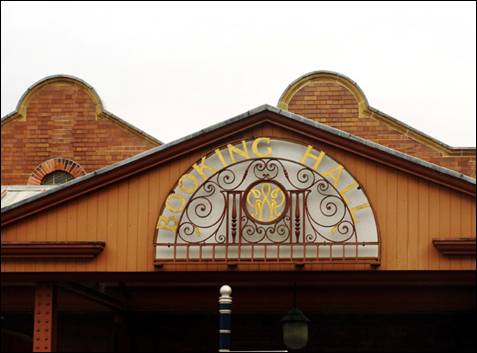 <![endif]>
Left: Not at Moor Street, but this photo (taken in December 2010) shows original brickwork from 1912 over a
former entrance to Snow Hill station, with the GWR crest cut into the stonework.
Right:  The porch at the entrance to Moor Street station incorporates a "fan light" previously located at Snow Hill station
<![if !vml]>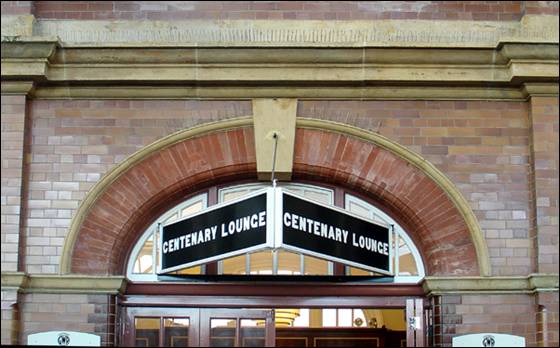 <![endif]> <![if !vml]>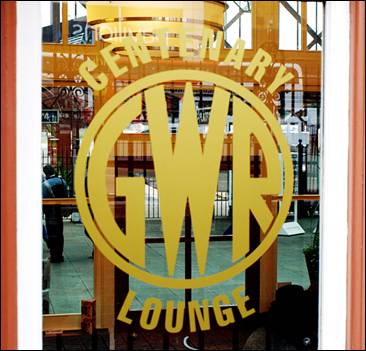 <![endif]>
Moor Street's GWR Centenary Lounge: the entrance and glass door with a 1930s style badge.
Note the similarity between the architectural style at Moor Street and that at Snow Hill (above) – but Moor Street's is
simpler to accord with its original status as a local station, contrasting with Snow Hill's main line status.
<![if !vml]>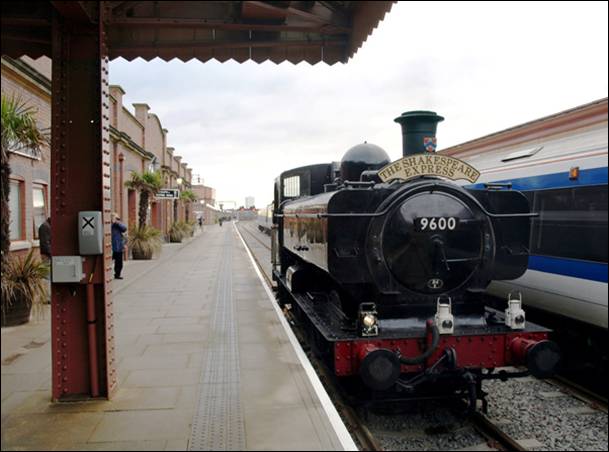 <![endif]> <![if !vml]>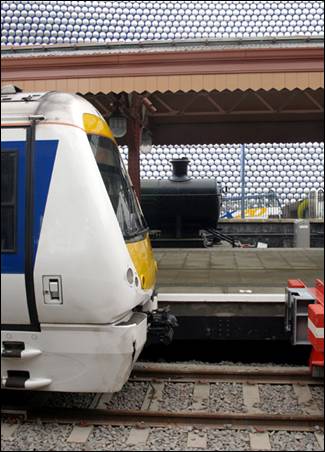 <![endif]>
Great Western steam locos at Moor Street on 11th December 2010, when platforms 3 and 4 were returned to use:
Preserved 0-6-0PT 9600 (built 1945, withdrawn 1965) in steam at platform 3 and 2-8-0 2885 (built 1938, withdrawn 1964)
on static display in platform 5, contrasted with a Chiltern Railways train at platform 4
and (in the background) the exotic Selfridges building.
           <![if !vml]>
<![endif]> ** see below
<![if !vml]>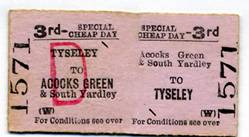 <![endif]><![if !vml]>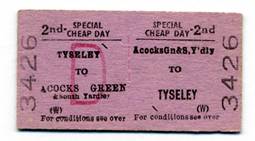 <![endif]><![if !vml]>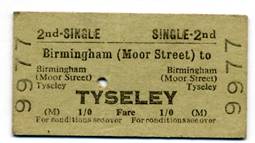 <![endif]>
Tickets issued on 1st Sept 1955, 25th May 1958 and 26th March 1966
<![if !vml]>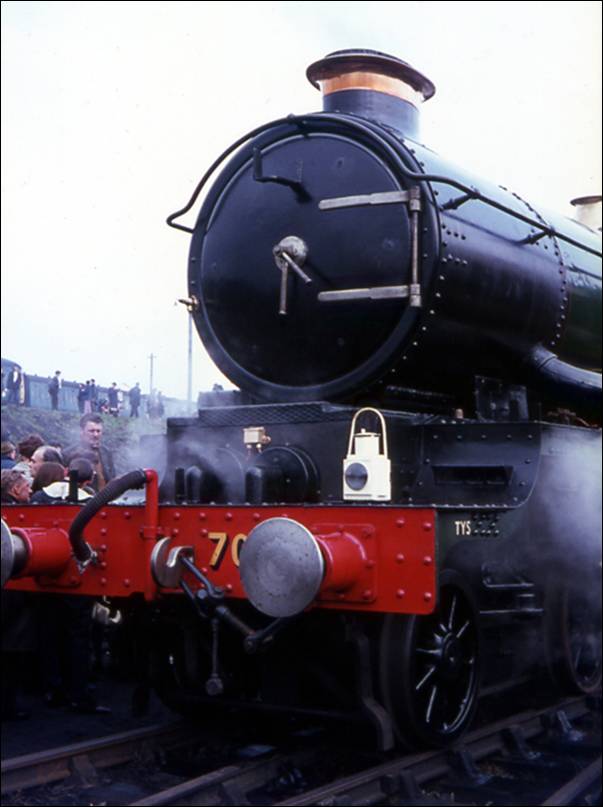 <![endif]>
7029 Clun Castle, built 1950, at a Tyseley Open Day in 1970
As a keen young train-spotter in the early 1950s, I found Tyseley loco shed something of a magnet:  fortunately, at school we had an active Railway & Model Engineering Society which arranged regular visits to the depot.  
The shed had been built in 1908 and housed about 120 locomotives, mainly for Birmingham area suburban trains, plus a variety of freight and longer-distance passenger workings, and, of course, shunting.   There was relatively little top link express passenger work (trains from Birmingham to London and Penzance were largely the responsibility of Wolverhampton Stafford Road depot) and so King and Castle class locomotives were not normally to be seen on shed.   But there were daily expresses to Cardiff via both Cheltenham Spa and Hereford and summer Saturday trains to the South Coast and West of England.   For these a stud of Halls was maintained and for a time during and soon after the war 4058 Princess Augusta was based at Tyseley especially for the heavy Cardiff trains – I made at least one journey behind 4058 about 1944.  
In 1938 Tyseley had been home to 102 steam locos and 2 diesel railcars (for the Cardiff service).    The locos comprised 4 Saint class 4-6-0s, 8 Halls, and 1 Grange;  3 Duke and Bulldog 4-4-0s, 7 heavy freight 2-8-0s (including two of the rare 4700 class, used almost exclusively on overnight trains, and one R.O.D type), 7 4300 class 2-6-0s, 2 Dean Goods 0-6-0s, 33 2-6-2Ts for suburban passenger trains, and 37 Pannier tanks, mainly for shunting and local trip freights.
By 1950 Tyseley shed had been coded 84E by British Railways, but otherwise there was little change although the total fleet had risen to 118 locos.    There were now 24 4-6-0s, including just one Saint, 17 Halls, 15 Granges and 1 Manor.   2-8-0s were down to 5 as the 47xx locos had been transferred away to Oxley (Wolverhampton).      2-6-0s, at 6, were down one from 1938, but there were also 4 22xx 0-6-0s.   The elderly 4-4-0s had vanished, to be replaced by 2 90xx 4-4-0s, nominally new in 1938, but in fact rebuilds of earlier locos.      In 1950 there were 31 suburban 2-6-2Ts: 27 in the 41xx and 51xx series, plus 1 31xx, 1 81xx and 2 3150 class.   A class new to Tyseley was the 56xx 0-6-2T, commonly found in the South Wales valleys and represented by two examples.    That left 44 pannier tanks, including one of the small 74xx series and 3 of the new taper boiler 84xx series.   The two diesel cars had moved away and were now based in South Wales.  
For a few more years there was little major change.   Ten B.R. standard 82xxx 2-6-2Ts arrived in 1953, but seemed to make little impression and moved away within the year.   While many locos moved around the system, periodically changing sheds, others became long term residents.   Several locos based at Tyseley in 1947 were still there in 1958:  these included 5927 Guild Hall, 6853 Morehampton Grange, 6866 Morfa Grange, 6904 Charfield Hall, 6971 Athelhampton Hall, 7912 Little Linford Hall, 7918 Rhose Wood Hall and several suburban 2-6-2 tank locos and 0-6-0 pannier tanks, all of which were familiar to the local enthusiasts of the day. 
The biggest change to Tyseley's allocation came with the arrival of large numbers of diesel multiple units in 1957.   From then on, steam was in decline and by 1964 Tyseley was home to a very mixed bag of locos, not all in good order.   Even Castles, unwanted on express duties, were allocated for use on rush hour local trains.   One survivor was 7029 Clun Castle, destined to be the last Castle in service and which became something of a pet, being specially cleaned and turned out for selected duties.   One such working was the 12.30 Penzance to Wolverhampton Low Level on 4th September 1965, almost certainly the last advertised express passenger train to be steam-hauled into Snow Hill.   Clun Castle had earlier achieved fame by participating in a special run from Paddington to Plymouth and back on 9th May 1964 (the anniversary of City of Truro's record 100 mph in 1904), running the 75 miles from Exeter to Bristol in 62 minutes with a top speed of 97 mph.
Tyseley shed closed to steam in November 1966, but a diesel depot had been built by the Western Region in the late 1950s and so the site became, and still remains, the principal depot for all lines in the Birmingham area.   Steam did not vanish from Tyseley.   Clun Castle was preserved and formed the nucleus of the Birmingham Railway Museum which maintains a working fleet of steam locos which operate regularly on the main line and where occasional open days are held as shown in some of the photographs below. (see: http://www.vintagetrains.co.uk/brm.htm )
<![if !vml]>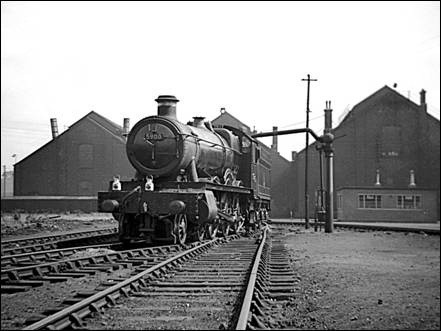 <![endif]> <![if !vml]>
<![endif]>
5900 Hinderton Hall outside Tyseley shed, cleaned ready to work an afternoon train from Snow Hill on 7th July 1953.  
Photographed during a school visit to the shed.
Another school visit: 16th July 1959.  Small boys hurry past 0-6-0 2238, stored out of use and on point of withdrawal from service.  
The steam shed is to the left of 2238 and the new diesel depot can be seen beyond the boys.
<![if !vml]>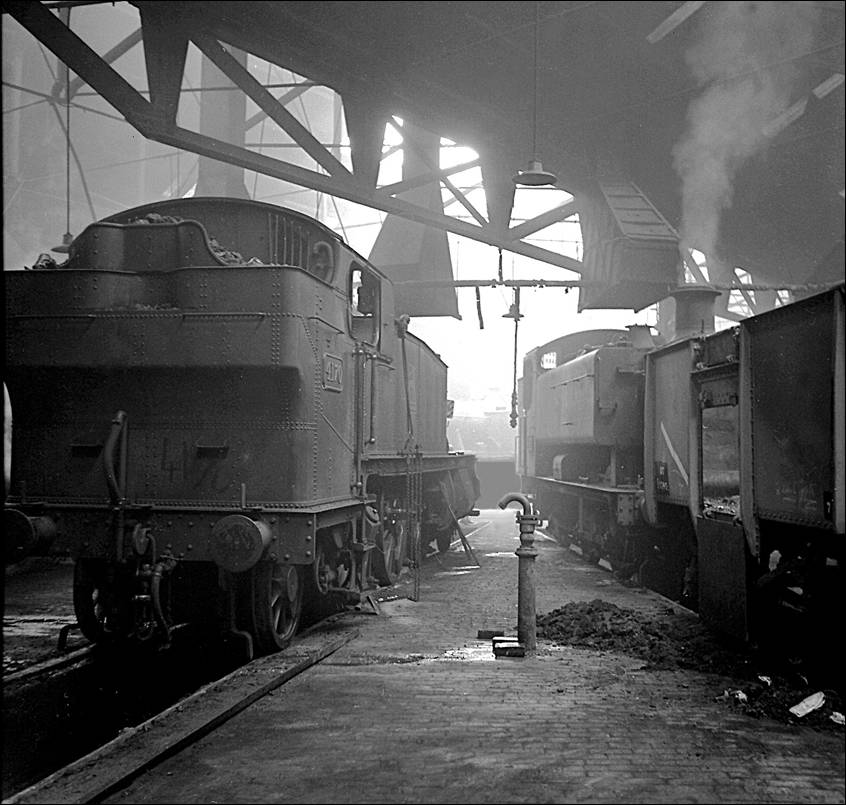 <![endif]> 
Inside Tyseley's round house on 16th July 1959:  51xx 2-6-2T 4170 is receiving minor attention and a similar loco stands on the turntable beyond.   A 94xx 0-6-0 pannier tank stands to the right.
<![if !vml]>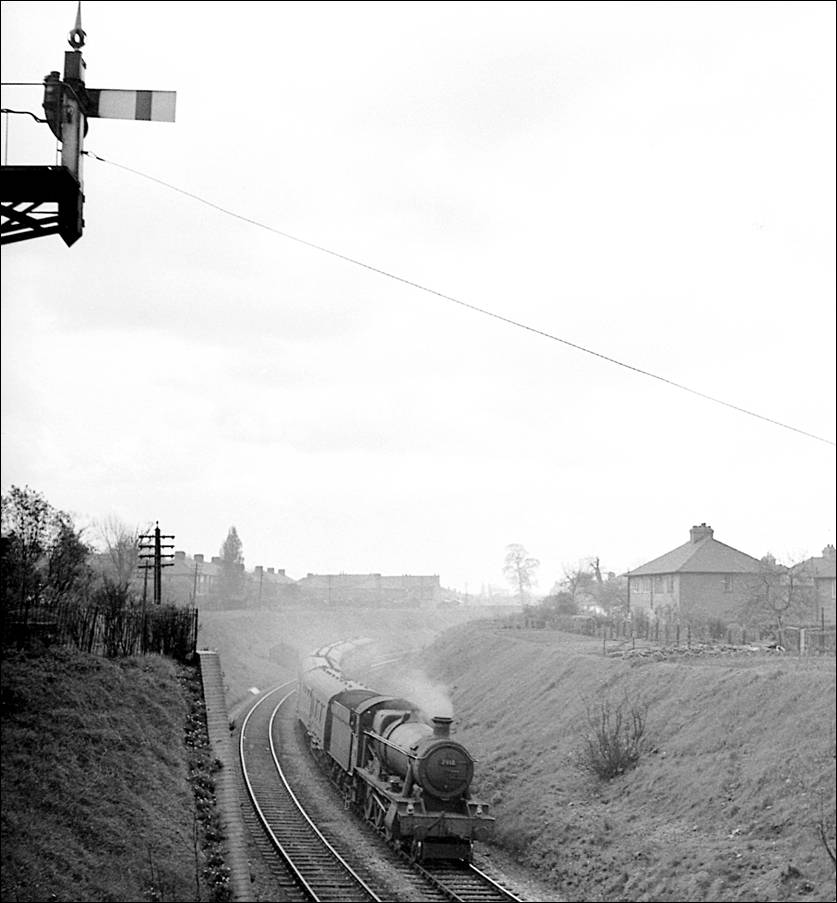 <![endif]>
Tyseley's 7918 Rhose Wood Hall with the 8.5 Swansea to Birmingham Snow Hill on 16th April 1957, seen from Warwick Road.   The train is on the North Warwickshire line from Stratford-upon-Avon and approaching the junction at Tyseley.
<![if !vml]>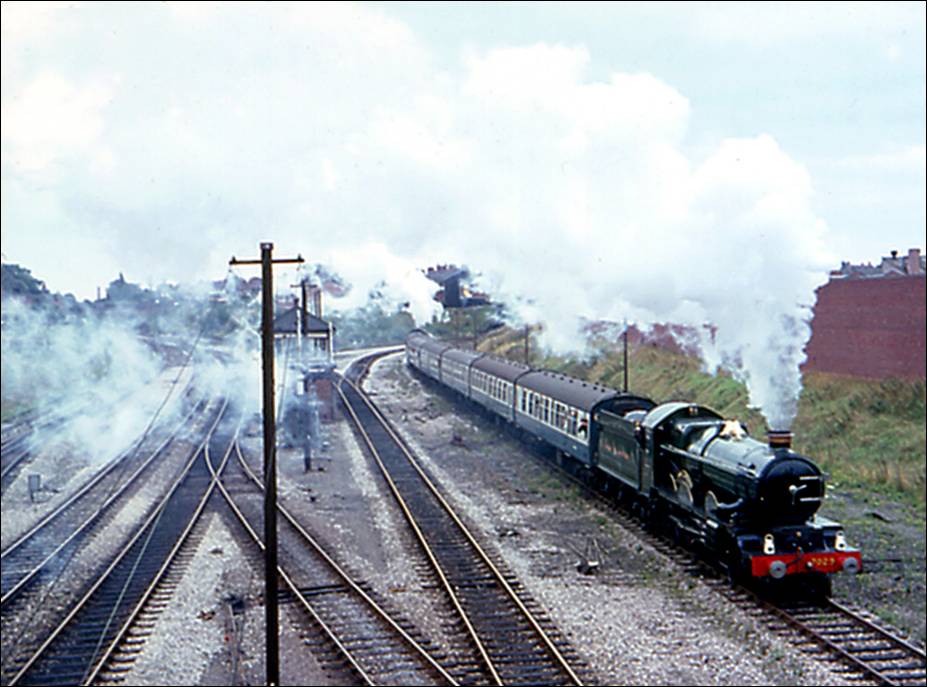 <![endif]>
At first sight this appears to be a photo of a train coming off the North Warwickshire line at Tyseley, but it is in fact an open day shuttle on 28th September 1969 on the siding which extends out of the depot yard!   The loco is 7029 Clun Castle, with 5593 Kolhapur just discernible at the far end.   Note the signal box left of centre and the line to Leamington Spa and Paddington disappearing to the left behind the steam.   The signal box had, in fact, been closed four weeks previously and a disused signal post, without arms, can just be discerned this side of the box.   Point rodding has also been removed.
 <![if !vml]>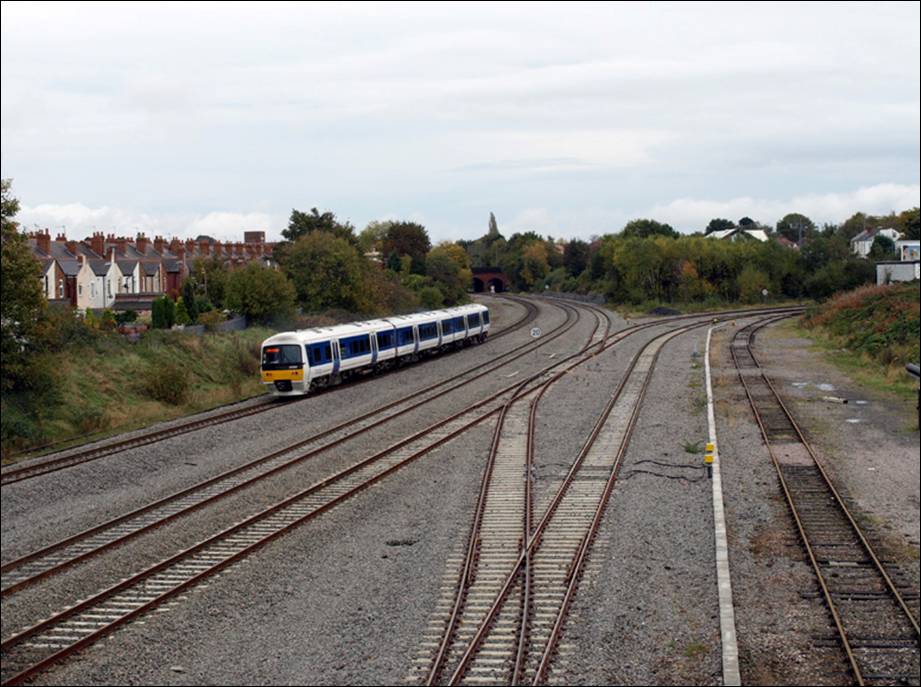 <![endif]>
The same location in October 2008. 
 A Chiltern Railways train from Snow Hill to Marylebone hurries towards Leamington Spa.   The North Warwickshire line to Stratford-upon-Avon diverges to the right.   The junction was completely relaid by Network Rail earlier in the year, with the design attracting adverse comment from a retired Western Region civil engineer for its awkward geometry.  The location at the right is now occupied by a carriage cleaning plant, installed in 2010.
<![if !vml]>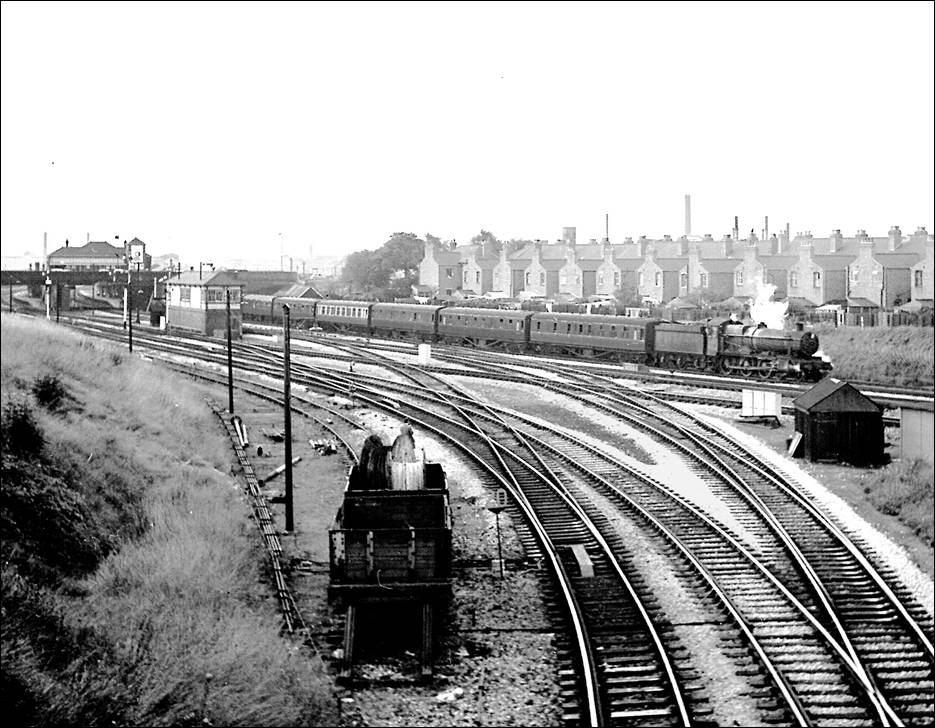 <![endif]>
The junction seen from the Warwick Road bridge on 24th August 1964 with the Stratford line in the foreground and 6854 Roundhill Grange on the 5.38 pm Snow Hill to Lapworth on the up Main line.   Tyseley station is at the left.
<![if !vml]>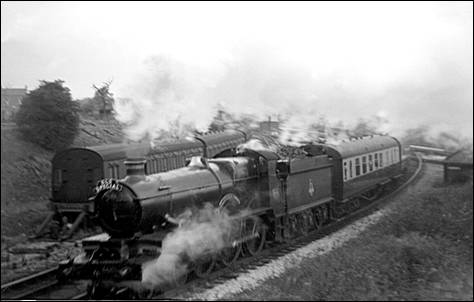 <![endif]> <![if !vml]>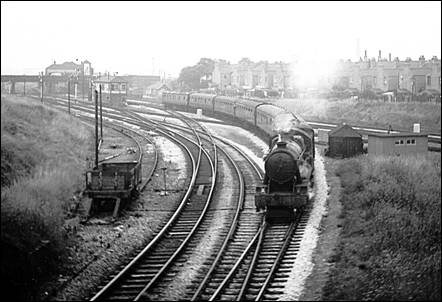 <![endif]>
Star class 4061 Glastonbury Abbey takes the Stratford line with an excursion to Swindon in September 1955.
1011 County of Chester joins the North Warwickshire line with the final steam-hauled 5.45 pm Snow Hill – Stratford-upon-Avon and Evesham on 5th September 1964.  
The connection between the Main lines and the North Warwickshire lines were removed in 1968 and Stratford trains were thereafter limited to use of the Relief lines through the station.
<![if !vml]>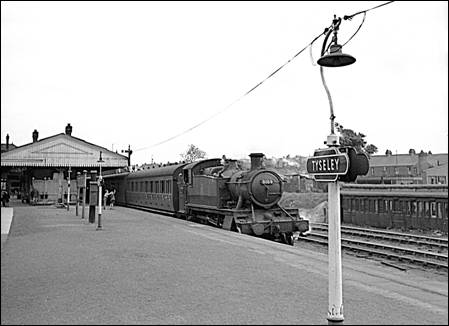 <![endif]>  <![if !vml]>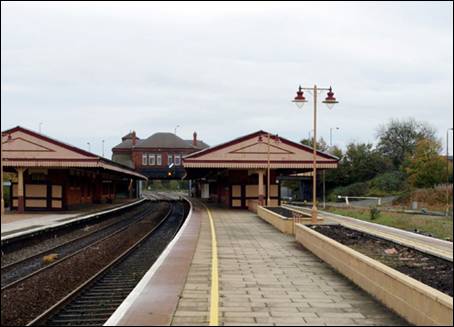 <![endif]>
Similar views in 1957 and 2008:   8109 pauses on the down Relief line at Tyseley with a local for Birmingham Moor Street on 25th May 1957.
By 2008 gardens have appeared on the platform, albeit unmaintained, lamp posts have gone retro and the elderly carriage used as a locomen's mess has vanished.
 <![if !vml]>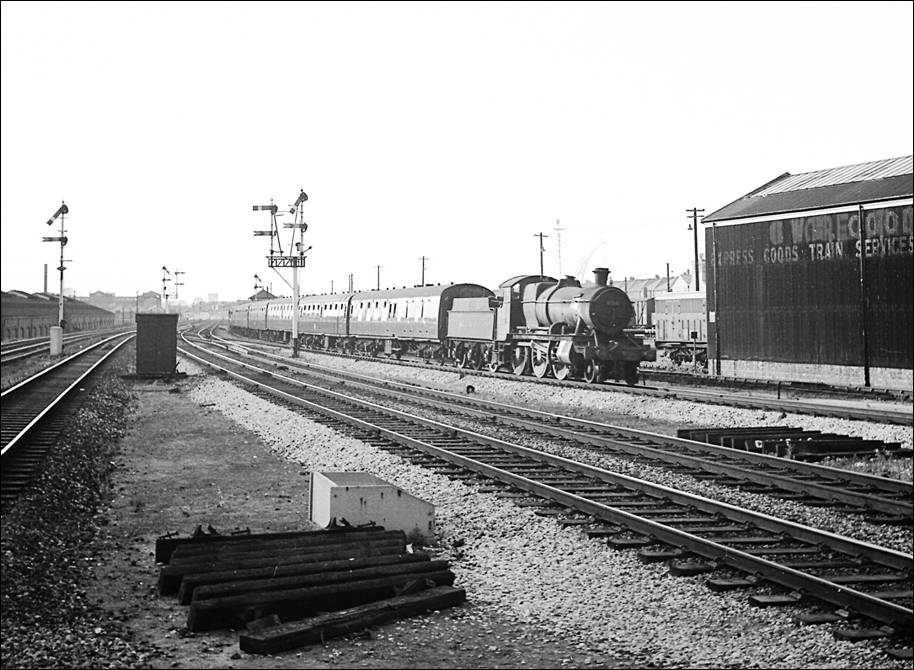 <![endif]>
The view from Tyseley's platforms 3 and 4 towards Birmingham Snow Hill on 28th August 1964.
2-6-0 6364 (built in 1925) brings the 5.38 pm Snow Hill – Lapworth along the up Main line.   This was a difficult train to work, comprising ten coaches and calling at all stations.   An engine with both good hauling power and good acceleration was required and this veteran was deemed favourite for the job.   In 1938 6364 had been allocated to Old Oak Common, London, but spent most of the 1940s and '50s at Taunton whence it would have worked trains to Barnstaple and Minehead.   It was taken out of service in November 1964, by which time diesels had taken over the train illustrated above.
<![if !vml]>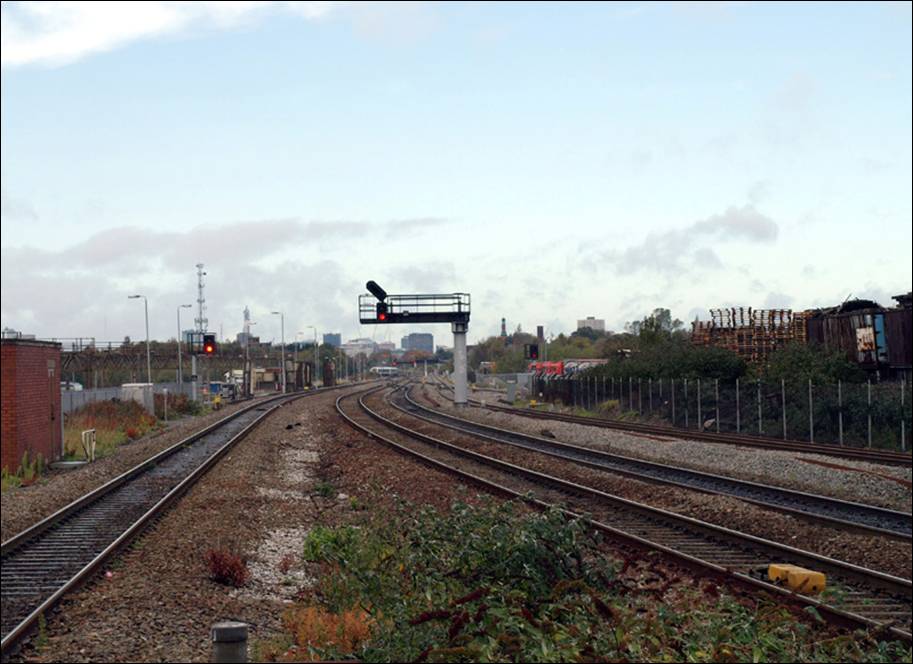 <![endif]>
The same location in 2008.  
The goods shed at the right has gone, as has the carriage shed at the left (rolling stock is now stored in the open air!)   The freight lines at the left of the 1964 picture have also gone.   The semaphore signals controlled from a box a few yards away have given way to colour lights controlled from Saltley – a few miles away.   Weeds are nowadays treated with greater tolerance.   A Chiltern Railways train can just be discerned leaving the far end of Tyseley depot, en route to take up its duties at Snow Hill.
A serious derailment occurred on 22nd May 1967 just beyond the site of the signal near the centre of the photograph above.   A bracket supporting A.W.S. apparatus beneath locomotive D1714, hauling the 9.40 Poole to Newcastle train on the Down Main line at about 65 mph, became detached   This caused the equipment to strike and damage a point mechanism resulting in derailment of the locomotive and all 12 carriages with the fourth carriage turning on its side.   Luckily, there were no serious injuries.   Despite the serious damage and the blockage of all four running lines, services were restored next day.   In the interim, through trains ran to Leamington via Berkswell and Kenilworth and local services used the carriage lines which are effectively part of Tyseley depot.   One suspects that if a similar accident were to occur today, the lines would be closed for at least two weeks with the site treated as a "crime scene"    The full Ministry of Transport report by Major P.M.Olver can be read at http://www.railwaysarchive.co.uk/documents/MoT_Tyseley1967.pdf
<![if !vml]>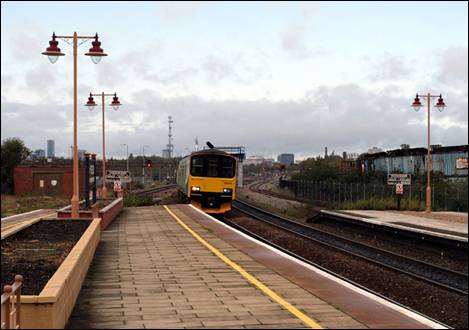 <![endif]> <![if !vml]>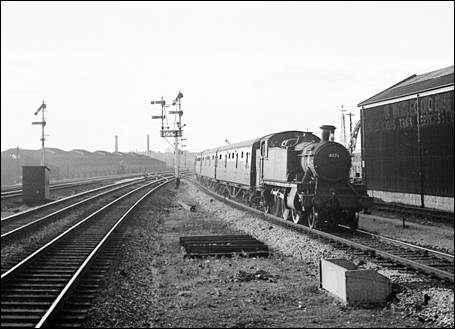 <![endif]>
An October 2008 view north from platform 3 as a Great Malvern – Stratford-upon-Avon train arrives.
A view on 28th August 1964 from platform 2 with 2-6-2T 4171 arriving on the up Main line with the 6.5 pm Snow Hill – Leamington Spa General.
<![if !vml]>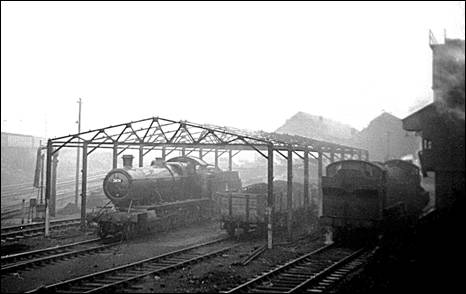 <![endif]> <![if !vml]>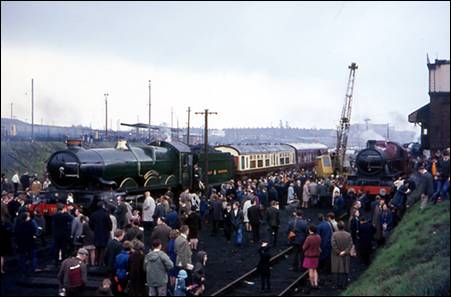 <![endif]>
Two views from the same location.
In the first picture 2-8-0 2874 stands in the remains of the war-time ash shed (where fires were raked out) on 2nd April 1954.   A 51xx 2-6-2T is at the coal plant, right.   By 1970 the remains of the ash shed and also the substantial steam sheds beyond have all vanished, but preserved 7029 Clun Castle and LMSR 5593 Kolhapur attract the crowds on an open day.
<![if !vml]>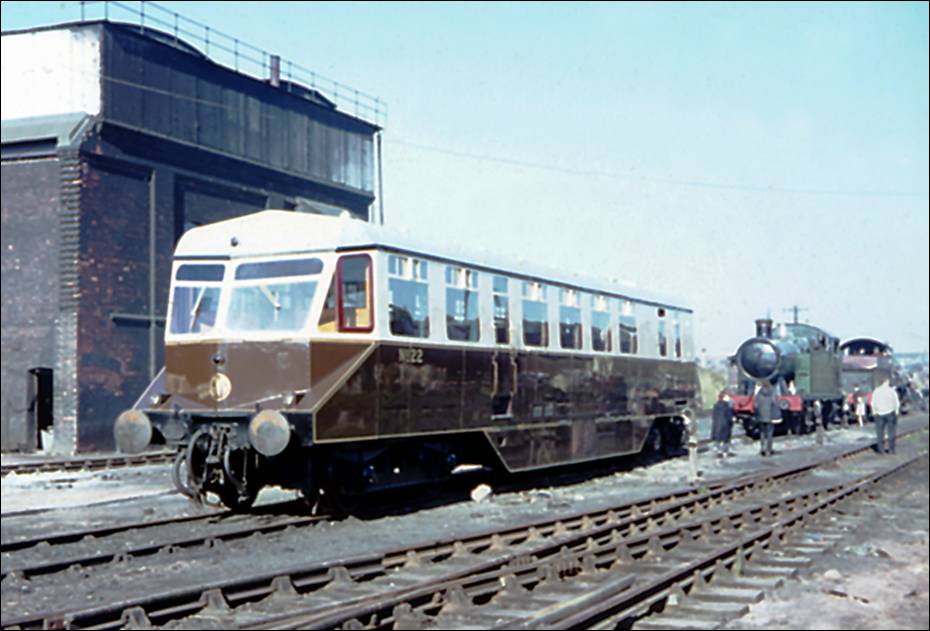 <![endif]>
Preserved GWR diesel railcar 22 and 0-6-2T 6697 on a sunny open day in May 1970.
Tyseley had been home to the pioneering streamlined railcars built in 1934 for the express service to Cardiff.   Their popularity was their downfall as they could not cope with the volume of passengers and they were replaced by steam trains after a few years.   22 was one of the later, non-streamlined, design and was built in 1940.   It was latterly based at Worcester, working services to Bromyard and over the Severn Valley line to Shrewsbury via Bewdley and Bridgnorth, before being withdrawn at the end of 1962.
<![if !vml]>
<![endif]> <![if !vml]>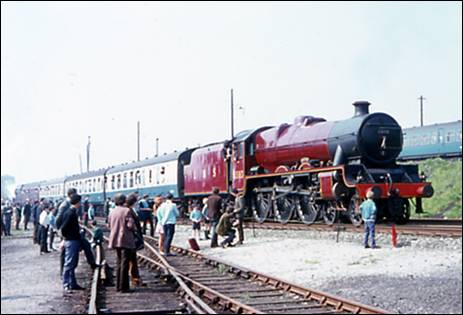 <![endif]>
LMSR guest star 6201 Princess Elizabeth on display at a Tyseley open day in May 1970.
Resident LMS 5593 Kolhapur operates a shuttle ride at an open day.
<![if !vml]>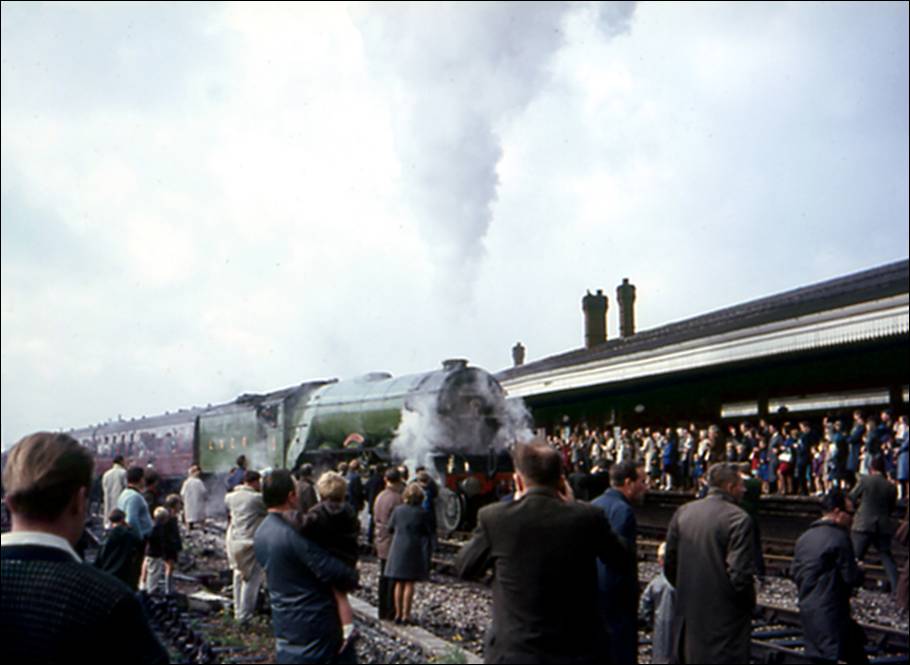 <![endif]>
Embarrassing moment!  
Famous LNER 4-6-2 4472 Flying Scotsman slips to a halt before hundreds of watchers as it unsuccessfully tries to take a loaded train out of Tyseley depot on 29th September 1968.   A diesel shunter provided the necessary extra power and gave a push to get the train moving on its way to Leamington Spa.     The crowds line platform 4 and spill onto the tracks.     No  'Elf  'n  Safety  in  those  days!
<![if !vml]>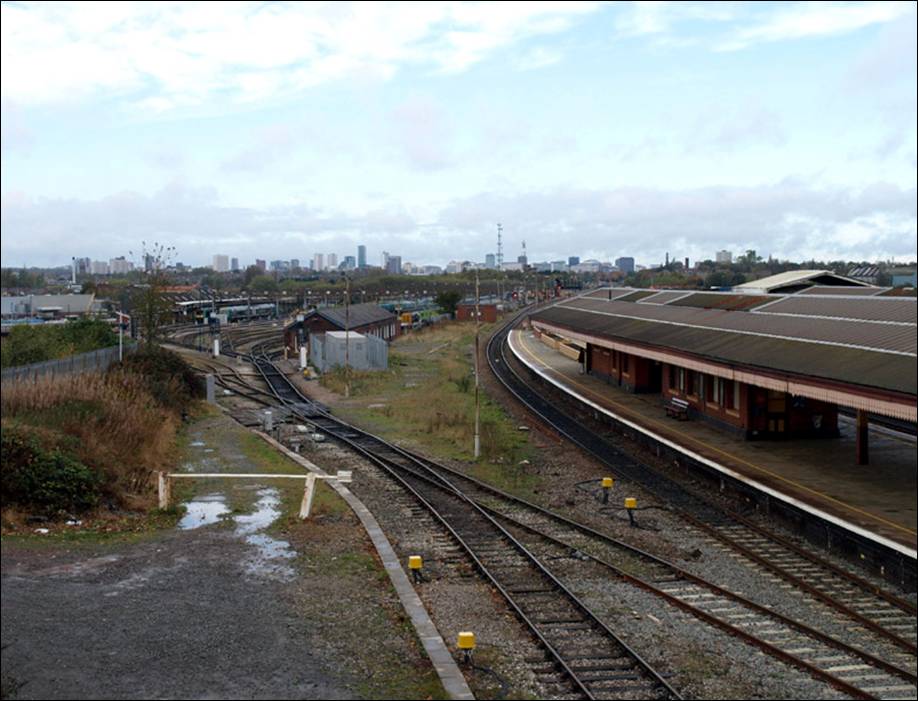 <![endif]>
Forty years on:  a quiet moment in 2008 at much the same spot as above.
Tyseley diesel depot is to the left, platform 4 to the right and the central Birmingham skyline is visible in the distance.
<![if !vml]>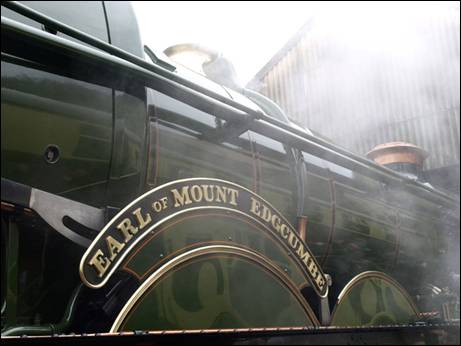 <![endif]> <![if !vml]>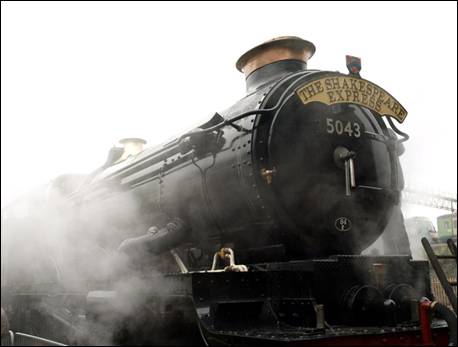 <![endif]>
GWR Castle 5043 Earl of Mount Edgcumbe in steam at Tyseley on 26th October 2008.   The loco was newly restored.  It had been built in September 1937, withdrawn in December 1963 and had lain out of use ever since – the greater part of its life!   It is now on the threshold of a new career.
<![if !vml]>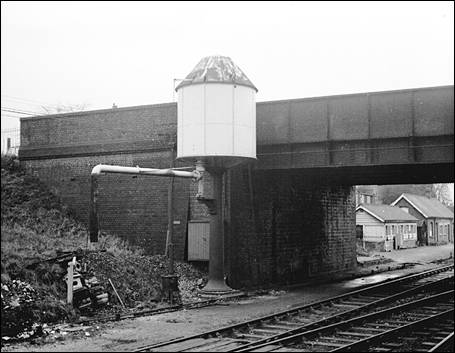 <![endif]> <![if !vml]>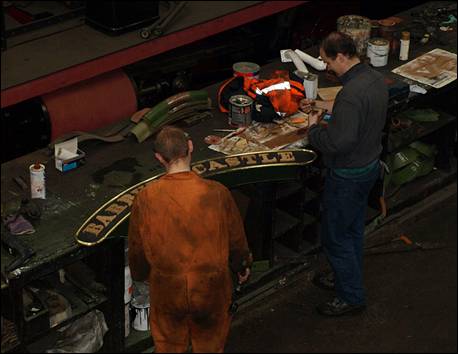 <![endif]>
A water tower and shunters' mess rooms in 1965.
Inside Tyseley in 2008:  work is in hand on a new nameplate Barbury Castle, the name originally given in 1937 to 5043 before it became Earl of Mount Edgcumbe.
<![if !vml]>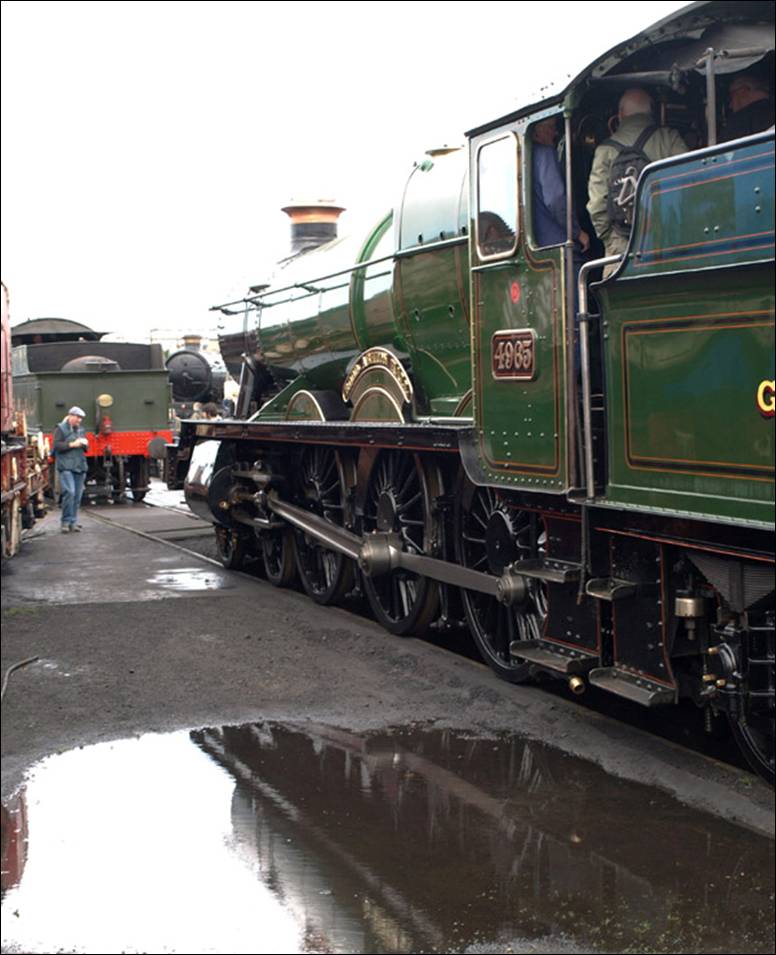 <![endif]>
GWR 4965 Rood Ashton Hall at Tyseley on 26th October 2008.
7029 Clun Castle can be seen in the distance.
<![if !vml]>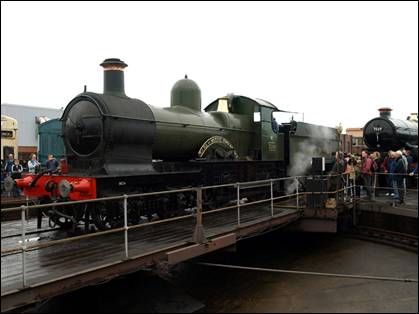 <![endif]>  <![if !vml]>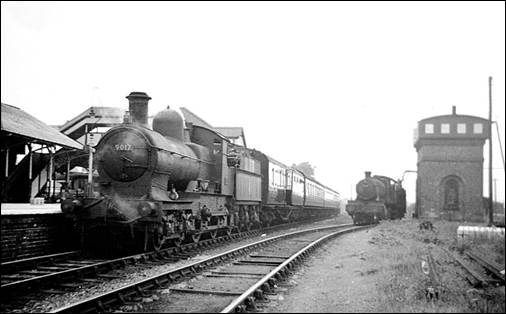 <![endif]>
4-4-0 9017 at Tyseley on 26th October 2008 and at Welshpool (with a train from Oswestry) on 9th June 1956.
9017 was nominally a new loco in 1938, but was actually a rebuild using parts of two locos built in 1895 and 1906.   It was allocated the name Earl of Berkeley but it is said that the noble gentlemen objected to their names being used on such old fashioned engines and so the Earl names were transferred to Castle class locos.
<![if !vml]>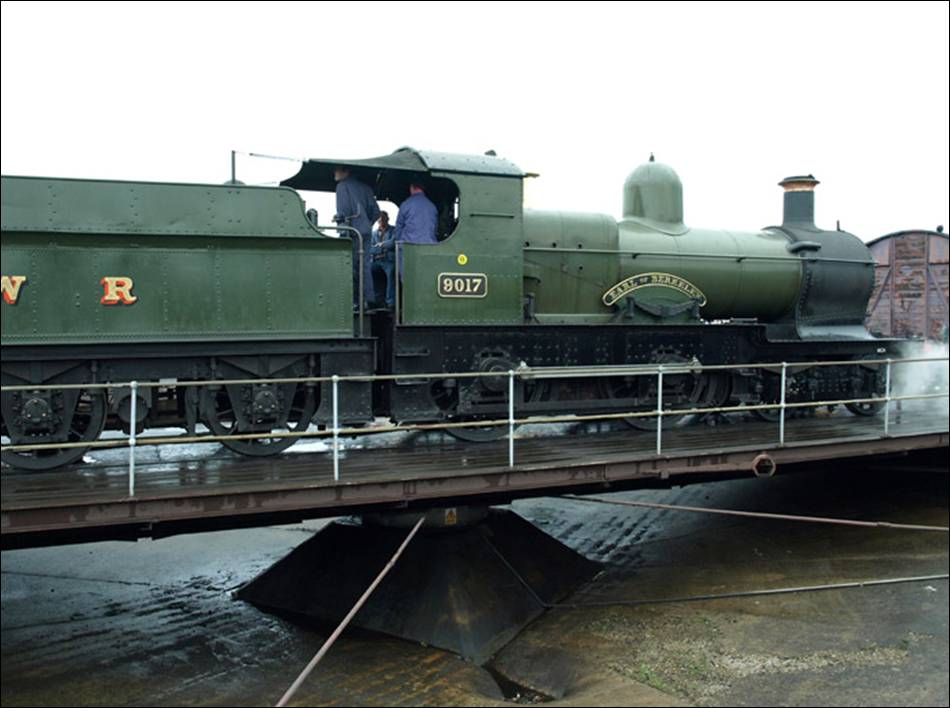 <![endif]>
Another view of 9017 on the turntable at Tyseley on 26th October 2008.   The locomotive spent most of its working life allocated to Aberystwyth shed.   9017 is now normally based far away from its native heath, on the Bluebell Railway in Sussex, but had been released for a short spell visiting the Midlands.
  <![if !vml]>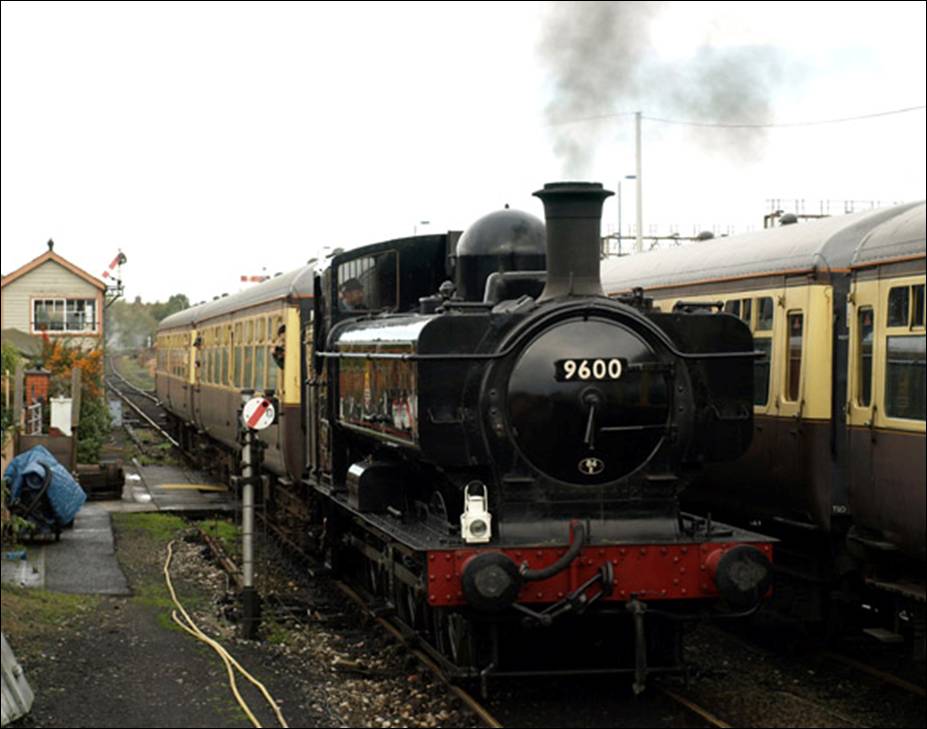 <![endif]>
0-6-0PT 9600 at Tyseley on 26th October 2008 giving rides up and down a siding.  
Tyseley always had a substantial allocation of pannier tank locos, mainly for shunting and local freight working, but they were well capable of taking a turn on local passenger trains if necessary.   9600 was built in 1945 and withdrawn in 1965 and spent almost its entire working life allocated to Swindon.   After withdrawal it was purchased by the National Coal Board for use at Merthyr Vale Colliery where it worked until 1973.
7029 Clun Castle   <![if !vml]>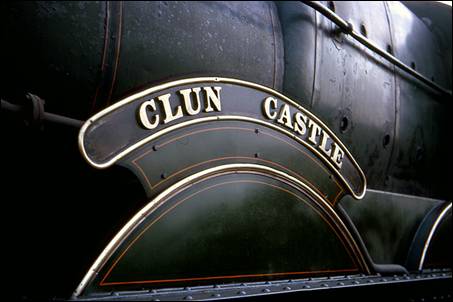 <![endif]>   A Memory of BR days
<![if !vml]>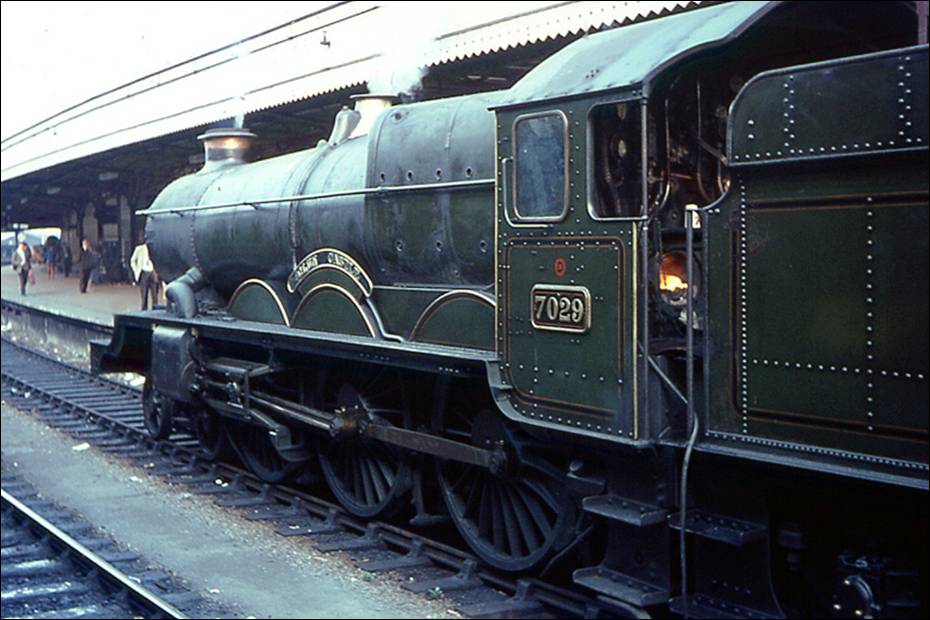 <![endif]>
Waiting with a train at Bristol Temple Meads in 1965, 7029 is ready to return to Birmingham Snow Hill.  
The loco was then allocated to Tyseley shed.   For most of the first decade of its life, Clun Castle had been allocated to Newton Abbot shed in Devon.   In the photograph the paintwork is clean but shabby, reflecting intensive wear and tear since the last overhaul, but also showing the affection which the loco generated as the last surviving Great Western Castle.   Although 7029 was not built until 1950, the class had first appeared in 1923 and for almost forty years was the mainstay of GWR expresses.
Press comment from 1953:
<![if !vml]>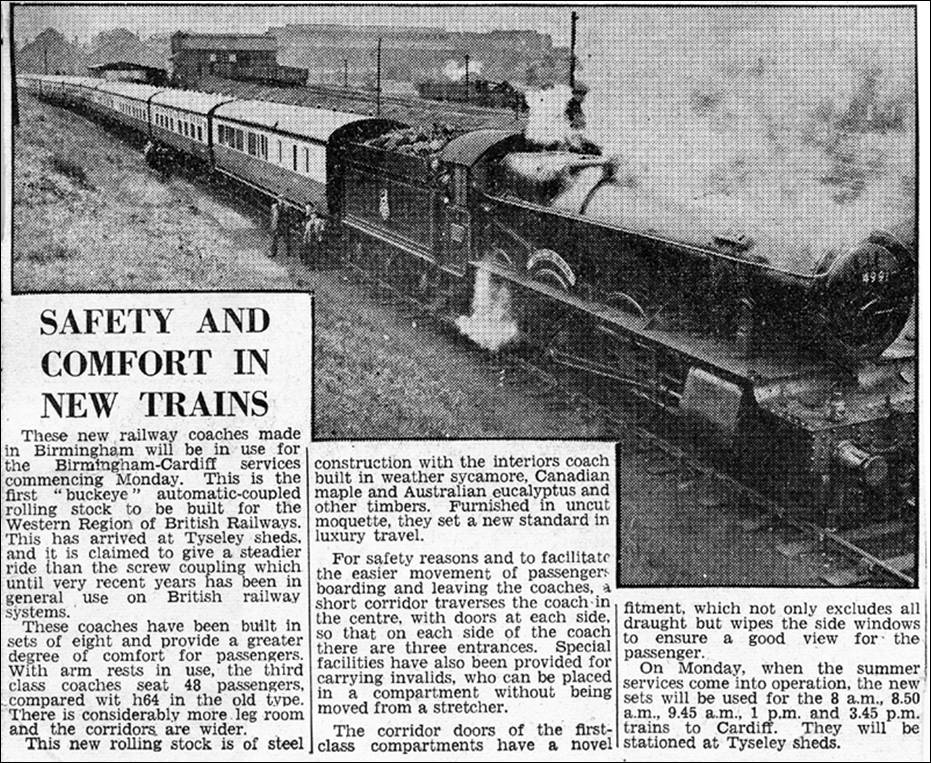 <![endif]>
Tyseley in June 1953, as seen by the Birmingham Post.
These were amongst the first standard British Railways Mark I carriages to be brought into service and had been built a few miles up the road at the Metropolitan Cammel works in Saltley (whose last job before closure was to be the assembly of Virgin Pendolino trains).   The train in the picture is hauled by 4991 Cobham Hall which was at the time allocated, not to Tyseley, but to Wolverhampton Stafford Road.   The first carriage is not, in fact, a B.R. standard vehicle, but a Great Western Brake Third which was required to effect the transition between the new couplings fitted to standard carriages and the traditional hook on the loco tender.   The coaling stage is behind the carriages with the ash shelter to its left and the steam loco sheds in the left background.   The loco repair shops are in the centre background – approximately where the diesel depot was to be built a few years later.
A couple of miles towards central Birmingham from Tyseley:
<![if !vml]>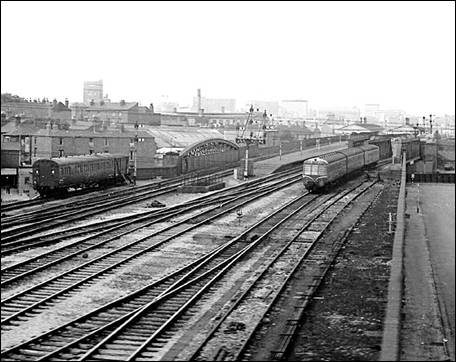 <![endif]> <![if !vml]>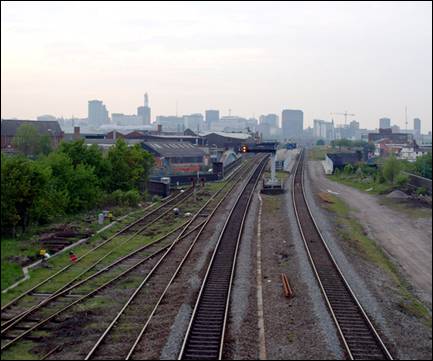 <![endif]>
Bordesley station on 22nd June 1963 with an up local, and on 10th May 2008:  both pictures were taken from a train on the ex-Midland Railway Camp Hill line from New Street.
In the 1963 picture the tracks (left to right) are:  down yard siding (with carriage), goods line, down Relief, up Relief, down Main, up Main (with diesel train), up siding.
Since 1968 the up siding has been lifted, and the former Main lines have been diverted (behind the camera) to join the Midland line to New Street.   The Relief lines, redesignated Snow Hill lines, remain in use towards Moor Street and Snow Hill.   The goods line is now a through siding from Tyseley yard to Moor Street, and the down siding survives, albeit in a grassy state.   The bridge carrying the old Main lines over a road at the station has been removed.
THE LAST DAYS OF A TYSELEY LOCO:
<![if !vml]>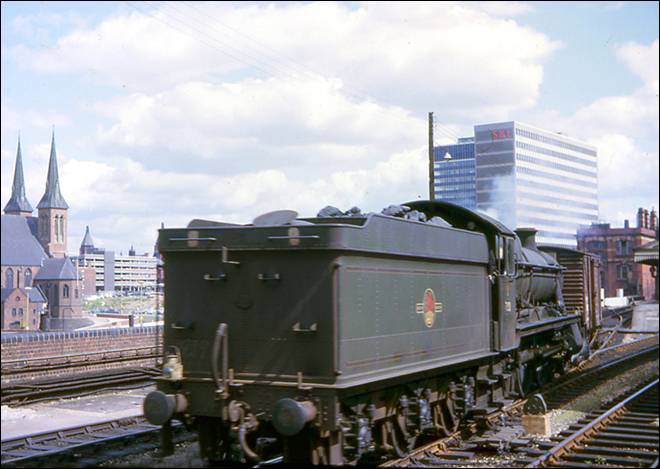 <![endif]>
A Tyseley-based Hall, 7929 Wyke Hall, devoid of name and number plates, as station pilot at Birmingham Snow Hill on Saturday,31st July 1965.   The engine has removed a parcels van from the rear of an up parcels train in platform 12 in order to attach it to another train.   The loco's green Swindon paintwork is still evident, despite the neglect suffered by steam locos in their final days.   7929 was the last of her class to be built, in November 1950, and spent most of her working life based at Tyseley.   She was withdrawn just four weeks later, in August 1965, by which time only a handful of the 330 Hall class locos remained in service, the last finally succumbing in December 1965.   St Chad's Roman Catholic Cathedral, designed by A.W. Pugin, is to the left.
<![if !vml]>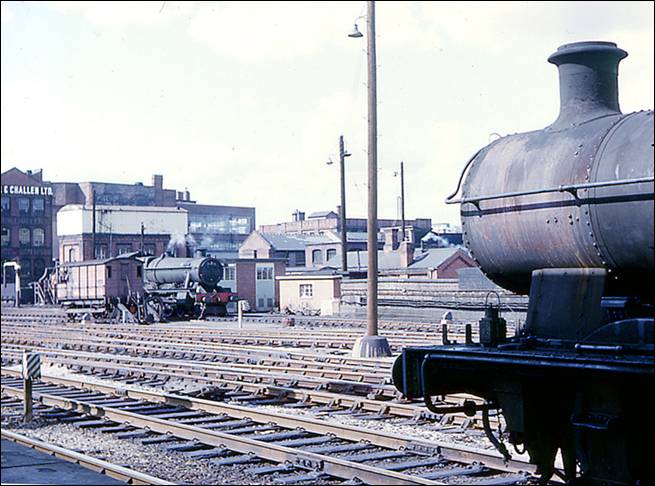 <![endif]>
The Hall has retired to Northwood Street sidings to await the next call of duty.   Meanwhile, 0-6-2T 6668, another long-term Tyseley resident, has arrived on the down through line with empty stock to form the 5.20 pm stopping train to Stourbridge Junction.   6668 seems to be the victim of fairly serious neglect, but nevertheless survived in service until December 1965.   The class, once 200 strong, was largely confined to use in the South Wales valleys, but a handful were scattered about the rest of the GWR system.   Other locos seen at Snow Hill that July afternoon included 2-6-2Ts 4108 and 4147, pannier tank 8787, Britannia 70053 (a rare class at Snow Hill), all on freight or parcels workings, and Standard 4-6-0 75033 on a passenger train from Barmouth.
PRESS COMMENT FROM 1962:
<![if !vml]>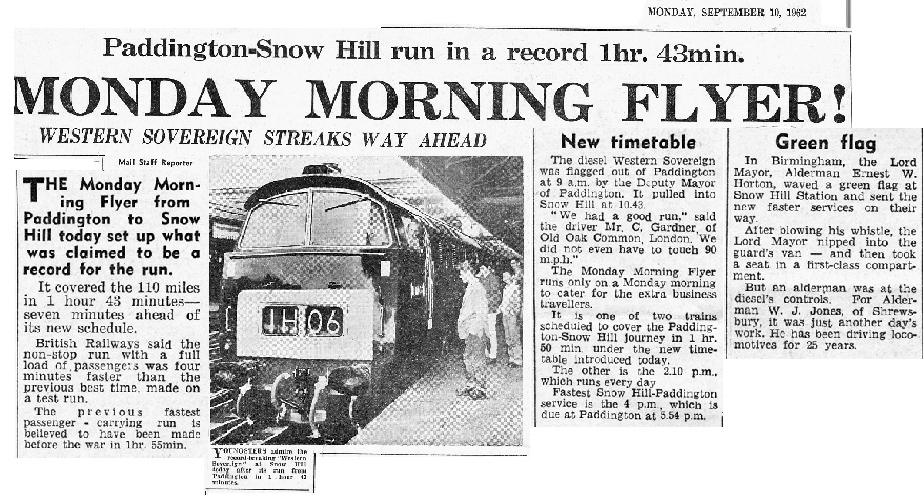 <![endif]>
Front Page News!  How the Birmingham Mail reported the introduction of Western diesel-hydraulic locomotives on the Paddington – Birmingham Snow Hill service in September 1962.
(The three news paragraphs were originally in a single long column, but have been copied and enlarged here in the interests of legibility)
It is interesting to speculate on what would have happened had the service been permitted to develop, instead of being effectively withdrawn on electrification of the line from Euston to New Street in 1967.   A 1hr 43min journey time was achieved in 1962, allegedly without exceeding 90 mph and despite a number of significant speed restrictions en route.   Had quite modest sums been spent on line improvements, it is likely journey time could have been further reduced to little more than one hour and a half.
But by 1970 one would not have given much for the chances of the line through Tyseley surviving in the long term.   After electrification of the Euston route services on the old GWR line to Paddington were much reduced.   Freight largely disappeared.    Local trains were reduced to once hourly, mostly from New Street following the closure of Snow Hill.   The North Warwickshire line to Stratford was approved for closure and only saved at the last moment by an Appeal Court ruling, delivered by Lord Denning.   Had the line not been saved, Moor Street would almost certainly have closed.   With traffic so reduced, New Street – Paddington trains would eventually have been diverted via Coventry, leaving the irrelevance of just one train an hour through Tyseley and Solihull.   Closure would have been no problem in the political scene of the early 1970s.  
But that never happened!   Instead, traffic has been encouraged to return to the railway, Snow Hill has been reopened and the line through Tyseley is busier than ever.   Long Freightliner trains pass through several times daily.   There are now three local trains each hour between Snow Hill and Shirley on the North Warwickshire line, with one an hour continuing to Stratford.   There are also three locals an hour to Dorridge on the Leamington line, plus two expresses an hour to London – not Paddington, but Marylebone.   In 1953 Snow Hill had seven trains a day to London (with a similar number from New Street to Euston).    Today Snow Hill has 29 trains a day to London!
        **  The "Tyseley, junction for North Warwickshire line" board at the head of this page is, of course, a computer-generated facsimile!   The actual GWR boards merely said, succinctly, TYSELEY.
My other railway pages can be accessed by clicking on the links below:
Railways.htm    (Photographs taken in the 1950s, train spotting at Birmingham Snow Hill in 1953, and scenes in the West Midlands and South Wales 1953 – 1962)
Railways50yr.htm  (A selection of photos from the 1950s:  West Midlands, Wales, and a few Southern scenes;  the last Slip Coach)
Railways2.htm  (Brecon and -Mid-Wales;  the Somerset & Dorset line,  GWR and LSWR lines in Somerset, Devon and Cornwall:  all 1957-1962)
Railways3.htm  (the Scottish Highlands, 1959 and 1961;  also the Isle of Man in 1965)
Railways4.htm  (Birmingham area LMR;  glimpses of Boston, Peterborough, and Lincoln;  GWR lines in North Wales;  a few shots on the Southern:  all 1961-1963)
Trams.htm           (the last days of Birmingham's narrow gauge tram system:  scenes on the Erdington and Short Heath routes in June 1953;  plus some historic postcards)
If our Home Page is not listed to the left of this page, it may be accessed here:  www.robertdarlaston.co.uk