This page is 1959–Revisited.   Added 5/9/09
All photos © Robert Darlaston unless otherwise stated.
Please allow time for photographs to download.
1959 – Revisited!
<![if !vml]>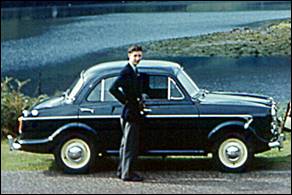 <![endif]>
A Nostalgic Selection of Colour Photographs from 1959
plus
a Prologue comprising a few pictures from 1957 and 1958.
Historical note:  Colour photography was comparatively rare in the U.K. until the end of the 1950s.   Colour film was scarce, horribly expensive and the prints obtained were of variable quality.   Moreover, film speeds were very slow (18 ASA was about the best one could get) so that use was largely confined to days of bright sunshine.   But by the mid-1950s Kodachrome transparency film in 35 mm format was becoming readily available in the UK, revolutionising picture quality.   My father bought his first 35 mm camera in June 1959.   In later years his photos were stored away safely and almost forgotten.   On a recent rainy day I decided to look through them and to scan some of the more interesting pictures.   Many needed a little "cleaning up" on the computer to bring out their qualities.   The pictures are essentially family photos, but they have a splendidly nostalgic quality – especially the smart clothes that ladies always wore the moment they stepped across the threshold!
My father's 35 mm transparencies were not quite the first colour photos in the family.   In both 1957 and 1958 my parents had bought a 12 exposure 120 roll colour negative film for use in my camera whilst on holiday.   The results were frankly disappointing, but with some aid from the computer a few of those photos have been smartened up and appear below as a kind of prologue.
Prologue:
Holidays in 1957 and 1958
For our 1957 holiday we stayed in Charmouth, Dorset during June.
<![if !vml]>
<![endif]>
Here is a view of Charmouth in June 1957, looking down the main street (then the main coast road, as there was no by-pass).
The parked cars both seem to date from about 1947:  an Austin A40 (facing down hill) and a Standard 8 facing the camera.
<![if !vml]>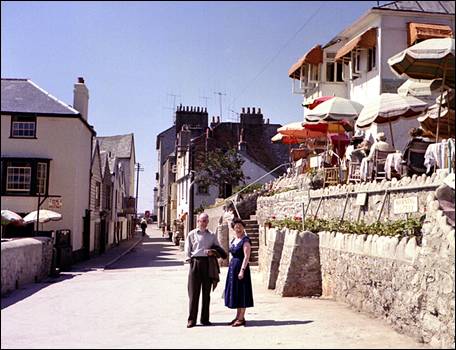 <![endif]>  <![if !vml]>
<![endif]>
Lyme Regis (left) and gardens at Abbotsbury (right) in June 1957.
At Lyme, my parents are standing by a building which was later demolished following a land slip.  At a restaurant along to the left of the photo I was about to enjoy my first taste of lobster!
<![if !vml]>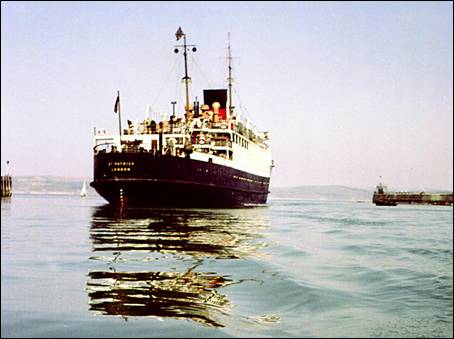 <![endif]>  <![if !vml]>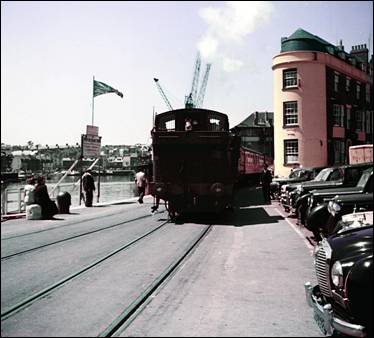 <![endif]>
On Wednesday, 12th June 1957 we visited Weymouth.
In the left hand picture, taken at about 3 pm, the S.S. St Patrick manoeuvres towards the quay at the end of a crossing from the Channel Islands, having left Jersey at 8.15 and Guernsey at 10.30.  
The right hand photograph was taken a little earlier, at 12.15 pm as the 8.20 am boat train from London Paddington arrives at the quay with passengers about to make the crossing to the islands.   Air travel was then still quite undeveloped and most visitors to the Channel Islands still travelled by sea.   The St Patrick (3482 tons) was the last ship built for the Great Western Railway and entered service in 1947, surviving until 1972.   She was also used on the Fishguard – Rosslare sailing.   Passengers on the boat train illustrated were less fortunate, as they were about to embark on the elderly St Julien, only 1885 tons and dating from 1925.   The St Julien would sail at 1.0 pm, not reaching Jersey until 7.45 pm.  
Look at the splendid line-up of motor cars on the right, with another Austin A40 in the foreground.   No foreign cars in those days:  one bought British and did not trust Johnny Foreigner to build a reliable family motor!
<![if !vml]>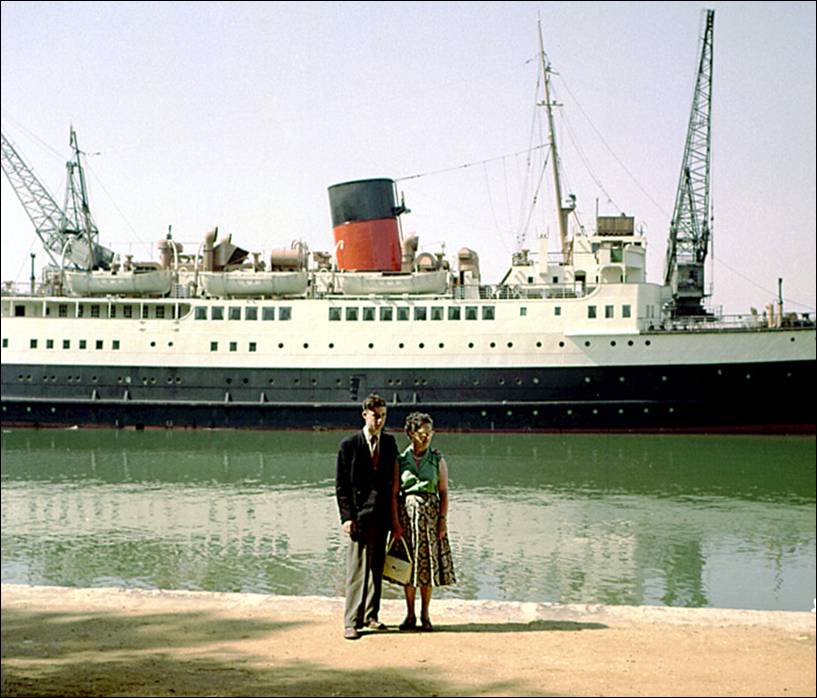 <![endif]>
Robert and his mother at Weymouth on 12th June 1957, with St Patrick moored beyond.  
The photograph shows the smart funnel colours of the Great Western Railway Company:  the British Railways funnel colours were yellow and black.
In 1958 we moved further west for our holiday and stayed in Brixham, South Devon.
<![if !vml]>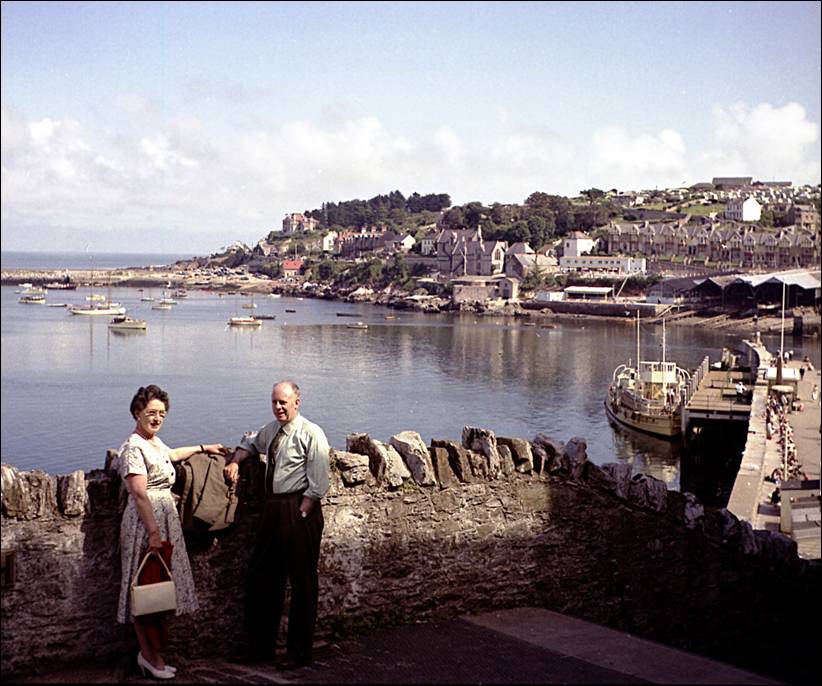 <![endif]>
It is Sunday, 31st August 1958:  my parents are seen by the harbour at Brixham.
It is evidently a warm day as my father has removed his jacket and draped it on the wall, but he retains his tie and long sleeves  (it was a Sunday after all, and standards had to be maintained).
 <![if !vml]>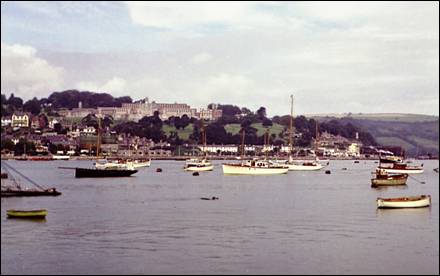 <![endif]>  <![if !vml]>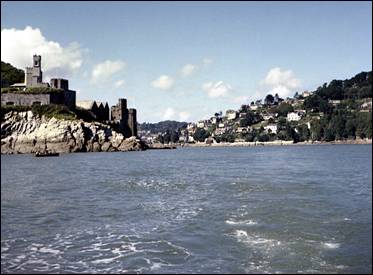 <![endif]>
(Left):  From Kingswear we look across the River Dart to Dartmouth, with the Britannia Royal Naval College facing on the hill.
(Right):  Dartmouth Castle and the estuary of the River Dart
<![if !vml]>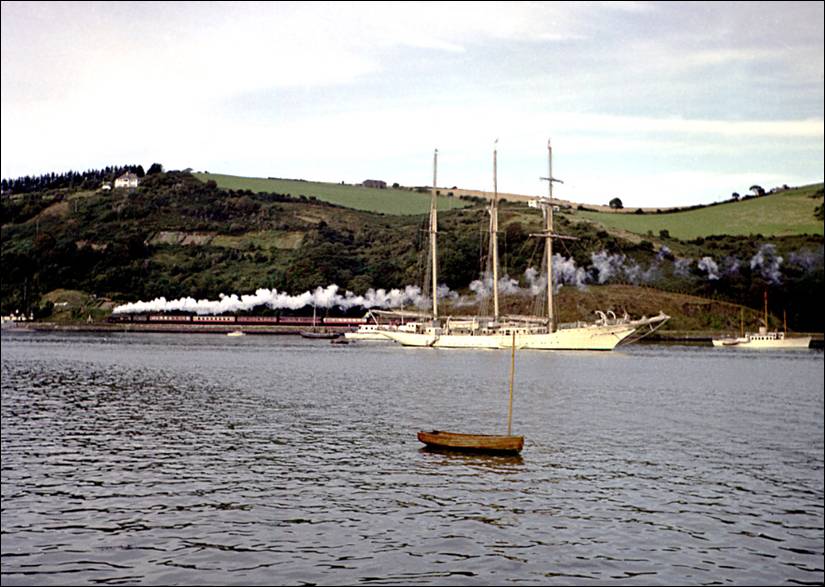 <![endif]>
An evening view across the River from Dartmouth:  the 7.20 pm local train to Exeter sets off from Kingswear on Monday, 1st September 1958
1959 Revisited
Stepping back over fifty years to the summer when I left school is an evocative and nostalgic experience.   So many of the scenes pictured have now changed significantly and sadly, many – most, even – of the people portrayed are no longer with us.
<![if !vml]>

<![endif]>
My father bought his camera, a 35mm Zeiss Contina, from Harrisons Opticians on the corner of Snow Hill, Birmingham, on 6th June 1959.   After the war, quality cameras had been extremely scarce, firstly because of post-war production problems in Germany, and secondly because of U.K. government reluctance to permit the import of luxury goods.   Dad wasted no time in putting his new camera to good use.   Next day, Sunday, we went out to Shrewsbury for the afternoon, and a fortnight later he drove our Wolseley 1500 motor car on a circular tour via Whitchurch, Llangollen, Bala and the Tanat Valley.   Here are a few of the photos from those trips, taking advantage of one of the finest summers of the twentieth century:
<![if !vml]>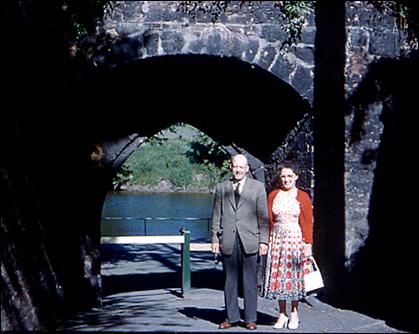 <![endif]>  <![if !vml]>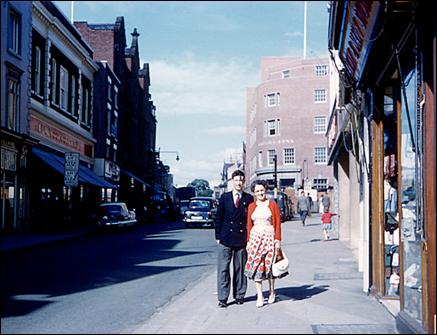 <![endif]>
Shrewsbury, 7th June 1959:  the camera's first shots:
I managed to get hold of the camera for a photo of my parents with the River Severn beyond, and
Dad later took one of Mom and me with Woolworths' to the left and Barclays beyond!   How smart Woolworths' then looked, with traditional gold lettering on a red background.
<![if !vml]>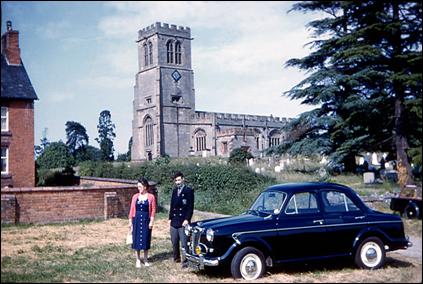 <![endif]>  <![if !vml]>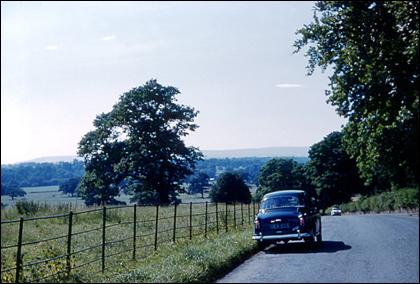 <![endif]>
Circular tour:  Sunday, 21st June 1959:
Left:  a break at Hanmer, where the eccentric Welsh poet, the Revd R.S. Thomas, was curate from 1940-1942.
(This seemingly English spot is, in fact, about four miles over the border into Wales).
Right:  A brief pause west of Overton-on-Dee, with the Berwyn Mountains beckoning on the horizon.
<![if !vml]>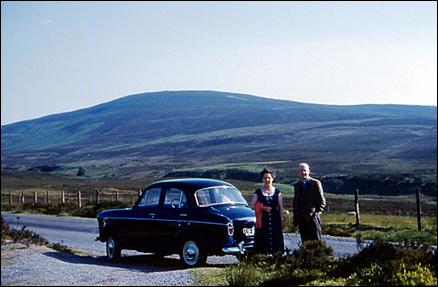 <![endif]>  <![if !vml]>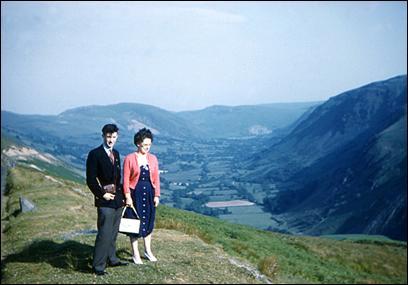 <![endif]>
After driving through Llangollen and Bala, the Wolseley climbed up into the Berwyn Mountains ,
where we stopped to admire the view, looking down into the Tanat Valley towards Llangynog and Shrewsbury as we headed for home.
A wonderful day out, in weather typical of the glorious summer of 1959.
<![if !vml]>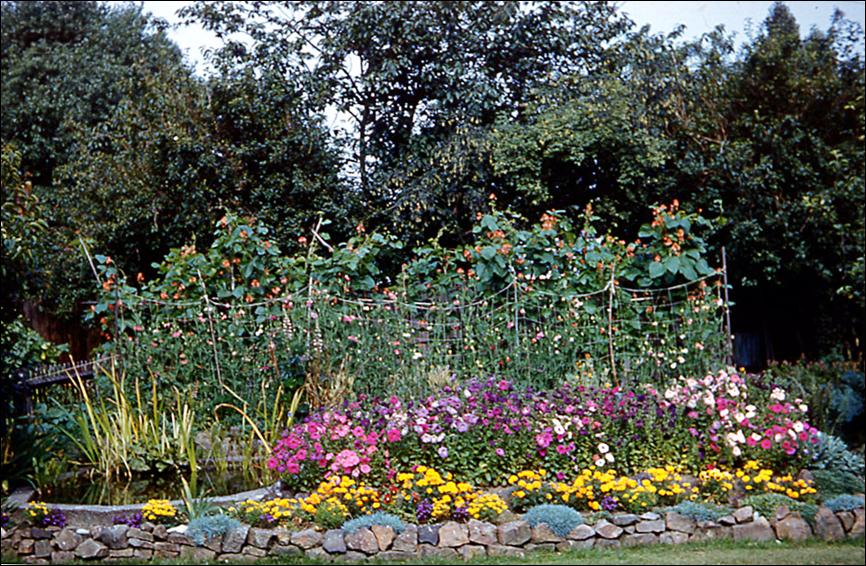 <![endif]>
Back at home the garden was my parents' pride and joy:
From the front:  marigolds, petunias, sweet peas, runner beans.
<![if !vml]>

<![endif]>
July 1959:  End of Term – End of School
<![if !vml]>
<![endif]>
Saturday, 18th July 1959:  a perfect English summer's day in my final week before leaving school.
One of the last events of the school year was the cricket match on the school ground between the School XI and the Old Edwardians.
Parents were invited and the occasion was rounded off with a strawberry tea.  
<![if !vml]>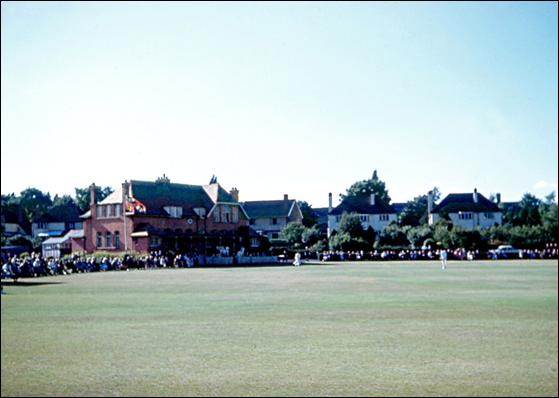 <![endif]>  <![if !vml]>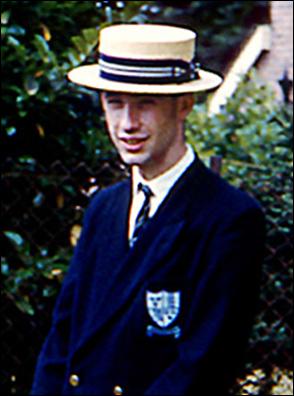 <![endif]>
A further view of the school cricket ground in Edgbaston, looking towards the Pavilion, with the school flag flying bravely in the summer breeze, while Darlaston sports the school boater.
<![if !vml]>

<![endif]>
Family visits:  Warwickshire and South Wales:
<![if !vml]>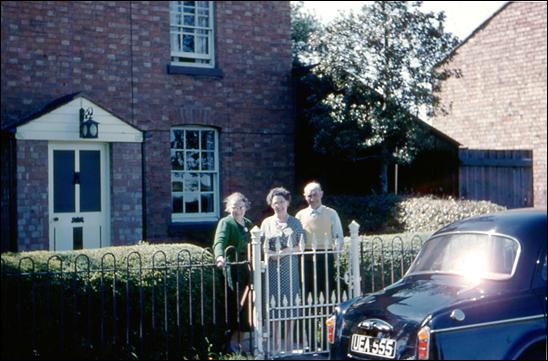 <![endif]>  <![if !vml]>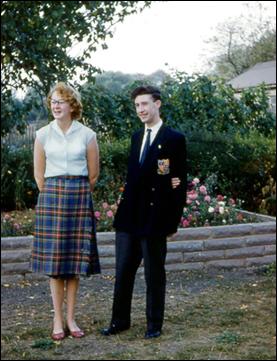 <![endif]>
Occasionally of a Sunday afternoon, we would visit my mother's cousin, Rene, who lived in the hamlet of Broadwell, near Southam in Warwickshire, where for many years she had run the village shop.   We called to see her and her husband, Will, later in the summer of 1959 – and the new camera went too!   Rene's granddaughter Margaret would also come to tea, and duly had her photo taken with me.   Sadly, that delightful girl was to die suddenly only a few years later, leaving a husband and two small children.
<![if !vml]>

<![endif]>
Trips to the family in South Wales:
<![if !vml]>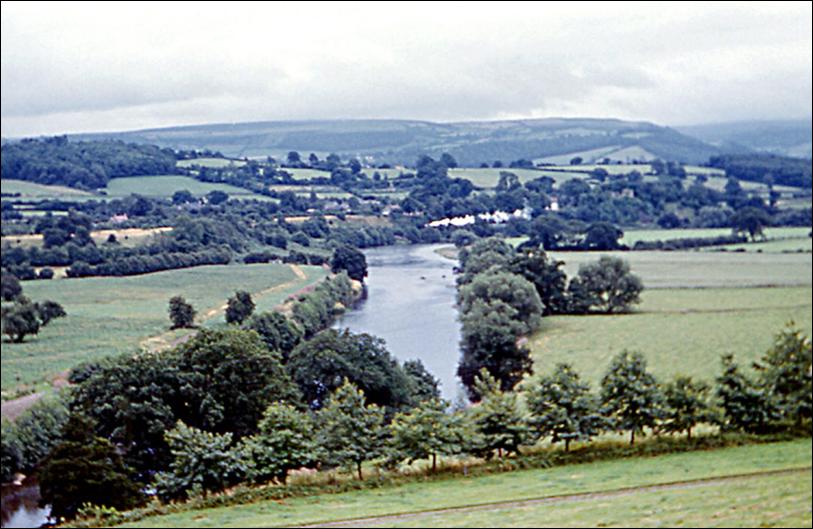 <![endif]>
Four or five times each year we would visit Glamorganshire to stay with my maternal grandparents, always setting off on a Saturday.   In pre-motorway days, our route from Birmingham to South Wales took us through much delightful scenery.  We passed through Kidderminster, Tenbury Wells, Leominster, Clyro, and Brecon before crossing the Brecon Beacons to reach Glamorganshire in time for tea.   There would be stops en route for a drink or sandwiches, or just to admire the view.   Here is the view of the River Wye near Hay-on-Wye with the Black Mountains rising beyond.   A Brecon – Hereford train is heading east:  the train is invisible amongst the trees, but as was often the way in times gone by, its presence is betrayed by the column of steam.
<![if !vml]>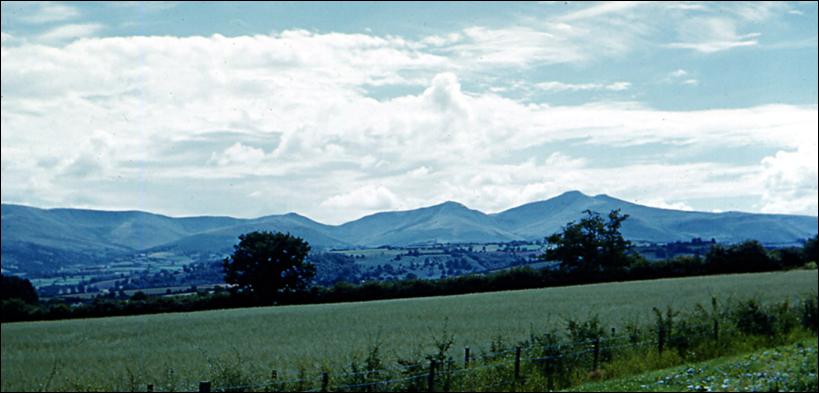 <![endif]>
"Blue, remembered hills"
The magnificent Brecon Beacons would rise up before us as we headed west.
<![if !vml]>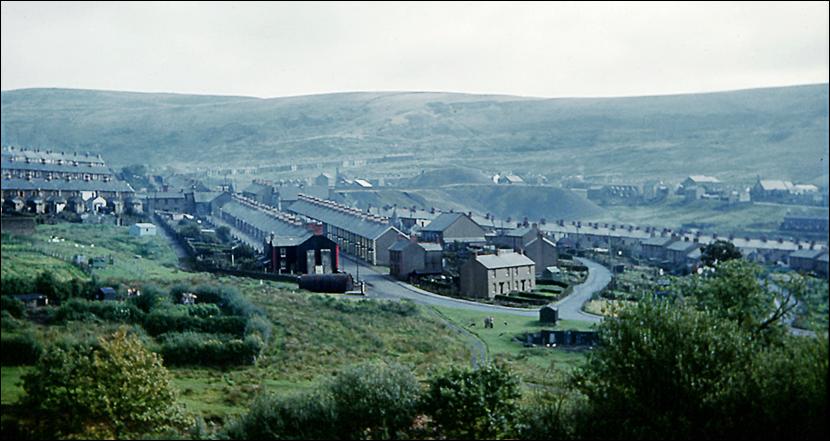 <![endif]>
My grandfather, after a lifetime farming, was still kept busy in his 80s shepherding on the mountains above Gilfach Goch, a Glamorganshire mining village.   In this panorama my grandfather and a friend are standing talking on the grass near the centre of the photograph.   In the 1950s there were still several collieries working in the valley, but by 1961 they had all closed.
<![if !vml]>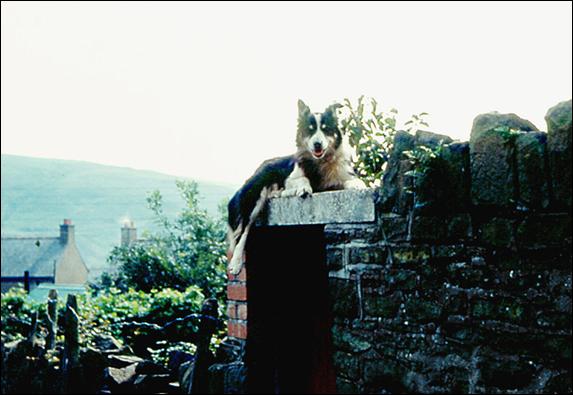 <![endif]>  <![if !vml]>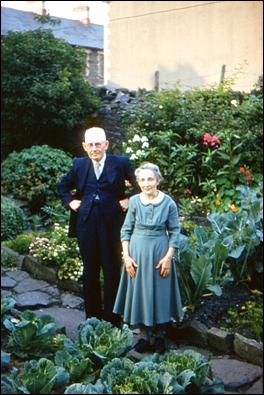 <![endif]>
Left:  "Tap", one of my grandfather's several sheepdogs, and the friendliest of animals, sprawls inelegantly on the lintel over the side gate leading to "Oak Cottage" as he waits to greet visitors.
Right:  My grandparents in their garden.  As can be seen, he was a keen vegetable grower.
<![if !vml]>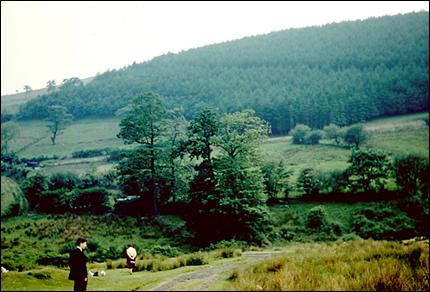 <![endif]>  <![if !vml]>
<![endif]>
Left:  the view across the road from "Oak Cottage" as my mother and I set off for a walk
Right:  we pause on a bridge near Brynchwith farm:  I recall that my mother was comparing the yellow of her
cardigan with the yellow in her skirt!
 <![if !vml]>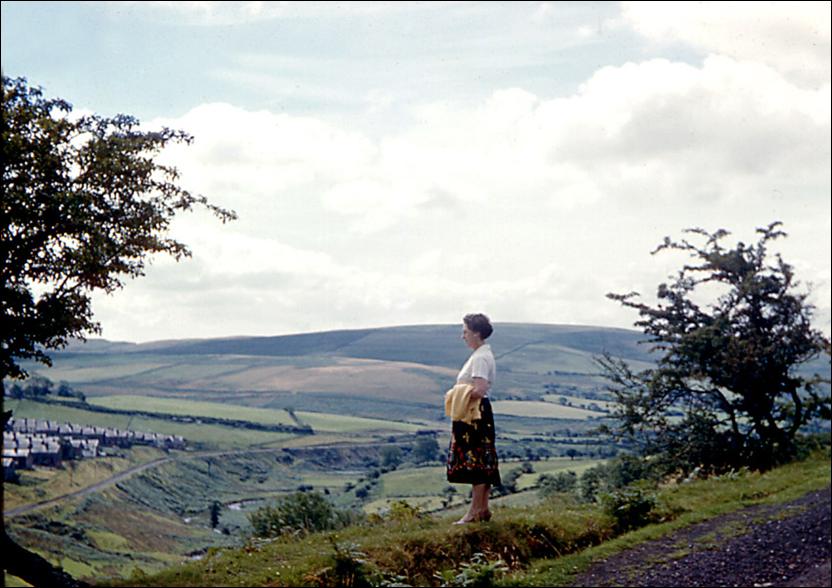 <![endif]>
Sunday morning walk:  my mother surveys the view over Gilfach.
<![if !vml]>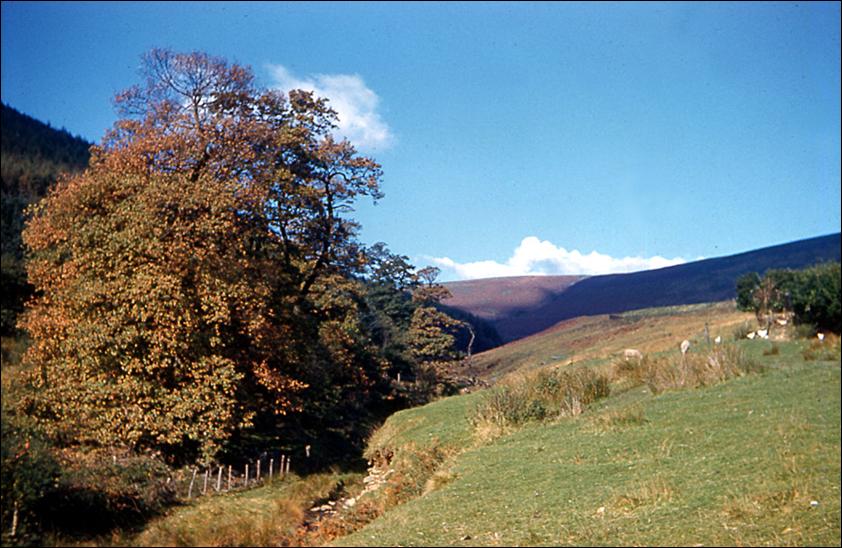 <![endif]>
Autumn comes to Gilfach:  at the right some of my grandfather's sheep and chickens enjoy the sunshine
<![if !vml]>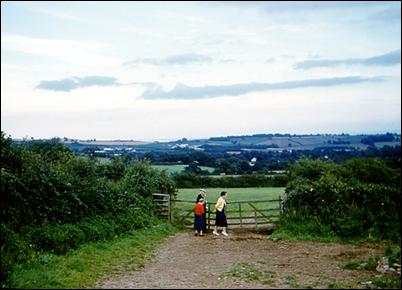 <![endif]>  <![if !vml]>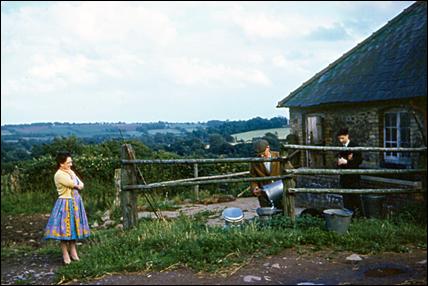 <![endif]>
On Sunday afternoon we would always visit my grandfather's friends at Pentwyn farm near Cardiff.
Here, my mother leads my grandparents on a walk around the farm, and on another visit she watches Walter pouring milk into a churn.
<![if !vml]>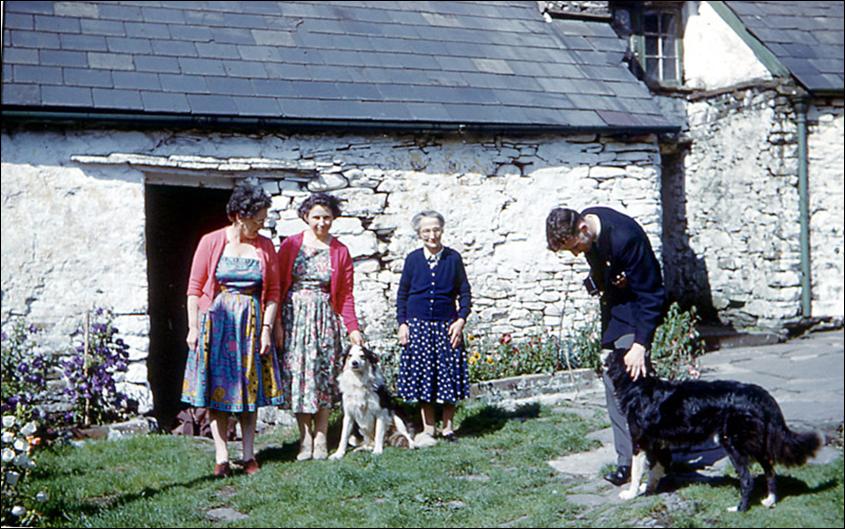 <![endif]>
On Mondays we would visit my aunt and uncle at Gelli Farm in the Afan Valley.
Here is a family group with my mother, Aunty Maud, my grandmother – and a couple of the dogs.
<![if !vml]>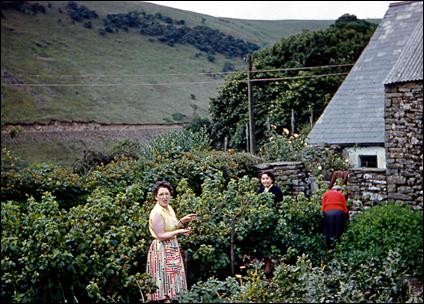 <![endif]>  <![if !vml]>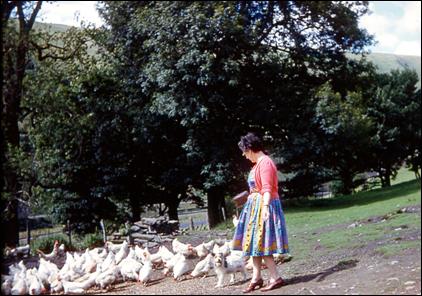 <![endif]>
Joining in:  My mother and grandmother help pick blackcurrants and my mother feeds the chickens
 <![if !vml]>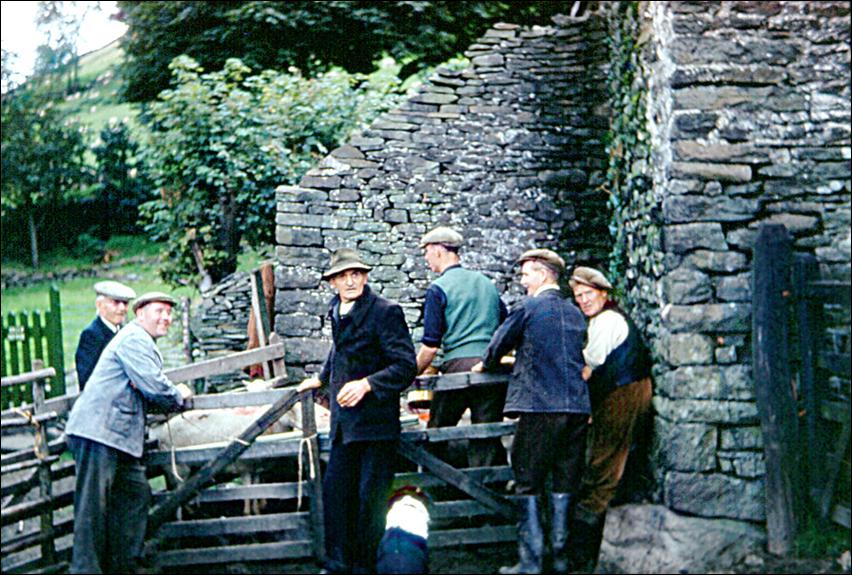 <![endif]>
My grandfather as visitor (left) watches the activity of marking sheep
<![if !vml]>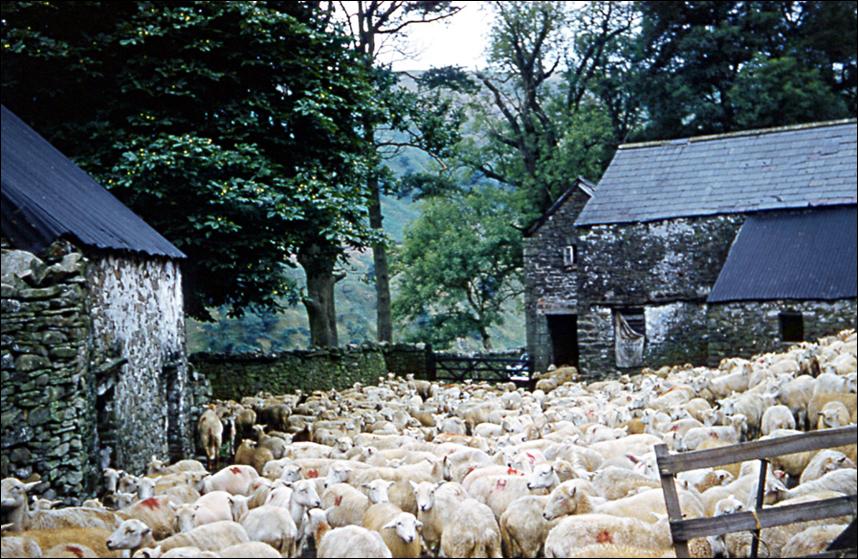 <![endif]>
Several hundred lamb chops await their chance to return to the open mountain after marking
<![if !vml]>
<![endif]>
A social group at the Gelli, with my grandfather, centre.
Several horses were kept as they were used for gathering sheep, quite apart from being ridden for pleasure.
<![if !vml]>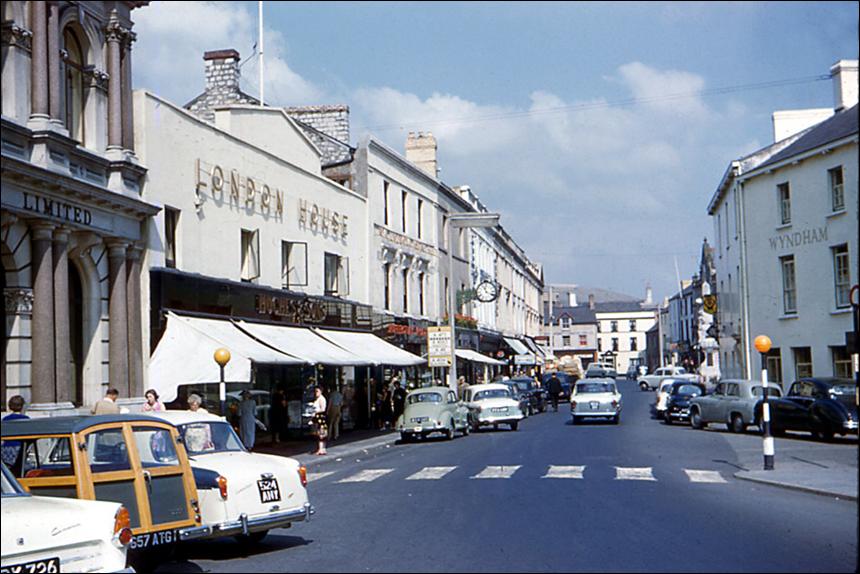 <![endif]>
The nearest town of any size to my grandparents' home was Bridgend, seen here on a busy morning in August 1959,
with a fine display of contemporary motor vehicles.
<![if !vml]>
<![endif]>  <![if !vml]>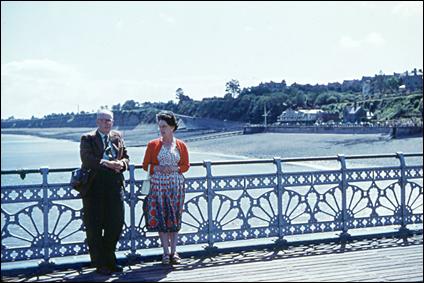 <![endif]>
Penarth was a favourite destination on a summer's afternoon.
There were always wonderful floral displays to admire and a pleasant stroll to be had on the pier, with views
across the Bristol Channel to Weston-super-Mare
<![if !vml]>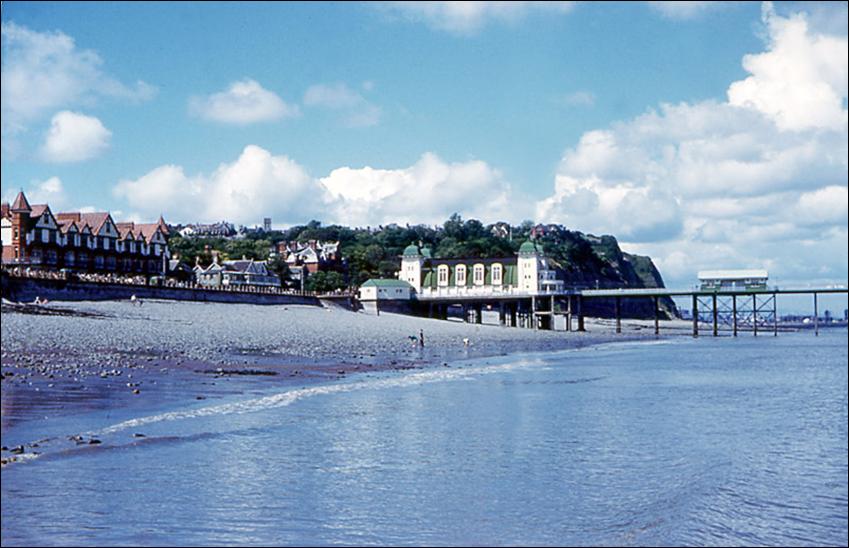 <![endif]>
Penarth pier, seen from the jetty.
<![if !vml]>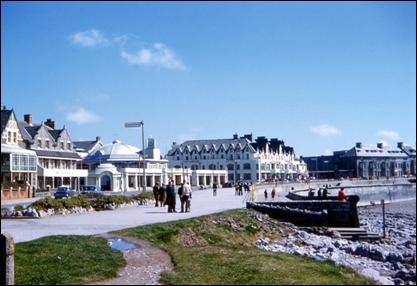 <![endif]>  <![if !vml]>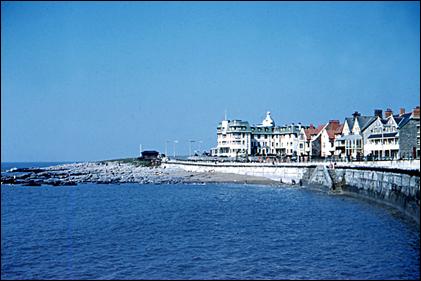 <![endif]>
Another popular destination was Porthcawl.   But whereas Penarth was situated so as to be sheltered from the
prevailing westerly winds, Porthcawl was decidedly bracing.   My first visit to Porthcawl had been in 1943 when we had travelled by bus as petrol was not available.   Traditional holiday activities were then boarded up "for the duration" and on a cold wet day the atmosphere had been less than festive, but by the 1950s Porthcawl had sprung to life once more.   On Sundays in the 1950s the resort would be invaded by a succession of excursion trains from the mining valleys, but such activity declined rapidly in the 1960s.
<![if !vml]>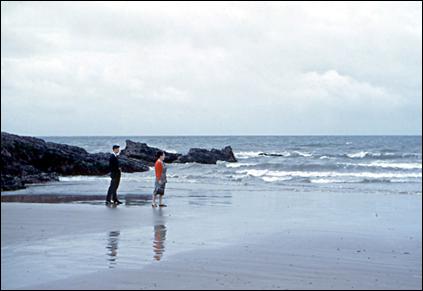 <![endif]>  <![if !vml]>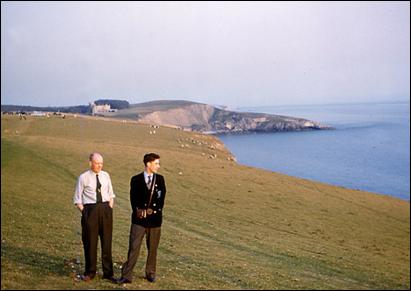 <![endif]>
Southerndown was our favourite seaside destination, a quiet and secluded beach, accessible only to the few who then had motor cars.
The beach was a child's delight and the cliff-top walks offered delightful view across to North Devon.
<![if !vml]>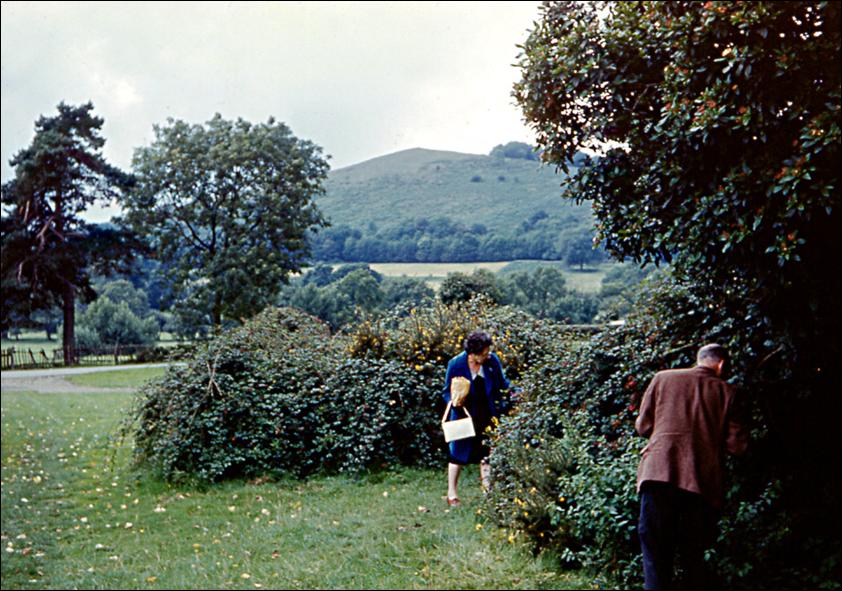 <![endif]>
All too soon, it would be time to return home.   We would often vary our route on the way back:  here we have
stopped to do some blackberrying near Malvern.
<![if !vml]>

<![endif]>
August 1959:  Annual Holiday – touring the Scottish Highlands
A touring holiday was an innovation for us as all previous breaks had been "one-centre" holidays
<![if !vml]>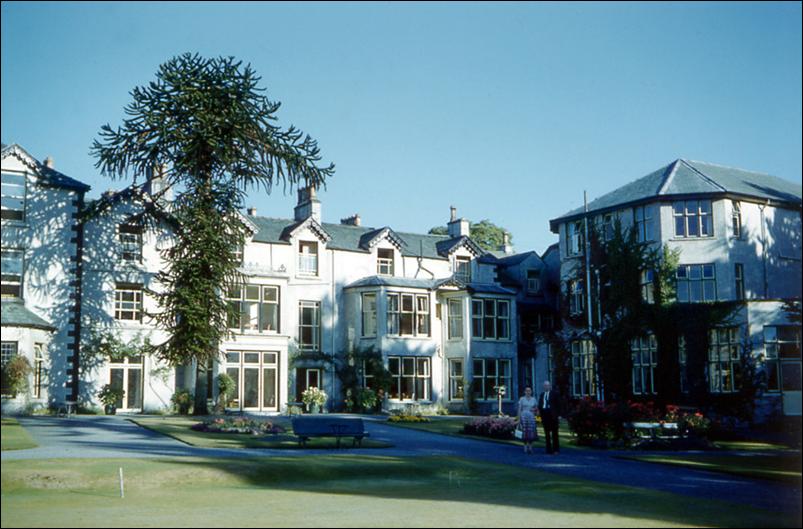 <![endif]>
Friday night:  the Derwentwater Hotel, Keswick.
At the time of our holiday Britain's entire motorway network comprised just the few miles of the brand new "Preston by-pass", later to be incorporated in the M6.   We felt pretty daring as we turned on to that innovative dual carriageway.   Otherwise, the entire journey was to be on traditional roads (including the A50 and A6), taking us through the centre of Stone and Newcastle-under-Lyme (where the old pottery kilns could still be seen pouring out smoke), then past Knutsford and through the centres of Warrington, Wigan and Lancaster.   That was sufficient for one day, so a night was spent at the Derwentwater Hotel, just outside Keswick (above).   Next day (Saturday) we continued through Carlisle, then on the A74 and A73 through Lanark, Wishaw, Airdrie, and Cumbernauld to Stirling, thence on to Callander and our first night in Scotland at Crianlarich.
<![if !vml]>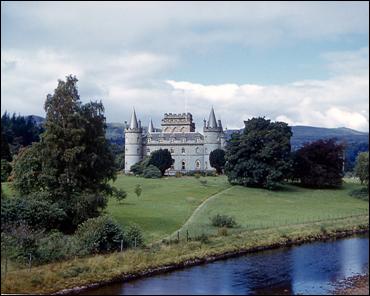 <![endif]>  <![if !vml]>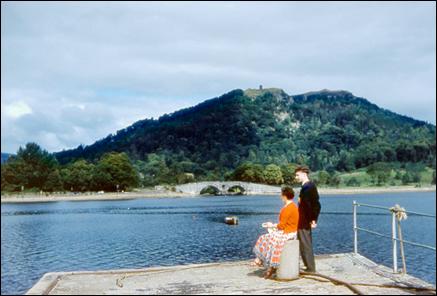 <![endif]>
After a night at Crianlarich, on Sunday morning we headed for Arrochar and Inveraray where these two
photographs were taken, with time for a tour of the castle, home of the Dukes of Argyll.
<![if !vml]>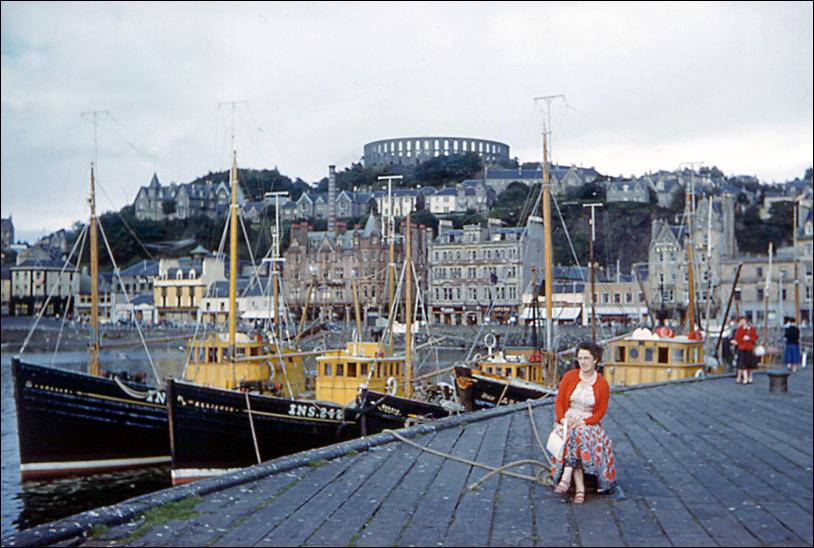 <![endif]>
On Sunday afternoon we continued our journey to Oban (above), before spending the night at nearby Connel Ferry.
Note the fine line-up of fishing vessels
<![if !vml]>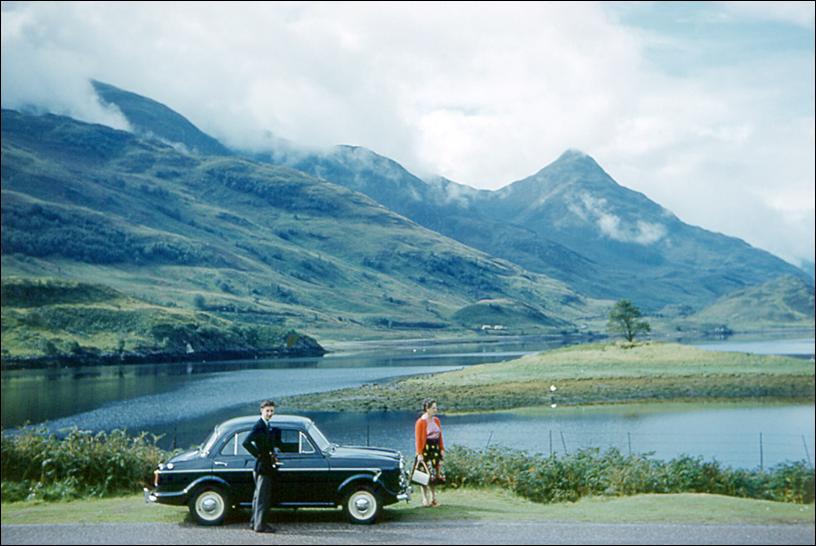 <![endif]>
On Monday we headed north from Connel Ferry, around the head of Loch Leven, pausing to take this
picture of the Pap of Glencoe, en route to Fort William.
<![if !vml]>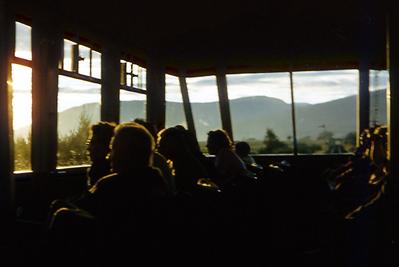 <![endif]>  <![if !vml]>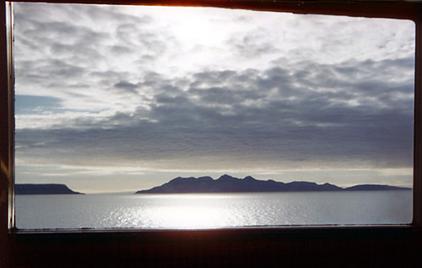 <![endif]>
On Monday lunchtime we reached Fort William, finding accommodation with the delightful Mr and Mrs McPhee.
after lunch we joined the train for the spectacular ride to Mallaig and back, returning in the Observation Car
with wonderful evening views across to the Inner Hebrides (above).
<![if !vml]>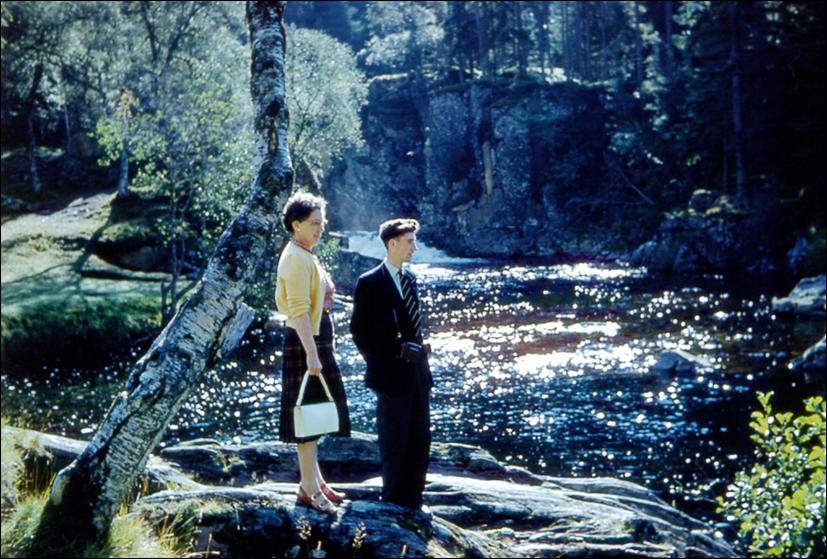 <![endif]>
On Tuesday morning we set off on a round trip to Inverness and back,
pausing on the way to admire these falls near Loch Laggan.
How young and attractive my mother looks! 
<![if !vml]>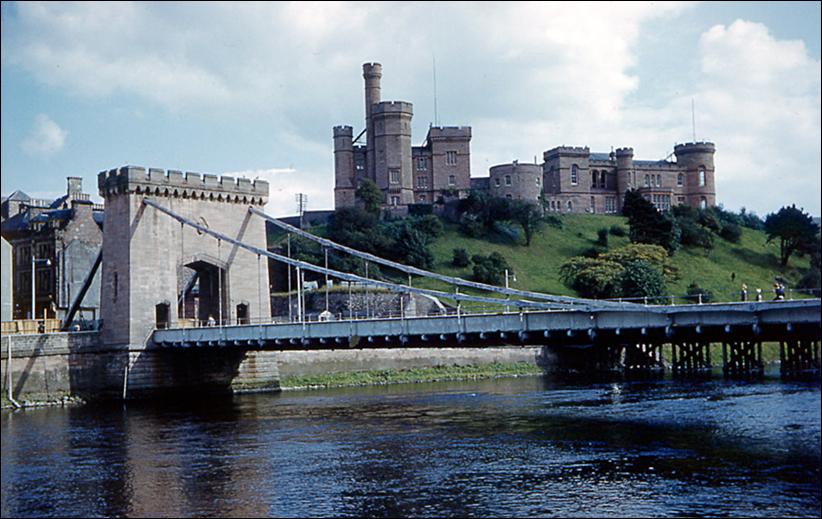 <![endif]>
After walking around Inverness (above), we returned direct to Fort William, along the side of Loch Ness.
<![if !vml]>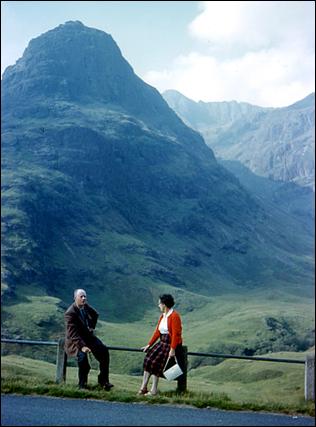 <![endif]> <![if !vml]>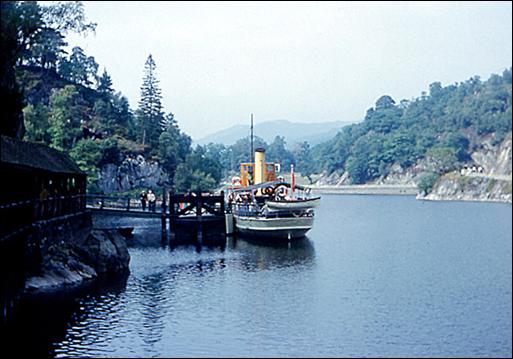 <![endif]>
We left Fort William on Wednesday morning, heading south through the Pass of Glencoe (left) and pausing at
The Trossachs (right) where the steamer Sir Walter Scott offered trips on Loch Katrine.
<![if !vml]>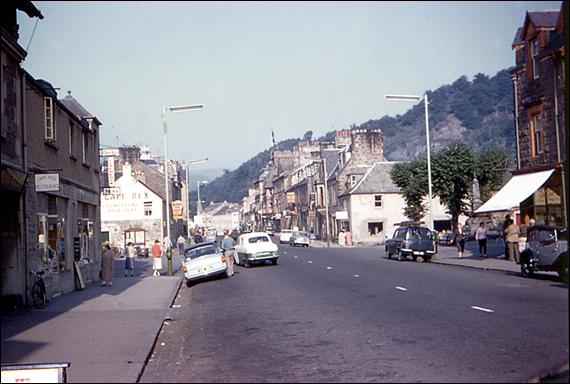 <![endif]>  <![if !vml]>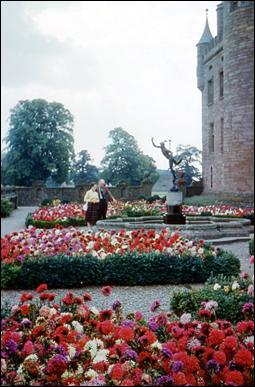 <![endif]>
We spent Wednesday and Thursday nights with Mr and Mrs Begbie in Callander (left).
On Thursday we drove to Glamis Castle (right), had lunch in Perth and also visited Dundee.
<![if !vml]>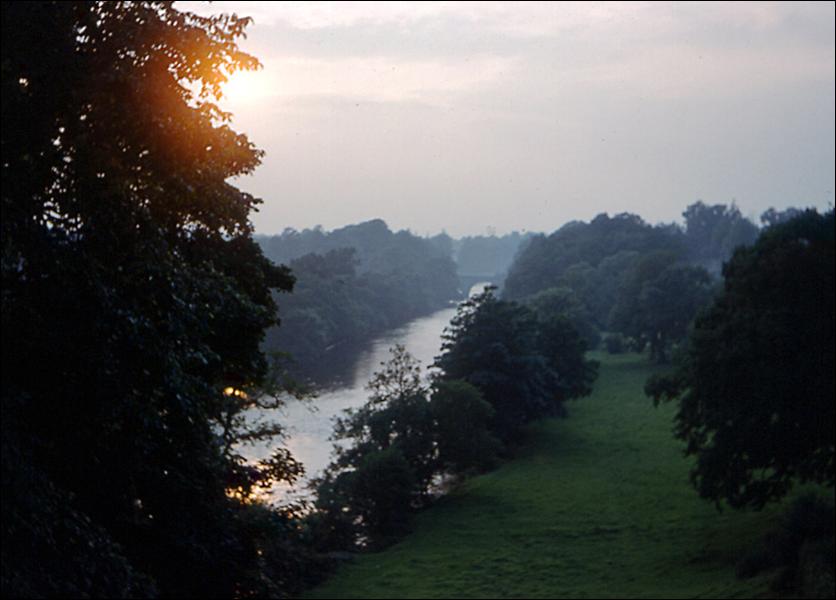 <![endif]>
On Thursday evening we drove to Doune Castle and admired the sunset over the River Teith.
That concluded our first visit to Scotland:  next morning we were heading south again,
retracing our steps through Cumbernauld and Lanark
<![if !vml]>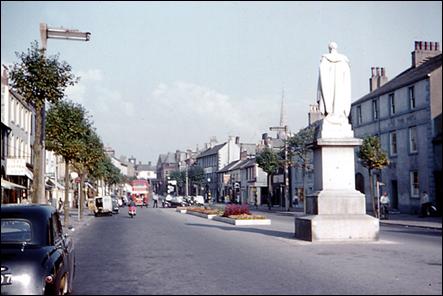 <![endif]>  <![if !vml]>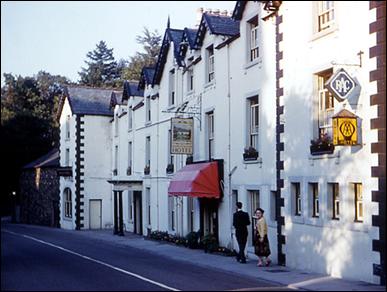 <![endif]>
Once again we broke our journey at Derwentwater, reaching the Lake District early enough for a visit to Cockermouth (left).
Then it was back to the hotel (right) for the night, before heading towards Wigan and Warrington again on the way home to Birmingham.   We reached home on Saturday evening, 5th September 1959:  freedom was over, because on Monday 7th September I started work.   Thus ended the last holiday of 'childhood'!
<![if !vml]>

<![endif]>
The last of 1959, back at home in Birmingham
<![if !vml]>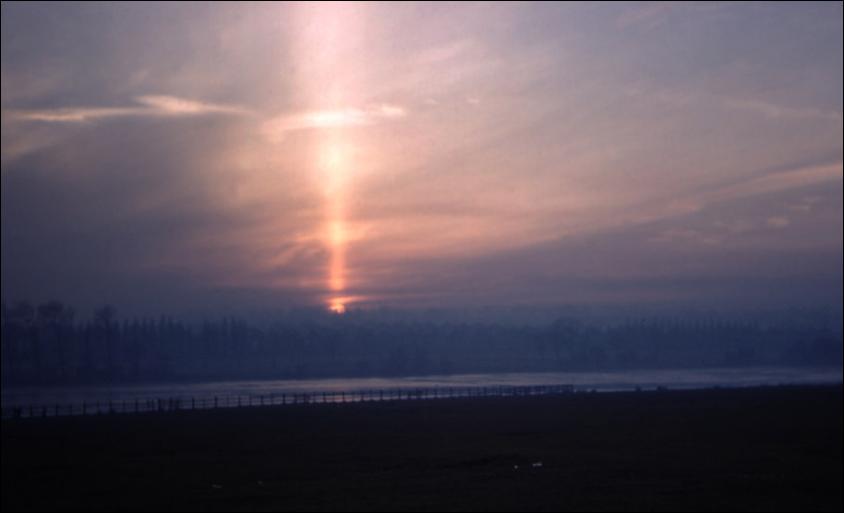 <![endif]>
An afternoon stroll in Sutton Park as the sun goes down
<![if !vml]>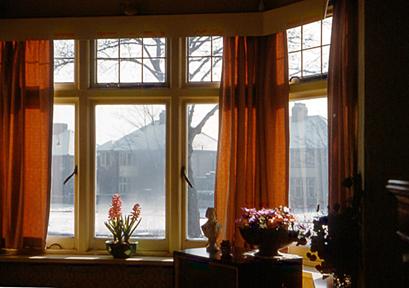 <![endif]>  <![if !vml]>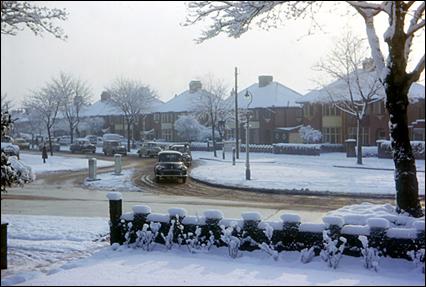 <![endif]>
Winter has arrived:  the view from our lounge into Stechford Road.
1959 was over:  the swinging 'sixties were about to commence;  but that's another story …!
My childhood memories from the 1940s, with contemporary photographs, are at MemoryLane.htm
School memories from the 1950s, also illustrated, are at KingEdwardsSchool.htm
Site hits since 10th October 2007: