This Web Page is Memory Lane (First set up 2006; latest minor alterations, 1st April 2018)
Please note:   there are more than 30 photos:  these may take a while to download!
<![if !vml]>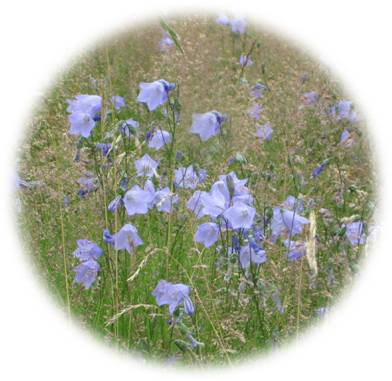 <![endif]>
Harebells on the Common
A Birmingham Childhood Remembered
These pages include some memories of my childhood, dug out of the deepest recesses of my mind, concentrating where possible on episodes which illustrate how life in the 1940s differed from that we know today.   I have tried to choose incidents which might amuse, but including topics both serious and saucy:   all part of the process of growing up in the post-war era!    I hope this account entertains others and ring bells in their own memories.    The 1940s were a grey world of coal smoke and gas-lit streets, of Winston Churchill and Clement Attlee, Spam* and steam trains, mangles and woolly vests.   There were no mobile phones or DVDs, no televisions or refrigerators, no foreign holidays or central heating, no computers and very few motor cars.   But it was the only world I knew as a child and I was well content with it.   
(*  Spam was tinned meat and had nothing to do with computers!!)
CHILDHOOD AND SCHOOLDAYS
1943 – 1951
Robert Darlaston
Childhood is measured out by sounds and smells
   And sights, before the dark of reason grows
John Betjeman   
Summoned by Bells   
Index to Contents
Early Years                             My first hazy memories – 1943
Wartime Birmingham            Air raids;  trams and buttered toast;  shopping and the cinema
South Wales Holidays          Farms, seaside and "The Resurrection"
           Domestic Life in the 1940s Clothes, wash day, Christmas and starting School
           Worries about Health            Tonsils and small boy stuff.  Discovery of a chick
           A Hard Winter                        Snow and fog, 1940s style
           School Days                           Lessons and play at Amberley Prep School; a glimpse of stocking tops
Children's Hour                     Wireless, and Ladies to tea:  I meet the constabulary
           A Balanced Diet                    Meals, rationing and days out
           The King Passes by              Glimpses of the King and of Russian leaders
           Changing Times                    I am impressed by the news and also by Silvana Mangano
           A New School                        Moving to King Edward's, Birmingham
           The End of an Era                 A Festival, a Funeral and a Coronation
<![if !vml]>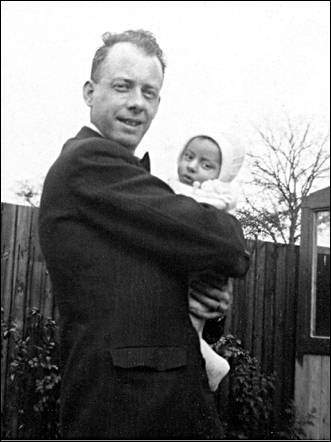 <![endif]>  <![if !vml]>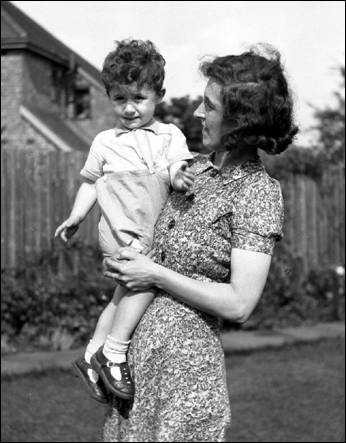 <![endif]>
With my parents in 1940 and 1942 in the back garden
he occasion when I first noticed my mother wearing trousers was, for me, so sensational that it remains imprinted on my brain as almost certainly my earliest memory.   It was a cold night in April 1943.   I was not yet three years of age.   The air-raid siren had just gone and my parents and I were in the dining room, the windows securely covered by the thick blackout curtains made by my mother, who, in an effort to relieve wartime austerity, had trimmed the hems with decorative tapes of green and gold.   For no particular reason, I was sitting on the cross-bar beneath the dining table.  We were about to go into the cold night to settle down once again in the air raid shelter.   It is a memory inextricably tied up with the below-ground smell of damp earth and of the methylated spirit lamp that illuminated our tiny shelter, built into the garden rockery.   The event can be dated accurately, because it was the first air raid for several months and thereafter raids ceased to be a regular occurrence in the Midlands.   There are other associated memories:  waiting before an air raid, the tension tangible in the anxious atmosphere:  being told not to suck my thumb after playing on the floor "because of the danger of picking up germs" – or was it Germans?   The words were puzzlingly similar to a two-year-old.
            We cling to our early memories as the starting point of our life's journey.   For me the underlying theme from those days was war:  war against a society so evil it is now hard to realise that it existed in Europe within my own lifetime.   But my parents protected me securely from that unseen horror, providing an environment of security and stability.   Thus, even though I grew up in a world of bombs and death, I can look back with nostalgia to a happy childhood.   With the solitary exception of my loyal but silent companion Edward Bear, almost everyone and everything I knew and cherished in those earliest years has been swept away by the passage of time.   But they remain alive in memory, vivid if intangible, enabling me to make a return journey to my past.   There I can once more relive those infant events and encounters, recreating for a moment the images of childhood.
I was an only child, born on 23rd June 1940 at 1.35 p.m. at 165 Stechford Road, Birmingham, in the parish of Castle Bromwich.   It had been expected that my mother would go into hospital for my birth, but because of the serious risk of air raids, she would have been evacuated to Stratford-upon-Avon hospital, which she was not prepared to accept.   Thus my mother was attended at home by the family doctor, Dr Lillie (a Scotsman with a fine Aberdeen accent), and by her sister, my Aunty Maud, who although a nurse, was not yet a qualified midwife.   My father waited in the garden, smoking a cigarette.   On arrival I weighed 6lb 12oz but I was about a month premature – a deliberate arrangement in view of my mother's age, 36, then thought of as 'elderly' for a first baby.   She was not allowed out of bed for two weeks after my birth, notwithstanding a number of air raids in that time, circumstances which must have contributed to her post-natal depression.
<![if !vml]>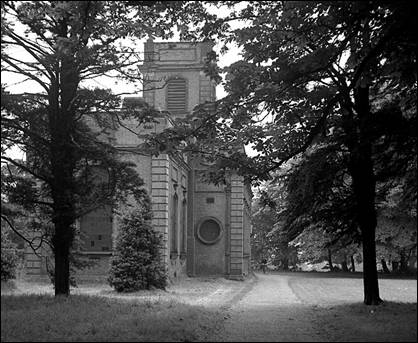 <![endif]>  <![if !vml]>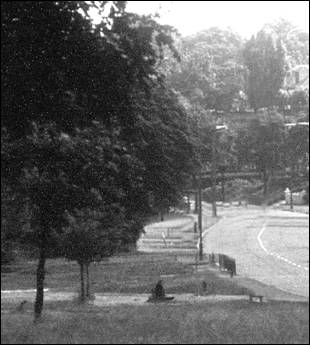 <![endif]>
Castle Bromwich Church, where I was Baptised
Looking towards Castle Bromwich from Hodgehill Common
            Like most children, I have many random early memories:  a ride in the pram, a harsh word here, a tumble there;  of the fun when my father surprised me by hiding in the pantry, and of the panic when I wandered off to explore alone while my mother's attention was distracted in the local butcher's shop.   But unlike the air raid memories, those cannot be dated.   Then there are those wonderful impressions left in the childhood mind by patterns;  shadows on a carpet;  enchanting designs on curtains or wallpaper.   Wallpaper played a significant part in my life at an early age.   After lunch each day I was put in my cot for a sleep, but there was a time when sleep would not come.    I lay awake and was bored.   Through the bars of my cot I could see a small irregularity in the wallpaper.   I recall teasing at it with my fingernail.   Oh joy!   I could peel a little bit off.   A bit more effort and off came another inch.   This was the most satisfying thing I had ever done.   I set to work with gusto and can still remember the sensuous pleasure of peeling off strips of paper.   Eventually, my mother arrived to check on her sleeping infant, only to find a joyous child surrounded by shreds of paper.   Suffice it to say that I was never put down for another afternoon nap.
            Paper of a different sort provided further entertainment when my mother, unable in wartime to obtain the usual brand of toilet roll, bought instead a box of interleaved lavatory paper (always hard and shiny in those days).   I was fascinated by the apparently endless supply – pull out a sheet, and, hey presto! – there was another.    Anxious to get to the bottom of this (sorry!), I kept on pulling sheets until the lavatory floor was invisible beneath paper and the box was empty.   Once more, I was surprised to find that my mother did not share my interest in research into paper production.
            It is to my parents' credit that the nocturnal trips to the air raid shelter caused me no major worries, other than frustration at my father's refusal to let me have a battery in my torch.   I suppose he had an understandable reluctance to let me wave it in friendly greeting to the Luftwaffe flying overhead.   The war was, despite my own lack of concern, the inevitable background to life and everyone told me how everything would be "different when the war ended."   News was so dominated by the war that I believed that when peace came "news" would cease.   I now look back, amazed at my good fortune in being so well insulated from the horrors of those years, and I find myself more than ever unable to comprehend how, in my own lifetime, men in Europe, a supposedly civilised continent, could inflict such unimaginable suffering on one another.   My only memories of the end of the war are of a street party in Ashville Avenue and of a hard toffee apple on VE night at a small funfair erected for the occasion on nearby Hodgehill Common.  Toys were largely unobtainable until a few years after the end of the war, so most of mine were made by my father, including a handsome wooden train and a soldiers' fort.   I was lucky that because my father's work was connected with aeroplane production he was not liable for military service.   He did, however, have to work six (and often seven) days each week during the war, plus nights spent fire watching.   Consequently, he was something of a rare figure in my early years.   Another result of the war was the occasional visit from a Polish airman, befriended by my parents and some of their friends.   I was puzzled by an adult whose knowledge of the English language was smaller than my own.
<![if !vml]>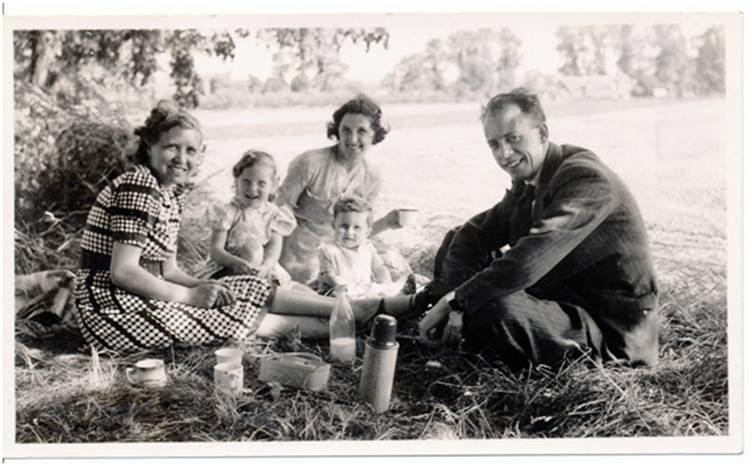 <![endif]>
Wartime Picnic
This photo is proof that there were happy, light-hearted moments during the war.
My parent and I (we are at the right of the group) are enjoying a picnic with the Godsall family who lived
a few doors away.  Their daughter Jill became a pianist and remains a good friend.   The photo was
taken in 1942, but the location is, alas, forgotten.
<![if !vml]>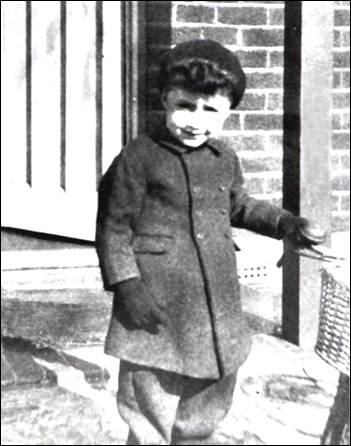 <![endif]>  <![if !vml]>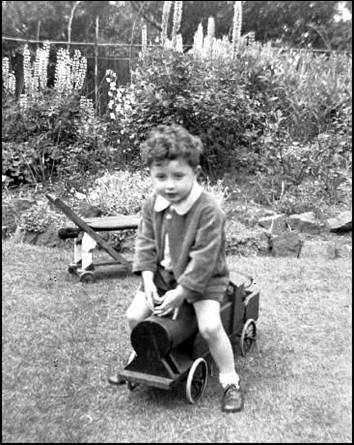 <![endif]>
1943: Ready to go shopping :                      my 3rd birthday: on the big red engine
There were always Lupins in the garden on my birthday
            Some manifestations of war did cause me alarm.   There were sinister gaps in nearby rows of houses where willow herb grew among the rubble.   Sometimes an interior wall was left standing, exposed to the elements, leaving the last residents' taste in wallpaper for all to see.   There was also the vast ruin of the sauce factory to be seen from the tram going into Birmingham.    One bomb landed less than 100 yards from home, sucking open the French windows:  I was too young to recall the incident, but the damage to the window frames remained evident until they were replaced twenty years later.   There were baleful barrage balloons moored on Hodgehill Common and, from time to time throughout the war, convoys of tanks would pass our house, driven under their own power, the steel tracks making a deafening racket on the road surface and sending me scuttling indoors in search of quiet.   Worst of all were low flying aircraft, which terrified me by day and haunted my dreams at night.   In 1940, while only a few months old, I had been in my pram in the garden when a plane came over, flying very low.   My mother rushed outside and looked up in time to see a plane with the German cross and (she said) a Nazi pilot peering through the cockpit window.   She grabbed me in terror and fled to hide beneath the stairs.   (The pilot, probably equally terrified, was apparently soon brought down some miles away).   Of course I can have no recollection of that incident, but did my mother's terror somehow impress itself into my slowly developing mind?   Even today, the sound of a jumbo jet climbing overhead can provoke an involuntary shiver.
            But there are pleasant memories too;  of lazy summer afternoons when I picked harebells for my mother on the nearby grassy common, and of shopping trips to town.   In "Summoned by Bells" John Betjeman recalled his childhood as "safe in a world of trains and buttered toast":  in my world trams and buttered toast were the features which linger in the memory.   We went shopping by tram and my mother always concluded the afternoon with a call at "Pets' Corner" in Lewis's department store, to see the monkeys and parrots, followed by hot buttered toast at the Kardomah café.   After I started school the trams in their attractive dark blue and primrose colours became a vital part of my daily life.   Birmingham trams ran on narrower gauge tracks than those in other cities and in consequence had a slim, almost feminine, elegance.   I knew every one on the no. 10 route and the peculiarities of each:  no. 797 had a cream painted ceiling upstairs, unlike the exotic inlaid floral pattern on a maple background carried by the other trams, and 800 could be recognised from afar by the blue on white advertisement for Oakey's knife polish on the front.   Older trams had open balconies upstairs at the front and rear where as children going to school we would fight for the exhilaration of a bottom-numbing wooden seat in the wind and rain – single fare:  ½d!    Aspects of 'bus travel were memorable too:  once I recall a 'bus with open stairs at the back for access to the top deck (I was not allowed to go upstairs and probably threw a tantrum at such deprivation);  then there were gas-powered 'buses which pulled a trailer with a large gas-bag to beat the petrol shortage, and war-time "utility" 'buses with wooden seats and a body constructed from light sheet steel which rattled and vibrated as the 'bus made its progress over the poor surface (often cobbles) of the city streets.
<![if !vml]>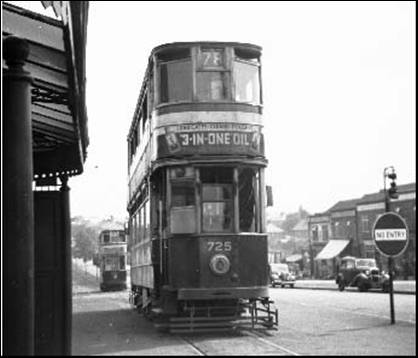 <![endif]> <![if !vml]>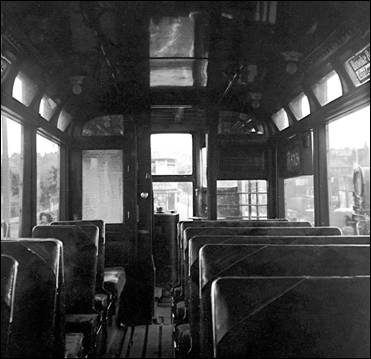 <![endif]>
Transport of Delight:
left:  a Birmingham tram waits at the terminus
right:  the lower deck of the same tram, showing reversible seats.
<![if !vml]>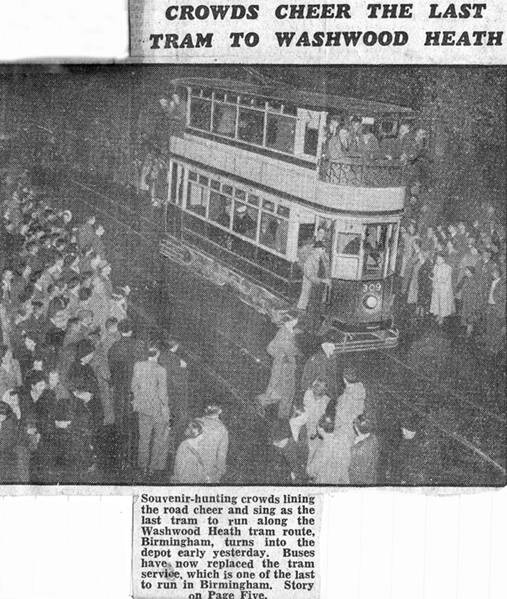 <![endif]>   <![if !vml]>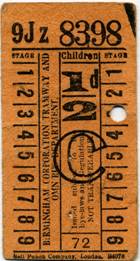 <![endif]>
October 1950:  How the last tram on the No. 10 route was seen by the long-defunct Birmingham Gazette.
I had travelled this route daily on my way to and from school and sorely missed the trams with their fascinating character:  a souvenir ticket ("Ha'penny child's") reminds one how inexpensive tram travel was in the 1940s.
          A special treat in the summer holidays would be the tram ride to the Lickey Hills on the Worcestershire border:  a twelve-mile journey across the city, taking over an hour.   Tram seats had reversible backs so that one normally sat facing the direction of travel, but one could leave a seat unreversed enabling a party of four to face one another as a group, just as on a train.   At the city centre terminus passengers left the tram at the front while new passengers boarded at the rear.   This gave small boys the irresistible temptation of treading on the driver's pedal which mechanically sounded the gong – the tram's warning equivalent of a motor horn.   For the latter part of the journey from the city to the Lickey Hills the trams forsook the streets for their own right of way, bowling merrily along through the sunlit trees at 40 m.p.h.   We would lean happily out of the window, taking care to retreat as other trams passed close by in the opposite direction.   Once at the Lickey terminus everyone would want to rush off to the hills, but I would try to linger and watch the conductor placing the trolley pole on the overhead wire for the return journey;  no easy task if the sun was in his eyes.  
            Shopping trips to the centre of Birmingham sometimes included a visit to the News Theatre where there was a mixture of cartoon films and newsreels.   The latter were welcomed by adults in those wartime days before television, but I preferred Donald Duck.   As a toddler, I felt threatened by the repeated newsreel shots of advancing military convoys which seemed about to burst into the auditorium.   When I grew older my mother would take me to longer performances – an early favourite was the Disney cartoon version of Snow White where Dopey eating the soap proved a memorable highlight.   In later years my mother varied the entertainment to include theatre and the ballet (Swan Lake at the Theatre Royal in New Street) and full-length films, including in 1948 Michael Wilding and Anna Neagle in Spring in Park Lane at the Pavilion in Boldmere, reached by the 28 'bus.  There was the pantomime too, of which the most memorable was Cinderella at the Alexandra Theatre in 1951, with Norman Wisdom as Buttons, long before he became famous.
Holidays in South Wales
            Wartime holidays had been confined to annual trips to my grandparents who farmed in South Wales.   This entailed journeys by the then overcrowded trains of the old Great Western Railway, but once the war was over my father somehow managed to get just enough petrol to do the trip in the Morris 8 – maximum speed a steady 45 m.p.h. on level ground, and a bouncy 55 m.p.h. downhill.   Such long journeys were then distinctly unofficial and entailed much coasting downhill with the ignition turned off in order to save petrol which remained strictly rationed until 1952.   Motoring was still decidedly primitive:  on one occasion the steering ceased to function whilst cornering, happily at low speed and without mishap.   As a result, the steering wheel could be spun like a spinning top.   My father kept a box of oddments in the boot (then called the 'locker').   This included some wire, so he got underneath, did what was necessary, and we continued on our way after only a short delay.   As a child, I took such events in my stride and accepted them as all being part of motoring.   But, primitive or not, on holiday the car took us to isolated Welsh farms where hams hung from the ceiling, and best of all, it took us to sunlit Southerndown beach with its rock pools and golden sand, where we could gaze out to Exmoor shimmering in the haze across the Bristol Channel.  
<![if !vml]>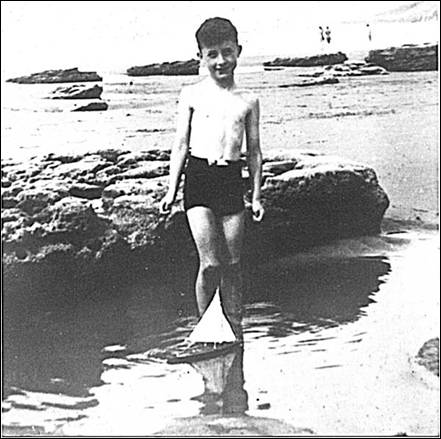 <![endif]> <![if !vml]>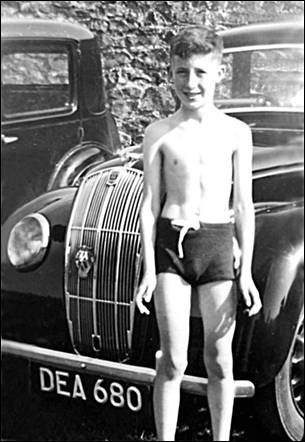 <![endif]>
Paddling in a rock pool at Southerndown, 1949;  and by the Morris 8 motor car after changing for the beach, in 1950 (note the old AA badge on the car's radiator grill).
            As a small child I was bored by the journey to South Wales which in those pre-motorway days took up to five hours.   But as I grew a little older I began to appreciate the attractive countryside on our way:  Worcestershire, Herefordshire and Breconshire, the lush landscapes celebrated by Elgar, Housman, Brett Young and Henry Vaughan.   I looked out for the landmarks in the valleys of the Teme, Wye and Usk which charted our progress towards my grandparents' home.   There was usually a stop for a picnic lunch under a holly tree near Weobley in Herefordshire.   In this the family was an undoubted trendsetter, as, after a few years, the council installed a lay-by at the very spot, although that sadly entailed removal of the tree.   In October 1946 we moved briefly up-market, stopping for lunch (controlled price 3/6d - = 18p!) at the Talbot Hotel, Leominster.   This was not judged a success as, two hours later, after crossing the Brecon Beacons, I refunded my lunch beneath a railway bridge in Merthyr Tydfil at a spot which I can still recognise today.   The wild and dramatic scenery of the Beacons was, for me, the high spot of the journey as it signalled our entry into South Wales.   For several miles the road lies above the 1000' foot contour and at Easter 1947, after the severe winter snowfalls, only a single passage had been cut through drifts which towered above our car.   On two occasions our journeys were impeded by serious flooding.   By contrast, one hot day of summer in the early 1950s, we memorably detoured through the Forest of Dean, passing the historic Speech House, to emerge deep in the wooded Wye Valley near Tintern Abbey.   The idyllic situation must have inspired the monks who worshipped there so long ago, just as it inspired Wordsworth who, after visiting Tintern, wrote of " the still, sad music of humanity". 
<![if !vml]>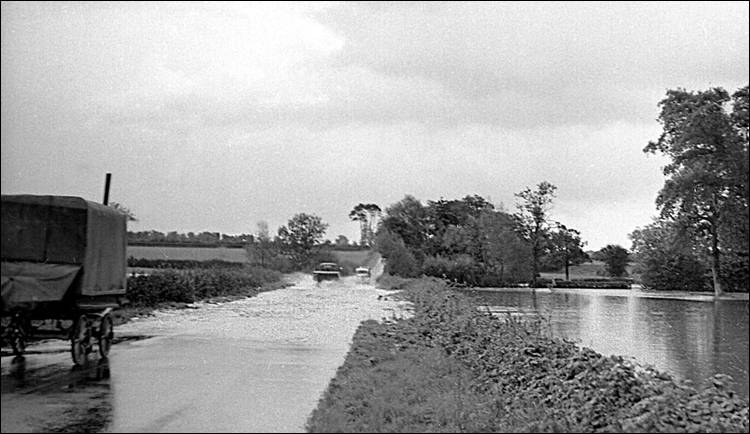 <![endif]>
On the way to South Wales:  floods near Leominster impede
the progress of a gypsies' vardoe on 3rd October 1958
          At Gilfach my grandparents did not occupy the traditional farm house, which was deemed too primitive, but lived in a double fronted Victorian villa ("Oak Cottage") 200 yards away.   This was scarcely any more luxurious.   Electricity was confined to the downstairs rooms, so I went up to bed by candlelight (logic decreed that as one only slept upstairs, there was clearly no need for electric lights there!), and I settled down to sleep with an embroidered text above the bed saying "Simply to Thy Cross I cling".   There was no hot water and no cooker:  my grandmother used the coal fire with a traditional oven alongside, producing wonderful meals.   In the bedrooms there were chamber pots beneath the beds, and marble washstands with china jugs and basins which would now be collectors' pieces.   Of the primitive outside lavatory arrangements at Oak Cottage, the less said the better.   But some farmhouse facilities were even more exotic, with a long walk to the privy in the orchard where one might find a commodious building offering accommodation for two patrons seated on a timber bench side-by-side, and (in one memorable location) even a three-seater for that special social occasion!
            Staying at Gilfach introduced me to farming routines almost unchanged over the centuries.  I would accompany my grandmother to collect eggs warm from the chickens who roamed free on the bracken-covered hillside.  I would watch my grandfather with other local farmers as they dipped or marked the sheep.   I would play with his sheepdogs, who, when they thought duty called, would abandon me and rush off to attend to the sheep which they found more absorbing than a small boy.   On a fine summer's evening Grandad would put me on Ginger, his old mountain pony, for a ride up to the paddock:  I felt like a maharajah.  
But one Welsh journey in 1945 was more alarming.   We set off to a remote Welsh valley to find the farm which was to be the home of Auntie Maud and Uncle Len, then newly-married.   Signposts were still almost non-existent following the war.   Cloud and fog clung to the mountainside and the drenching rain drifted across in soaking sheets.    As the Morris climbed slowly into the all-engulfing mist, with a sheer drop of 200 feet at the side of the road, we passed whitewashed signs on the bare rock face:  "Prepare to meet thy God".    Was this to be our final journey?   But when we reached Gelli Farm I found a place which was to me, as a city child, close to heaven in more childlike ways:  3000 acres of freedom.  
<![if !vml]>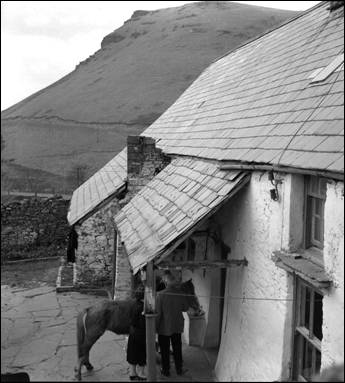 <![endif]>   <![if !vml]>
<![endif]>
Gelli farm scenes in the 1950s:
Cousin Eiryl's pony waits for her outside the farm house.   A cow approaches, ready for milking as young riders look on.
In wet weather such farmyards would be a sea of mud and wellington boots the only possible footwear.
At the Gelli I could escape into a carefree world of the imagination with mountains to climb and streams to dam – in the imagination, Everest and the Nile lay before me:  who cared if my shoes and socks were soaked through, or if the forgotten chicken's egg, placed carefully in my trouser pocket, smashed when I went sprawling in the tussocky grass?   But in those drab, chill post-war years, the unimaginative adults were more concerned about the lack of electricity, the enormous fireplace with its chimney open to the sky, and with the ivy growing indoors on the damp, peeling, farmhouse walls.
            Throughout the later 1940s and all through the 1950s my grandfather would stay at the Gelli for a few days from time to time to help out at shearing or other busy times.   Horse and dogs would be essential once he arrived there and began helping with gathering the sheep.   His generation never took to motor transport, so when it was time to start he would mount Ginger, call his dogs and they would all set off from Gilfach across the bleak mountain tops for the twelve mile journey, following the old drovers' tracks which had been the traditional routes for farmers for many centuries.  To my grandfather this was more natural than following the motor road round the valleys which was half as long again and, even then, busy with motor traffic.   But farming methods were soon to change, even in the Welsh mountains, so Grandad was perhaps the last man regularly to use the old drovers' roads of South Wales.
<![if !vml]>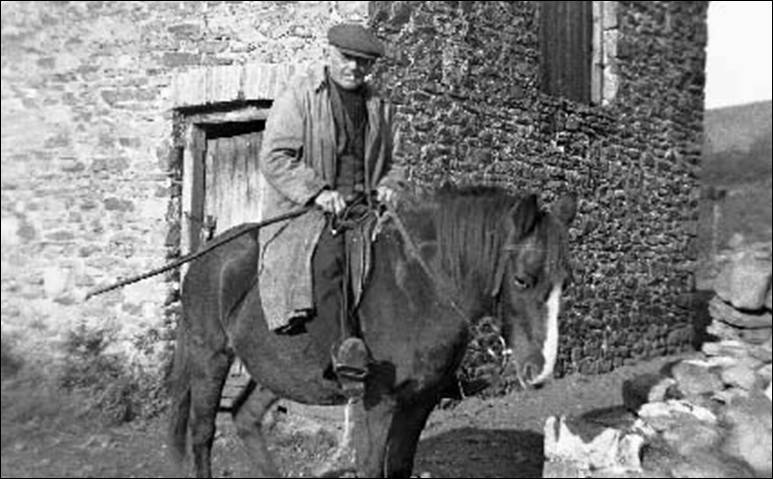 <![endif]>
Grandad about to set off from Gilfach on Ginger
            Other favoured destinations when we stayed in South Wales included Barry with its wonderfully tawdry funfair and its miles of docks, then alive with shipping, and Mumbles with its electric railway around the bay from Swansea.   Nor must one forget those day-long steamer trips when the Glen Usk, the Britannia, and the splendid new Cardiff Queen would take us to Somerset or Devon, landing us at far away Lynmouth or Ilfracombe, and once continuing on into the too-exciting Atlantic swell to land at Lundy Island.
            Visits to South Wales also involved going to see elderly great-aunts.   This introduced me to the phenomenon of the Victorian parlour.   To one brought up amongst the flimsy furnishings of the 1930s and the wartime "utility" era this was a world apart.   My grandfather's cousin Jeanette Morris ("Auntie Jeannie") was perhaps the relation who seemed least touched by the twentieth century.   A spinster, she lived alone in a cottage at Och'r-chwith, outside Risca (a town which seemed packed with my mother's cousins).   It was rumoured darkly that as a young woman she had had an unfortunate experience with a young man and subsequently held a grudge against the entire sex – but I found her rather sweet!   Many times I had heard my mother recount tales from her childhood of visits to Auntie Jeannie who would bring out old photograph albums in a quasi-religious ceremony my mother and her sisters christened "The Resurrection".   When I was first taken to see her, it was evident that the ceremony had not been in any way diminished by the passage of time.   On arrival at the little cottage amongst the whispering trees we were ushered first into the kitchen for the usual family pleasantries.   But as soon as the conversation turned to past family members, we were led through to the parlour, bathed in a cool green light and with a faint odour which I thought of as the odour of sanctity.   Drawing back the curtains and raising the paper blinds on the windows did little to illuminate the dark Victorian room.   Bearded and confident ancestors looked down in the august company of the Prince of Wales (subsequently King Edward VII) from heavy picture frames on the walls.   Out came the photograph albums:  leather bound or silk quilted, with brass clasps.   The pages were turned, so slowly, and I was introduced, as my mother and her sisters had been so many years before, to forbears for whom dignity and sobriety were the only acceptable forms of conduct.   I found it a little awe-inspiring and rather touching.   But no subsequent generations were to experience "the resurrection":   Auntie Jeannie died in 1960, her cottage was demolished, a housing estate was built at Och'r-chwith and her cherished photograph albums and portraits vanished forever.
            In those childhood days central heating was almost unknown and only one room in a house would normally be heated, by a coal fire, although the kitchen might also be warm from cooking.   Thus, for much of the year one expected to be cold as soon as one moved away from the fire and going to bed on a winter's night was an especial ordeal.   So instead of wandering about the house (as is now customary) in shirtsleeves, I would as a child wear thick woollen underclothes (knitted by my mother – how did I tolerate wool next to the skin?), a grey shirt of a substantial Viyella-type material, a long-sleeved woollen pull-over (also knitted by my mother) and a heavy school blazer.   There were usually two blazers on call:  one was new and too large and was worn to school, the other was old and too small and was worn about the house and for play.   School caps, scarves and gabardine raincoats were added for out-door excursions in all but the warmest weather (and sometimes even to the beach if there was a chill wind).   By contrast, short trousers were de rigeur up to 13 years of age.   In consequence, knees, habitually exposed to the elements and to frequent close encounters with the ground, were frequently chapped and scarred.
            With a fire in only one room, winter Mondays were especially miserable to a child, because Monday was washday and if the weather was wet the washing would be hung to dry on a clothes-horse in front of the fire.   I recall Monday, 23rd December 1946 as the longest and dreariest day of my life.   Outside it was cold and damp.   There was steaming washing arrayed in front of the fire, the windows were running with condensation and my mother was busy, pre-occupied with ironing and mince-pie manufacture.   The rest of the house was chilly and unwelcoming.   I was bored and bad-tempered.   I wanted Christmas to come quickly, but time seemed to be at a standstill.   Eventually, after what seemed more like two weeks than two days, Christmas arrived and brought a rarity: a red clockwork engine, number 6161:  no rails, for the war was but recently over and toy production was limited.   Soon after breakfast tragedy struck, for the engine, on a fully wound spring, shot across the floor like the proverbial bat from Hades, and wedged itself underneath the sofa, crushing its tinplate cab in the process.   There were tears, but my father was on hand to administer repairs, and the engine returned to service in fair, if not pristine, condition.
            Presents at Christmas arrived mysteriously, during the night, in a pillow case at the foot of my bed until I was thirteen years of age, by which time the identity of Father Christmas had long since been established.   One wartime Christmas, my main present had been a Golliwog, carefully made by my dear mother, arranged with his head peeping out of the pillowcase.   No political correctness in the 1940s!
<![if !vml]>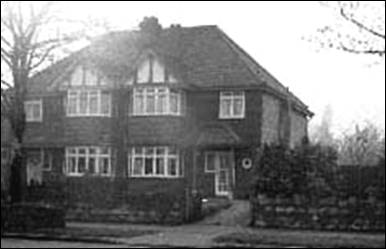 <![endif]>  <![if !vml]>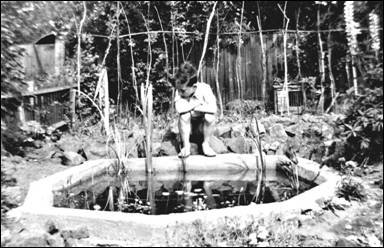 <![endif]>
165 Stechford Road:  the frontage and the new pond in 1949
            I had started school in May 1945, shortly before my fifth birthday.   My parents chose to send me to Amberley Preparatory School, a small private school on Coleshill Road about a quarter of a mile from home, although it was later to move a mile further away to Ward End.   I seemed to get on well, but after a few months had some sort of minor breakdown (which I do not remember, and which was never discussed, although I do recall hearing myself described as "highly-strung"!)   Thus, for about a year I only went to school in the mornings.   I had been attending school for scarcely a year when I was required to take part in an event which would not have been out of place in Dickens.   The school was a small affair in a Victorian house, run by two unmarried ladies, Miss Major and Miss Ainsworth.   Sadly, quite soon after my arrival, Miss Major was diagnosed as suffering from a terminal illness.   At her request, as a farewell gesture, the entire school (about fifty children) had to process slowly through her bedroom on the top floor.   As children we accepted this strange ritual as just another everyday event, but my mind now gives it the quality of an event in a Dickens novel or, maybe, a sentimental Victorian oil painting, vast and dark, perhaps by Arthur Hughes or R.B. Martineau:  "Miss Major's farewell to her young pupils."
            Many random memories were acquired over those early childhood years, often involving smells:  lilac blossom and wellington boots, privet hedges and coke boilers.    But when I was five I experienced a recurrent bad throat with associated nasal problems.   So, in accordance with the contemporary medical practice of removing all such evidently unnecessary items of anatomy, I went into the Birmingham Ear, Nose and Throat Hospital to have my tonsils and adenoids taken out.   This was a major upheaval for one who had so far led a very sheltered existence.   It thus became the first event in my life to imprint itself on my mind complete in almost every minor detail, from beginning to end.
For a start, it was unprecedented in those days of petrol rationing to go into the centre of Birmingham by car instead of tram.   A minor pleasure on arrival in hospital on the Sunday evening was having a pink mouthwash instead of boring old TCP.   But then came the embarrassments.   I was expected to sleep in a cot.   To a five-year-old this was nothing short of a major insult.   Then there was the bedtime session when we three inmates of the tiny ward knelt on the floor in a circle round a chamber pot to make our contributions.   Didn't they have lavatories, for goodness sake?   Next morning, there was further embarrassment when I failed to remember the second verse of Jack and Jill, which I was asked to recite as I was given the anaesthetic.  
But I soon had my revenge.   For the first (and, I believe, only) time in my life, I got a girl into trouble.   On emerging from the anaesthetic I had a raging sore throat.   I uttered those famous childhood words:  "I want a drink of water."   The ward was under the control of a Sister who appeared to be related to Wagner's Valkyries.   She told me firmly that I could not have a drink.   A few minutes later a pretty young nurse passed by.   (Even at five years of age, I could appreciate a pretty girl).   I repeated my request and she kindly produced a drink.   Ten minutes later the Valkyrie flew past and noticed the empty cup (of a celluloid-type material – ugh!).   "WHO gave you that drink?" she demanded.   I remember my reply.   Precisely.   Word by incriminating word:  "the NICE nurse gave it to me."   The sharp intake of breath seemed in danger of making the walls implode.   The Valkyrie mounted her invisible steed and stormed off on a punishment mission.   For the first, but not the last time in my life, I knew I had said the wrong thing.
          In the years following the hospital visit, health matters gave me several worried moments.  I suffered the usual childhood ailments in turn – Whooping Cough and Chicken Pox one year, Measles and Mumps the next.   But my most serious health problem in childhood occurred at about seven years of age, when I developed Ulcerative Colitis, which was dubiously blamed on the bland wartime diet.   It meant that for several years I was not allowed to eat any fruit unless all the skin and pips had been removed.   A far more serious worry in the 1940s was tuberculosis, then widespread and often fatal.   Our neighbour's daughter and the brother of a school friend had both contracted the disease in their late teens and had been in sanatoriums for many months.   Happily, they both recovered, but the fear of being carted away from my home in such circumstances did not bear thinking about.   Then there was an absurd worry, typical of the fears teasing a small boy's mind in a sheltered and solitary childhood.   This began when I noticed a minor personal difference from the other boys who contributed to the hospital's communal chamber pot.   Despite being a subject of immense fascination to growing lads, it was not the kind of thing discussed in the best circles in the 1940s.  Thus, fixed in my mind as a strange and worrying abnormality, it caused me much anxiety for several years until communal school showers revealed that the difference schoolboys knew as "Cavaliers and Roundheads" was, after all, not uncommon.   It was to be over fifty years before I learned that in those pre-N.H.S. days the required surgery had been performed not in hospital, but one afternoon on our kitchen table by Dr Lillie.   There was no anaesthetic for the infant patient, but the genial Scots doctor had (as my mother tartly observed) first fortified himself with rather more whisky than seemed advisable for one about to wield a surgical knife!   Such operations were then doubtless a welcome supplementary source of income for a G.P.    I might add here that in accordance with the prim standards of modesty of the day, I was even longer to remain ignorant of the far more interesting structural differences between males and females.   My parents had a small female nude statue on the mantelpiece, but I attributed its lack of masculinity to good taste and decency on the part of the manufacturer.   Once, when I was about eight, a girl who was a playmate persuaded me to strip off for her edification, but, alas, reciprocal facilities were not on offer, so in an era when nudity was never seen in public my innocence long remained intact!
            But in 1946 there was another event of much greater amusement to a five-year-old than health or bodily matters.   The week before I went into hospital my mother and I had found a day old chick.   It was squatting, fluffed up against the cold March wind, on the pavement of an otherwise deserted suburban Birmingham avenue.   To a five-year-old this discovery was wonderful – to the chick it was a miracle!   It was duly carried home and placed in a cardboard carton in the airing cupboard.   The chick clearly found this unusual environment to its liking and thrived during my brief absence in hospital.   It soon outgrew its carton and graduated to a pen on the lawn.   It looked rather leggy and was pronounced by my mother to be a White Leghorn cockerel and accordingly named Jimmy, but mothers are not entirely infallible and on Dad's 40th birthday on 29th November it produced an egg.   It was soon joined by another hen, a Rhode Island Red named Jane, supplied by a farming relative, and thus we acquired two highly productive and exceptionally tame family pets.   In those days of food rationing the regular supply of eggs was a boon.   The hens also helped to dispose of scraps which hitherto had been destined for the vile-smelling 'pig-bin' on the nearby traffic island.   It was to be a sad event, some years later, when our two chickens provided their last service by providing our Sunday lunch.
            No recollection of the 1940s is complete without mention of the heavy snowfalls early in 1947, arguably the hardest winter of the twentieth century.   Even in suburban Birmingham we could not see out of downstairs windows because they were totally obscured by drifting snow.   The snow arrived when I was laid low with measles, and I was concerned lest it should thaw before I recovered.   I need not have worried.   The snow lay deep for about six weeks and even I was tired of it before long.   Snowballs melting down one's neck soon pall and there is a limit to what one can do with a snowman.   There was so much snow it was possible to build substantial "dens" like open-top igloos, but the novelty soon wore off.   As in later winters, any innovation involving slides was deemed dangerous and officially forbidden, but I do recall occasionally gaining some amusement trying to write my name by peeing in the snow.   At least children derived some entertainment from the dreadful conditions in 1947, but for adults struggling so soon after the war with frequent power-cuts and with fuel and food shortages the winter was a heavy burden.   This was illustrated by the long queues of people with old prams and pushchairs waiting in the snow to collect coke from the Saltley Gas Works which we passed on the tram journey into the city centre.   Traffic was relatively light in those days and gritting and salting of the roads was not carried out with the thoroughness we now expect.   Snowploughs came past from time to time, pushing the snow to the side of the road, thus building great ramparts of snow which had to be surmounted before pedestrians could cross the road.   The treacherous conditions were an especial danger to the horse drawn vehicles which still brought the bread, milk and coal.
<![if !vml]>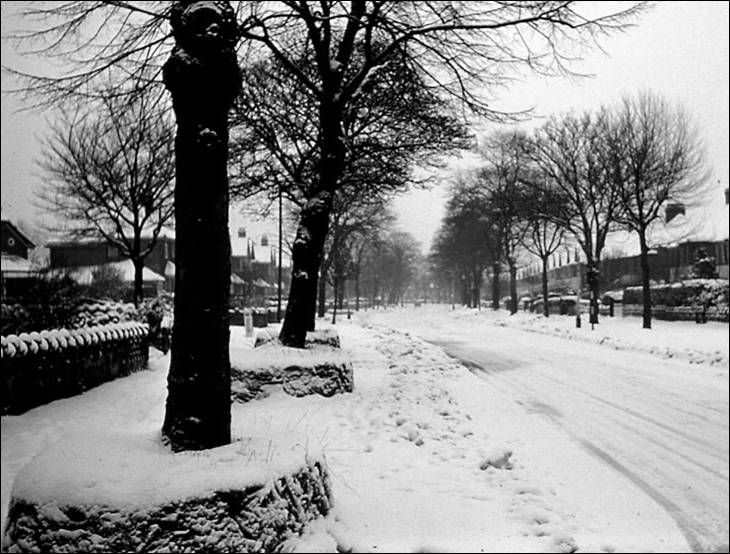 <![endif]> 
An old-fashioned winter:  Stechford Road, looking towards Hodgehill Common
<![if !vml]>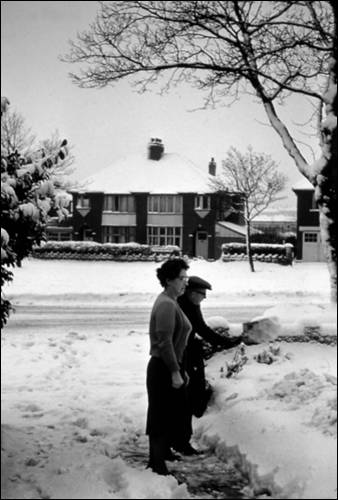 <![endif]>  <![if !vml]>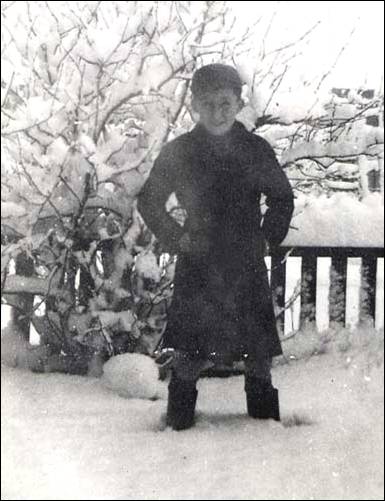 <![endif]>
An old-fashioned winter:  Dad clears the drive with Mom's encouragement and I get ready to build a snowman
Sadly, we have no photographs from the 1947 winter when snow depths made those shown above quite trivial!
            Fog was another winter evil in the 1940s and 1950s.   All factories, offices, shops and private houses burnt copious amounts of coal for heating.   In still winter weather the pall of smoke hung in the air and drifted downwards, merging with any slight mist, to cause an impenetrable fog with visibility cut to ten or fifteen feet.   It would penetrate indoors.   Outside, it would paralyse traffic and even make it difficult to find one's way on foot.   Most traffic would cease and my father even had to walk ten miles home from work on one occasion.   We would be led from school in a crocodile on foot, although occasionally a tram would run through the streets, preceded by a man on foot carrying a flare to illuminate the way.   A side effect of the fog was that the brick and stone of city buildings became blackened, and it did not do to inspect one's handkerchief after blowing one's nose!
            During the hard winter of 1946-7 my school moved to larger premises, permitting a modest expansion in numbers.  The buildings were surrounded by extensive grounds with shrubberies and winding paths, ideal for the childhood games of hide-and-seek.   Five to eight year olds were taught in an imposing Victorian house but nine and ten year olds were housed in a Nissen-type hut built in the grounds for the Auxiliary Fire Service during the war.   The two classes within the hut were separated only by a pair of large hessian curtains, drawn back at play-time and for lunch.   A large coke boiler provided the communal heat:  a low railing prevented us from coming into contact with its scalding sides and served as a clothes horse for damp coats on wet days, thus ensuring that the hut was filled with the objectionable smell of damp wool mingled with coke fumes.   My school life in those days generally lacked excitement;  mile-stones included the early, tentative, steps in writing and the daily recitation of multiplication tables.  Writing at first involved using chalk on miniature slates, but later one graduated to dip-in pens with which to practice "pot-hooks".   Reading found one exploring Nathaniel Hawthorne's Tanglewood Tales, and such old world delights as Talbot Baines Reed's Adventures of a Three Guinea Watch.   Hymns were engraved in our minds at the morning assemblies:  on the Wednesday nearest our birthdays we were allowed to choose the hymn.   The girls usually went for "Away in a Manger", "There is a green hill far away" (why was it without a city wall? – very puzzling when one is eight or nine), or "There's a friend for little children above the bright blue sky";  but the boys generally favoured "Onward Christian Soldiers".   These did seem more lively than the dreary "The day thou gavest Lord has ended" which so often turned up at Christ Church, Burney Lane.   Back at school, art merged with nature study as we produced seasonal drawings of catkins, sticky buds or bluebells.  I managed with little effort to keep at or near top of the form in most subjects and usually received good end of term reports, even if they often described me as "fidgety".   The most critical observation (at ten years of age) was that "he should learn not to make sotto voce remarks":  whatever had I been overheard saying about one of the teachers?
This tranquil existence suffered one brief interruption when a girl in the class complained that another girl, called Yvonne, had stolen her fountain pen.   The Principal, Miss Inshaw, made enquiries and the pen was duly found secreted in the top of one of Yvonne's black woollen stockings.  The poor silly girl was expelled, causing a frisson of excitement through the class.   I had not previously encountered the world of theft and expulsion, nor come to that, the world of stocking-tops: sensations all, to an eight-year-old.    (For more about Amberley Prep School go to web page Amberley.)
<![if !vml]>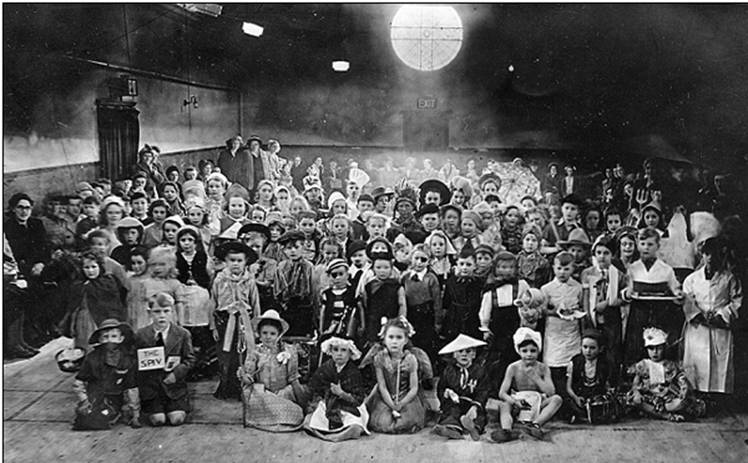 <![endif]>
Amberley Preparatory School:  Fancy Dress competition at the Church Hall on Hodgehill Common,
Christmas 1948 or 1949:
            Manners were an essential part of one's education in the highly structured society of those post-war years.  One did not speak until spoken to.  As boys, it was impressed on us that we must treat ladies with respect at all times, a practice still faithfully kept by some of my generation:  a gentleman should raise his hat on meeting a lady, should hold the door open for her, allowing her to go first, and should always stand when a lady entered a room.   On crowded 'buses one should always offer one's seat to a lady.   Conversely, real ladies did not go into pubs without a male escort, nor did they smoke cigarettes in public.   Elocution lessons ensured that we spoke correctly and avoided colloquialisms, especially "O.K.".   Swearing in company was almost a capital offence.   One might just hear "damn" or "blast" used under serious provocation but the words were not permitted in a child's vocabulary.   "Bloody" was used by men only in the most extreme situations and would certainly never have been allowed on the wireless.   Stronger language still, nowadays common-place, was largely confined to the working man in his own environment and would never be heard in public.   Just once, a boy called Gilbert used such a word to me.   I asked my mother what it meant, but she didn't tell me.   I was, however, forbidden henceforth to go to Gilbert's house, which was a pity as he had a very good train set.
            Although I had a small circle of friends at Amberley, much of my leisure time was spent alone, contentedly reading or playing with my Hornby Dublo electric train set, or happily riding my blue Hercules bicycle around the quiet suburban pavements.   I am told I learnt to read when I was three by finding Music While you Work in the Radio Times!   After Rupert Annuals and Enid Blyton, I graduated to Arthur Ransome books, 'Bunkle' adventures and the 'Jennings' boys' school stories, often borrowed from Ward End library, next to Amberley.   These books were favourite reading for several years, but one must not forget the Eagle comic, launched in 1950, and home of favourites such as Dan Dare, Pilot of the Future, and Harris Tweed (a very English Inspector Cloussot).       [continues below]
<![if !vml]>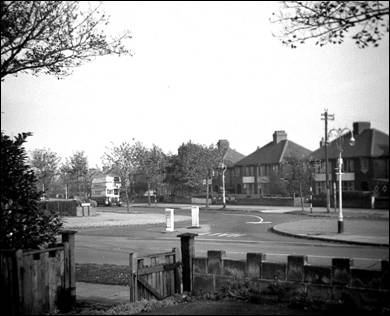 <![endif]> <![if !vml]>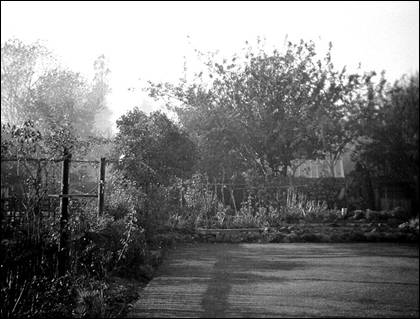 <![endif]>
The view from 165 Stechford Road:
The view looking into Hodgehill Road dates from the early 1950, soon after the introduction of the 55 'bus service in October 1950, but before replacement of the 1930s-style lamp posts by tall modern lighting.   When my parents bought the house in 1932 it faced open fields with a view to Yardley Church!  
The view of the back garden shows the lawn around which I rode my Hercules bicycle, with the rockery beyond (into which the air raid shelter had been built for the duration of the war) and behind which there was a small vegetable garden.
Some leisure time souvenirs:
<![if !vml]>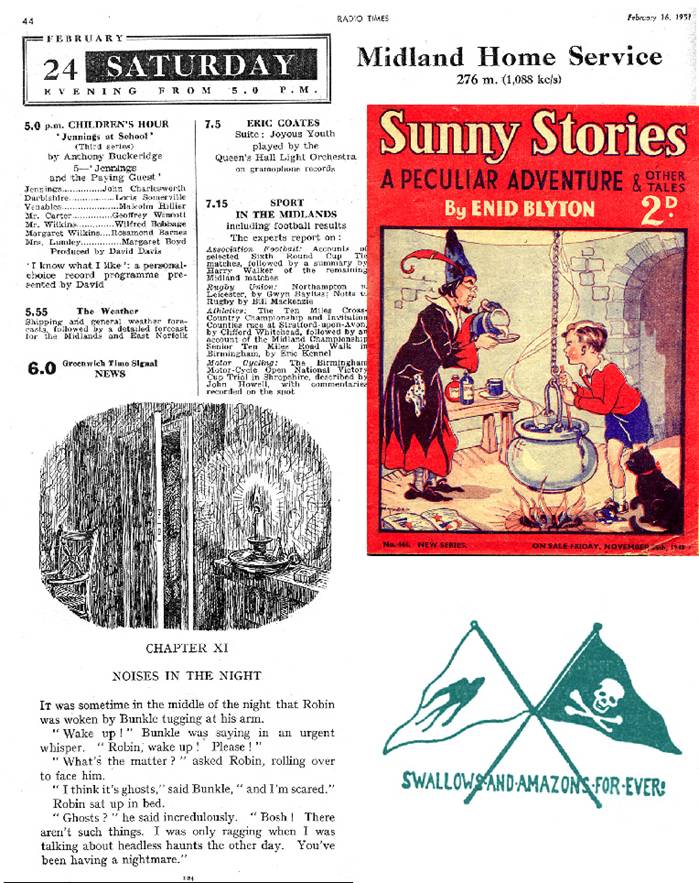 <![endif]>
Clockwise from the top:
An excerpt from Radio Times:  programmes for 24th February 1951, including Jennings at School;
the cover of Enid Blyton's weekly Sunny Stories for November 1948;
one of Arthur Ransome's decorations from the pages of Swallows and Amazons;
a page from Bunkle Butts In, by M. Pardoe (1943), with illustration by Julie Nield  [The 'Noises in the Night' were intruders in the secret passage!]
<![if !vml]>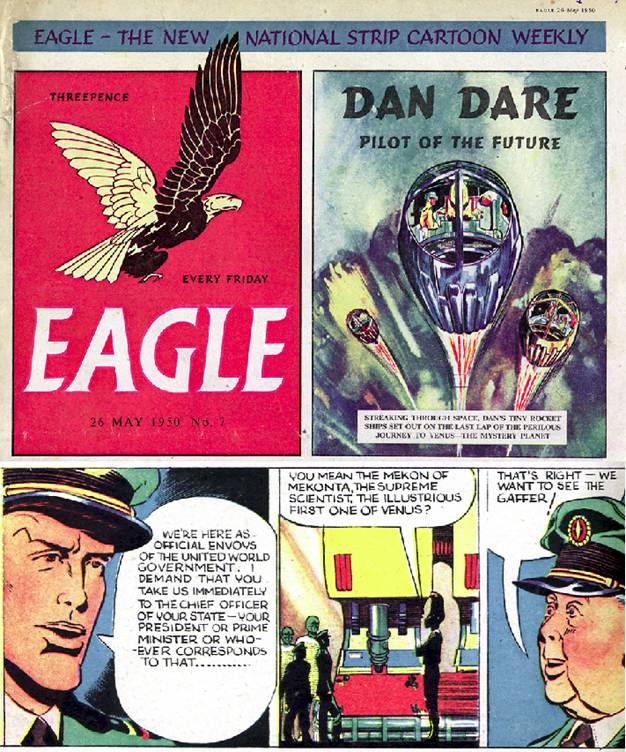 <![endif]>
Extracts from an early edition of Eagle, showing Dan Dare, Pilot of the Future.
  Art work, by Frank Hampson, was always of a high standard;  the stories often contained a discreet didactic element and schoolboys enjoyed the humorous side as evidenced by the bluff Lancastrian approach of Digby, Dan Dare's batman.
School days (continued)
          My form at school was quite small, no more than twenty pupils, of whom most were girls.   One young friend was J'Ann Page, who moved to Somerset about 1960, but with whom I re-established contact in 1985 through a neighbour of my parents who had remained in touch.   J'Ann was a lively girl and we often enjoyed a threepenny ice cream as we walked home from the tram on the journey back from school.   But the world is not yet ready for the curious tale of how her socks came once to be lodged high in one of Stechford Road's sycamore trees.   In the years 1949 – 1951 two boys in particular were my firm friends:  Derek Silk and David Yates.   We tried to pass ourselves off as a "gang", modelled partly on Richmal Crompton's Just William stories and partly on Jennings, with a dash of Dick Barton – Special Agent, courtesy of the BBC Light Programme's serial at 6.45 each evening.   We wore our fashionable "snake" belts, and affected crisp nicknames, based on our surnames in the best boys' school manner:  Silko, Yatesy, and Darly.  Of our daring exploits but little remains in memory.   My most serious misdemeanour arose when I was "dared" to knock on someone's door near the school and run away:  I was caught and Miss Inshaw duly administered a stroke with a ruler on the palm of my hand, almost certainly the only time in my life that I suffered such physical punishment.   Truth to tell, the public humiliation was the worst aspect of the incident.   We got into the local sand quarry one weekend when it was closed, climbing through a fence near a sign saying "Trespassers will be prosecuted".   But I was not cut out for a life of crime and for weeks thereafter I was convinced that every knock at the door would reveal the house surrounded by Scotland Yard men come to arrest me for trespassing.   In any case, with my bouncing mop of unruly curls, big brown eyes and (in summer) white ankle socks I never cut a very macho image.   Another boy in the class was Alan Smith.   But sadly he suffered from Multiple Sclerosis so he wore surgical boots and walked with difficulty. He was unable to join in most of our games.  His life was to be short and sad, but to the rest of us his condition was a fact of life and we selfishly continued with our games while he looked on.   Only later did one begin to wonder what his thoughts must have been.
            Sport scarcely featured in the school curriculum and, although a few boys liked to kick a ball about, football was not the obsessive interest it became in later decades.   As an only child I grew up happily uninterested in games and other competitive activities.   Dad did once take me to see Aston Villa play when I was about seven, but I was hit painfully in the face by the muddy ball when it strayed into the crowd.   This incurred maternal displeasure, so the trip was not repeated.   P.T. exercises at school took place out of doors in fine weather only:  my main memory is that when the class was bending to touch toes I could look up to see the row of girls in front revealing their navy blue knickers as they bent forward.   There were also swimming lessons once each week, involving the tram ride to Woodcock Street baths.   By the time one had changed – always two boys to a cubicle! – there was time for only about twenty minutes in the water.   But afterwards came the best bit, a cup of hot chocolate and a tiny slice of swiss roll in the café.
            At ten years of age I suffered the first pangs of interest in the opposite sex.   For a while I took to eating my sandwiches with one of the girls and we would wander around the school grounds at break and lunchtime having earnest discussions.   I endured some taunting from "Silko" and "Yatesy" who clearly did not understand affairs of the heart.   Then, at the end of term, she broke the news that she would be leaving and so the school "gang" member-ship went back up to three.  
            Meanwhile, childish fun went on as before.   Birthday parties continued until I was eleven.   Organised by my mother, there were games, always including "pass the parcel", then there was tea (actually Corona "pop" and birthday cake), and then some wild running about in the garden until it was time to finish.   Parties were always mixed, but activities usually seemed to divide into boys v girls.   The girls always wore party frocks and had ribbons in their hair, looking as pretty as a picture:  whatever happened to Myrtle Pridmore?    (Late News!!   Myrtle is alive and well and living in County Durham, but Stella remains elusive!)  
<![if !vml]>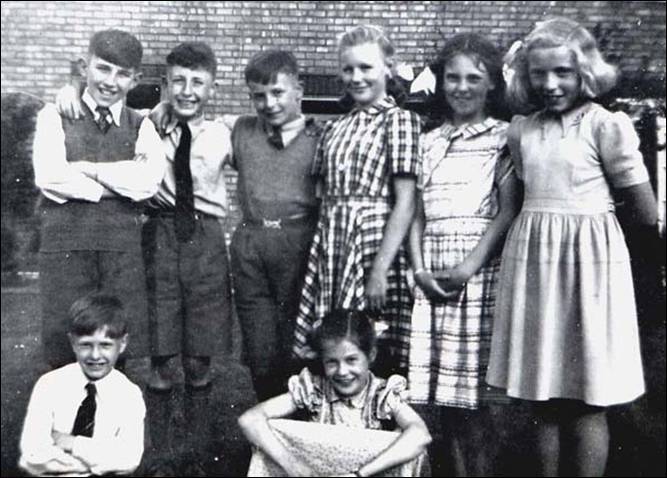 <![endif]>
Birthday party 1951:    back left: Derek Silk, RHD, David Yates,("the gang")
back right: Norma Page, Stella Richardson, Myrtle Pridmore
front: Keith Hickinbottom, J'Ann Page
" Children's Hour "
            Out of school, music was my most lasting discovery of those early post-war years.   Ours was not a musical household and I am told that my favourite piece of music during the war was called "Pistol Packing Momma", long since erased from my memory.   But, like most contemporary middle-class children, I was an avid listener to "Children's Hour" on the BBC Home Service (no television in those days!).   Many of the items were introduced by tuneful extracts from classical music, some of which etched themselves permanently into the mind.   Said the Cat to the Dog opened with an extract from Walton's Façade and "Music at Random" by Helen Henschel began with the main theme from the last movement of Brahms's First Symphony.   One serial used Sibelius's En Saga.   Another drew briefly on the music of Shostakovich, and, with the help of Radio Times, sent me on my first voyage of discovery to the newly-developed Third Programme.   (I remember, however, being seriously bewildered by the music encountered there – not for the last time!)   At Christmas 1948 I first heard John Masefield's Box of Delights with music from Victor Hely-Hutchinson's delightful Carol Symphony.   Box of Delights was to be repeated in 1955, before being transferred to television in 1984, each time with the same music.   Coincidentally, Hely-Hutchinson was also in Birmingham in the 1940s, as Professor of Music at the University.   But the piece which I enjoyed most was one used to introduce a children's adventure serial broadcast in 1947 called Bunkle Butts In.   I was hooked by the first "thriller" I had encountered (I still have the book!).   The music, Elgar's Chanson de Matin, entered into possession of my brain and started me on a lifetime's enjoyment of classical music.   Thanks to the organisers of "Children's Hour", music became an absorbing ingredient of my life when I was just seven years old.   I fear that today's youngsters lack such an introduction to the magic of classical music.  
There was, of course, other, more light-hearted, entertainment to be had from the wireless (as it was then called).   A favourite was Much Binding in the Marsh with Kenneth Horne, Richard Murdoch, Sam Costa and Maurice Denham.   Lying in bed on Sunday evenings, I would hear the voice of Frankie Howerd in Variety Bandbox drifting upstairs, accompanied by my parents' laughter.   The most discussed show was probably ITMA with Tommy Handley who died so suddenly aged 57 in 1949.   During and immediately after the war ITMA had been a major factor in uniting the nation:  at a time when there was no television, and wireless programmes were confined to the BBC Light Programme and Home Service, choice was restricted and the majority of the population would be enjoying the activities of Handley and his crew.
            Television broadcasts had started in London in 1936 but were suspended for the war, restarting in June 1946.   The service reached Birmingham in 1949 and was extended throughout the rest of the country in the 1950s.   Early receivers came in vast wooden cabinets but had tiny 9" or (for the affluent!) 12" screens.   For many years programmes were broadcast live and went out for limited hours only:  initially there were children's programmes from 5 pm to 6 pm, and then nothing was transmitted until evening programmes began at 8 pm, continuing until about 10.30 pm.   My first glimpse of television was of an old Hopalong Cassidy western film being shown in the window of a radio retailer:  it may have been a flickery black and white picture, but to me it was then the last word in sophisticated entertainment!   Other early delights were "Mr Pastry" (remembered installing a TV aerial on the roof and falling into a waterbut!) and the 1951 studio-bound production of E. Nesbit's Railway Children – no actual trains were shown, but steam might occasionally be blown across the screen!  
<![if !vml]>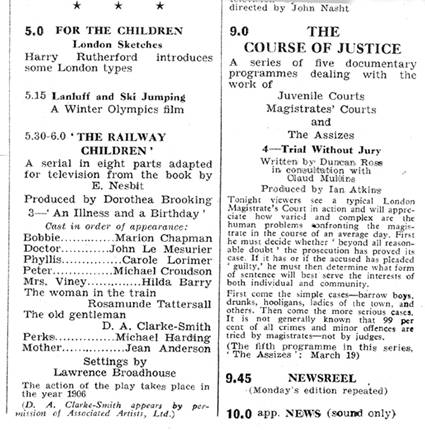 <![endif]>
An extract from Radio Times showing television programmes for Tuesday, February 20th 1951
After The Railway Children the service closed down until 8.0 pm when there was a half-hour programme about Treasures of the Victoria and Albert Museum, followed by a French film about Montmartre.   Following the News (sound only) television closed down at 10.15 pm.
Evening programmes were introduced by announcers dressed formally in evening wear:  viewers were greeted by Sylvia Peters or Mary Malcolm in elegant dresses and McDonald Hobley or Leslie Mitchell immaculate in dinner jackets.   As programmes were broadcast live (even the Thursday repeat of the Sunday night play was a second live performance) it meant that disasters great and small reached the home screen.   Not infrequently the screen would go momentarily blank before an elegantly written notice appeared:
"Normal Service
will be Resumed
  as soon as Possible"
The first person I ever saw drunk was Dr Glyn Daniel on the television programme Animal Vegetable and Mineral – he and his guests had evidently been celebrating before hand, rather too well.   My first hint that sex appeal might be of some significance came about 1952 in a live programme with the elderly artist Sir Gerald Kelly talking about (I think) Fragonard's "Girl on a Swing":  he suddenly turned to the camera with a wicked twinkle to add a daringly unscripted remark:  "Look at that lovely little bottom".   My mother laughed, then remembered I was there and said "Well!!" in a certain tone of voice.
            The death of radio's Tommy Handley was an uncomfortable reminder of human mortality.   During the 1940s two neighbours died, comparatively young, raising in a child's mind the question of our ultimate destination.   The mother of Juliet Powell, a little girl with whom I sometimes played, died in her 30s from breast cancer, and "Uncle" Bill, our next-door neighbour died from pneumonia in his mid-fifties.   These events raised uncomfortable questions, but children look ahead, not back, and the events were soon all but forgotten.   The equally great mystery of birth surfaced from time to time:  I remember asking my mother where I had come from, but I cannot now recall her reply which was doubtless a masterpiece of dissembling!   But I was temporarily satisfied, without the destruction of childish innocence which now seems to be the rule.  
Much of my knowledge of life's caprices came from unintentional eavesdropping on my mother's conversations with her friends.   She led a life ordered by routine:  Mondays were for washing (morning) and ironing (afternoon), Tuesday and Friday mornings were for local shopping, Wednesday and Thursday mornings were for cleaning – downstairs and upstairs, respectively.   Except on Monday, after an early light lunch she would change into a smart day dress.   The afternoon was then available for seeing friends, equally elegantly attired in smart frocks, or for an occasional trip to the centre of Birmingham.   There she would shop for clothes (although that was limited because of the need for clothing coupons), or perhaps take me to a matinee at the cinema.   When her friends came for tea I would often sit quietly reading in a chair in the bay window while the ladies sat talking by the fire.   Perhaps I was invisible, because I would hear remarks about life, husbands and acquaintances which were surely not intended for me!   There was probably nothing slanderous, but I do remember being amused by mimicry of a local lady with an affected way of speaking who was quoted as saying "My de-ah, it took me two aahs to arrange the flaahs."   [Two hours to arrange the flowers.]   I felt uncomfortable (and still do) on hearing a woman complain about her husband's alleged domestic inadequacies.   I have never heard a man complain about his wife, suggesting that 'cattiness' is indeed a female attribute!   In the 1940s the two sexes lived quite separate lives:   it seemed men went off to kill or be killed fighting wars or, if living at home, set off, trilby-hatted to work from 7.30 am to 6 pm each day.   On Saturday afternoons they went flat-capped to football, and spent any remaining spare time caked in mud from digging the garden or covered in oil after overhauling the car (which probably entailed lifting out the engine).   Women shopped occasionally, cleaned from time to time, dead-headed the roses and spent the rest of their time reading to their children or drinking tea with friends:  it seemed to me an enviable existence compared with their husbands – but things for me turned out differently and I have no cause for complaint!
   <![if !vml]>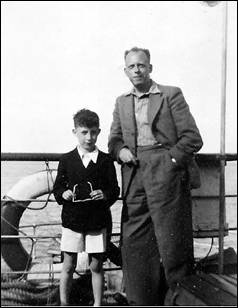 <![endif]> <![if !vml]>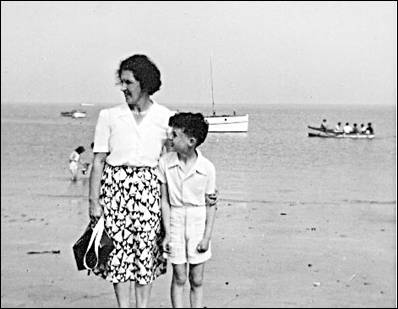 <![endif]>
with Dad on board the Cardiff Queen at Ilfracombe 1949
and with Mom at Tenby after a boat trip to Caldey Island, 1948.
            Life continued with its usual minor twists and turns.   In the late 1940s I experienced an encounter with the constabulary which was to make a lasting change in my life – although happily without any charges being brought!   During the course of a visit to the family in South Wales, my father had the misfortune to run down a lady who foolishly stepped off the pavement in Tonyrefail without first looking to see if the road was clear.    Happily, the car was only travelling at about 20 m.p.h. and no serious injury was caused.   Nevertheless, it was necessary for my father to call at the village police station to make a statement.   While he and my mother were thus engaged I endured a very long and boring wait.   The sergeant's wife took pity on me and brought me a mug of strong tea.   This was alarming, as I disliked tea intensely and never drank it.   But clearly one did not argue with the police.   So I braced myself and took a sip.   Heavens! – I liked the stuff!   From that day forward I have never refused the chance of a cup of tea – thanks to the Glamorganshire Constabulary.
            When it came to food there was no opportunity to indulge in the whims and caprices of taste.   Rationing and shortages continued well into the 1950s and many popular items were simply unobtainable.   One had what one was given or went without.   Imports of bananas were discontinued throughout the war and oranges were available only in very limited quantities.   I recall my first post-war banana as a serious disappointment:   I think I was expecting a bigger, sweeter, more luscious orange.   Domestic freezers and refrigerators were almost unknown, so frozen foods were simply not available until limited quantities of ice cream began to appear once the war was over:  at first in vanilla flavour only;  wafers three-pence, cornets fourpence, tubs sixpence!  
            Dinner menus were limited in range.   Beef, mutton and pork were the staples;  lamb was seasonal and chicken a luxury for Christmas only.   Cod, tripe, hearts and brains appeared occasionally.   Meat was accompanied by fresh vegetables according to season – my diet of green vegetables was limited mainly to fresh peas out of the garden in July, runner beans in August and cabbage for the rest of the year, varied only by occasional carrots or cauliflower.   Tinned peas were available, but were not especially palatable.   In an era of shortages, leftovers were recycled so that yesterday's meat reappeared as rissoles, vegetables as "bubble-and-squeak", and an unwanted tea might re-appear as bread-and-butter pudding.   Cheese was rationed to two ounces (of non-descript Cheddar) per person per week.   Eggs were scarce, but dried egg was available for cooking and could even be made into a sort of omelette, though my mother looked down her nose at such contrived dishes.   She baked her own cakes; otherwise we would probably have gone without.   The season for locally grown fruits was extended by careful storage of cooking apples, giving the spare bedroom a characteristic smell, and my mother would be busy bottling plums and damsons in Kilner jars at the end of each summer.   Imported tinned fruit was unknown and I did not taste any until a rare tin of pineapple chunks, hoarded from before the war, was produced at a family party, held at my father's old home in Erdington, for Uncle Cyril who was on leave from the Army.   Foreign dishes such as pizza, lasagne, or paella were quite unheard of;  indeed, in an era when foreign holidays were almost unknown our family would not have recognised the words!   By comparison with present-day menus it seems a poverty-stricken up-bringing.   But the choice was planned in response to government dietary advice and ensured a generally healthy population.   There was no chance of over-indulgence, so my friends were a skinny and active lot, obese children being unknown!
            Sweets were taken off the ration on 24th April 1949 (remembered as being my play-mate J'Ann's birthday), but before I could get to the corner shop for a quarter of Barker and Dobson's Barley Sugar or of Wilkinson's Liquorice Allsorts panic buying by the public had cleared the shelves nation-wide.  This resulted in the government re-imposing rationing for three more years, frustrating the dreams of many children who were thus strictly limited to one or two sweets a day.   But in compensation there was Christian Kunzle's restaurant in Union Street with its delicious Swiss-style cream cakes rich with cream inside a chocolate 'boat':  one greedily eyed a plateful but could seldom manage more than one!   How strange that such indulgent fare has long since vanished from the shops!
            Food rationing continued with full severity for six or seven years after the war.   The system demanded that one was registered for food with a specific shop.   Making purchases elsewhere was not permitted.   We patronised Ehret's, a small grocer (with a surprisingly Germanic name for those days).   There, my mother's order was taken over a long counter with a chair placed alongside for the customer to rest her legs.   Many items, such as butter and sugar were parcelled up on the premises and biscuits (plain;  no cream varieties) were sold loose from large biscuit tins, pre-packed goods being almost unknown.   My mother's purchases would be delivered later by bicycle.   I always wanted her to call in at the Co-op, despite not being registered there, as the Co-op had a curious aerial ropeway by which the cash was sent by the shop assistant to the lady cashier who returned any change by the same means.   (The Midland Educational book shop in Birmingham had a more sophisticated system which involved the money being despatched down a vacuum tube:  I always stood well clear, in case the thing sucked me into its maw!)   The local shopping centre ("The Fox and Goose", named after the pub) was an attractive and well laid out area with a wide variety of shops patronised by the local ladies:  butchers, grocers, greengrocers, florists, newsagents, a post office, several ladies' dress shops and a hat shop, men's outfitters, handicrafts, a milk bar, and even a shop for stamp collectors.   The area was dominated by the splendid Beaufort Cinema which boasted a cinema organ which once featured regularly in BBC broadcasts.   Today the cinema and food shops have all gone, replaced by a large and dreary supermarket, and the dress and hat shops have also disappeared.   A few scruffy shops survive amidst a sea of litter, selling mobile phones and cheap electrical products:  at night and on Sundays they are covered by steel grills coated with graffiti, a sad and depressing sight to those who remember the charming shopping centre of the past.   The decline has spread to the nearby Common, where courting couples once strolled, children had played games and where I had so often picked Harebells for my mother:  today it has become an overgrown thicket of impenetrable gorse and brambles.
<![if !vml]>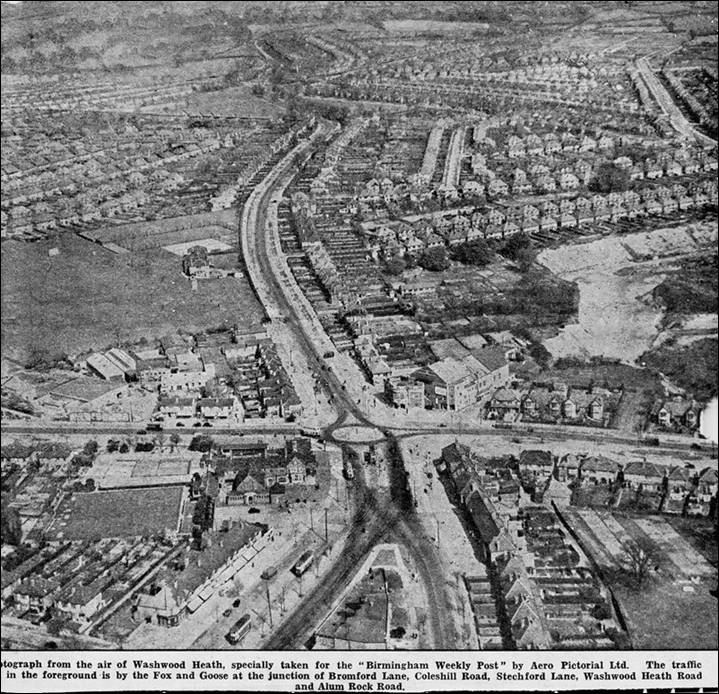 <![endif]>
An aerial view of the Fox and Goose shopping area, about 1949, from the pages of the Birmingham Weekly Post.
In the left foreground is the Washwood Heath Road with trams on their reserved track.   Alum Rock Road merges in the right foreground.   The Beaufort Cinema is just above and right of the traffic island.   The Outer Circle route crosses from left to right and Coleshill Road continues into the distance toward Hodgehill Common, just visible where Coleshill Road bends left into the trees.   The sand quarry is visible right of centre:  it was later filled in and became Stechford Hall Park.   Rural Castle Bromwich stretches across the top of the photograph:  Shard End was still just a planner's dream.
            In the late 1940s our rations were slightly supplemented – unofficially - with the help of Aunty Rene, a cousin of my mother's who, like her, had left South Wales and settled in Warwickshire.   She and her husband ran the village shop at Broadwell, near Southam and about twice a year we visited her, returning laden with contraband packets of Weetabix, bags of sugar, slices of fresh ham and pats of butter.   Broadwell was then a tiny isolated village lying in a hollow, populated mainly by agricultural labourers who lived near the poverty line.   Most houses were down-at-heel and there was an overwhelming and unpleasant smell which offended the nostrils as soon as we got out of the car.   Explained by my mother as "stagnant water", I later discovered the smell was that of the village's cesspits.   On our visits I often played with Margaret, Aunty Rene's granddaughter and my second cousin once removed.   She was a tall, lively girl, only a little younger than me.   But in her twenties she suddenly suffered a brain haemorrhage and died, leaving two tiny children.   Aunty Rene herself died in 1960 and thereafter we had no reason to return to Broadwell.   But in 1990 I was driving nearby and decided to make the detour to see how the village had changed.   In thirty years the down-at-heel cottages had been transformed into "desirable executive commuter homes", each with a BMW or Mercedes outside.   The old shop was no more, but was now the largest and most impressive of all the houses.   I might add that the air was sweet and of the smell there was no evidence.
            Petrol was still rationed well into the 1950s, so outings by car were strictly limited.   On a couple of occasions, when my mother evidently wanted an afternoon to herself, she would pack me off on the Outer Circle 'bus for the two hour circumnavigation of Birmingham, then regarded as a holiday highlight for schoolchildren for whom a special souvenir ticket was issued.   Levels of expectation were then much lower, so the annual school outing would be to local destinations such as Cannon Hill Park, or the Botanical Gardens in Edgbaston.   In 1950 we were taken to Tamworth Castle, 12 miles away, where there was the excitement of bathing in an open-air swimming pool.   As usual I shared a changing cubicle with Derek Silk who mischievously tossed my towel and wet trunks over the door forcing me to slip out quickly, a dripping, naked putto, to recover them, just as Mrs Bunker, our teacher, was strolling by:  I was mortified, but I have the feeling she was more amused than shocked as she only said something like "don't get cold!"    Back at home, I would enjoy outings with my mother.   Sometimes she would take me to the Birmingham Art Gallery, or on the Midland Red 'bus to Dudley Zoo and Castle.   Or, perhaps it would be into Sutton Park for a boat trip at Blackroot, a picnic by the lakeside and a ride on the miniature steam railway.   Those were leisurely days when the sun always shone and life seemed carefree as I listened to my mother's childhood memories of the innocent Edwardian world of her childhood.   Now it is the seemingly gentle world of my own youth to which one looks back with nostalgia.
<![if !vml]>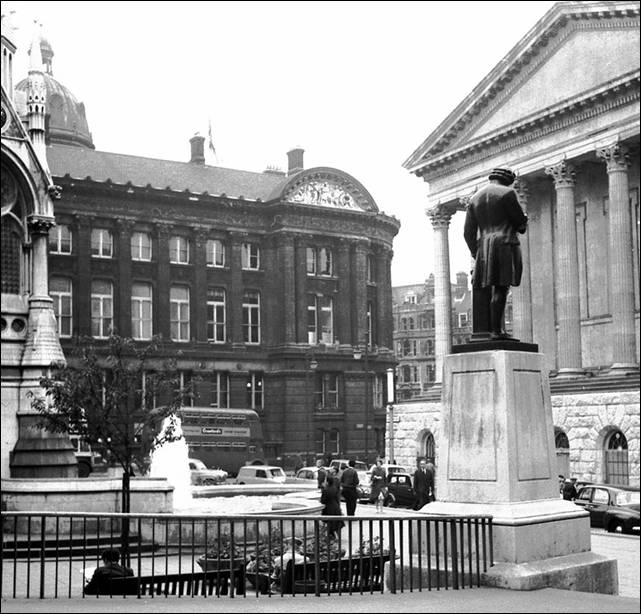 <![endif]>
Chamberlain Place, Birmingham:
A Midland Red 'bus passes the smoke-blackened Council House as it approaches the Town Hall.
The Art Gallery is away to the left.
Most stone buildings were then blackened by the smoke in winter fogs.   As atmospheric pollution diminished in the 1950s the buildings were cleaned, revealing that the stone had a natural light colour - much to the surprise of my generation!
The King passes by
            In the late 1940s and 1950s the British Industries Fair ("BIF") was held each year at Castle Bromwich, only a mile from home.   I was taken there on several occasions, even though the displays of heavy engineering which were the essential feature of the show were hardly riveting stuff, either for me or for my mother.   But there was usually an exhibit featuring a small gauge industrial railway, intended for use in quarries or on building sites and the promoters were generally more than happy to demonstrate its cargo carrying capacity with a load of small boys instead of the more usual tonnage of granite.   In 1947 the BIF was officially opened by H.M. King George VI, and after the ceremony he was taken by motorcade to join the Royal Train at Stechford station, so passing our house.   This was an occasion when we watched from our front garden as the King drove past – I was surprised to find that there were other, lesser, mortals whose front gardens were not thus honoured by His Majesty.   I will add here, although it belongs to a slightly later stage of my life, that in 1956 the Russian leaders, Khrushchev and Bulganin likewise were driven past our house when returning to catch their train to London after visiting the BIF.   This was the first occasion that any Soviet leader had visited the West, and it has been suggested by political commentators that in gaining glimpses of everyday life in Great Britain they began to understand that living conditions in the capitalist West offered benefits lacking under Communist rule.   Anyway, I like to think that in affording Comrade Khrushchev a fleeting glimpse of 165 Stechford Road I made my contribution to world peace.
<![if !vml]>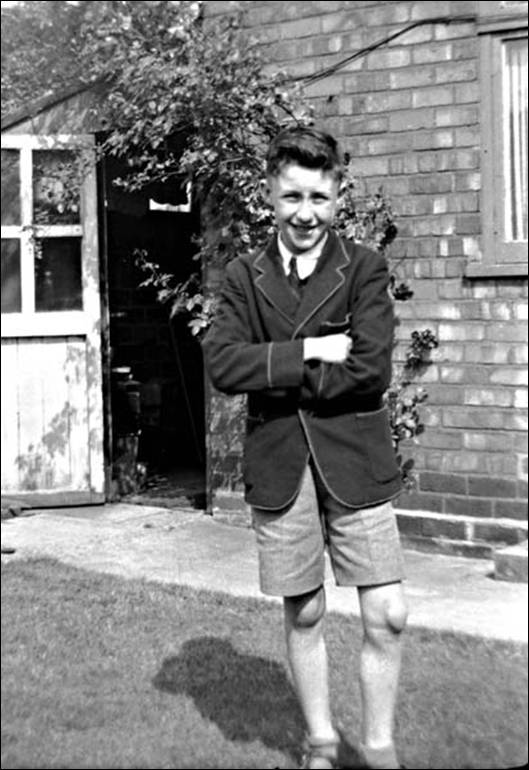 <![endif]>
1950:  10th birthday
For the most part, news in the 1940s passed me by, but from conversations overheard between adults, from wireless news bulletins and occasional newspaper headlines, I gained some vague impression of the drift of events.   In 1945 I knew from the VE celebrations that the end of the war with Germany was a cause for great joy amongst adults and I also picked up that the war with Japan ceased soon afterwards.   But, as that dreary decade gave way to the 1950s I found that wars involving the British continued elsewhere and there was much talk of the risk of nuclear war.   There were newspaper pictures of fighting in Palestine and later the Korean War dominated the headlines, so one overheard talk of the King David Hotel and of Panmunjon.   There was also action against terrorists in Malaya and Kenya which meant that conscription for military service continued for all 18- to 20-year-old boys until 1958, bringing them a real threat of participation in serious fighting.   A visible side effect was that off-duty soldiers in uniform were widely evident on the streets throughout the 1940s and 50s.   In 1945 I had remained in ignorance of the general election which brought Clement Atlee's Labour party to power but I soon noticed some of the cosmetic aspects of Labour's policies and became familiar with such names as Stafford Cripps, Herbert Morrison, Ernest Bevin and Aneurin Bevan.   The latter was especially unpopular with my parents who referred to him as "Urinal Bevan" although the joke was lost on me.   Labour's nationalisation of collieries and railways first manifested itself to me by the closure of the tiny private colliery known as "The Squint" in Gilfach Goch, near my grandparents' home.   Then the familiar chocolate-coloured paint on Great Western Railway carriages gave way for a while to red, and I vividly recall the first occasion when I saw a steam engine lettered "BRITISH RAILWAYS" instead of the familiar "GWR" – much to the disgust of my father.   For a decade after the war, paper shortages resulted in newspapers comprising no more than six pages and there was thus room only for one or two photographs.   But the press could always be relied on for front page pictures of a disaster, so air and rail crashes seemed to loom large. The horrific air crash in March 1950 near Cowbridge in Glamorgan, when 80 rugby football supporters returning from a match in Dublin were killed, occurred only a few miles from my grandparents' home and so acquired a frightening relevance.   Newspaper photographs also depicted the traumatic scenes of rail accidents at Penmaenmawr in 1950 (while we were on holiday in Wales), and at Weedon in 1951, and of the appalling multiple rail collision at Harrow in 1952.   Murder was also always sure of an eye-catching front page spot, and the "acid bath" murderer Haigh sent shivers down my spine in 1949.   The press, then as now, thrived on crime, war and disaster so that a growing child gained a gloomy prospect of life and one is eternally thankful that in subsequent decades things turned out to be considerably better than one feared.   1950 and 1951 also brought the excitement of further elections and I was then old enough to notice them, supporting Mr Churchill's Conservatives with all the blind enthusiasm most people reserve for football teams, and full of delight when in October 1951 he was returned to office, a Prime Minister from the Victorian era who had taken part in a cavalry charge at Omdurman:  a true figure from history surviving into the age of austerity and television.
It now comes as a surprise (even to those of us who were there at the time) to be reminded how innocent and ignorant children in the 1940s and 1950s were about matters relating to sex.   Parents and schools shyly dodged the issue.   Newspapers, magazines and the broadcast media never mentioned the topic.   Nudity was quite unknown, save for discreetly-posed black and white pictures in a few "pin-up" magazines which were not widely available and certainly unknown to me.   Boys and girls could thus grow up in a state of blissful ignorance of the change adolescence would bring:  nothing was said.   My own innocence was signally disturbed by a 19-year-old Italian film actress, Silvana Mangano who appeared in an Italian film, Bitter Rice, released in Great Britain in 1950.   The publicity photographs for the film included one reproduced in our Daily Mail showing Miss Mangano standing in water, wearing tiny shorts and a figure-hugging black sweater.   Never before had I seen anything quite like it:  the picture fascinated me and brought a strange and delightful sensation, new to a ten-year-old.   Thus began five years of change, as I discovered delight in watching a pretty girl pass by.   Boyish curiosity and flamboyance amongst my contemporaries offered patchy enlightenment (as well as worrying fables) but I was approaching fifteen years of age before the whole story fell into place and I realised that these developments had more significance than just to provide amusement for growing boys.   The years passed, and other sex symbols such as Marilyn Monroe and Brigitte Bardot came to tantalise the mind of the adolescent boy, but I shall never forget Silvana Mangano oozing temptation in a rice field.  
<![if !vml]>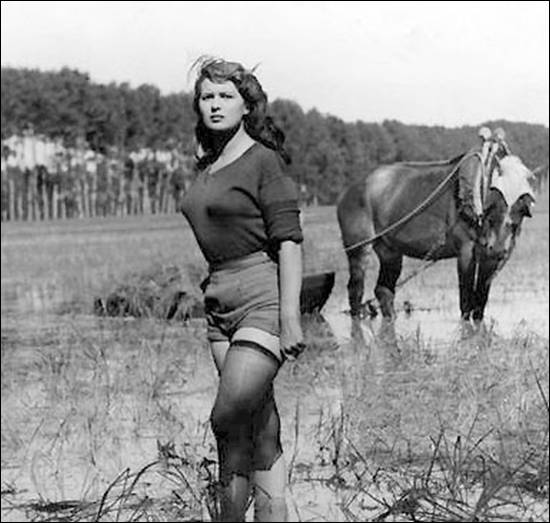 <![endif]>
Silvana Mangano in Bitter Rice, 1949.
She appeared in several more films, of which the best known
 was Death in Venice in 1971.     She died in 1987.
This was the photograph which caught my eye in the Daily Mail in 1950.
            In 1951 I passed the "eleven-plus" examination for King Edward's School, Aston, but was also entered for the separate examination for the 'parent' King Edward's School in Edgbaston.   This was a tougher proposition but I passed and so the lengthy cross-city journey would be part of my life from September.   I would notice a change:  Amberley was a tiny, informal affair, run by a handful of local ladies, of whom Mrs Bunker and J'Ann's mother, Mrs Page, were my usual teachers, aided by Mrs Woodwiss who taught History and Geography on Thursdays and Fridays only.   For a couple of terms, there was a small sensation when they were joined by a man, Mr Luby.  
At Amberley I was a big fish in a very small pool, but at King Edward's I would find myself a very small fish indeed.   The culture shock would be significant.   Instead of the company of a small number of girls and an even smaller number of boys, there would be 700 pupils, many already grown men over six feet tall.   Although girls continued to use their Christian names in secondary education, boys were always known just by their surnames.   To call a fellow pupil by his Christian name would be seen as excessive familiarity, so even when visiting a school friend at home, he, his mother and his sisters would all address me as "Darlaston".   Life at King Edward's would bring testing new subjects including Algebra and Latin to puzzle my mind, and games such as rugger (about which I knew nothing) followed by showers or the muddy communal bath where I would quickly abandon the modesty learnt in my childhood.   But this new existence would soon cease to be strange and would itself become second nature.
            The early 'fifties were marked by three events of national significance:  the Festival of Britain in the summer of 1951, the death of H.M. King George VI in February 1952, and the Coronation of our present Queen in June 1953.   These printed themselves on my memory in different ways.   I remember the Festival firstly for the journey up to London.   Our school party was provided with a special (and rather elderly) saloon carriage attached to the rear of a service train.   This contained an enormous polished table around which we sat in state like some junior Board of Directors.   After looking in wonder at the Festival, including the soaring Skylon and the famed Dome of Discovery, we were taken to the Battersea Fun Fair where we encountered Roland Emmett's miniature Far Tottering and Oystercreek Railway.   I have to confess that this impressed me far more than the Festival itself.   I arrived home very tired and travel-stained and was promptly sick.
            The death of the King was, to a child, quite unexpected, the news reaching my form as we waited to go into the school dining hall.   After the colour and fun of the previous year's festival, the state funeral itself had an overwhelming and numbing sombreness, awe-inspiring even to an eleven-year-old.   Monochromes dominated everything, not just on the tiny black and white television, but in the whole of that cold, grey, austere February world.  
Gaiety returned the next year in time for the Coronation, even if the weather itself famously failed to co-operate on the day.   But with hindsight, I now realise that in watching the splendid spectacle of Coronation Day I was witnessing the finale of the British Empire and of the Pax Britannica;  the world of my parents and of my grandparents;  the world of my own childhood;  the world I had been brought up to believe was Great Britain's gift to all mankind for eternity.
* * * * *
In  Retrospect
The early 1940s was a surprisingly good time in which to be born.   I was too young to be much concerned either by the war or by the privations which continued for some years afterwards.  I saw and experienced a world which still depended on horse power and the steam engine, when country life was little changed from that which had obtained centuries earlier.   But I was born in time to enjoy the increasing material prosperity of the 1950s and early 1960s, while still having the old-fashioned freedom to explore my surroundings free from the fears of crime and violence which affect today's children.   I was in time to benefit from the general availability of a wider and more attractive diet, and also of improved medicine, especially antibiotics and better anaesthetics. 
The full employment of the post-war era meant it was easy to get a well paid and interesting job with security and also with prospects which were duly realised.   Those who were born in later decades were not to find employment so easy, and, for many of the rising generation, the outlook for early retirement and a generous pension is much less promising than for my generation.
            It is easy and commonplace for my generation to think back to our childhood days and to lament the loss of innocence.   We are now immersed in a depressing climate of violence, of aggression and confrontation, of tasteless and sometimes offensive talk, evident in everyday life, in the press and especially on television.   There are manifold petty restrictions and the absurdity of "political correctness" which limit once cherished freedoms.    But against that one must set the improved living standards, especially health care, and such material benefits as cars and computers, refrigerators and televisions, central heating and air conditioning;  plus the travel and holiday opportunities we now accept as commonplace.  
            I may have enjoyed myself in the 1940s and 1950s, but I would not go back:  there is so much in life to enjoy today!
                                                                                                  Robert Darlaston,  November 2008
Some minor alterations, April 2018
robertdarlaston@btinternet . com
(For anti-spam purposes, this is not a link:  please retype direct into the address box omitting spaces)
Links:
You might also be interested in the following further pages, all with many photographs:
Family Photos.htm (A gallery of photos of family life from the 1940s to date)
FamilyTrees.htm (Family history, including tentative links back to 1373, in the reign of King Edward III !)
Amberley.htm  (More memories and memorabilia of life at Amberley prep School, 1945-51)
KingEdwardsSchool.htm  (Life at King Edward's School, Birmingham, in the 1950s.)
Birmingham Pictorial.htm  (Photographs of Birmingham in the first decade of the 21st century)
If other pages are not listed to the left, our Home Page can be accessed here:  www.robertdarlaston.co.uk
POST  SCRIPT
The pages above describe my life until the early 1950s.   The rest of that decade is described separately in my memories of life at King Edward's School, and the subsequent years of office life are mentioned in my separate account of my time in banking.   But there is more to the story:
<![if !vml]>

<![endif]>
<![if !vml]>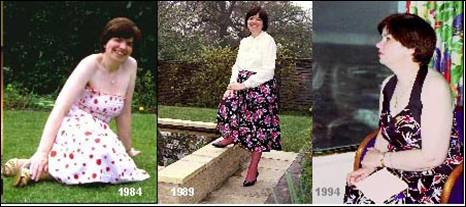 <![endif]><![if !vml]>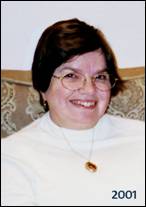 <![endif]><![if !vml]>
<![endif]>
Barbara through the years
          Barbara came into my life on Monday, 25th January 1965, when she joined the staff where I worked in Colmore Row, Birmingham.   Two years later we started going out together, and on 9th March 1968 we were engaged.   We married on 11th June 1969 at Solihull Parish Church.   Our first home was in Jordan Road, Four Oaks, Sutton Coldfield where we lived for just over three years, before moving to Suffolk.   There, we lived in Thurston, a village near Bury St Edmunds, whence I commuted by train to work in Ipswich.   Our spell in Suffolk was quite brief, and after only eighteen months I began working in Cheshire and we soon moved to live within sight of the famous Jodrell Bank Radio Telescope.   The arrival of our two daughters 1976 and 1981 completed the family, and we lived happily ever after!
          How quickly those years have passed!   One looks back on a kind of internal photograph album as different events spring to mind:  our earliest trips to concerts in Birmingham Town Hall, to films at the Scala Cinema and to some strange plays at Birmingham Repertory Theatre – a melange of Beethoven, Robert Bolt, Shakespeare and Joe Orton served up respectively by Sir Adrian Boult, Paul Schofield, Richard Chamberlain and Mike Gambon.   Then there was our membership of the Handsworth Wood Gramophone Society, our two holidays in Cornwall (the first when we were engaged, daringly unchaperoned – but boringly proper!), visits to the family in South Wales and our first trip abroad, to Switzerland, travelling out on the Rheingold Express up the Rhine Valley, trips up the Jungfrau, across to Montreux and down into Northern Italy, eventually returning via Paris and the Night Ferry to Victoria.  
          Our stay in Suffolk was brief, little more than an extended holiday in retrospect, and then it was on to Cheshire which is home to this day.   The village and rural environment are perfect - except for a climatic inclination towards excessive dampness!   Drives into North Wales are easy, old haunts in Birmingham are not too far away and Manchester is easily accessible by train.   Retirement in 1997 gave freedom to take advantage of so many amenities and delights, not the least being a succession of courses on aspects of the arts, once held at Manchester University and still available at Wilmslow Guild.  We can indulge ourselves with country walks and pub lunches, or with concerts, ballet and theatre as the mood takes us!   There has been overseas travel too – the easy way, with cruises where one unpacks once only, at Southampton, and then one is magically transported to places such as St Petersburg, Istanbul, the Fjords, Lisbon, Rome, Copenhagen, the Illyrian Coast, Venice, New York, Quebec, – the list is endless.   Much of our time is happily shared with friends and with our daughters and their husbands.   A splendid existence:  long may it continue!
<![if !vml]>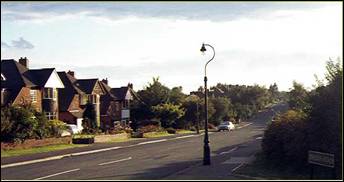 <![endif]>   <![if !vml]>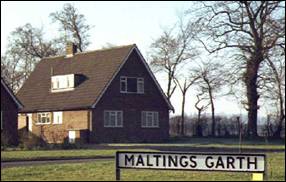 <![endif]>  
 <![if !vml]>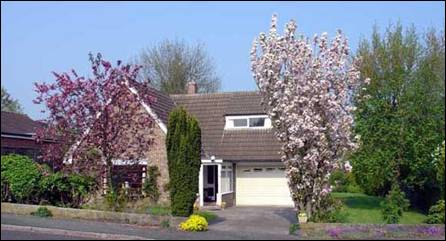 <![endif]>
Home, Sweet Home!  Our houses:
Four Oaks (2nd house from left): June 1972–February 1973;    Thurston, Suffolk: February 1973–May 1974;     Cheshire: from May 1974
If other pages are not listed to the left, our Home Page can be accessed here:  www.robertdarlaston.co.uk
E-mail address:  robertdarlaston@btinternet . com
(For anti-spam purposes, this is not a link:  please retype direct into the address box omitting spaces)