This page is: Amberley Prep School / Amberley Preparatory School
Added 20th March 2011, latest addition on 3rd Sept 2017.
Amberley  Preparatory  School
A  Scrapbook
=  =  =  =  =
Sudden in a shaft of sunlight
There rises the hidden laughter
Of children in the foliage
                              T.S. Eliot:  Burnt Norton
<![if !vml]>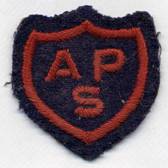 <![endif]>
School Cap badge (1945)
  <![if !vml]>

<![endif]>
Detail of exercise book cover, 1951
A Selection of Memories and Memorabilia
from 1945 - 1951
Plus additions from the later 1950s
compiled by
Robert Darlaston
with generous assistance from those listed below
HONOURS BOARD
My thanks to the following of my school contemporaries with whom I have been in contact.
Several of them reminded me of details of school life which I have included in the narrative below
Judith Burdett (now Mrs Wade) in Somerset  (Headmistress)
Gloria Dale (now Mrs Norman) in Worcestershire (Ceramics Designer)
Ruth Hickin (now Mrs Martin) in Yorkshire
David Hickinbottom in London (Pharmacist)
Barbara Irving (now Mrs Thomas) in Sydney, Australia (Secretary)
Hilary Marsden (now Mrs Thomas) near Stratford-upon-Avon (School Secretary)
J'Ann Page (now Mrs Hart) in Somerset  (School Teacher)
Norma Page (now Mrs Cooper) in Sutton Coldfield (School Teacher)
David Price in Sheffield  (Dental Consultant)
Myrtle Pridmore (now Mrs Sunley) in Co Durham (Radiographer)
Derek Silk in Warwickshire  (Chartered Accountant)
David Yates in Devon  (Quantity Surveyor)
Thanks also to Linda Holland who was at Amberley 1953-59
Elaine Hartley (now Mrs Hamilton, in South Africa) at Amberley 1950-55
Bill Jones (New Hampshire, USA) who left in 1944
George Ball (West Sussex) who left in 1944
Andrew Lichnowski who left in 1958
Allan Larner who left in 1958
and especially Valerie Canning (daughter of Mrs E Bunker who was for many years a teacher at Amberley)
But mostly the recollections are mine and any errors are mine alone,
Robert Darlaston in Cheshire (Financial Services Manager)
WANTED
photographs of Amberley;  its buildings, staff and pupils!
If any readers of this page have photographs or memories of Amberley (especially
in the late 1940s/early 1950s) which they are happy to share, please get in touch with me at
robertdarlaston[at]btinternet[dot]com (replacing [at] and [dot] with the appropriate symbols).
Please also let me know if you spot any errors or have problems downloading this web page.
Thank you!
<![if !vml]>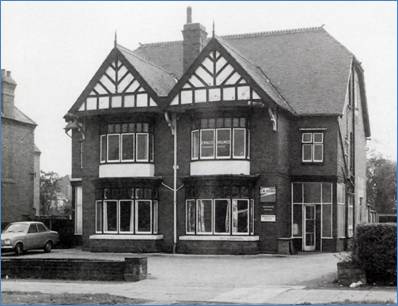 <![endif]>
70 (left) and 68 (right) Coleshill Road, photographed in the 1970s
The school was located in number 70 until Christmas 1946
Photo:  Birmingham Reference Library
MBERLEY PREPARATORY SCHOOL was run by Miss Ainsworth and Miss Major at 70 Coleshill Road, Ward End, Birmingham until the school moved at the beginning of 1947.   The building was a Victorian semi-detached property which still survives in 2011.   After the school's departure the building became The Amberley Hotel for some years before being converted to offices (being for a time a Ministry of Transport Driving Test Centre).    Miss Major died about 1945-46.    Soon afterwards the school was acquired by Miss Inshaw and a larger property purchased, Ward End House, Washwood Heath Road, (opposite Ward End Park) to which the school moved early in 1947.   The move was not without problems, as squatters had to be evicted from Ward End House and the move also coincided with one of the worst winters of the century.   Ward End House was a large Victorian house in its own grounds.   The property is understood to have been requisitioned during the war for use by the Auxiliary Fire Service who erected a prefabricated building in the grounds which was to become classroom accommodation for the two top forms (9 and 10 year olds).   The school remained at Ward End House until its complete closure in the summer of 1959.
Historical Note
Ward End House, occupied by Amberley from 1947 to 1959, appears to have been built in the 1890s.    Prior to that, the name was applied to the building now known as Ward End Park House on the opposite side of Washwood Heath Road, which, with Ward End Park, is now administered by Birmingham Corporation.    That house (i.e., the current Ward End Park House) dates from the 18th century and was for long the home of the Marshall family of bankers.   In the 1880s the house was acquired by Frederick Gwyther, an electro-plate manufacturer who died soon afterwards in 1891.   Gwyther's widow sold the house and land to Birmingham Corporation in 1903.    Meanwhile Mrs Gwyther remarried and had built a new house across Washwood Heath Road which was initially names Hilltop House but which she confusingly re-named Ward End House.   This is the property which was to become Amberley's home for twelve years.
=  =  =  =  = 
School Prospectuses from 1946 and 1949
 (kindly supplied by David Price)
<![if !vml]>
<![endif]> <![if !vml]>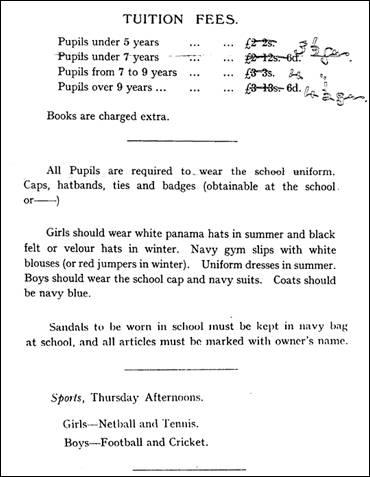 <![endif]>
 <![if !vml]>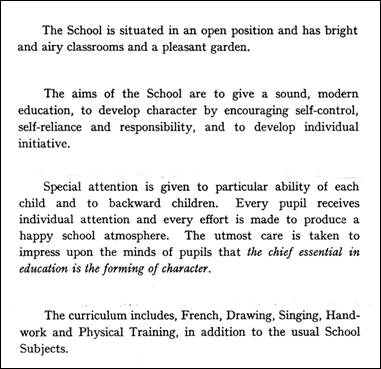 <![endif]> 
The School Prospectus, 1946:  excerpts
RHD comments:   I don't remember sport on Thursday afternoons:  and were there ever enough boys to muster one football team, much less two?
<![if !vml]>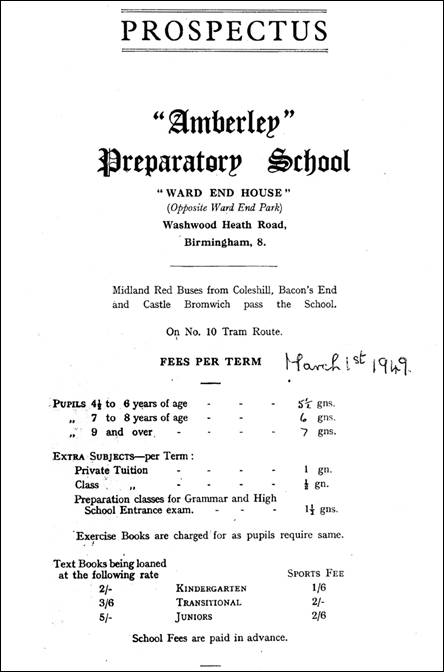 <![endif]>                          <![if !vml]>

<![endif]> School Tie,  ca 1949
<![if !vml]>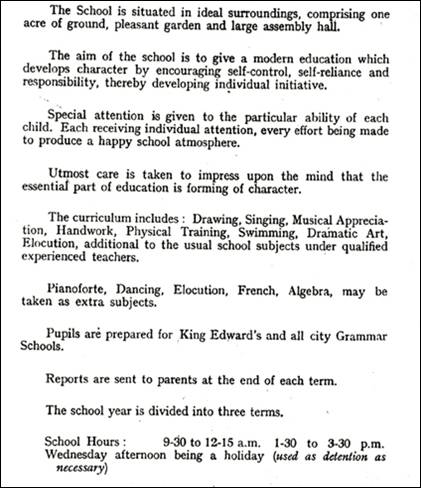 <![endif]><![if !vml]>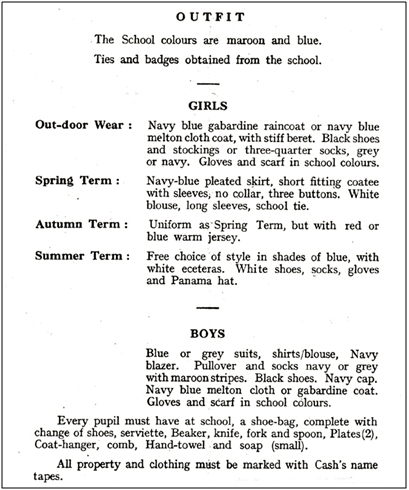 <![endif]>
School Prospectus, 1949 (excerpts)
Notice how dramatically fees were increasing during the post-war inflation, the basic price rising from two guineas (= £2.05) to 5½ guineas (= £5.75) in about three years
Appropriately, the colours of the tie (above) seem reminiscent of those of nearby Aston Villa Football Club!
By the 1950s the blazer was a similar colour to the tie:  maroon with light blue piping around the edges and pockets,
and a maroon badge with light blue gothic lettering thus: 
A  P
S
<![if !vml]>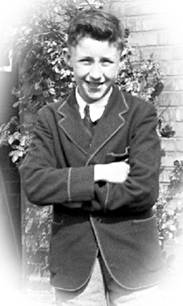 <![endif]>
Robert in Amberley blazer, 1950
Here is Barbara Irving's description of the girls' uniform at Amberley about 1950:
The girls' winter school uniform included a long sleeved blouse with a Peter Pan collar.  Worn over that was a navy bolero, buttoned at the neck - the APS badge was on the right side.   I also had a striped jumper - probably claret and blue - I think.   I remember girls could wear lisle stockings in winter or socks, with black lace-up shoes.   My brother had the navy school blazer and short grey trousers, with knee length grey socks and black lace-up shoes.
<![if !vml]>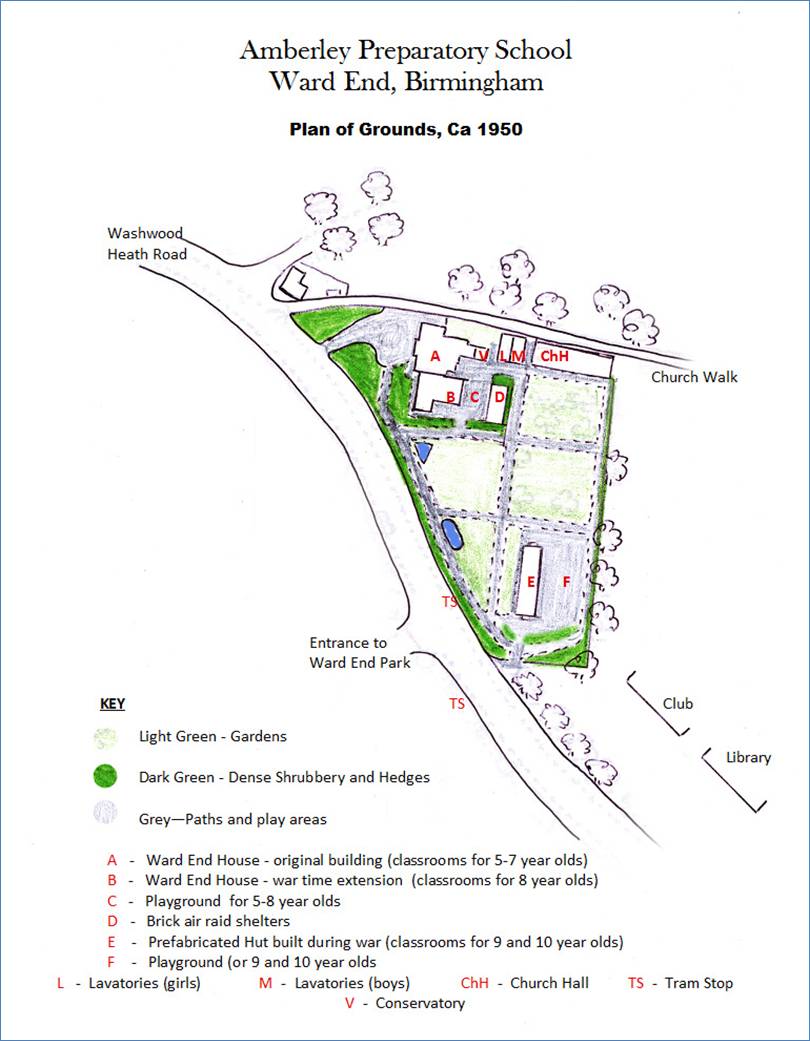 <![endif]>
A plan of Amberley's grounds as at 1950.
This is based upon a 1949 O.S. 1:1250 map (buildings only) and an 1888 plan (gardens), adapted from memory!
Advice of errors or omissions will be appreciated.
Here are some memories of life at Amberley, together with a few personal souvenirs.
This text has been adapted and enlarged from my web page containing childhood memories of the 1940s  (available at MemoryLane. ):
            I started school in May 1945, shortly before my fifth birthday.   My parents chose to send me to Amberley Preparatory School, a small private school then situated on Coleshill Road and about a quarter of a mile from home.   I have few real memories of this period:  I recall only a classroom upstairs and (very important!) two small lavatories nearby.    I also remember playing in the garden and falling on a boot scraper by the door which resulted in profuse tears and a small dent in my knee, still visible over 65 years later!   Two young contemporaries at Amberley whilst at Coleshill Road and who later came to public notice were Jill Godsall and Barry Jackson.   Both lived near us in Stechford Road, but transferred to other schools when Amberley moved to Ward End.   Jill completed her education in Italy and later became a pianist who broadcast frequently in recitals with the BBC.   Barry Jackson followed in the footsteps of his famous namesake to become an actor, appearing frequently on television in series such as Midsomer Murders and A Touch of Frost:  He died in December 2013.  
            A happy day which still remains dimly in mind was the first school sports day which I attended in the summer of 1945.   This was a jolly occasion (the jollity doubtless helped, so far as the adults were concerned, by the recent end of the war) held at Tipperary Stables, near Water Orton, by courtesy of Dr O'Brien, a local G.P. whose son attended the school.   I ran in a race and came last, but nonetheless won a prize of a story book.   This was the first of many personal performances of dazzling ineptitude on the sports field during the course of my school career.
I seemed to get on fairly well at Amberley, but after a few months had some sort of minor breakdown (which I do not remember, and which was never subsequently discussed at home).   Consequently, for almost a year I only went to school in the mornings when serious lessons were held, sorry to miss the more light-hearted activities which took place in the afternoon.   I had been attending school for scarcely a year when I was required to take part in an event which would not have been out of place in a novel by Dickens.   The school was a small affair, run by two unmarried ladies, Miss Major and Miss Ainsworth.   Sadly, quite soon after my arrival, Miss Major was diagnosed as suffering from a terminal illness.   At her request, as a farewell gesture, the entire school (about fifty children) had to process slowly through her bedroom on the top floor.   As children we accepted this strange ritual as just another everyday event, but one doubts that any similar event would be thought appropriate in the 21st century.
            During the hard winter of 1946-7 the school moved to Ward End House, just over a mile away.   This change necessitated a journey to school by tram each day.   I was fascinated by trams and so the journey was no hardship.   In fact, with friends, I would keenly note down the number of each tram and very soon had gathered details of all those operating on the route.   Most were totally enclosed trams built in 1928, but at peak periods a few older vehicles with open balconies on the upper deck appeared and there was always a rush of small children anxious to secure a seat in the open air, regardless of the weather!   For the journey to school we gathered at the terminus of the number 10 route, opposite the Fox and Goose, and, supervised by a teacher, we would all join a 'special' tram, which was, in fact, one returning to the depot at the end of the morning rush hour.  
Ward End House offered larger premises than those at Coleshill Road, permitting a modest expansion in pupil numbers.  The school buildings were surrounded by extensive grounds with shrubberies and gravel paths, ideal for games of hide-and-seek.   The gardens included a couple of small ornamental ponds:  I am not aware that the school ever lost any pupils in a pool, but one cannot imagine regulations permitting such a feature at a junior school in the 21st century!    Five to eight year olds were taught in the imposing Victorian house but nine and ten year olds were housed in a prefabricated hut made from asbestos panels, built in the grounds for the Auxiliary Fire Service during the war.   The two classes within the hut were separated only by a pair of large hessian curtains, drawn back at play-time and for lunch.   A large coke boiler provided the communal heat:  a low railing prevented us from coming into contact with its scalding sides and served as a clothes horse for damp coats on wet days, thus ensuring that the hut was filled with the objectionable smell of damp wool mingled with coke fumes.   In really cold winter weather it was not unusual for teachers and pupils to keep on outdoor coats for additional warmth – such were the trials of life in the 1940s!  
There were two playgrounds:  one near the house was used by the younger pupils, while older children played on a larger area adjacent to the hut.   A curious feature of the junior playground was the large brick built air raid shelter which was a survivor from the wartime use of the site.   The shelter had a bare earth floor and naturally lacked any windows.   There was a brick built screen across the entrance, ensuring total darkness within.   Playing in the rambling and overgrown gardens was marvellous for youngsters:  laurels and lilac, pebble paths and muddy ground were all part of the Amberley experience!   A favourite past-time at break was 'tig':  a variation was 'tig-off-ground' and I can recall clinging to the window frame of the 'hut' with my feet on the narrow sloping concrete base, a precarious position to maintain for more than a few seconds!
<![if !vml]>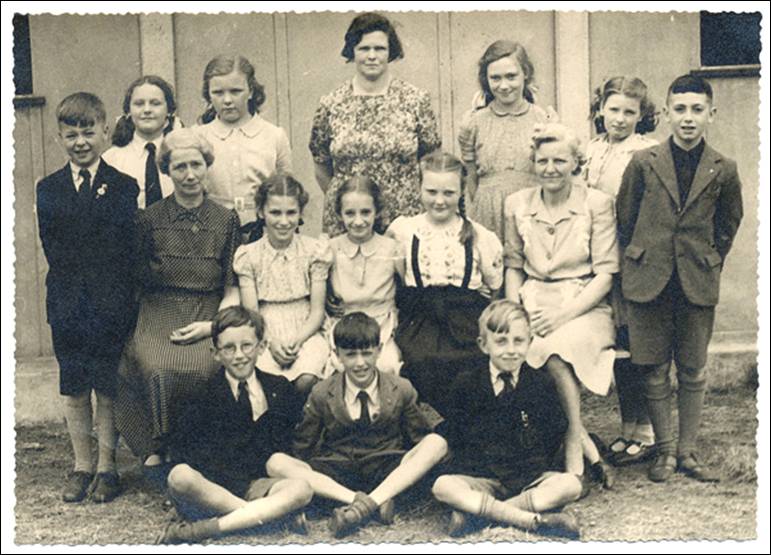 <![endif]> 
A school group, believed to have been photographed in the summer of 1947, a few months after the school's move from Coleshill Road to Ward End.  
As most pupils are not wearing uniform it is thought the occasion may have been an end-of-term party for the Higher Junior form who would have been about to leave to go to grammar schools.   Mrs Bunker stands in the centre of the back row.   Miss Ainsworth (without her customary glasses) is seated towards the left and Miss Inshaw towards the right of the picture.
Information concerning the pupils would be welcome, but it is understood that one of the girls at the left of the back row is Janet Helliwell and near the middle of the group is Edna Thomas.  The girl at the right of the back row is Fay Allely.   The boys at the extreme left and right are thought to be Kenneth and Barry.   The girl next to Miss Ainsworth is thought to be Gillian Milward.   The group is situated at the side of "The Hut" and shows the construction of asbestos panels between concrete posts, mounted on a concrete base.  
This photograph is reproduced by kind permission of Mrs Bunker's daughter Valerie, who some of us remember helping her mother with occasional school activities.   If anyone has any further information about the pupils in the photo, please let me know at robertdarlaston[at]btopenworld.com (inserting @ sign as customary).
The journey to and from school became part of everyday routine, but dense fog aggravated by coal smoke from homes and factories was a winter evil in the 1940s and 1950s when visibility would drop to two or three yards.   Traffic would be paralysed and it would even be difficult to find one's way on foot.   We would be led from school in a crocodile on foot, although occasionally a tram would run through the streets, sometimes preceded by a man on foot carrying a flare to illuminate the way.   By contrast, in summer one would hang happily out of the huge drop-down windows of the tram with the wind blowing through one's hair.    Some of our contemporaries did not use the tram, but travelled on the Midland Red 'bus to and from their homes in then-rural villages of Warwickshire, including Castle Bromwich, Bacon's End and Coleshill.
School life in those days generally lacked excitement;  mile-stones included the early, tentative, steps in writing and the daily recitation of multiplication tables.  Writing at first involved using chalk on miniature slates with a wooden border, but later one graduated to dip-in pens with which to practice "pot-hooks".   Reading found one exploring Nathaniel Hawthorne's Tanglewood Tales, and such old world delights as Talbot Baines Reed's Adventures of a Three Guinea Watch.   The daily routine began at 9.30 with a short assembly comprising The Lord's Prayer, a hymn and the Collect for Grace (beginning "O Lord, our heavenly Father, Almighty and everlasting God, who has safely brought us to the beginning of this day, ... ").   Hymns were engraved in our minds at the assemblies:  on the Wednesday nearest our birthdays we were allowed to choose the hymn.   The girls usually went for "Away in a Manger", "There is a green hill far away" (why was it without a city wall? – very puzzling when one is eight or nine), or "There's a friend for little children above the bright blue sky";  but the boys mostly favoured "Onward Christian Soldiers" or, perhaps, "Ride on! Ride on in majesty!"   Such hymns occurred so frequently that even today I can remember that in "Hymns Ancient and Modern" "There is a green hill" was number 332 and "Ride on" was number 99!
            In the afternoons there were also singing sessions when Mrs Bunker introduced us to well-known traditional songs and melodies.   One remembers so well singing Come, gladsome Spring (to the tune of Handel's Ombra mai fu, from Serse), The Yeomen of England by Edward German, Jerusalem by Parry, and The British Grenadiers ("Some talk of Alexander, and some of Hercules, Of Hector and Lysander and such great names as these ...").   Another Handel number had words about the blacksmith:  "brawny and burly, by the anvil he stands" and a popular choice as Easter approached was "All in the April Evening" then so often heard on the wireless in a recording by the Glasgow Orpheus Choir.  
After the morning assembly there would be recitation of tables:  not just multiplication, but also weights (ounces, pounds, stones, quarters, and hundredweights) and measures including inches, feet, yards, chains, furlongs and miles.   Then the lessons would commence;  mostly arithmetic and aspects of English, but also (on Thursdays and Fridays) History and Geography.   Art merged with nature study as we produced seasonal drawings of catkins, sticky buds or bluebells.   There were regular sessions when we listened to the BBC Schools Programmes, including the memorable How Things Began, when a "BBC Reporter" would go back into the past.   Wednesday was a half-day and before setting off home a few of us would go to the nearby Public Library where Arthur Ransome and M. Pardoe's 'Bunkle' books were my favourite choices.   Enid Blyton was also a popular author, though by the time I was about 8 or 9 I had moved away from her books.   Other books in demand included Capt W.E. Johns's Biggles novels for the boys while the girls read tales by Angela Brazil.   During this time I managed to keep near the top of the form in most subjects and usually received quite good end of term reports, even if they often described me as "fidgety".   The most critical observation (at ten years of age) was that "he should learn not to make sotto voce remarks":  whatever had I been overheard saying about one of the teachers?   (Narrative continues below)
<![if !vml]>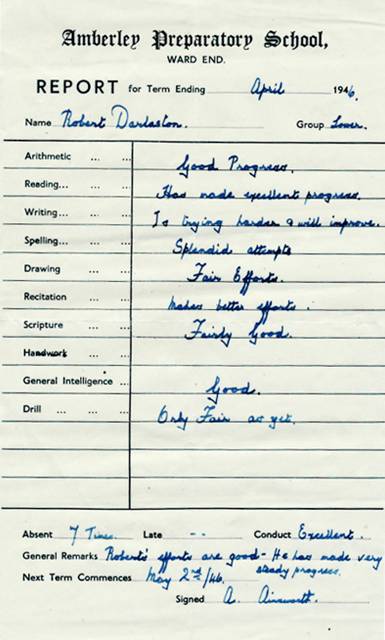 <![endif]>  <![if !vml]>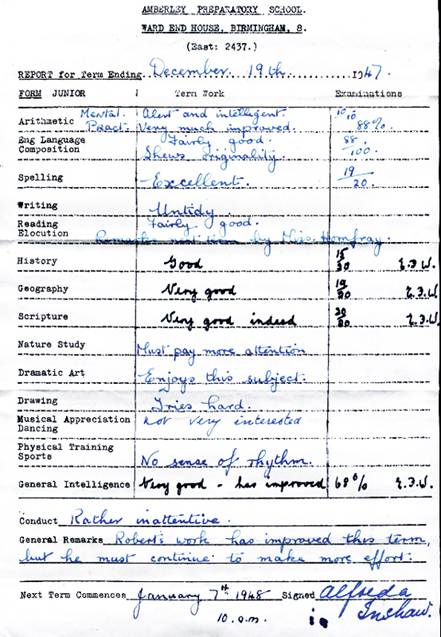 <![endif]>
School Reports:
"Splendid attempts" at 'Spelling' suggests some imaginative and creative work, but it's worrying to see that at age 5 my 'Drill' was "Only Fair as yet".
One wonders if in 1947 "No sense of rhythm" would have been even more appropriate against 'Musical Appreciation and Dancing', while "Not very interested" might have been just as apt against 'Physical Training'!
<![if !vml]>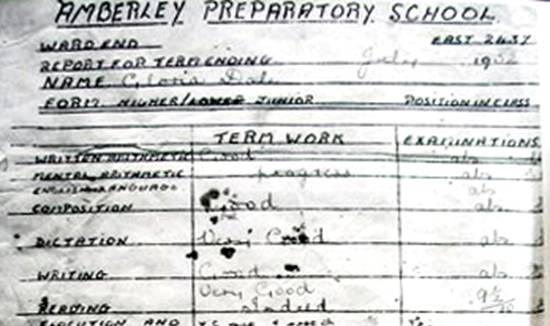 <![endif]>
Part of Gloria Dale's report for Easter 1952:
it seems the school was economising on stationery and pupils
were required to rule up their own Report forms!
This tranquil existence suffered one brief interruption when a girl in the class complained that another girl, called Yvonne, had stolen her fountain pen.   The Principal, Miss Inshaw, made enquiries and the pen was duly found secreted in the top of one of Yvonne's black woollen stockings.  The poor silly girl was expelled, causing a frisson of excitement through the class.   I had not previously encountered the world of theft and expulsion, nor come to that, the world of stocking-tops: sensations all, to an eight-year-old.
          My form at school was quite small, fewer than twenty pupils, of whom most were girls.   One young friend was J'Ann Page, a lively girl who lived close to us in Stechford Road.   We often enjoyed a threepenny ice cream as we walked home together from the tram on the journey back from school.   In the years 1949-51 two boys in particular were my firm friends:  Derek Silk and David Yates.   We tried to pass ourselves off as a "gang", modelled partly on Richmal Crompton's Just William stories and partly on Jennings, with a dash of Dick Barton – Special Agent, courtesy of the BBC Light Programme's serial at 6.45 each evening.   We wore our fashionable "snake" belts, and affected crisp nicknames, based on our surnames in the best boys' school manner:  Silko, Yatesy, and Darly.  Of our daring exploits but little remains in memory.    My most serious misdemeanour arose when I was "dared" to knock on someone's door near the school and run away:  I was caught and Miss Inshaw duly summoned me to the conservatory where she administered a stroke with a ruler on the palm of my hand, almost certainly the only time in my life that I suffered such physical punishment.   Truth to tell, the public humiliation was the worst aspect of the incident.   We got into the local sand quarry one weekend when it was closed, climbing through a fence near a sign saying "Trespassers will be prosecuted".   But I was not cut out for a life of crime and for weeks thereafter I was convinced that every knock at the door would reveal the house surrounded by Scotland Yard men come to arrest me for trespassing.   In any case, with my bouncing mop of unruly curls, big brown eyes and (in summer) white ankle socks I never cut a very macho image.   Another boy in the class was Alan Smith.   But sadly he suffered from Multiple Sclerosis so he wore surgical boots and walked with difficulty. He was unable to join in most of our games.  His life was to be short and sad, but to the rest of us his condition was a fact of life and we selfishly continued with our games while he looked on.   Only later did one begin to wonder what his thoughts must have been.
            Sport scarcely featured in the school curriculum and, although a few boys liked to kick a ball about, football was not the obsessive interest it became in later decades.   As an only child I grew up happily uninterested in games and other competitive activities.   P.T. exercises at school took place out of doors in fine weather only:  from memory this seemed to comprise mainly 'running on the spot' and jumping – but I suppose it used up some of our irrepressible energy!   There were also swimming lessons once each week, involving the thrill of a tram ride to Woodcock Street baths.   By the time one had changed – always two boys to a cubicle! – there was time for only about twenty minutes in the water.   But afterwards came the best bit, a cup of hot chocolate and a tiny slice of swiss roll in the café.    (Continues below)
<![if !vml]>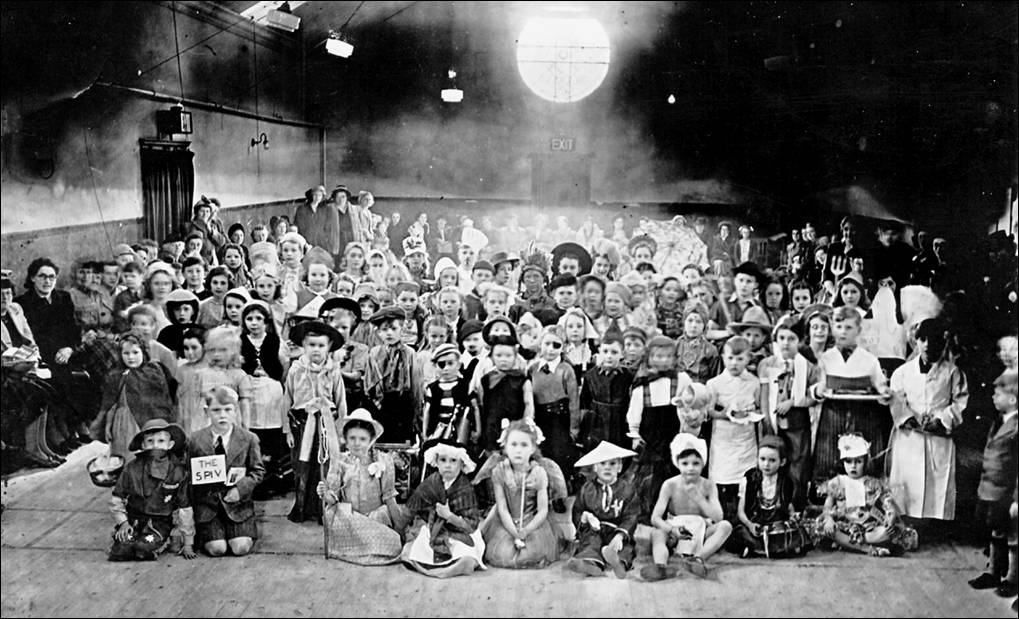 <![endif]> 
Amberley Preparatory School:  Fancy Dress competition, probably Christmas 1948.  
The location is thought to be the Church Hall of St Philip and St James by Hodgehill Common (though it might be the Victory Hall, Castle Bromwich).
 (Note David Price as "The Spiv" – a ubiquitous post-war figure whose title was said to derive from VIPs, spelt backwards!)
    (A photograph of a later Fancy Dress Party appears below)
<![if !vml]>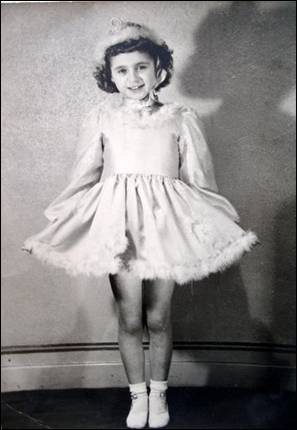 <![endif]>  <![if !vml]>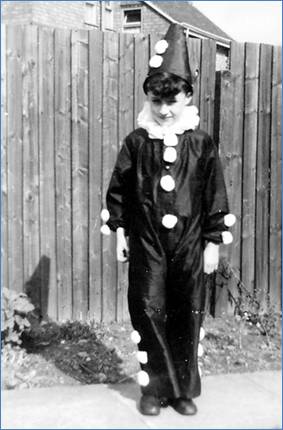 <![endif]>

More Fancy Dress, circa 1948:

Left:  Gloria Dale, as a Powder Puff

Right:  Robert Darlaston, as a reluctant Pierrot

            At ten years of age I suffered the first pangs of interest in the opposite sex.   For a while I took to eating my sandwiches with one of the girls and having earnest discussions as we wandered around the school grounds at break and lunchtime.   I endured some taunting from "Silko" and "Yatesy" who clearly did not understand affairs of the heart.   Then, at the end of term, she broke the news that she would be leaving so the school "gang" membership went back up to three.   Although many of us took sandwiches for our lunch, school dinners were also available.   They were brought ready-cooked by van and were served from metal containers:  the smell of cabbage stays all too vividly in memory!   Meanwhile, childish fun went on as before.   Birthday parties at home continued until I was eleven.   Organised by my mother, there were games, ways including "pass the parcel", then there was tea (actually Corona "pop" and birthday cake), and then some wild running about in the garden until it was time to finish.   Parties were always mixed, but activities usually seemed to divide into boys v girls.   The girls always wore party frocks and had ribbons in their hair, looking as pretty as a picture:

<![if !vml]>

<![endif]><![if !mso]>

<![endif]> <![if !mso]>

<![endif]><![if !mso & !vml]> <![endif]><![if !vml]>

<![endif]><![if !vml]>

<![endif]><![if !mso]>

<![endif]>

David and Robert, at Moor Street station, Birmingham on 8th August 2017, together

for the first time in 66 years!

<![if !mso]>

<![endif]><![if !mso & !vml]> <![endif]><![if !vml]>

<![endif]><![if !vml]>

<![endif]><![if !mso]>

<![endif]> <![if !mso]>

<![endif]><![if !mso & !vml]> <![endif]><![if !vml]>

<![endif]><![if !vml]>

<![endif]><![if !mso]>

<![endif]>

<![if !vml]>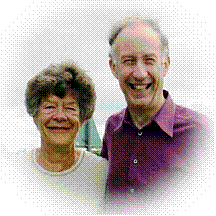 <![endif]>

<![if !mso]>

<![endif]><![if !mso & !vml]> <![endif]><![if !vml]>

<![endif]><![if !vml]>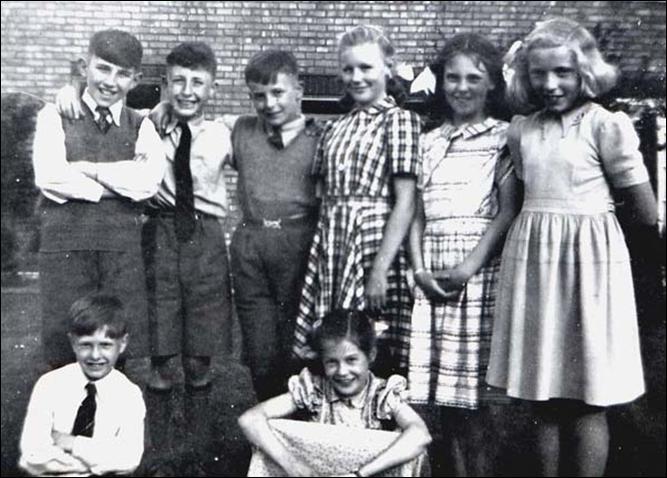 <![endif]><![if !vml]>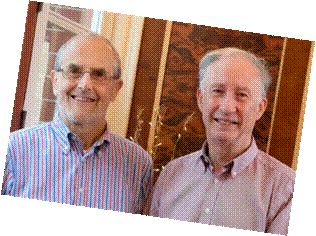 <![endif]>

Birthday party 1951:    back left: Derek Silk, RHD, David Yates,("the gang")

back right: Norma Page, Stella Richardson, Myrtle Pridmore

front: Keith Hickinbottom, J'Ann Page

(In 2010 – 2011 I have been able to make contact with all the above, except Stella Richardson and Keith Hickinbottom:

I wonder where they are now!   It would be good to know.)

For holidays or days out, levels of expectation were much lower in those days, so the annual school outing would be to local destinations such as Cannon Hill Park, or the Botanical Gardens in Edgbaston.   In 1950 we were taken to Tamworth Castle, 12 miles away, where there was the excitement of bathing in an open-air swimming pool.   As usual I shared a changing cubicle with Derek Silk who mischievously tossed my towel and wet trunks over the door forcing me to slip out quickly, a dripping, naked putto, to recover them, just as Mrs Bunker, our teacher, was strolling by:  I was mortified, but she laughed as she ticked me off!   But in 1951 the school outing was altogether more sophisticated:  a trip to the Festival of Britain in London, a city which few of us had ever visited.    The journey from Snow Hill station was memorable as our school party was provided with a special (and rather elderly) saloon carriage attached to the rear of a service train.   This contained an enormous polished table around which we sat in state like some junior Board of Directors.   On arrival in Paddington we were divided into small groups led by a parent:  I was attached to a small group with a boy named Robert Wall, supervised by his mother.   He was not a precise contemporary of mine, so I hope I did not seem too put out and that I remembered to thank her for dragging me around London!    We travelled by the Bakerloo Line to the South Bank where we looked in wonder at exhibits including the soaring Skylon and the famed Dome of Discovery.   I also remember being impressed by a huge sculpture comprising a series of receptacles emptying water into one another, and, of course, by the display of railway locomotives including a couple built in Britain for our overseas colonies.   From the South Bank Mrs Wall took us to the Battersea Fun Fair where we encountered Roland Emmett's miniature Far Tottering and Oystercreek Railway.   I have to confess that this impressed me far more than the Festival itself.   Then it was a 'bus to Sloane Square underground (still in a bad state following wartime air raid damage) for the Inner Circle to Paddington and the train back to Birmingham Snow Hill.   I arrived home very tired and travel-stained and was promptly sick.   [narrative continues below]

Festival Memories:

<![if !vml]>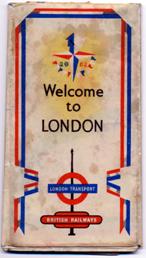 <![endif]>  <![if !vml]>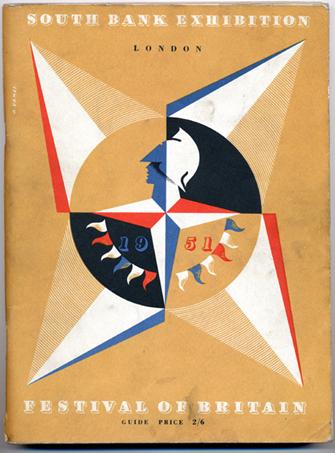 <![endif]>
London Transport brochure and the official Festival Guide
   <![if !vml]>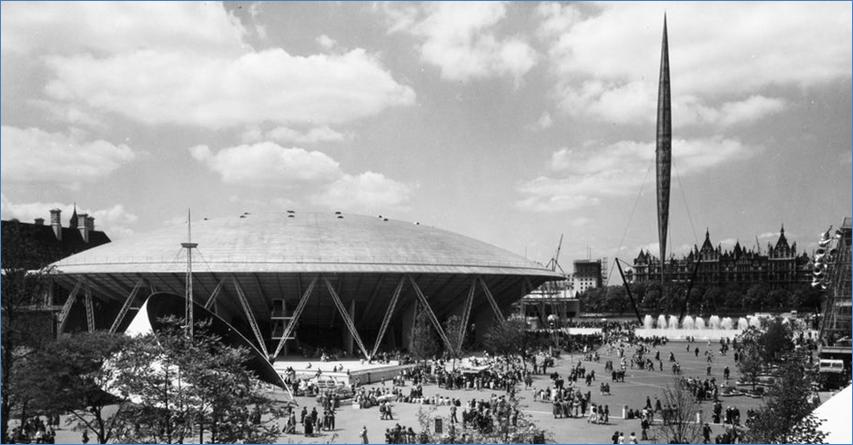 <![endif]> 
Official photo of the South Bank site, showing the Dome of Discovery and the Skylon, 1951
<![if !vml]>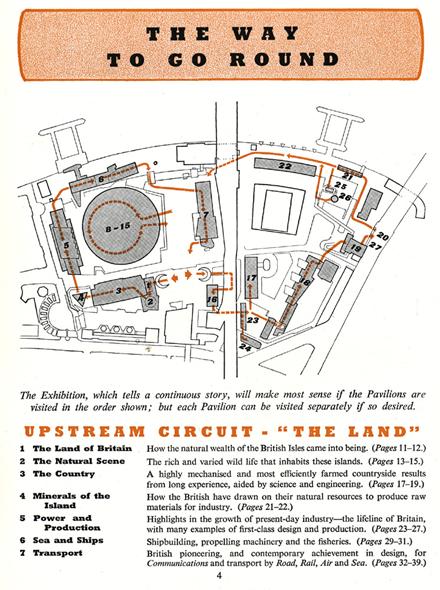 <![endif]><![if !vml]>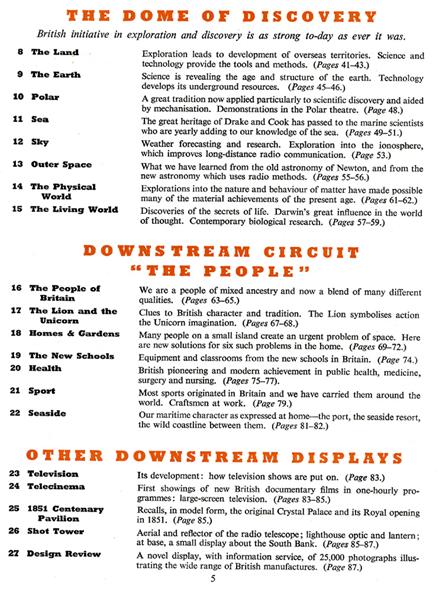 <![endif]>
Two pages from my copy of the official Festival of Britain Guide Book (price 2/6d)
There was an additional, more modest, outing in 1951.   Miss Ainsworth had retired after the school moved to Ward End House in 1947, and she had moved to live on the slopes of the attractive Lickey Hills on Birmingham's western edge.   But in 1950 she was prevailed upon to return to teach at Amberley, despite the long cross-city trek involved.   As a reward for passing the grammar school entrance exams, Miss Ainsworth invited several of us to her house for lunch with a walk on the hills.   This involved travelling into the centre of Birmingham, and then taking the long tram ride to the Lickeys.   It was an exciting and enjoyable day in the fresh air for our small party – and quite a responsibility for Miss Ainsworth who had to ensure that no one got lost in the woods on the hills!
            Early in 1951 I passed the "eleven-plus" examination for King Edward's Grammar School, Aston, but was also entered for the separate examination for the 'parent' King Edward's School in Edgbaston.   This was a tougher proposition but I passed and so the lengthy cross-city journey would be part of my life from September.   I would notice a significant culture shock:  Amberley was a tiny, informal affair, run by a handful of local ladies, of whom Mrs Bunker and J'Ann's mother, Mrs Page, were my usual teachers, aided by Mrs Woodwiss who taught History and Geography on Thursdays and Fridays.   There were only about a hundred pupils – more girls than boys.    By contrast King Edward's was an all-male environment with 700 boys and a large male staff.   There were rigid rules and customs and, of course, the customary use of surnames only amongst the boys.   But at eleven years of age one soon adapts to change!
My final glimpse of Amberley Preparatory School was in July 1959.   I had just left King Edward's and one afternoon I went to Ward End Library to change books.   As I left the library, I noticed a lorry parked outside Amberley.   Some men were carrying out the old desks which I remembered sitting at a decade earlier.   The school had closed and its contents were being dispersed:  a sad occasion.
Robert Darlaston
<![if !vml]>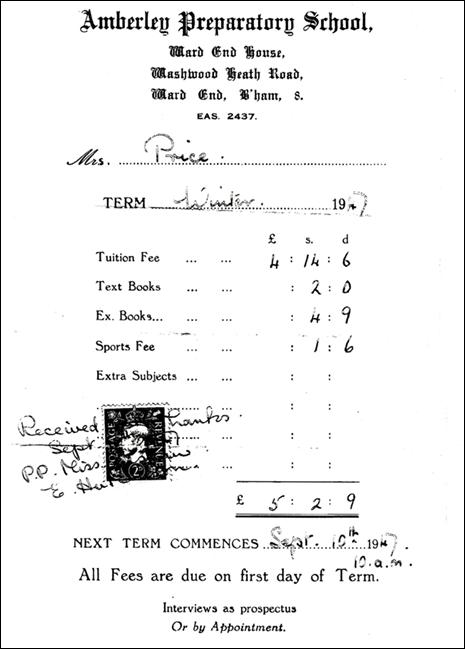 <![endif]>
School fees receipt from 1947, kindly provided by David Price.
Notice the 2d stamp, then a legal requirement for a valid receipt
for sums over £2.   Exercise books seem rather expensive!
Notes on some of our teachers 1945-51:
Miss Ainsworth:  a brisk, no-nonsense lady, with silver hair and glasses, but very kind.  
Miss Major:  to me, a shadowy figure.   I do not recall being taught by her and she died when I was still only 5 or 6.
Mrs Bunker:  a kind and thoughtful teacher who was the prime influence on my education at Amberley   My arithmetic was rather weak, so I attended her home at 36 Coleshill Road for 'extra tuition' at four shillings for an hour!   Mrs Bunker suffered much tragedy in her private life, but her pupils would not have realised.
Miss Inshaw:  School Principal after the move to Ward End and a strict disciplinarian.   She was married to Mr Whitmore who acted as school caretaker and was usually to be seen carrying hods of coke to the boiler.   For a time, she also organised dancing classes at an address in Bromford Lane.
Miss Staples:  a sweet teacher of my early years, much missed after she left.
Mrs Arnold:  my only memories of Mrs Arnold are unfortunate.   When I lost my front teeth I had a short-lived lisp and Mrs Arnold teased me when I pronounced six as "thikth".   Later, I told her I was going to a party and she brusquely told me I was too young for parties.   She had curiously assumed it was a "gin-and-tonic" type party for adults, whereas it was merely a friend's birthday party with nothing stronger than jelly and custard (ice cream probably still being unavailable after the war!)
Mr Luby:  the only male teacher I experienced at Amberley, but he only stayed for a couple of terms.   I recall him involving the class in a curious drawing project where the end result was an industrial machine like a large vacuum cleaner.   He used purple ink which I greatly envied.
Mrs Page:  J'Ann's mother, who joined the staff later in my school career.   She commented in a report on the undesirability of my sotto voce remarks!
Mrs Woodwiss:  she came only on Thursdays and Fridays, to teach History and Geography.
Miss Homfray:   she taught elocution (her name ideally equipped her for the task).   I still recall the first poem she taught us:   :
A little snowdrop grew in my garden bed.
All dressed in white,
She looked about
And shyly hung her head.
clearly those who read the last line as "shoyly `ung `er `ead" failed to meet her exacting standards!
Linda Holland, who was at Amberley from 1953 to 1959 has kindly let me copy these two photographs of Amberley staff, taken in the 1950s:
<![if !vml]>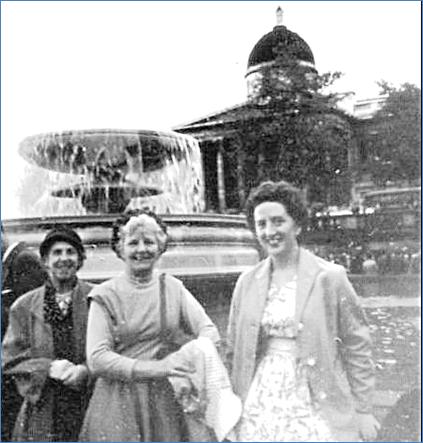 <![endif]>  <![if !vml]>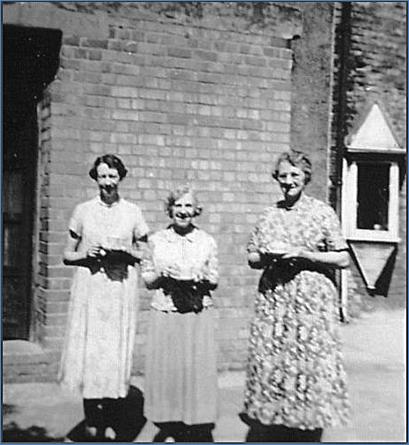 <![endif]>
Left:  Miss M.C. Luckock, (left) and Miss Inshaw (centre) in Trafalgar Square during a school outing in the 1950s. 
Right:  Three teachers (Mesdames Tomlinson, Luckock and Parker) enjoy a cup of tea during a break in the late 1950s.   Judging by the less than elegant brickwork, this photo seems to have been taken in the junior playground outside the entrance to the room added during the war, in which the eight-year olds were taught.   Part of the old house is visible at the right and presumably the 'conservatory' was out of the picture to the right.
(I am very grateful to Linda for letting me use these photos:  if any readers have any further photos or information, please let me know at robertdarlaston[at]btopenworld.com )
<![if !vml]>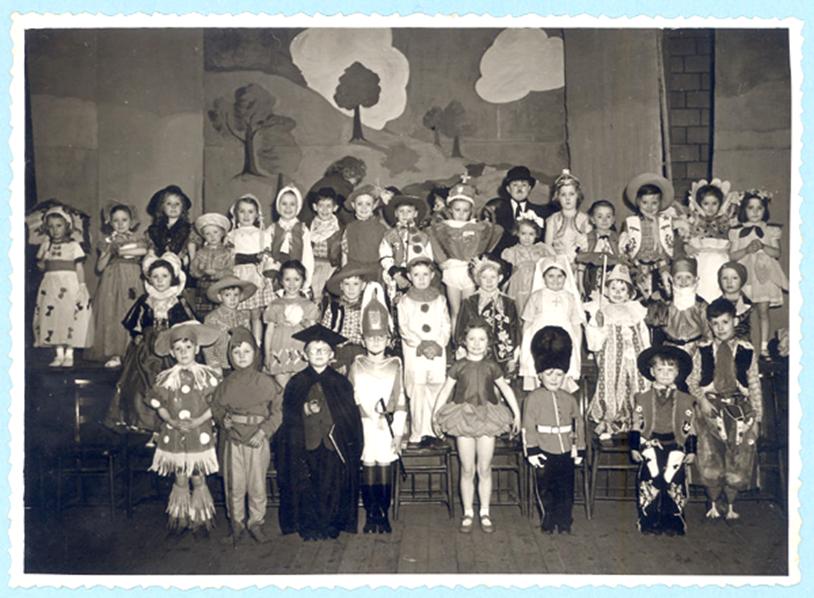 <![endif]>
The Fancy Dress Parade of Easter 1953
Judging by the number of cowboys, this was in the heyday of the television "Western" series!
This photo was kindly loaned by Philip Yates (who appears as the Cavalryman with boots and sword in the front).
<![if !vml]>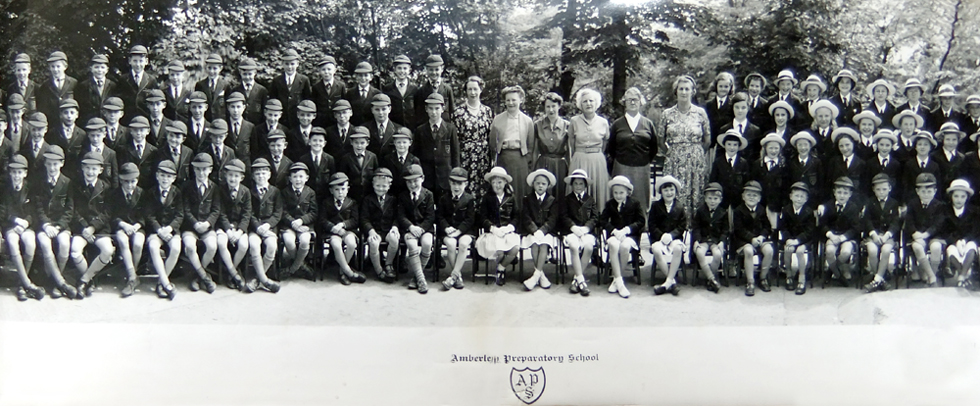 <![endif]>
Andrew Lichnowski, who was at Amberley from 1955-58 kindly sent this fine group photograph of the school, taken in 1955.   The teacher at the right of the group in the centre is Mrs Parker and the white-haired lady in the centre is Miss Inshaw.   Between them is Mrs Harris.   Andrew is the fifth boy from the right in the front row.   Other boys in the front row have been identified by Allan Larner and include Stephen Davis, Clive Horn and Derek Bennet.   Second row: Allan Larner is near the left of the second row with John Collinge, Bernard Lowe and Nigel George beyond and Derek Holdsworth near the centre of the photograph.   The girl at the right of the second row is Diane Pridmore and other girls in the same row include Nova-Rae Anderson, Vivian Reilly and Diana Wallin.   I am grateful to Allan Larner for this information.    The photograph was taken in the younger children's playground (C on the plan shown above), looking south.   Behind the teachers the path led to the formal garden and ponds and it is possible to discern the steps and handrail leading up to the area with the ponds.
If anyone is able to identify any of the other teachers or pupils, please let me know at robertdarlaston[at]btopenworld.com  (replacing [at] with the usual @ sign
Some more personal souvenirs:
<![if !vml]>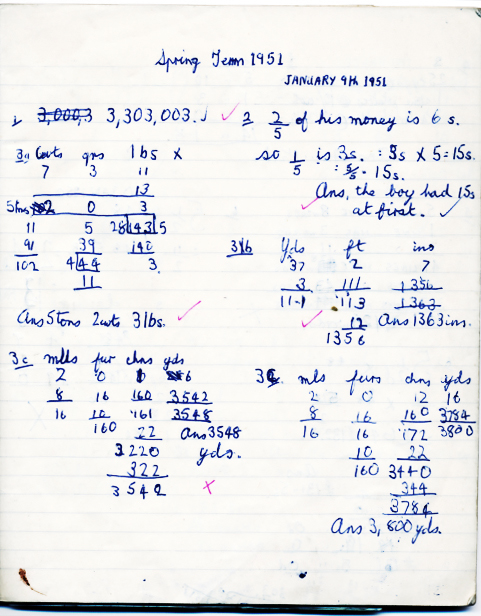 <![endif]>
A page from Robert Darlaston's arithmetic exercise book, recalling the 'happy days' of hundredweights and quarters, and of furlongs and chains.
I doubt if any of us encountered furlongs (other than at the race course!), but chains still remain in limited use by railway engineers in the 21st century.
<![if !vml]>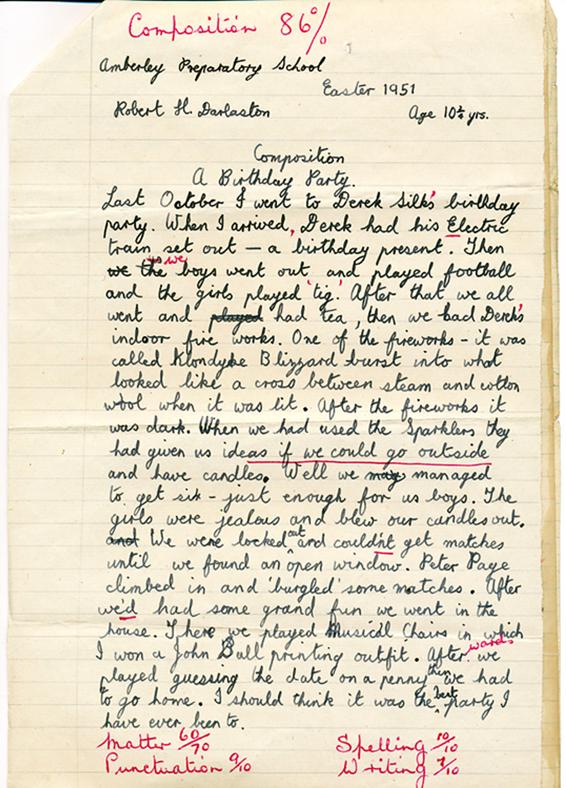 <![endif]> 
End of Term composition test by Robert Darlaston, marked by Mrs Bunker:   not too bad for a 10 year old!
One imagines that Derek's parents vowed never to have another party!
<![if !vml]>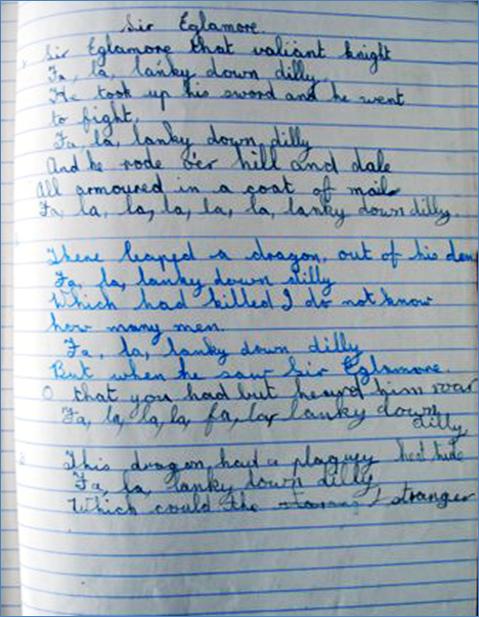 <![endif]>
The traditional folk song Sir Eglamore. one of the songs we sang at Amberley,
as copied by Gloria Dale.   This seems to have been spread over a number of weeks,
to judge from the different inks used by Gloria!
<![if !vml]>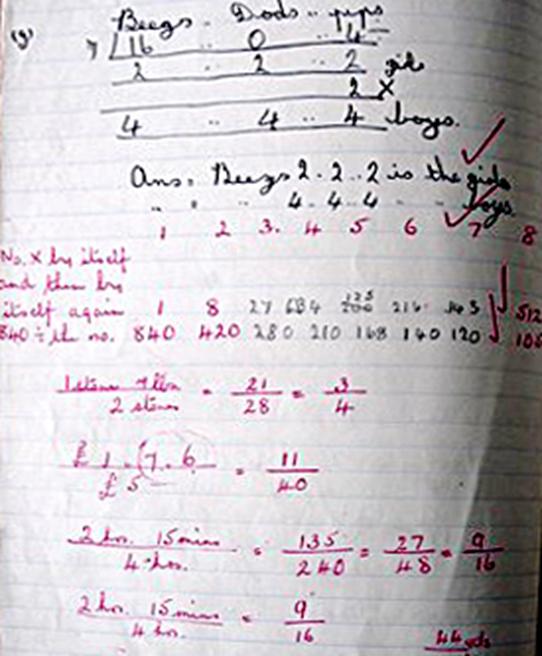 <![endif]>
An extract from an arithmetic exercise by Gloria Dale, with annotations by Mrs Bunker.
"Beegs, Dods and Pips" seem to be a patent equivalent of "Hundreds, Tens and Units" devised by Mrs Bunker.
<![if !vml]>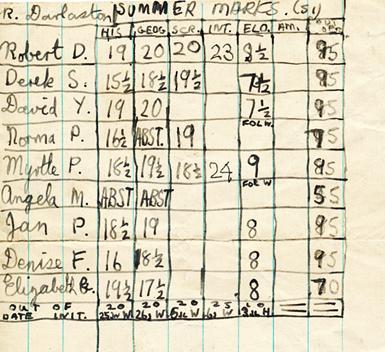 <![endif]>
A curious survivor from 1951!
My mother was interested to know how my performance compared with that of others,
so for her benefit I began noting their marks.   It's a pity I lost interest before completing the job!  
We all seem to be a pretty high-scoring bunch – and nicely spoken, too!
The list includes those in the 1951 birthday photo above, plus Angela Moran (who became a
successful professional singer), Denise Fryer and Elizabeth Green.
I hope no one is embarrassed by these revelations from sixty years ago!
<![if !vml]>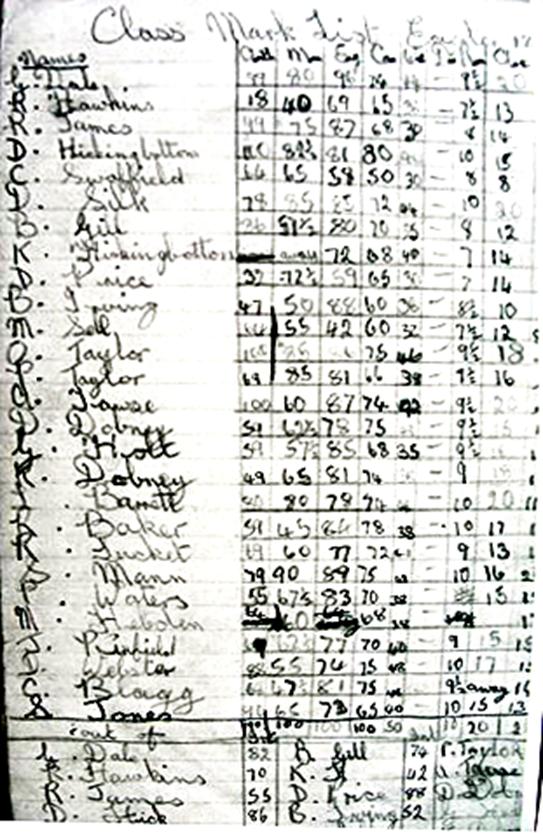 <![endif]>
At Easter 1952 Gloria Dale kept a more extensive record of form marks, showing a wide variation in performance!
Travel to School:
1.<![if !vml]>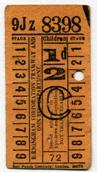 <![endif]><![if !vml]>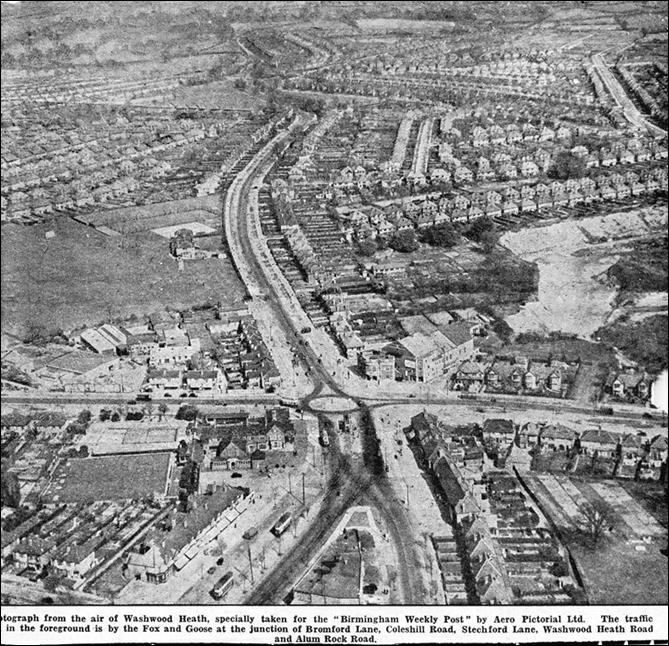 <![endif]> 2<![if !vml]>

<![endif]>
Main picture:  An aerial view of the Fox and Goose shopping area, about 1949, from the pages of the Birmingham Weekly Post.
1.:  the ½d child tram ticket from a journey to school.   This is the traditional pattern of ticket.
2.:  part of a long a strip of ½d child tram tickets from the latest ticket machine, issued to a school group travelling together
In the left foreground of the photo is the Washwood Heath Road with trams on their reserved track.   We boarded a tram to school each morning at the terminus just below the prominent traffic island.  
The Beaufort Cinema is discernible just above and right of the traffic island with the Fox and Goose public house diametrically opposite.   The Outer Circle route crosses from left to right and Coleshill Road continues into the distance toward Hodgehill Common, just visible where Coleshill Road bends left into the trees.   Alum Rock Road merges in the right foreground.   The sand quarry is visible right of centre:  it was later filled in and became Stechford Hall Park.   Rural Castle Bromwich stretches across the top of the photograph:  Shard End was still just a planner's dream
<![if !vml]>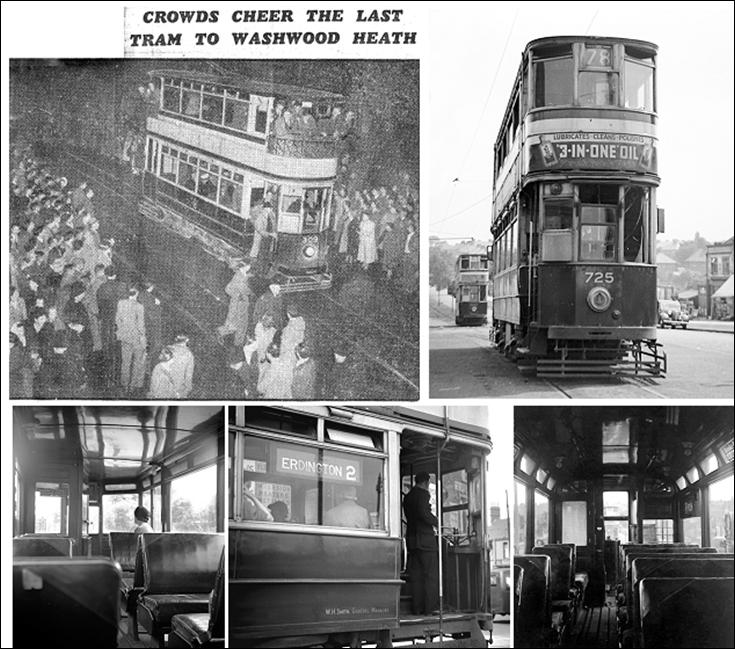 <![endif]>
Trams similar to those on which we travelled each day to school
What splendidly majestic vehicles those trams were, solidly constructed of timber with decorative mouldings, with brass bells, leather seats (on the top deck) and wood veneer ceilings incorporating an exotic floral design!
The top left photograph is a cutting from the long-defunct Birmingham Gazette, showing the last tram on the Washwood Heath 10 route, in October 1950.   It is one of the then rare older vehicles with open balconies on the top deck, much sought after on our journeys to school.   I did not have access to a camera when travelling to Amberley but a couple of years later I was able to take the other photographs which show trams of the type on which we usually travelled.   Note the huge step up to the platform, hardly acceptable under modern legislation for disabled access.    The driver can be seen standing at his controls.   The lower left photo shows the upper deck with reversible seats and at bottom right is a photo of the lower saloon, with the platform beyond.
<![if !vml]>

<![endif]>
A destination to remember!
Epilogue:   Amberley Revisited:  2010-11
<![if !vml]>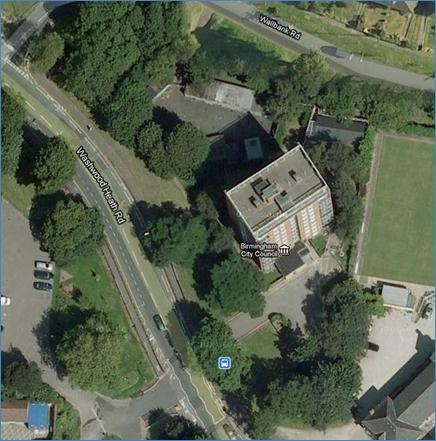 <![endif]> <![if !vml]>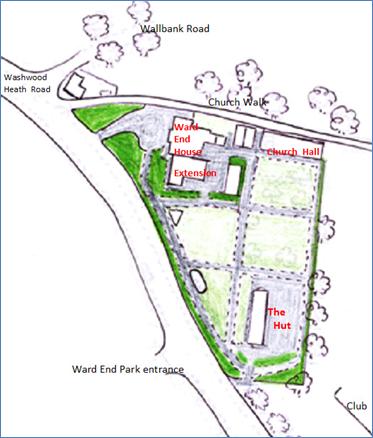 <![endif]>
An aerial view by Google Maps with a copy of the plan from about 1950 alongside.
 It will be seen that the flats now occupy a site close to that originally taken by "The Hut".
The site of Ward End House now seems largely to be given over to car parking.   The Church Hall is still in the same position as in 1950.
Church Walk still exists but is largely obscured by trees.
The Park entrance is still prominent at the bottom of the picture and the Conservative Club is bottom right.
<![if !vml]>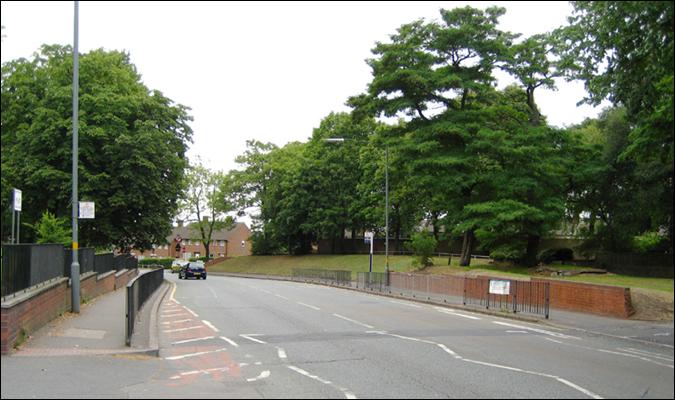 <![endif]>
Washwood Heath Road (looking towards the centre of Birmingham) in July 2010, with Ward End Park at the left and the site of Amberley at the right.
The main entrance to the school was up a drive beyond the end of the railings, but the area has been landscaped.   The original low red brick wall topped with blue capping stones and with a dense laurel hedge beyond have vanished.
<![if !vml]>
<![endif]>
Ward End Park is to the left and the 'unofficial' entrance to Amberley was through a gap in the hedge/fence to the right of the tall tree.   The Conservative Club and Ward End Library lie out of the photo to the right.
<![if !vml]>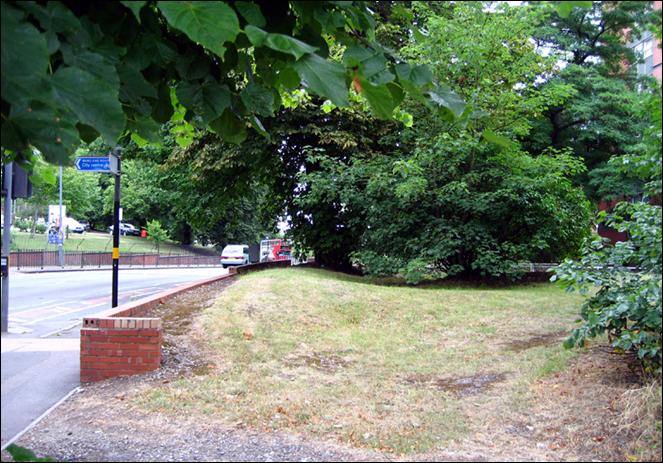 <![endif]>
A close-up of the former 'unofficial' entrance, clearly still used by residents of the flats built on the school site.
A 'bus is approaching in the distance.   In our day it would have been a number 10 tram and friends and I would have had our pens ready to record its fleet number.
<![if !vml]>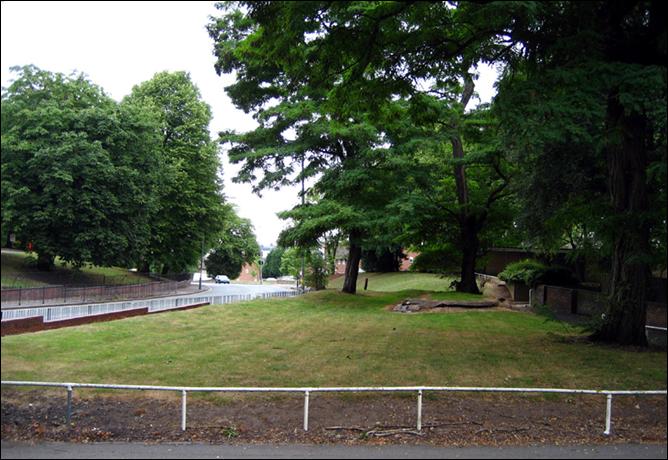 <![endif]>
A view 'inside' the former school grounds with Washwood Heath Road at the left.   The remains of one of the ornamental ponds can be discerned near the foot of the tree in the right middle distance.   The mature trees would undoubtedly have been in situ "in our day".
The access road to the flats crosses in the foreground.
<![if !vml]>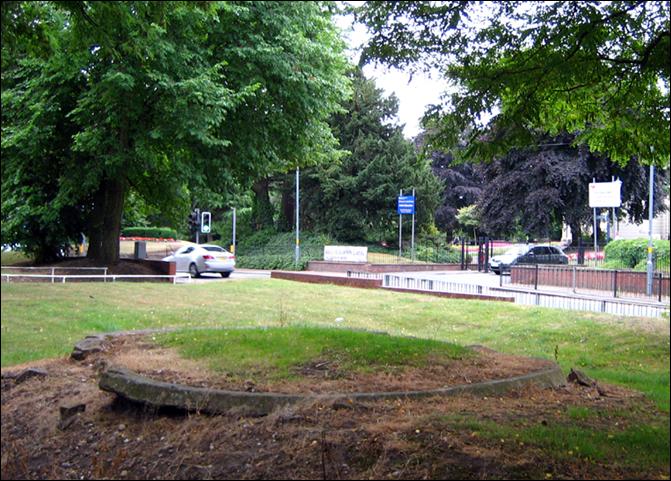 <![endif]>
A close-up of the remains of the former ornamental pond.
Ward End Park entrance is across the road.
<![if !vml]>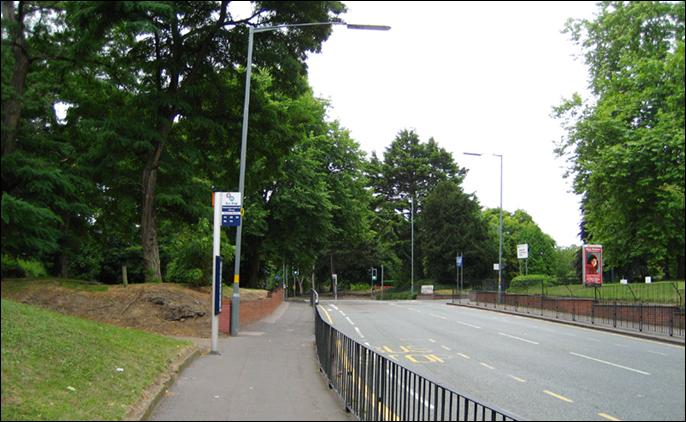 <![endif]>
Washwood Heath Road looking towards Castle Bromwich.
The grounds of Amberley are at the left and Ward End Park is to the right.
The 'bus stop has shifted a little over the years!
Further reading:
Sadly, I have been unable to trace any photographs or reference to Amberley in contemporary publications.    Interesting photographs of other local street scenes from the 1940s and 1950s are, however, to be found in two publications:
                                                Images of England:  Stechford, Ward End and Washwood Heath:  compiled by Marion Baxter (Tempus Publishing, Stroud, Gloucs.,2002)
                                                A  Nostalgic Look at Birmingham Trams:  volume 1 The Northern Routes;  by David Harvey (Silver Link Publishing, Peterborough, 1993)
Links:
More of my childhood memories can be found at MemoryLane.
My memories of life at King Edward's School from 1951-59 are at KingEdwardsSchool.
If other family web pages are not listed at the left, go to index.
Site hits since 10th October 2007: