<![if !vml]>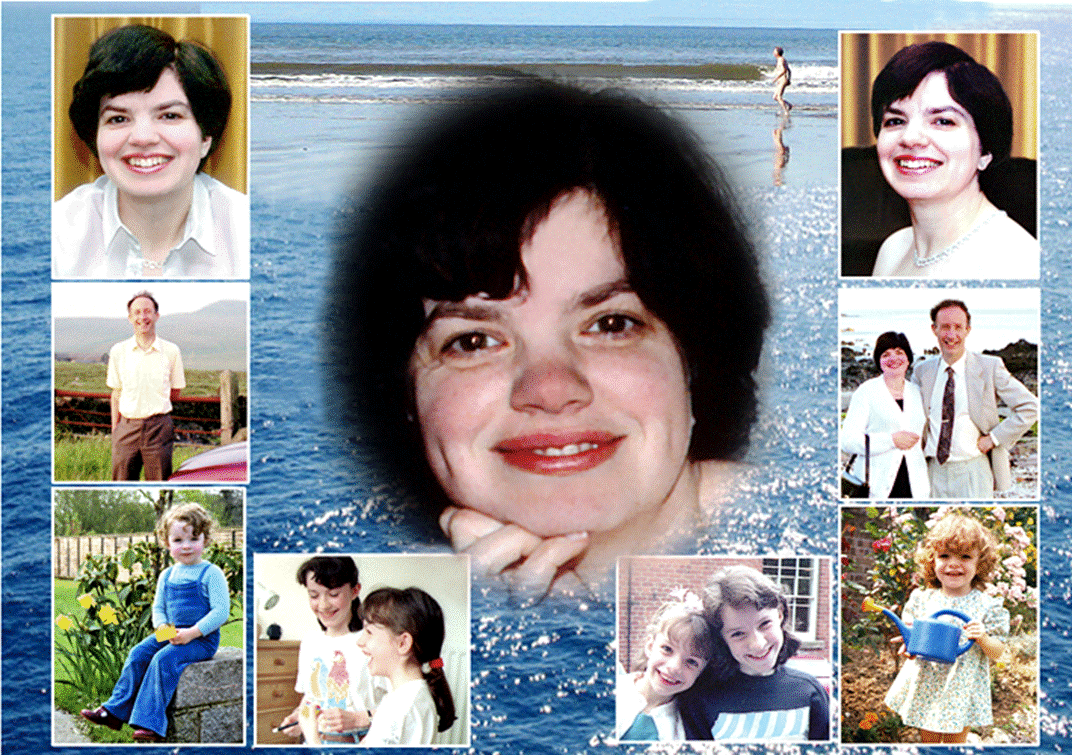 <![endif]>
Meet the Darlastons
Above:  Barbara, Robert, Mary and Ann in the 1970s, '80s and early '90s.
Scroll down for more family photos
(Last updated 2nd October 2023)
A page of favourite family photos and holiday memories,
with our "Desert Island" choice of music, art and literature.
<![if !vml]>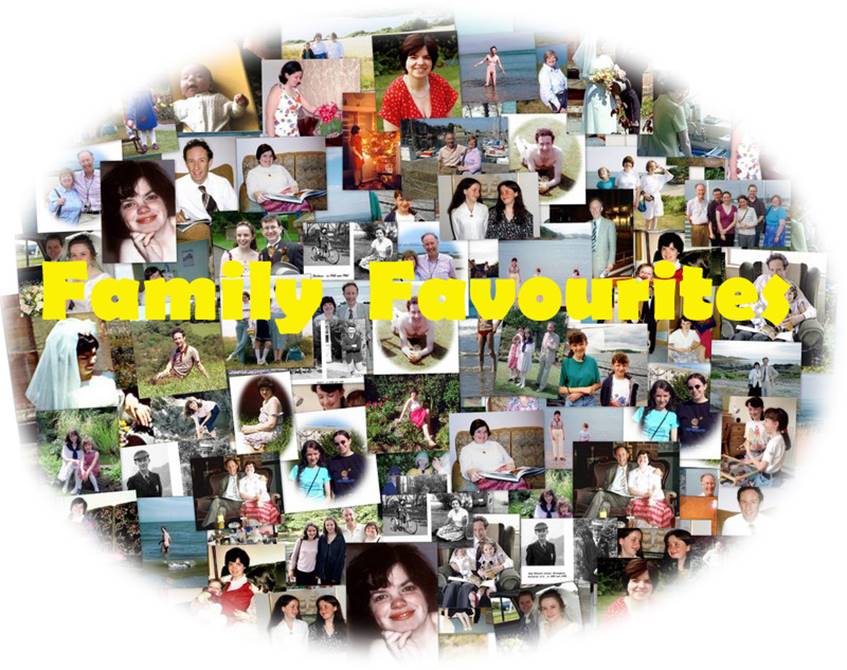 <![endif]>
1:  Barbara, Robert and the Girls:
A Photo Gallery from the 1940s to date
2:  Darlaston's Desert Island Delights:
A selection of things which continue to give pleasure
1:  Barbara, Robert and the Girls:
A Photo Gallery from the 1940s to date, plus
Holidays in Scotland, 1988-1995
A selection of favourite photographs which show the passing of the years, from childhood to the present day.
             Our Early Years:
A small selection (in black and white, of course) taken from 1945 to 1960 which evoke memories from over fifty years ago:
<![if !vml]>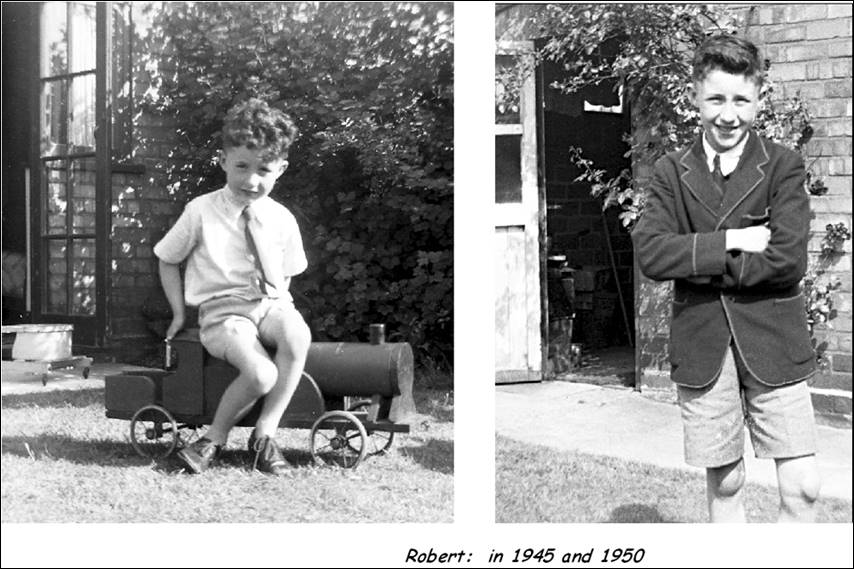 <![endif]>
On the big red engine on his 5th birthday, and in the garden at Stechford Road on his 10th birthday.   
The big red engine, made by Dad, was a definite favourite for several years.
In the second photo, the Amberley Prep School blazer was a deep claret colour with blue piping round the edge (Aston Villa colours, come to think of it, that being the local football team.)
<![if !vml]>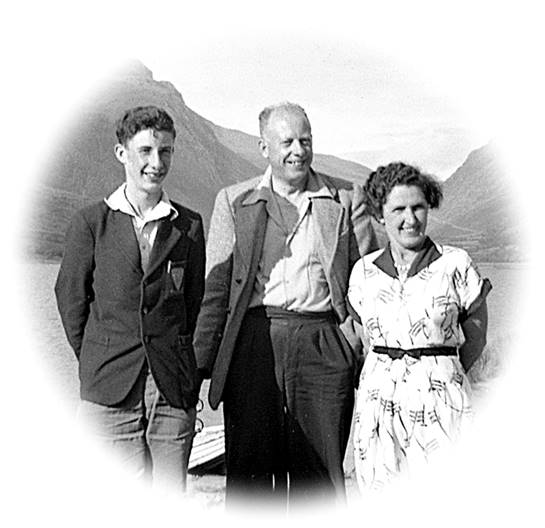 <![endif]>
A rare photo of the three of us:  at Talyllyn Lake on 19th August 1955.  We were staying on holiday at Llanaber, near Barmouth
Robert was then just 15, Dad was approaching 49 and Mom was 51.
A joyous week had been spent exploring North Wales in uncharacteristically good weather and Robert had been especially pleased with visits to the Talyllyn and Ffestiniog Railways.
<![if !vml]>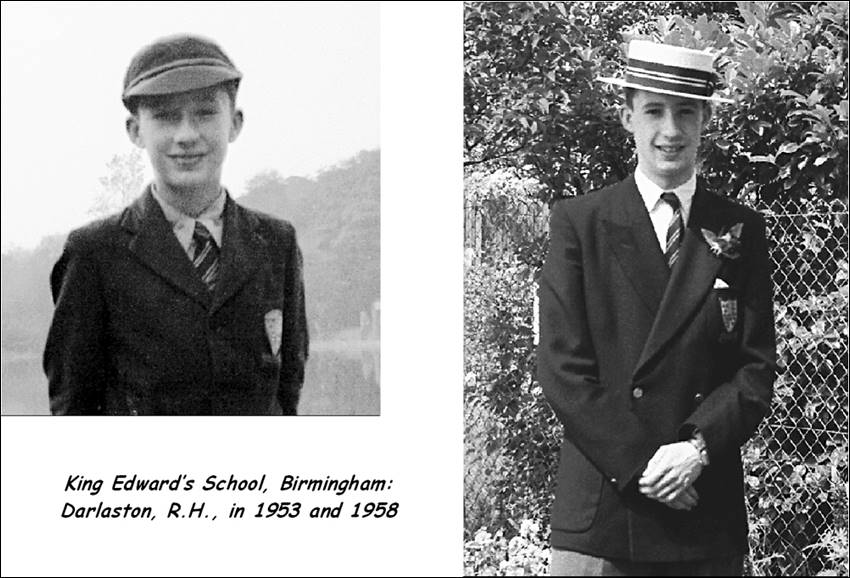 <![endif]>
                  Note the then fashionable Sixth-former's rose in the button hole!
A school memory:  
Maths was definitely my weak subject.   On one particularly difficult topic, quadratic equations perhaps, my fixed stare of mingled concentration and bewilderment was clearly off-putting to our Master, Mr Skinner.   He suddenly broke off while in full flow.   He looked at me and said: 
"Darlaston, when you look at me like that, you make me feel an absolute cad!"
Two early photos of Barbara growing up:
<![if !vml]>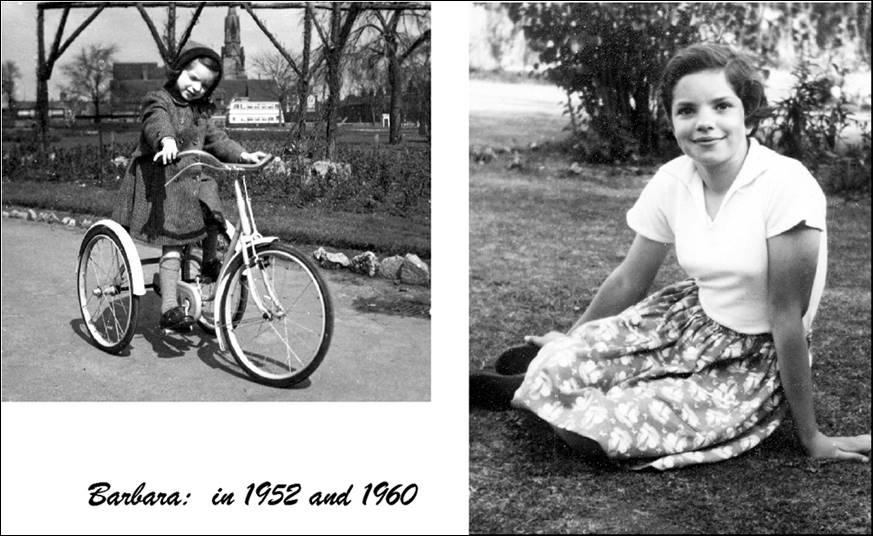 <![endif]>
Left:  trying out her tricycle in Summerfield Park with a Birmingham Corporation 'bus on Dudley Road in the background.
 Right:   relaxing in her early teens, already showing what an attractive young lady she would soon become!
Robert's memories of school life in the 1950s can be found at KingEdwardsSchool.htm
Our Wedding Day:  11th June 1969:               <![if !vml]>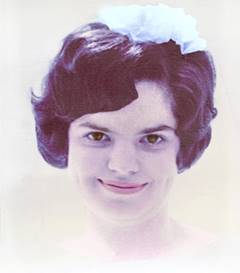 <![endif]>
<![if !vml]>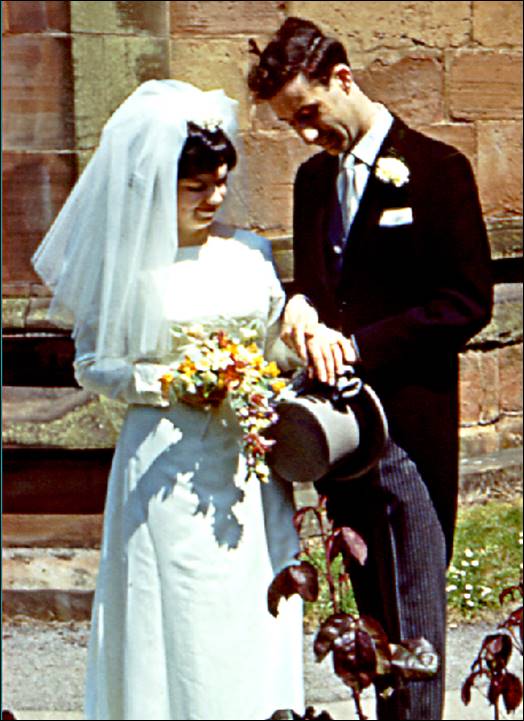 <![endif]>
At St Alphege Church, Solihull on a glorious summer's day
A photograph taken by Uncle Allan, one of only a handful of colour pictures of the occasion, on a blissful day of brilliant sunshine
                        The 1970s and 1980s:
<![if !vml]>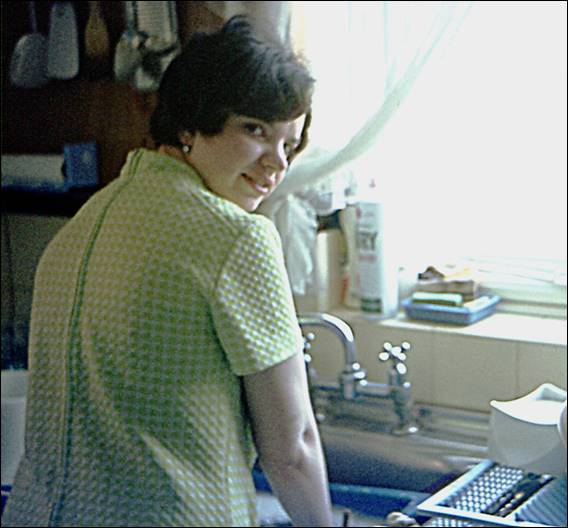 <![endif]> <![if !vml]>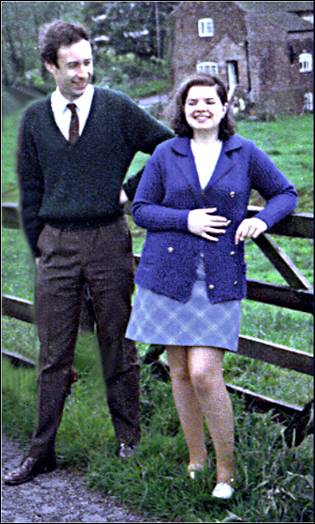 <![endif]>
"Surprised at the sink", Four Oaks, 1972                                    Goostrey, 1974.
Note the marvellous short skirts of the day!
                                        Some of Robert's favourite photos of Barbara from the 1970s and '80s
<![if !vml]>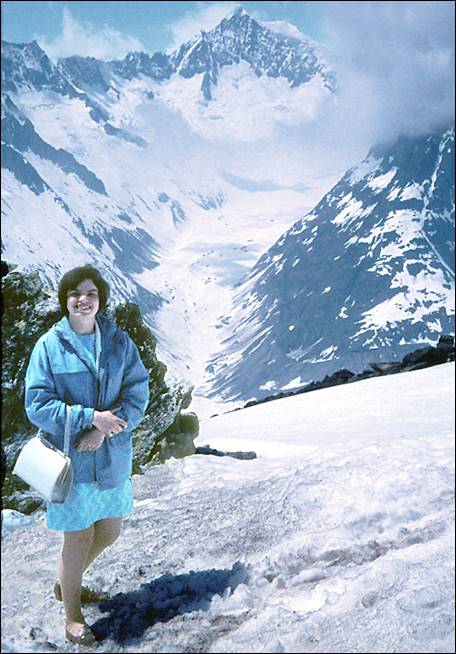 <![endif]>  <![if !vml]>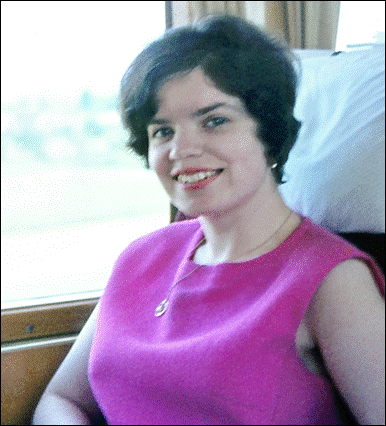 <![endif]> 
Left: Barbara near the summit of the Eggishorn.  (We had, of course, travelled up by cable car!)
Right:  En route to Switzerland, on the Rheingold Express, 1970
(The pink dress had been part of her "going-away outfit" after our wedding the previous year.)
Barbara  -  my gorgeous wife!
<![if !vml]>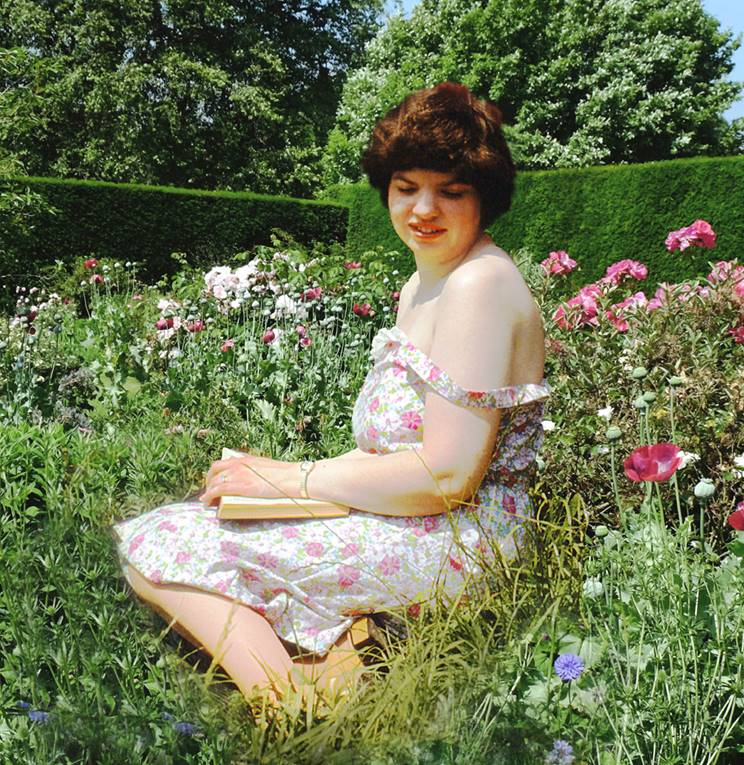 <![endif]>
1978
<![if !vml]>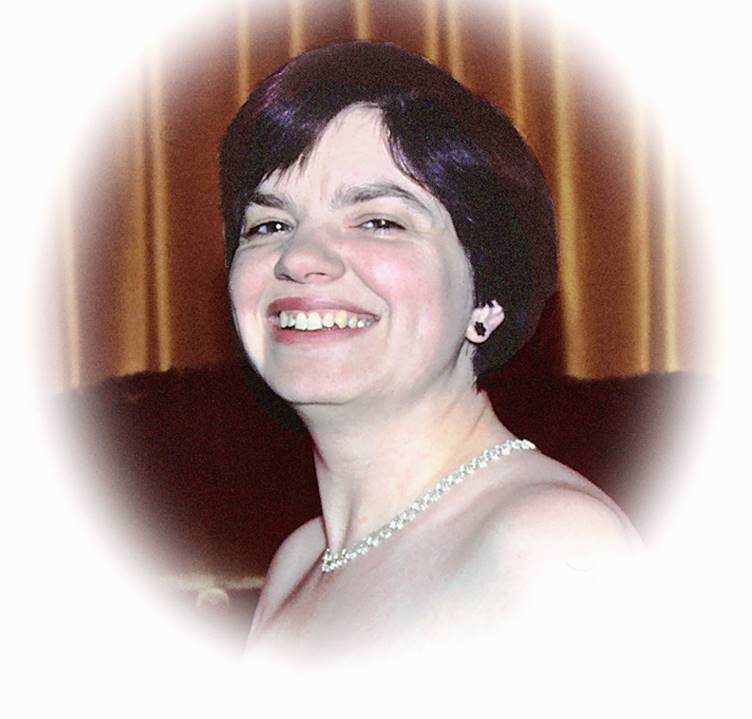 <![endif]>
1982
<![if !vml]>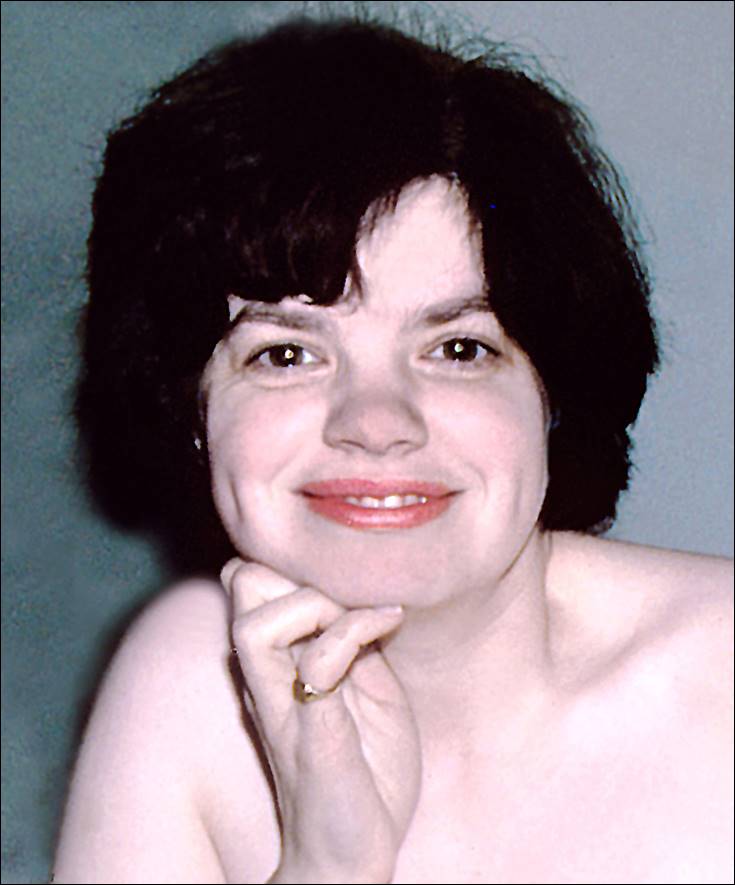 <![endif]>
1984
<![if !vml]>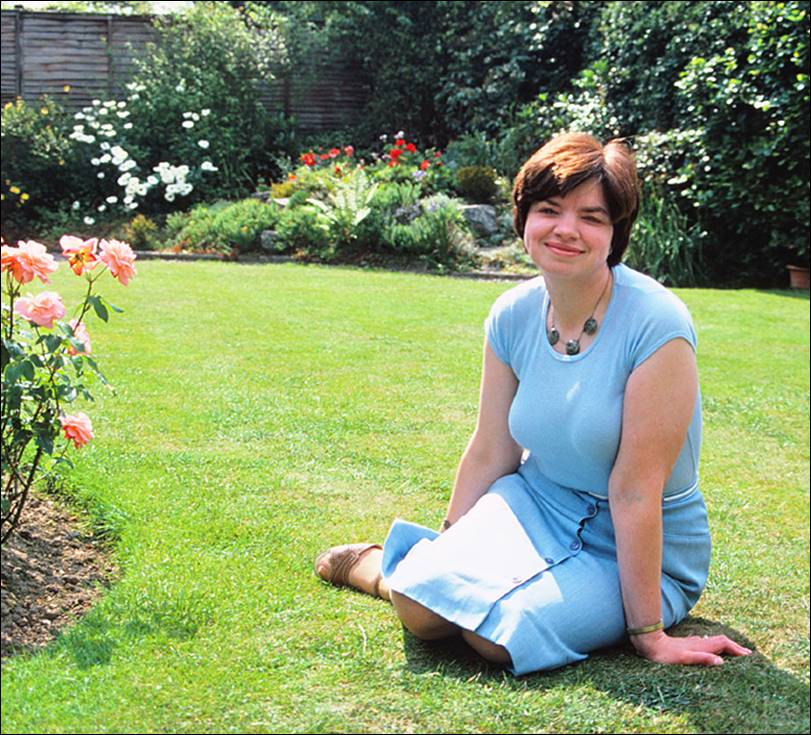 <![endif]>
Barbara poses for Robert's camera in the garden, 1983 – when we had summers which were warm enough to relax outside.
 <![if !vml]>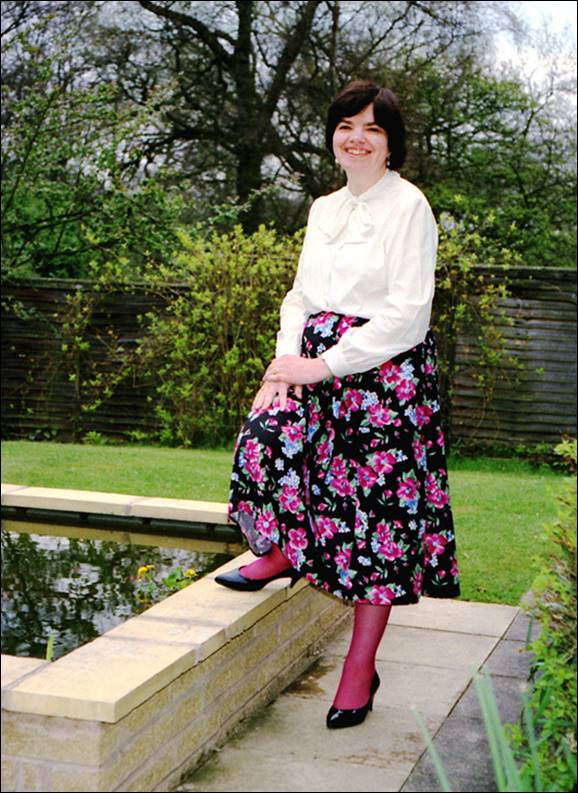 <![endif]>
1988
<![if !vml]>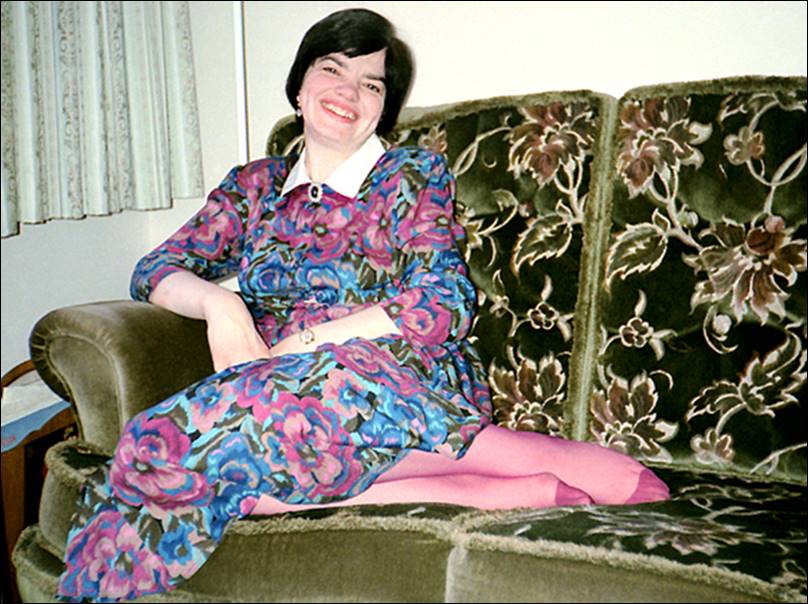 <![endif]>
1990
... and now three of Barbara's favourite photos of Robert from the same period:
Robert is usually behind the camera, and so appears in fewer photos, but here are some taken by Barbara:
<![if !vml]>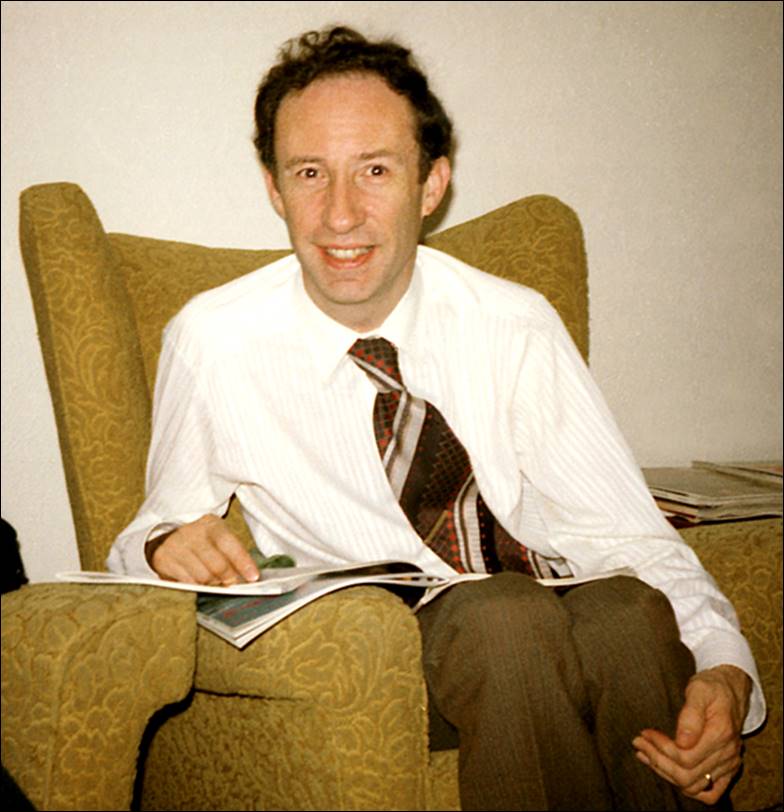 <![endif]>
1984:  reading Gramophone magazine
<![if !vml]>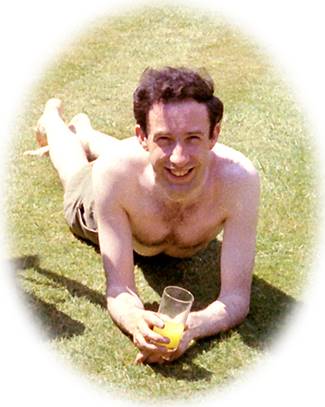 <![endif]>  <![if !vml]>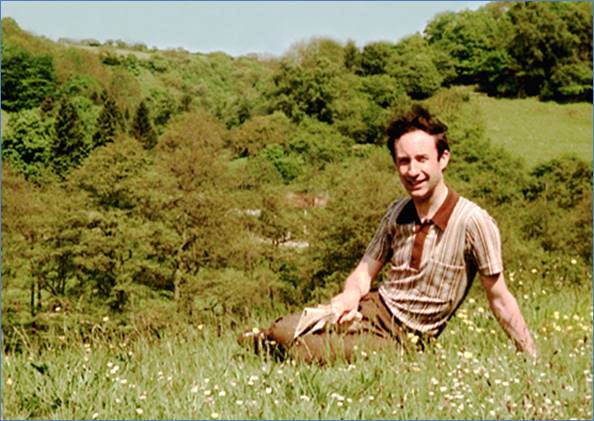 <![endif]>
Left:  1973; relaxing in the garden at Thurston, Suffolk.   
Right: 1975; risking Hay Fever in field of buttercups and daisies near Thornton-le-dale in Yorkshire
Mary arrived in 1976 and Ann came five years later, so we then had our hands full!
<![if !vml]>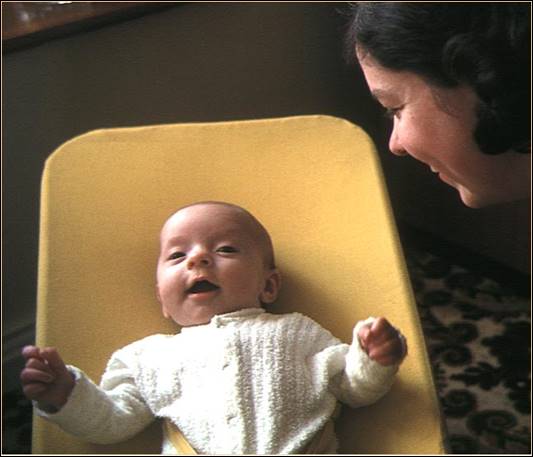 <![endif]>   <![if !vml]>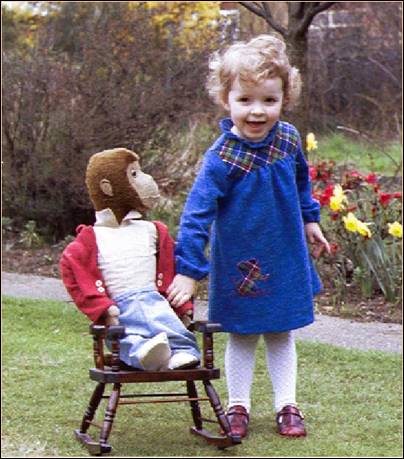 <![endif]>
Mary having fun in her bouncy chair when a few weeks old in 1976 and with 'Joey' at Stechford Road- notice the blonde curls!
<![if !vml]>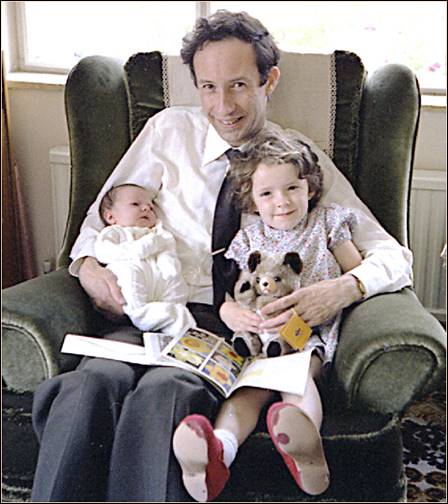 <![endif]>  <![if !vml]>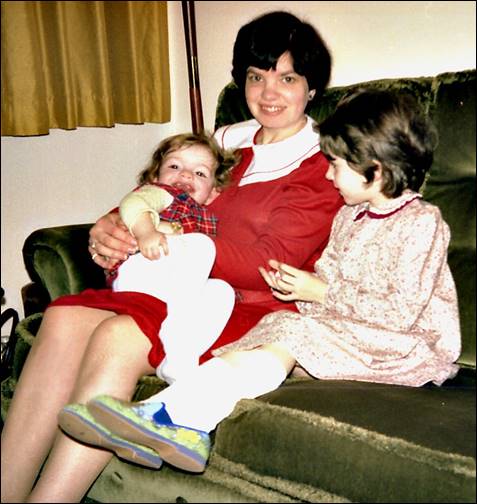 <![endif]>
Left:  Late 1981, with Ann only a few weeks old and (right) about a year later.
Mary's pride as an older sister is very evident (as is the wear on her slippers!).
The late 1980s and early 1990s:
When the girls were young, we enjoyed several holidays at Rockcliffe in Southwest Scotland from 1988 to 1995
Rockcliffe was chosen on the basis that we wanted to visit Scotland while keeping travelling to a minimum for the girls.   We therefore took the first turn left after crossing the border north of Carlisle and stopped at the first seaside resort which happened to be Rockcliffe on the Solway Firth, a short distance beyond Dumfries.   It was a happy choice:  unspoilt, then with a comfortable and welcoming hotel, excellent walks, interesting towns and villages nearby, some fascinating country houses and a wonderful, secluded beach.
<![if !vml]>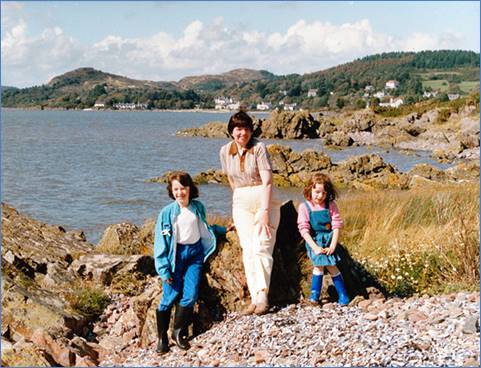 <![endif]> <![if !vml]>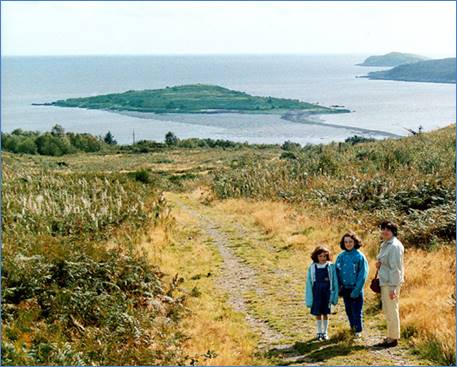 <![endif]>
Left:   Mary, Barbara and Ann on the coast near Rockcliffe in 1988
Right:  Climbing the hills behind Rockcliffe with Rough Island prominent beyond
<![if !vml]>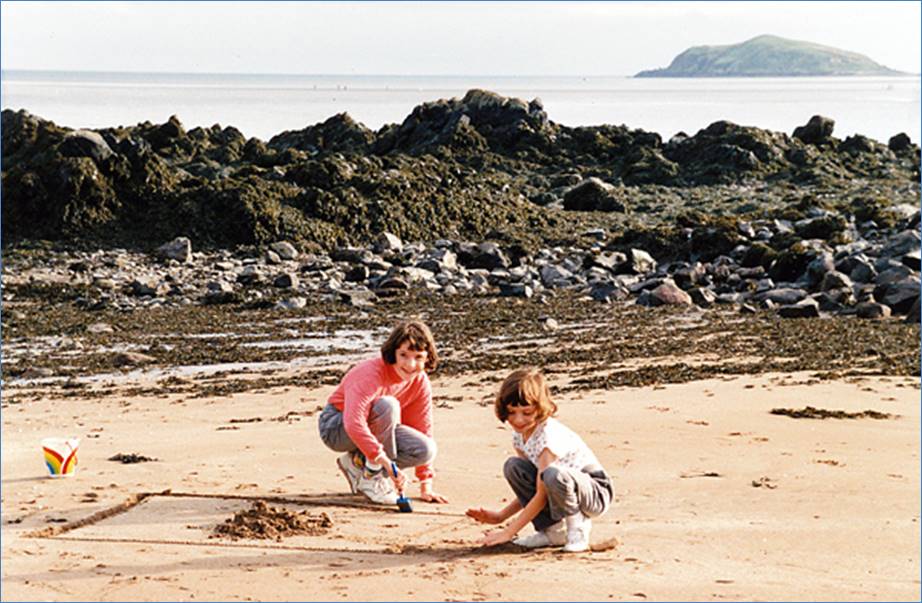 <![endif]>
The girls enjoy themselves on Rockcliffe Beach in 1989
<![if !vml]>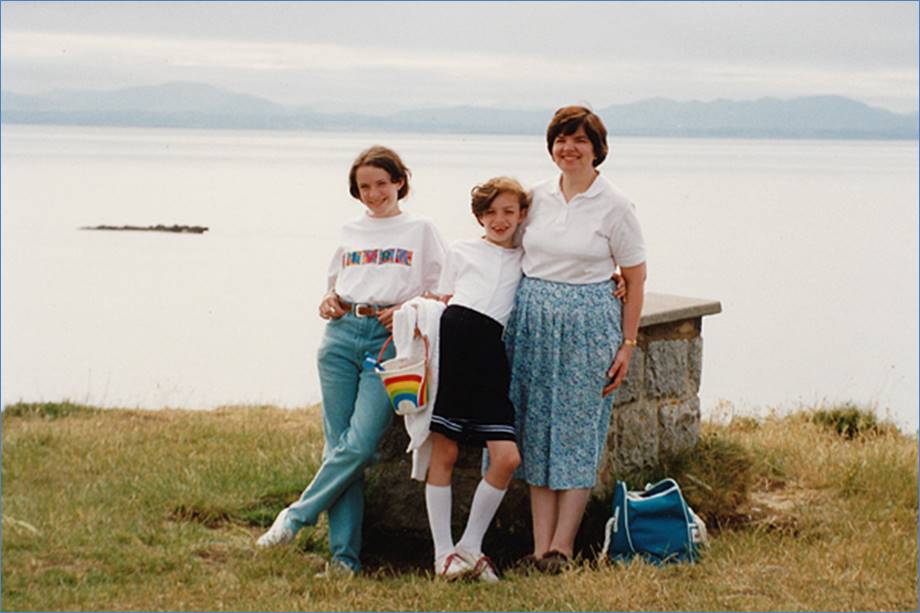 <![endif]>
A walk of a mile along the coast takes one to Castle Point with views across the Solway Firth
to the mountains of the Lake District (seen here in 1992).   Mary, Ann and Barbara rest against the toposcope.
<![if !vml]>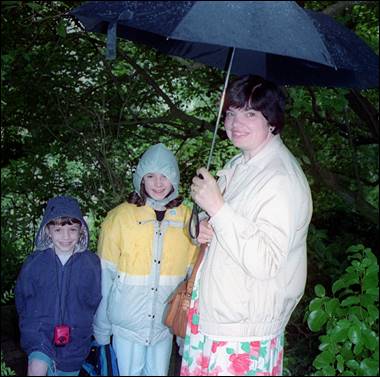 <![endif]>  <![if !vml]>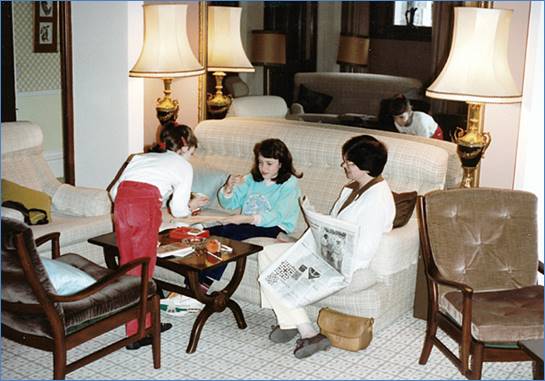 <![endif]>
Of course, the sun didn't always shine, but if the rain was too heavy then there were always board games and newspapers in the hotel!
A high spot of the holiday was a visit to another beach, reached after a two mile walk through woods where Red Squirrels could be seen.   The beach was a perfect small sandy cove, facing south, sheltered from the wind.  We knew that because of the long walk we were unlikely to be disturbed by crowds of trippers with radios!
<![if !vml]>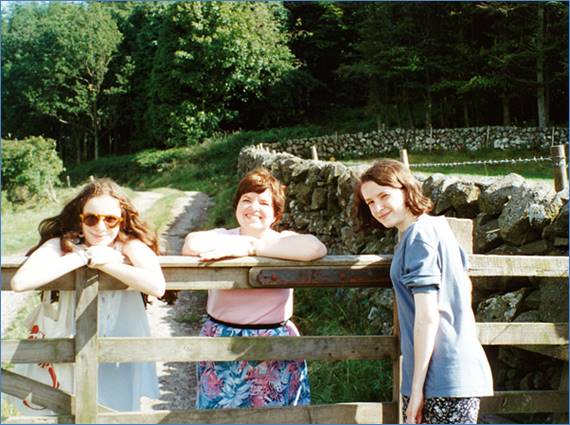 <![endif]> <![if !vml]>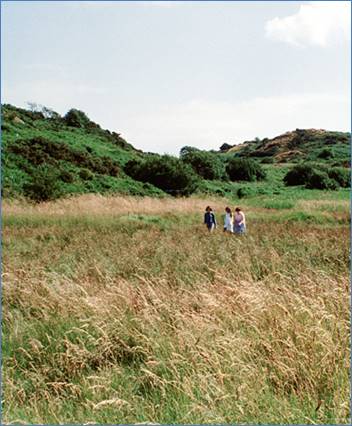 <![endif]>
Two views on the long walk to our beach (1995)
<![if !vml]>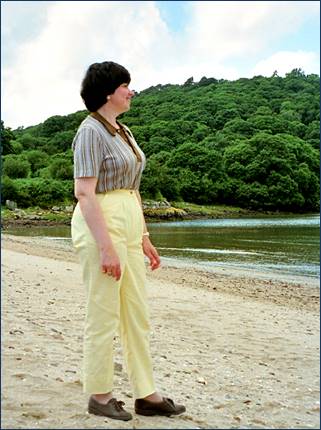 <![endif]> <![if !vml]>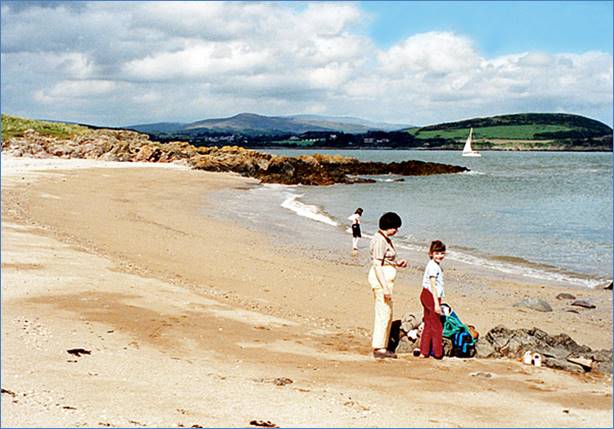 <![endif]>
Arrived at the beach:  "Where's the picnic?"
<![if !vml]>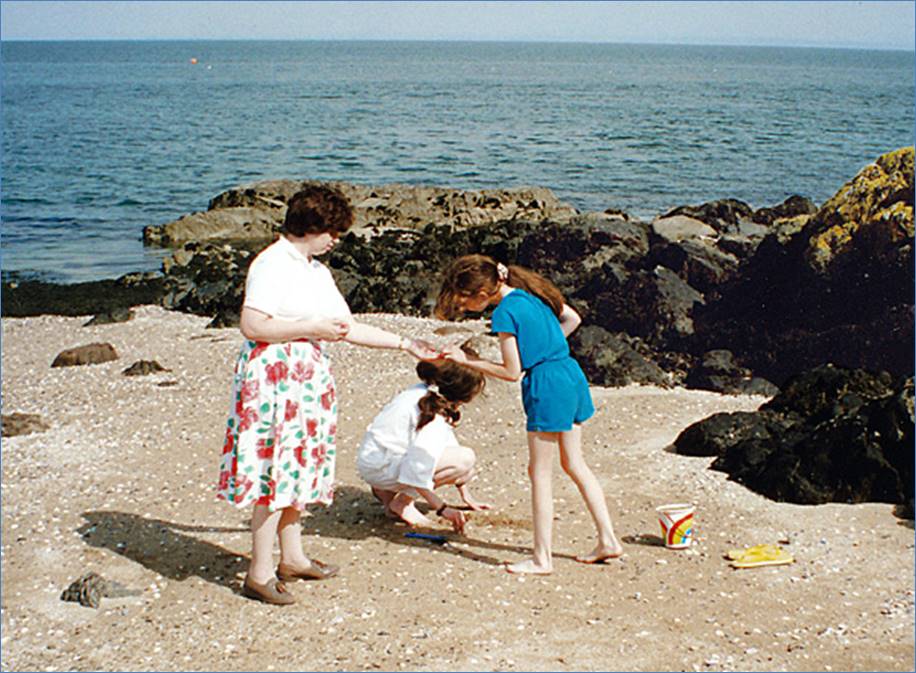 <![endif]>
Hunting for shells (1992)
<![if !vml]>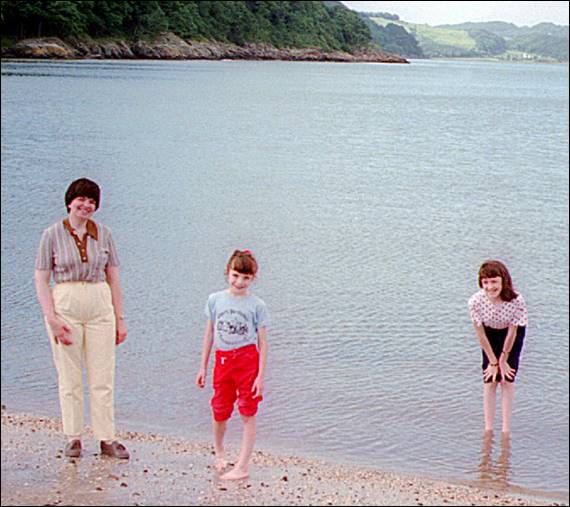 <![endif]>  <![if !vml]>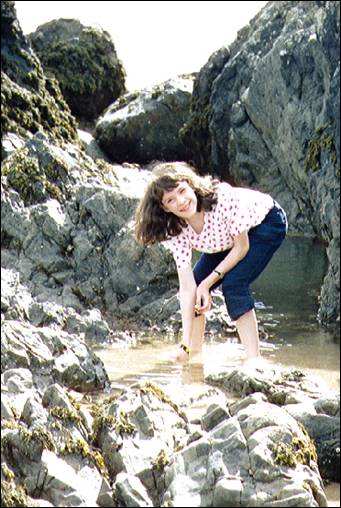 <![endif]>
(Left):  Mary and Ann get their toes wet, but Barbara keeps hers dry.   (1990)
(Right)  Mary investigates the rock pools (1990)
<![if !vml]>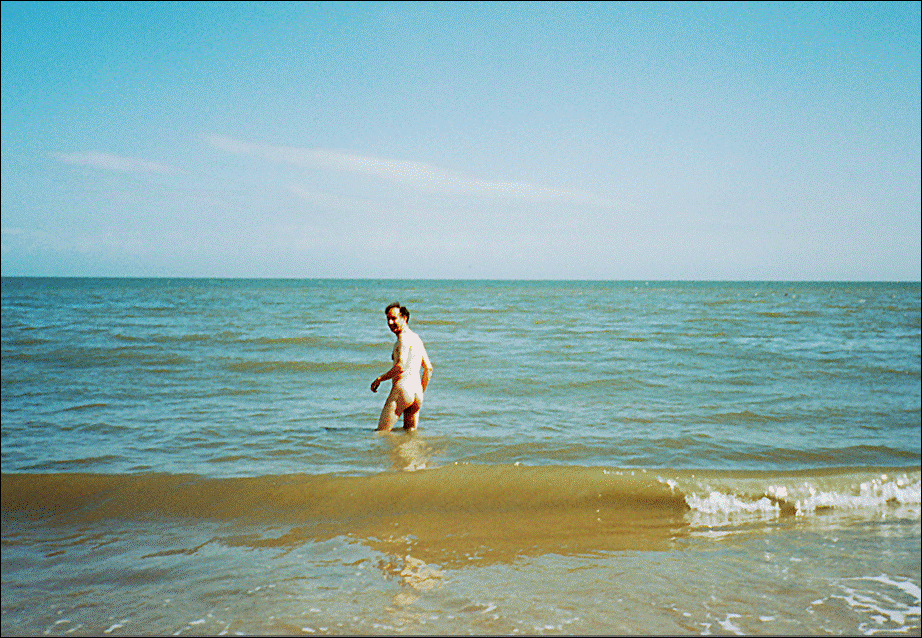 <![endif]>
Robert takes advantage of the secluded spot to bathe as nature intended –
though he found it advisable to keep an eye open for the local jellyfish who seemed keen to check his credentials! (1990) 
<![if !vml]>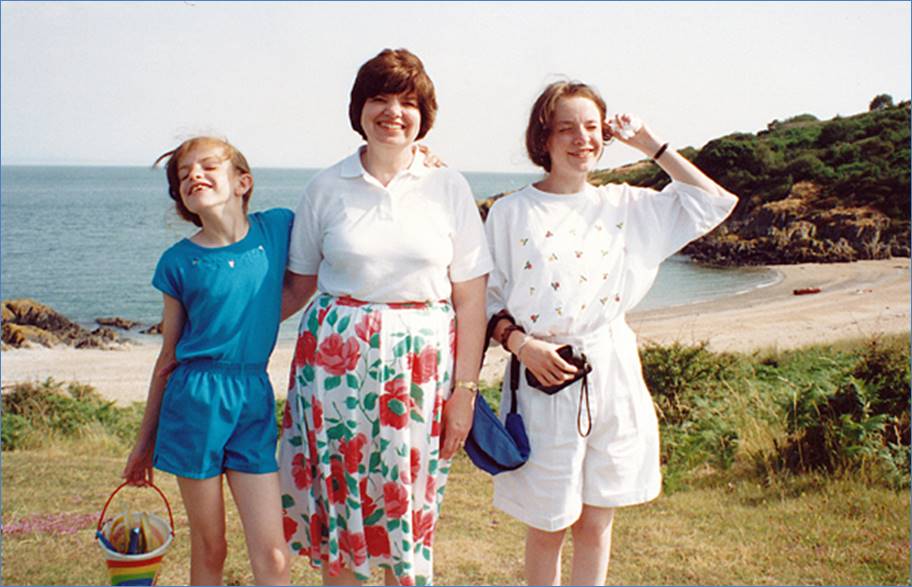 <![endif]>
All too soon, it would be time to leave the beach and start the long walk back (1992).
<![if !vml]>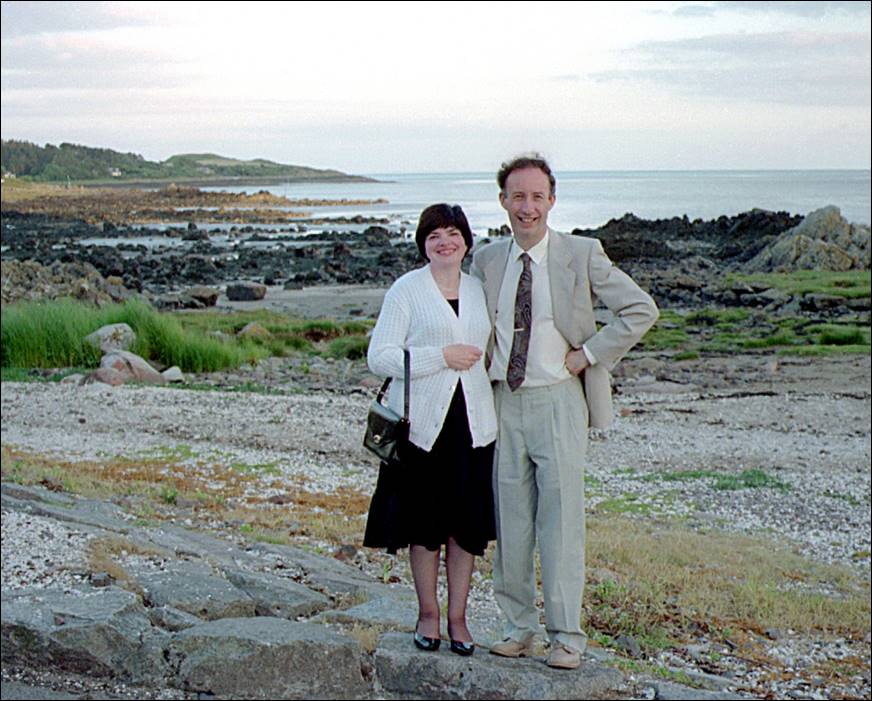 <![endif]>
Back at the hotel, there would be time after dinner for the short evening stroll to Rockcliffe's own beach.  (1990)
Back at home ...
<![if !vml]>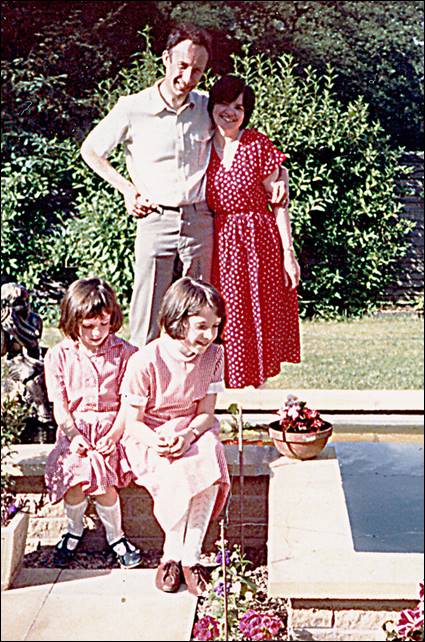 <![endif]>  <![if !vml]>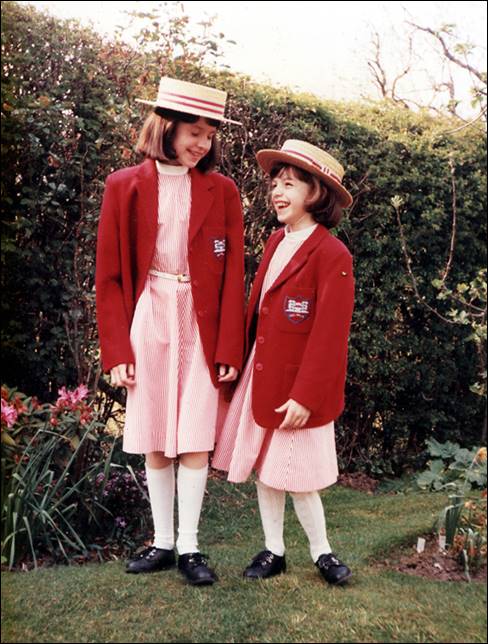 <![endif]>
A family group by the garden pond in 1988.                        Mary and Ann in the uniform of Brereton Hall School, 1990
 <![if !vml]>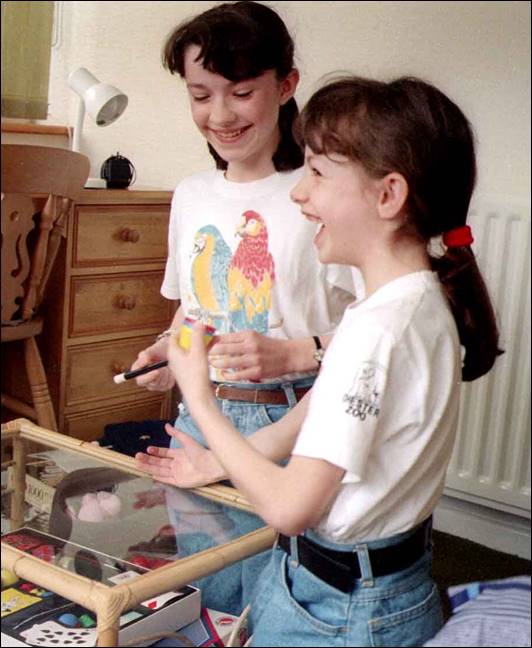 <![endif]>
Mary and Ann put on a magic show for Grandma's 87th birthday (1991)
Into the 21st Century:
Our Daughters' Weddings:
<![if !vml]>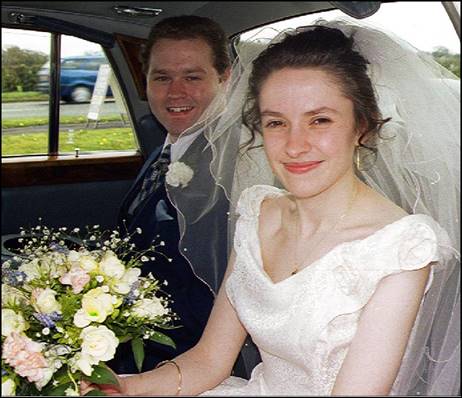 <![endif]>   <![if !vml]>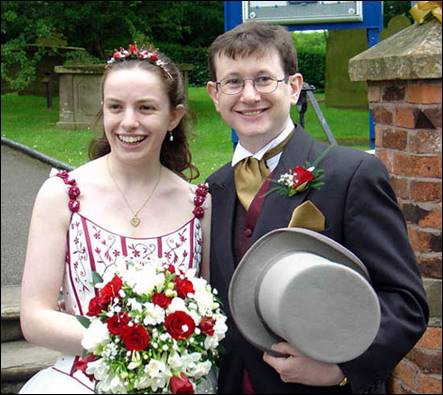 <![endif]>
Mary and Will's wedding: 15th April 2000                   Ann and Robyn's wedding 4th June 2005
Two very happy occasions!
All together in 2002
<![if !vml]>
<![endif]>
All together:  Mary, Ann, Robert and Barbara by the River Dee at Llangollen in 2002                                photo – Barbara Killey
<![if !vml]>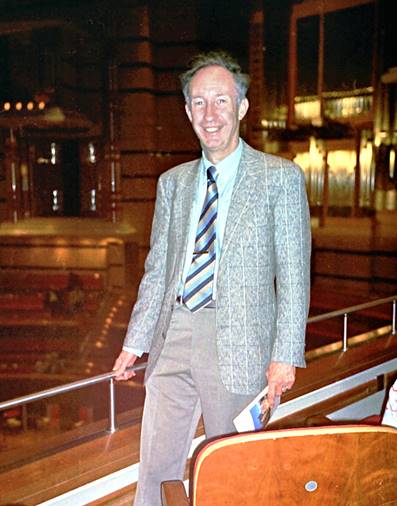 <![endif]><![if !vml]>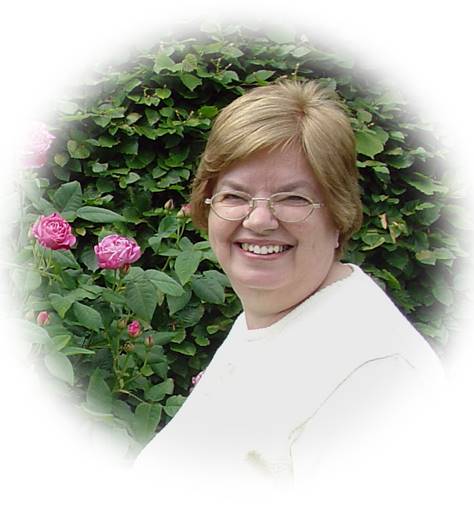 <![endif]>
Robert at Symphony Hall, Birmingham in 2002 and Barbara in the garden, 2006
<![if !vml]>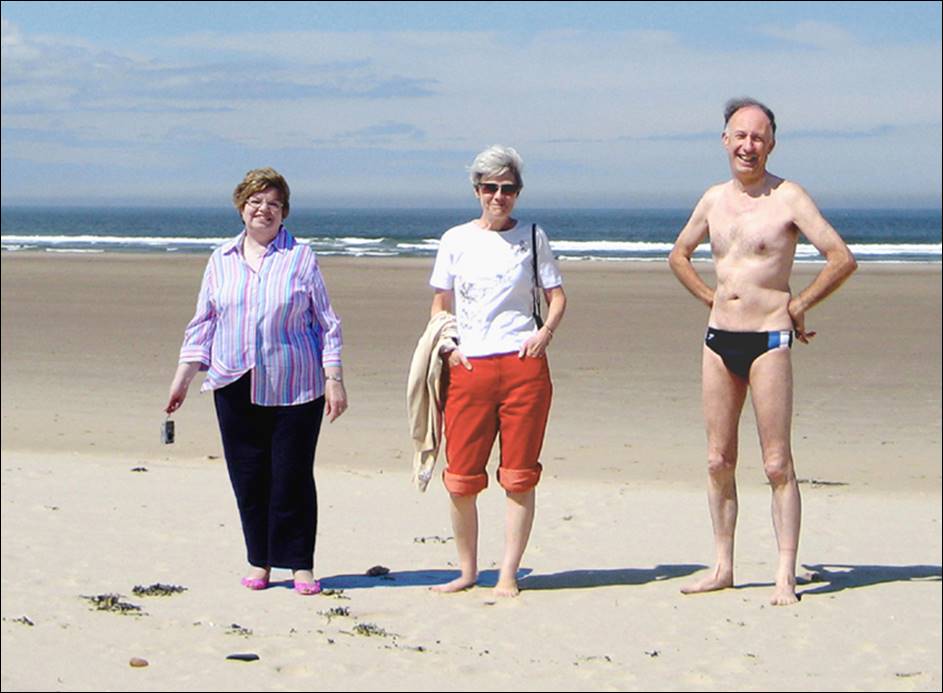 <![endif]>
Bamburgh Beach, Northumberland, 2007
A holiday with two Barbaras:   Robert has just returned from a dip in the chilly North Sea.
2008
<![if !vml]>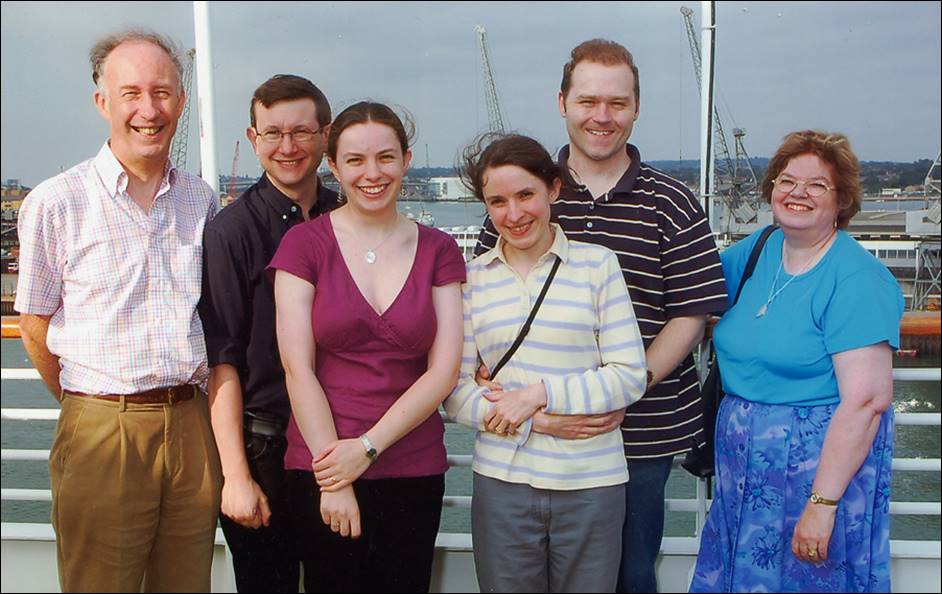 <![endif]>
Robert, Robyn, Ann, Mary. Will and Barbara caught by the ship's photographer on board P&O's Artemis as she sails from Southampton to Bergen on 30th May 2008.
<![if !vml]>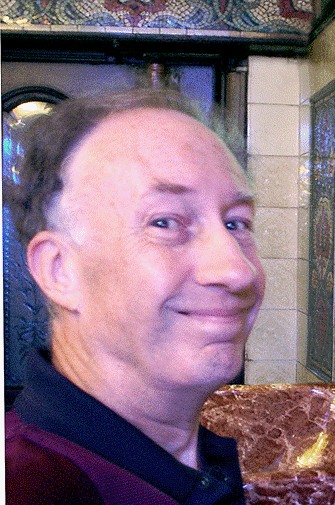 <![endif]>  <![if !vml]>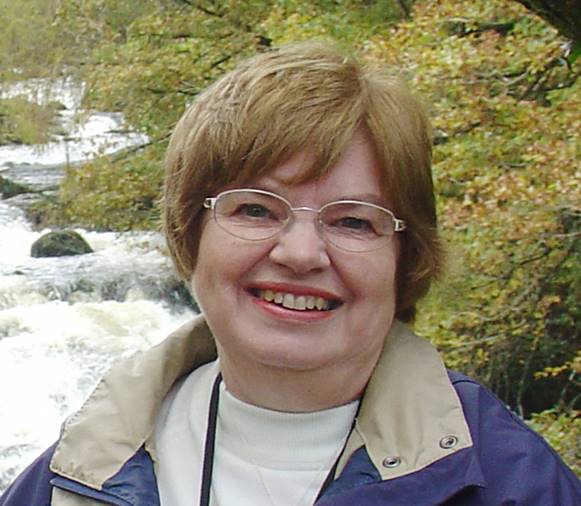 <![endif]>
Liverpool Philharmonic Rooms, 25th June 2008                                                       Swallow Falls, Betws-y-Coed, 15th October 2008
New York, 2010:
<![if !vml]>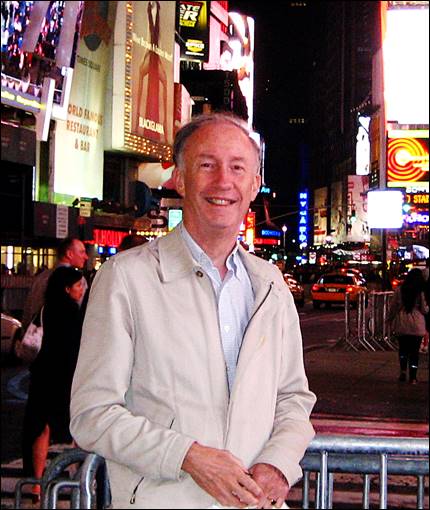 <![endif]> <![if !vml]>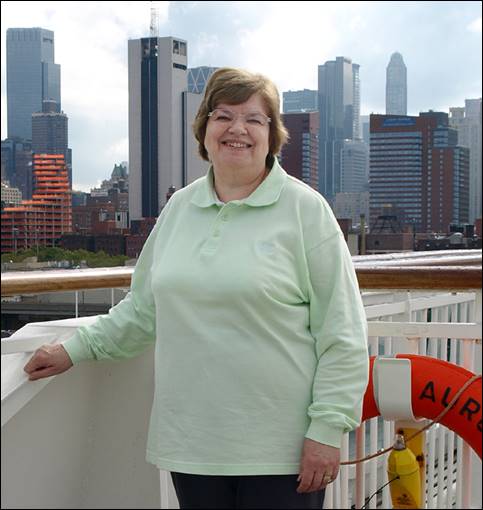 <![endif]>
Robert in Times Square and Barbara on board Aurora
Celebrations in 2009 and 2010
<![if !vml]>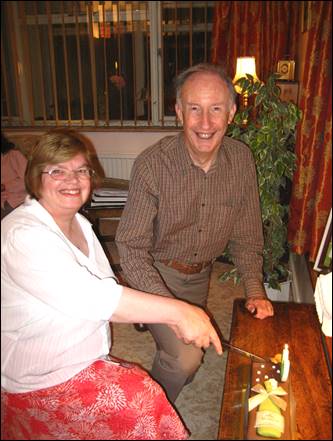 <![endif]>   <![if !vml]>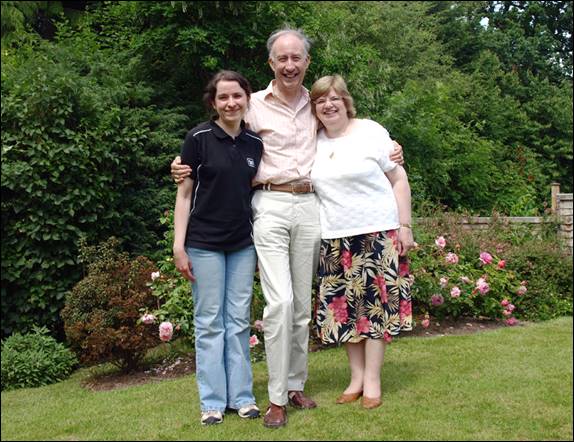 <![endif]>
11th June 2009:  our Ruby Wedding – forty glorious years!                                          23rd June 2010:  Darlaston hits 70 (oh dear!):
In the left hand photo taken at home we are cutting a cake (well camouflaged to look like the bench on which it is standing!)
In the right hand photo Robert is accompanied by Mary and Barbara in the garden.
Robert on the Railways
<![if !vml]>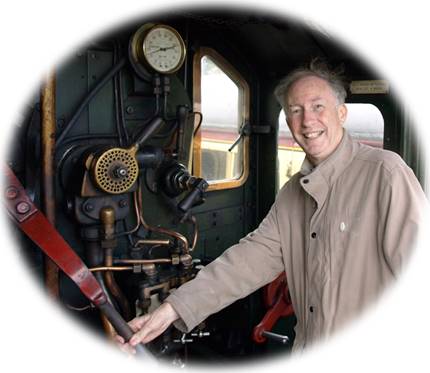 <![endif]>  <![if !vml]>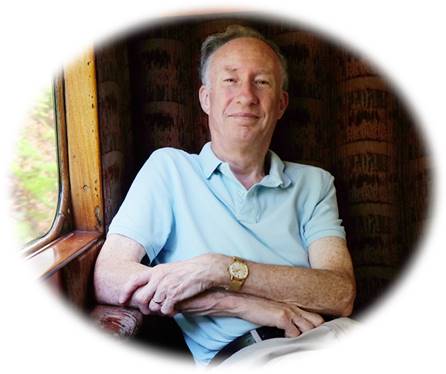 <![endif]>
On the footplate of GWR 7822 Foxcote Manor, ready to set off from Carrog, near Llangollen in April 2012
Looking very smug "on the cushions" on the Severn Valley Railway, September 2016
More Holiday Scenes
<![if !vml]>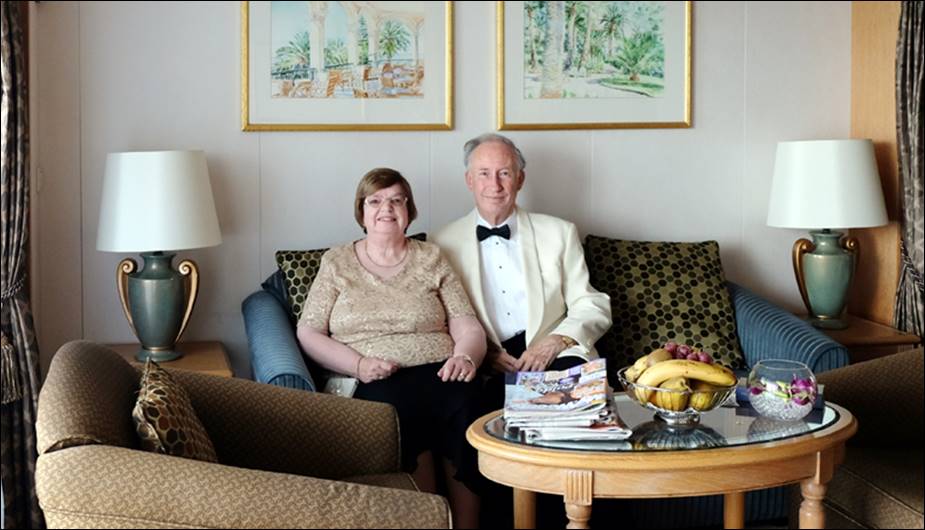 <![endif]>
Barbara and Robert in their cabin on P & O's Oriana, heading for Spain, September 2016
<![if !vml]>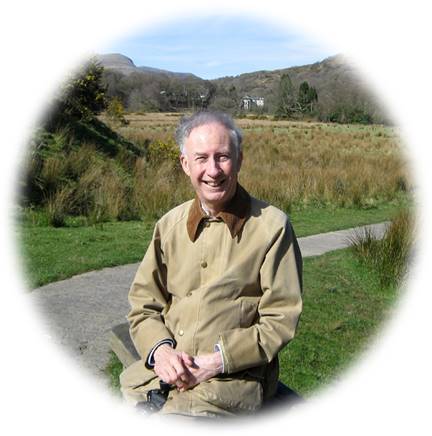 <![endif]>  <![if !vml]>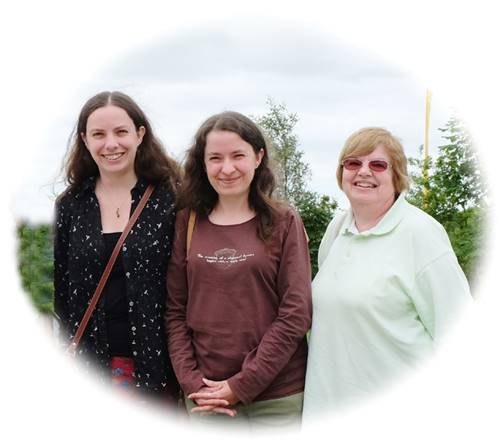 <![endif]>
Robert at Beddgelert, North Wales, April 2017
Ann, Mary and Barbara at Heligan, Cornwall, June 2017
<![if !vml]>
<![endif]><![if !vml]>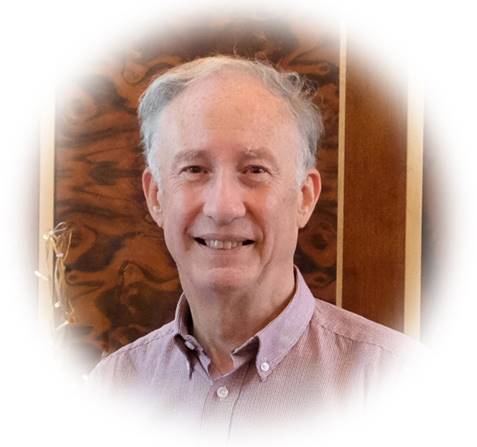 <![endif]>
Barbara and Robert,  Summer 2017
<![if !vml]>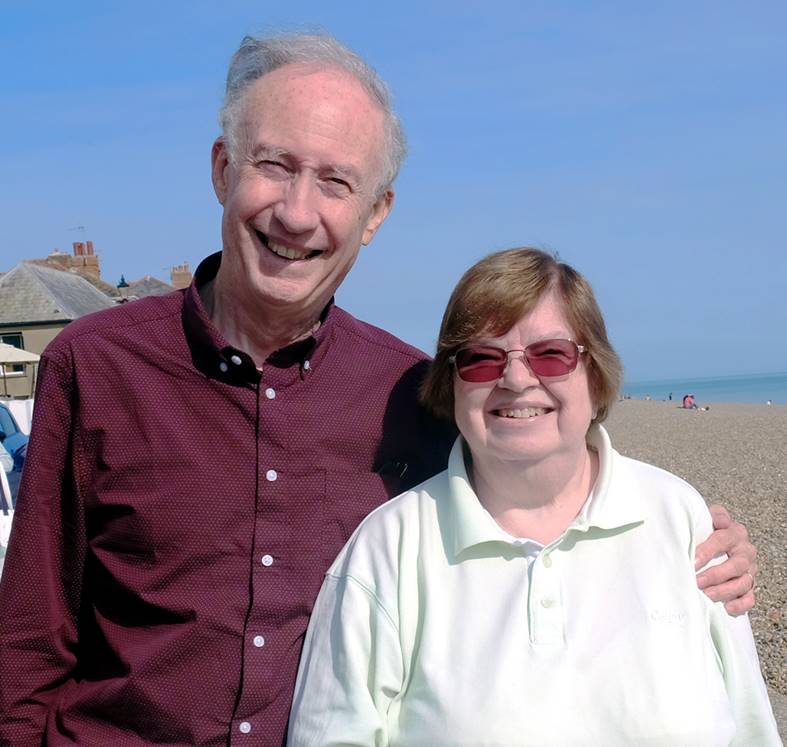 <![endif]>
Aldeburgh Beach, 2021
2:  Darlaston's Desert Island Delights:
A selection of things we enjoy
Here is our joint selection from the various branches of the Arts.   The items chosen are not meant to be "the best" in each field, but merely those items which (at the moment of typing!) seemed to represent a pleasing assortment.   We chose several of the items because of their connection with past events in our lives.   Restricting oneself to eight is tough!   How could we compile such a list of books without Jane Austen, Thomas Hardy or Evelyn Waugh, to pick three names almost at random?   Will Mozart ever forgive us for his omission?   At least we all know that every respectable desert island comes complete with a complimentary copy of the complete works of Shakespeare, thus justifying his omission from our list!
Music  (eight pieces, in the best tradition of radio's Desert Island Discs;  some we recall hearing at concerts in the past)
Beethoven – Symphony 7 (CBSO, Weller)
A performance recorded in Birmingham Town Hall where in the 1960s we both heard this splendidly rumbustious symphony many times.
Schubert – String Quintet (Alban Berg Quartet + Schiff)
One of the most amazingly beautiful and melodic works written for a chamber group
Schubert – Piano Sonata in B flat D960 (Mitsuko Uchida)
Schubert's moving last piano sonata in a performance of outstanding sensitivity
Mahler – Symphony 2 (CBSO, Rattle)
A many-faceted work indelibly associated with Rattle's memorable years in Birmingham
Elgar – The Apostles  (LSO, Boult)
A dramatic account of the crucifixion story with marvellous orchestration and singing.  Boult knew Elgar and was closely associated with his music.
Vaughan Williams:  Job  (London Philh Orchestra, Handley)
A powerful work in a fine and noble perfomance
Finzi – Dies Natalis (Brown, Finzi)
A delicate setting of Traherne's poem, exquisitely sung by Wilfred Brown and conducted by the composer's son.
Shostakovich – Symphony 6 (Scottish National Orch, Jaarvi)
A work ranging from stark intensity to skittishness, reminding one of the dreadful inter-wars period in the USSR when it was written.
Books: (We have chosen, not one book as customary on DID, but eight titles which we know and would willingly re-read.    Again, apart from the first three, the books have a link with places which have family connections).
John Galsworthy:  The Forsyte Saga
The famous account of upper-middle class life from the 1880s to the 1920s
Anthony Powell:  A Dance to the Music of Time
A series of novels with an amazing array of characters, followed through their lives from the 1920s to the 1960s
Flora Thompson:  Lark Rise to Candleford
A true account of country life in the 19th century (the characters were used as the basis for the BBC's fictional series)
Jenny Uglow:  The Lunar Men
The remarkable men (including Boulton, Watt, Wedgwood, Priestley ,and Darwin) who began the Industrial Revolution in Birmingham in the 1760s
Gwyn Thomas:  A Welsh Eye
A whimsical and entertaining account of life in the South Wales valleys where several relations lived
Francis Brett Young:  House under the Water
A novel centred on the construction of the Elan Valley reservoirs which supply water to Birmingham (thinly disguised as North Bromwich)
Glyn Daniel:  Some Small Harvest
A fascinating memoir, from childhood in Glamorganshire to television and academic life at Cambridge
Anne Treneer:  School House in the Wind
A delightful account of childhood in Cornwall, her years of education and finally teaching in Birmingham from 1931-48.
Poetry:  Here are four short poems, with (to save space) the titles of four more.   The first offers a delightful prospect to any man!
Lines Written at the Leasowes at a Time of Very Deep Snow
In this small fort, besieged with snow,
When every studious pulse beats low,
    What does my wish require?
Some sprightly girls beneath my roof,
Some friends sincere and winter-proof,
    A bottle and a fire.
Prolong, O snow, prolong thy siege!
With these, thou wilt but more oblige,
    And bless me with thy stay;
Extend, extend thy frigid reign,
My few sincerer friends detain,
    And keep false friends away.
                                    William Shenston(1714-63)
Spring and Fall:  To a Young Child
Margaret, are you grieving
Over Goldengrove unleaving?
Leaves, like the things of man, you
With your fresh thoughts care for, can you?
Ah!  As the heart grows older
It will come to such sights colder
By and by, nor spare a sigh
Though worlds of wanwood leafmeal lie;
And yet you will weep and know why.
Now no matter, child, the name:
Sorrows springs are the same.
Nor mouth had, no nor mind, expressed
What heart heard of, ghost guessed:
It is the blight man was born for,
It is Margaret you mourn for.
       Gerard Manley Hopkins (1844-89)
A Shropshire Lad – XL
Into my heart an air that chills
    From yon far country blows:
What are those blue remembered hills,
    What spires, what farms are those?
That is the land of lost content,
    I see it shining plain,
The happy highways where I went
    And cannot come again.
       A.E. Housman (1859-1936)
Days
What are days for?
Days are where we live.
They come, they wake us
Time and time over.
They are to be happy in:
Where can we live but days?
Ah, solving that question
Brings the priest and the doctor
In their long coats
Running over the fields.
       Philip Larkin (1922-85)
Other favourite poems:
                William Wordsworth    Upon Westminster Bridge
Matthew Arnold    Dover Beach
Edward Thomas    Adlestrop
T.S. Eliot    Little Gidding
                                Paintings:  eight works we could live with, mostly by 19th century artists, and all, apart from one, painted by Englishmen.
<![if !vml]>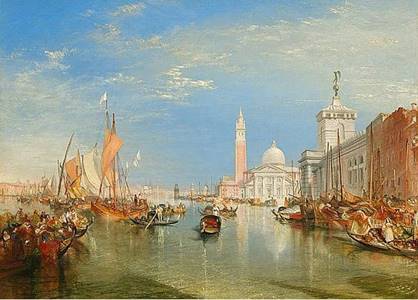 <![endif]> <![if !vml]>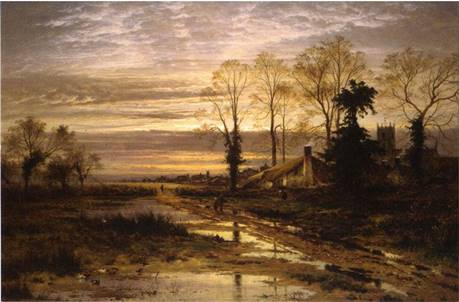 <![endif]>
JMW Turner:  Venice: the Dogana and San Georgio (1834)                                                                  BW Leader:  February Fill Dyke (1881)
<![if !vml]>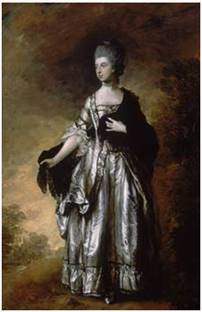 <![endif]>  <![if !vml]>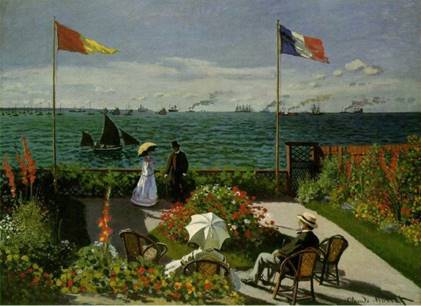 <![endif]> <![if !vml]>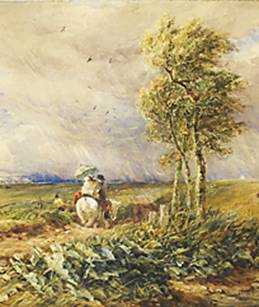 <![endif]>
Gainsborough:  Isabella, Countess of Sefton (1769)                     Monet:  Terrace at Saint Adresse (1867)                        Cox:  Sun, Wind and Rain (1845)
<![if !vml]>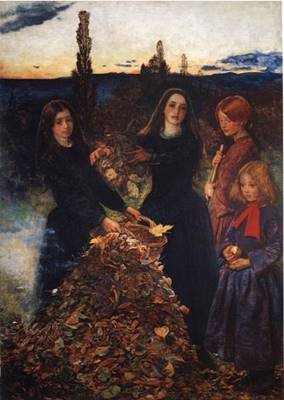 <![endif]>  <![if !vml]>
<![endif]>     <![if !vml]>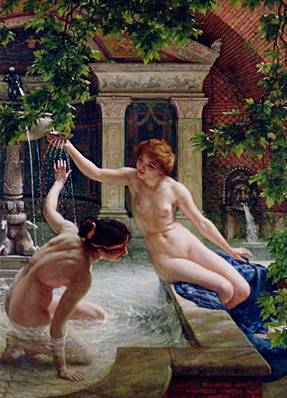 <![endif]>
Millais: Autumn Leaves (1856)                         Beardsley: The Peacock Skirt (1894)                                Poynter:   Water Babies (1900)
Turner:  this painting has a marvellous luminous quality in its portrayal of the world's most beautiful city.
Leader:  this work (familiar to us from visits to Birmingham Art Gallery) depicts so well the light of a winter's afternoon.
Gainsborough:  a painting in the Walker Gallery in Liverpool: note the wonderful way in which the reflective cloth of the dress is worked
Monet:  this has all the freshness of an afternoon by the sea:  one can almost feel the breeze that blows the flags.
Cox:  the artist works marvels through the medium of water colour
Millais:  (another familiar work, from visits to Manchester Gallery) catches the sad transience of childhood.
Beardsley:  marvellous elegance in black and white – one of his few works not to be blatantly erotic!
Poynter:  what red-blooded man can resist these gorgeous young ladies?
Having listed our Desert Island Delights, here are eight of Robert's
dislikes –     mostly trivial, it's true, but irritations, nonetheless:
'Elf 'n Safety:  (On a plastic coffee cup:  "Contents may be hot"– "I should *** hope so, too!")
Endless and pointless announcements on trains;  "Be sure to take your belongings with you" – "Shan't!"
People who bray so loudly into their mobile phones that one wonders why they need them at all
 Muzak pounding or whining away in shops
 Voluminous weekend newspaper supplements which go unread into the waste paper
 Referring to ladies by surname only, without their customary courtesy title
 The lazy figures of speech used in business ("hit the ground running"; "touch base", "the elephant in the room" etc)
 The cult of celebrity, usually applied by the media to people best forgotten
            You are also welcome to view the following pages:
KingEdwardsSchool.htm  (Life at King Edward's School, Birmingham, in the 1950s.)
Birmingham Pictorial.htm  (Photographs of Birmingham in the 21st century)
CruiseHolidays.htm  (Photographs of cruise holidays, from Canberra to Istanbul in 1976 to Aurora in 2019
.
This page is Family Favourites (additions 2nd October 2023):
http://www.robertdarlaston.co.uk/